How Does LendingTree Get Paid?
LendingTree is compensated by companies on this site and this compensation may impact how and where offers appear on this site (such as the order). LendingTree does not include all lenders, savings products, or loan options available in the marketplace.
Get a Used Car Inspection Before You Buy
Updated on: April 29th, 2021
Editorial Note: The content of this article is based on the author's opinions and recommendations alone. It may not have been reviewed, commissioned or otherwise endorsed by any of our network partners.
Don't trust a dealer or Craigslist seller who says a car is in perfect working order — verify it with a used car inspection before you buy. They are readily available, cost less than $200 and most sellers (including dealers) should agree to one without a fuss. The cost of a car inspection typically comes out of the buyer's pocket, but it can prevent you from buying a lemon.
What is a used car inspection?
A used car inspection is conducted by a professional mechanic that is not affiliated with the dealership where you plan to buy the car. The mechanic will look for defects under the hood, as well as exterior damage. Mechanical or body defects might mean big repair bills — or, even worse, a car with a limited lifespan, one you'll still be paying for even though it no longer works. Minor repairs are one thing, but you'll want to know that the car you've chosen is going to last longer than your car loan. An independent mechanic can tell you whether the car will last years or have trouble the next day.
A good car inspection should cover:
Engine health
Tire and brake condition
Suspension and steering quality
Signs of collision damage
The working state of the air conditioning, heat and electronics systems
Evidence of rust, mold or smoke
Transmission fitness
Where to find a used car inspection
There are two main types of car inspection services: mobile ones that come to you, or garages where you go to them.
A mobile inspection is convenient, with national services available to book appointments online or over the phone. A certified inspector will visit at the appointed time, scrutinize the vehicle in a driveway or parking lot, and write a report. Here are a few companies to consider:
AiM Certify: Prices range from $129 to $349 — higher-priced plans include an engine and transmission limited guarantee.
Automobile Inspections: Prices vary depending on vehicle type, but used vehicle inspections range from $199 to $349.
Lemon Squad: A standard inspection costs $179, with higher-priced plans for exotic, classic and commercial vehicles.
A mobile used car inspection could be the best option if you're buying from a distance and don't know anyone nearby who could take it to their trusted mechanic.
A garage inspection could be done with a mechanic you already know and trust. Benefits of going to a garage include the fact that the mechanic has the equipment necessary to lift a car and inspect its underside. To find a used car inspection site near you, you could visit the following organizations and officials:
National Institute for Automotive Service Excellence — ASE-certified mechanics have completed at least two years of qualified work experience and passed a certification test.
Better Business Bureau — While BBB may provide useful information, keep in mind that it's a business membership organization, not a government agency.
State attorneys general — Look for auto repair businesses registered with your state government. A good place to start is your state's attorney general's office, which may also help you learn which shops to avoid thanks to consumer complaint databases.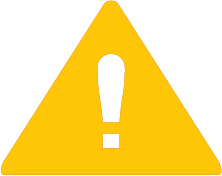 TIP
: If you used an
online car-buying site
like
Carvana
and
Vroom
to buy a car, it's not too late to get a used car inspection. As soon as you receive the car, use one of the methods above
before
the end of your seven-day return period. Remember, peer-to-peer car-buying sites like Craigslist or Facebook Marketplace usually don't offer returns. Have the car inspected
first
, then close the deal.
How much does a car inspection cost?
Most buyers will not need to spend more than $200 for a pre-purchase inspection. Inspections will typically cost more for exotic, classic, antique, vintage and street rod cars. RV and motorhome inspections will probably be more expensive, too.
Is an auto inspection worth it?
A professional used car inspection is definitely worth it. It makes sense to spend a couple hundred bucks to make sure the car is in good shape before you spend thousands on a lemon. If the seller doesn't allow you to take it for an inspection, that on its own is a red flag.
If you can't or don't want to pay for a mechanic's inspection, take the time to conduct your own. First-time buyers can get overwhelmed, but inspecting a used car, researching its value and finding your best used car loan will help ensure that you get a long-lasting and affordable vehicle.
6 steps to conduct your own used car inspection
If you can't get a mechanic to check out the vehicle for some reason, or if you just want to see if the car passes the "sniff test" first, here's how to peep under the hood (and other places) yourself. It only costs time, but you may also want to purchase a diagnostic scanner tool (about $30 and up at your local auto supply store).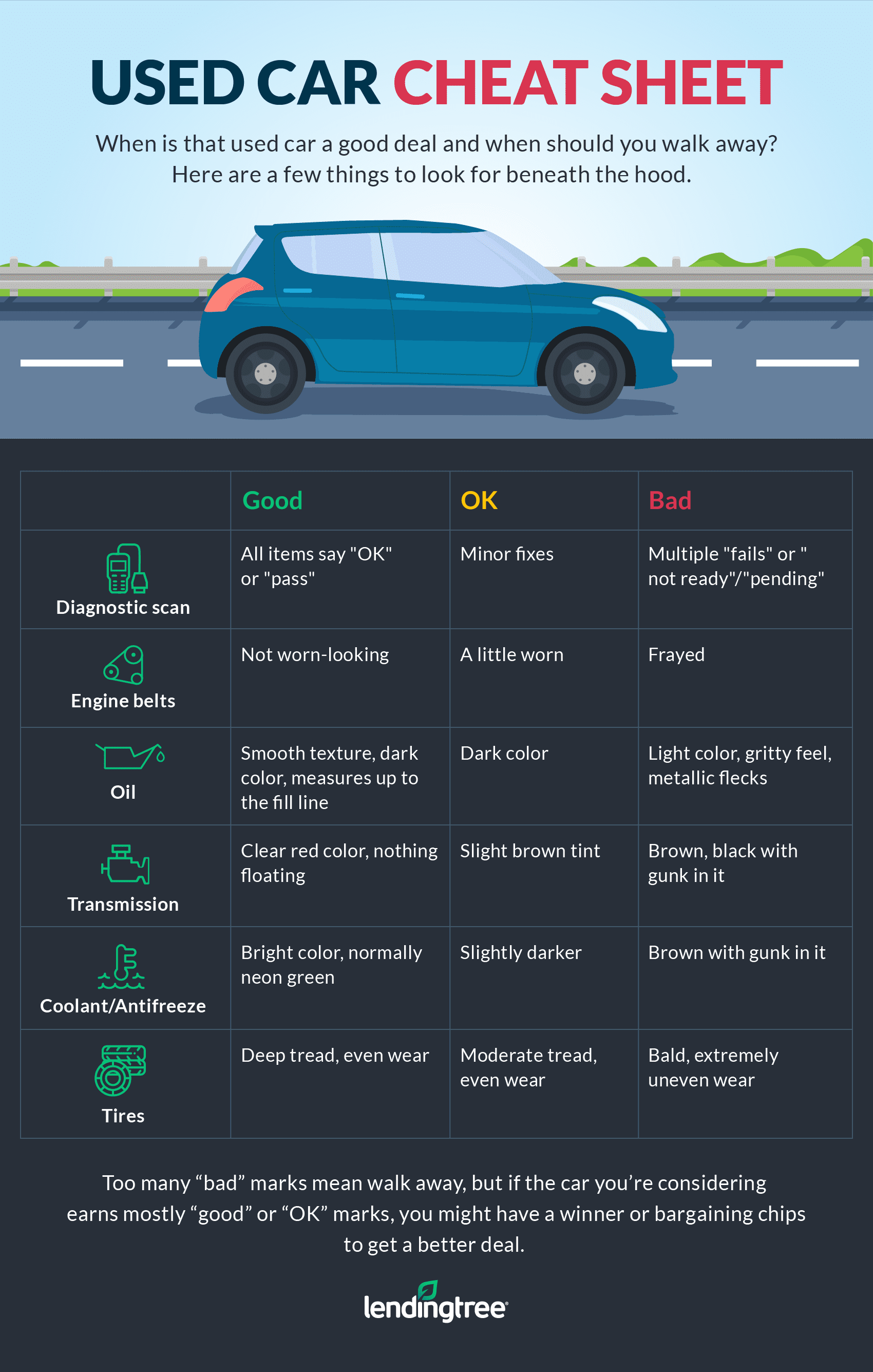 Download the full used car inspection checklist.
1. Check the car's paperwork
There's little point in popping the hood or taking a test drive if the car lacks a clean title. Ask private sellers to show you the title and request a vehicle history report from private sellers and dealers. If either document shows a lien or declares that the car is a salvage vehicle, that could be a problem. A clean or clear title means no one holds a lien or loan against the car, but it can also mean the car has experienced relatively little damage or few repairs.
2. Run a diagnostic scan
A diagnostic scan is one of the fastest and easiest ways to get an abundance of information on the car. One way to get a free scan is to ask the seller to meet you at an auto parts shop, such as AutoZone or O'Reilly Auto Parts, where an employee could run the test in the parking lot. Or, as we mentioned earlier, you could bring your own scanner. Keep in mind that professional mechanics have highly advanced scanners that may give more information.
3. Look under the hood
If the diagnostic scan goes well, pop the hood and take a peek at the following items:
Belts: Are the engine belts frayed? Extreme wear might signify that the engine is old or improperly maintained.
Oil: Pull the dipstick to check the oil. The oil level should be up to the fill mark with a smooth residue when you rub it between your fingers. If the oil level is low, or if it's blotchy, feels gritty or has metal flakes, don't get the car — it has engine damage.
Transmission fluid: Some of the newer cars have sealed transmission; otherwise, a car's transmission fluid should be easily accessible, similar to the engine oil. The fluid should be a clear red color and have no grit or anything else floating in it. If it's more brown than red, smells burnt or has gunk in it, that's not a good sign.
4. Check the car's interior
While sitting in the car, push a few buttons and turn some knobs to test what works including:
Radio, air conditioning and heat: Blast all three to see if everything works at full volume.
Seating and mirrors: Do the seats and rear view mirror move easily? Adjust the steering wheel height to make sure you can reach the pedals comfortably and see over the dashboard. Buckle the seat belt and adjust as needed to make sure it fits firmly, but comfortably.
Technology: Test out any available safety features. Put the car in reverse to see if the backup camera works and flip the turn signals to see if the blind spot sensor functions correctly. Press the touch screen and see if the right selections come up.
5. Examine the car's exterior
You probably don't want to go crawling under the vehicle, but there are a few things you can check without much effort, such as:
Tailpipe exhaust: Have the owner or a friend turn on the car and rev the engine while you stand behind the vehicle and watch the exhaust pipe. Some steam is normal. Red flags include any type of colored smoke: blue, white, black and grey. Colored smoke can mean anything from the engine burning oil, to bad oxygen sensors to a cracked engine block.
Tires: Check the tire tread by turning the steering wheel sharply to one side. If the tread is worn down unevenly across the width of the tire, the car might have suspension problems.
6. Go for a test drive
If the car's passed your inspection so far, take it for a test drive. A few circles in the parking lot or a cruise around the block aren't enough — ask the owner or salesperson for permission to take it over some potholes and speed bumps, as well as on the freeway.
On this drive, you'll want to:
Listen for any unusual noises, such as hissing, knocking, pinging or squeaking.
Test the acceleration by getting up to the speed limit in a short amount of time such as an interstate on-ramp.
Test the brakes. Don't do this in traffic or without warning the owner or salesperson, but you should jam on the brakes to test what would happen in an emergency. The anti-lock brake system should engage and you should come to a smooth stop.
Turn sharply, left and right, to make sure the car will go where you want it to without complaint.
Smell the car's cabin with doors shut and windows up. If it smells moldy, it may not be watertight. If something smells like it's burning, it probably is.