How Does LendingTree Get Paid?
LendingTree is compensated by companies on this site and this compensation may impact how and where offers appear on this site (such as the order). LendingTree does not include all lenders, savings products, or loan options available in the marketplace.
Laws of Buying a Used Car From a Dealer
Updated on: April 30th, 2020
Editorial Note: The content of this article is based on the author's opinions and recommendations alone. It may not have been reviewed, commissioned or otherwise endorsed by any of our network partners.
Used cars can be considerably cheaper than new vehicles, but because of their age, they tend to have problems sooner — sometimes ones that can potentially require repairs and tow trucks. This makes used car warranties a hot-ticket item at dealerships. But what are the laws of buying a used car from a dealer? Many revolve around what dealers have to tell you, what your rights are as a consumer and how you can respond if you think something's unfair.
Federal laws of buying a used car from a dealer
Federal laws on buying used cars are dependent on the seller being a dealer. The Federal Trade Commission (FTC) defines a car dealer as a person or business that sells at least six cars a year. If you buy a used car from a private seller rather than a dealer, the seller isn't required by federal law to disclose the same information as a dealer.
Buyer's guide
Federal law states all used dealer vehicles for sale must have a buyer's guide displayed. Buyer's guides are normally posted in the car's window. Two states — Maine and Wisconsin — are permitted to use their own form, rather than the one from the FTC.
The buyer's guide could have one of two front pages. If the car has no warranty and is "as is," then the front page will have that option checked off. If the car has implied warranties, it will have that option listed and checked instead. Both versions include:
What used car warranties, if any, come with the car
That all promises should be in writing
The car's vehicle identification number (VIN)
That an independent mechanic can inspect the car
Where to get a vehicle history report
Where to check for open safety recalls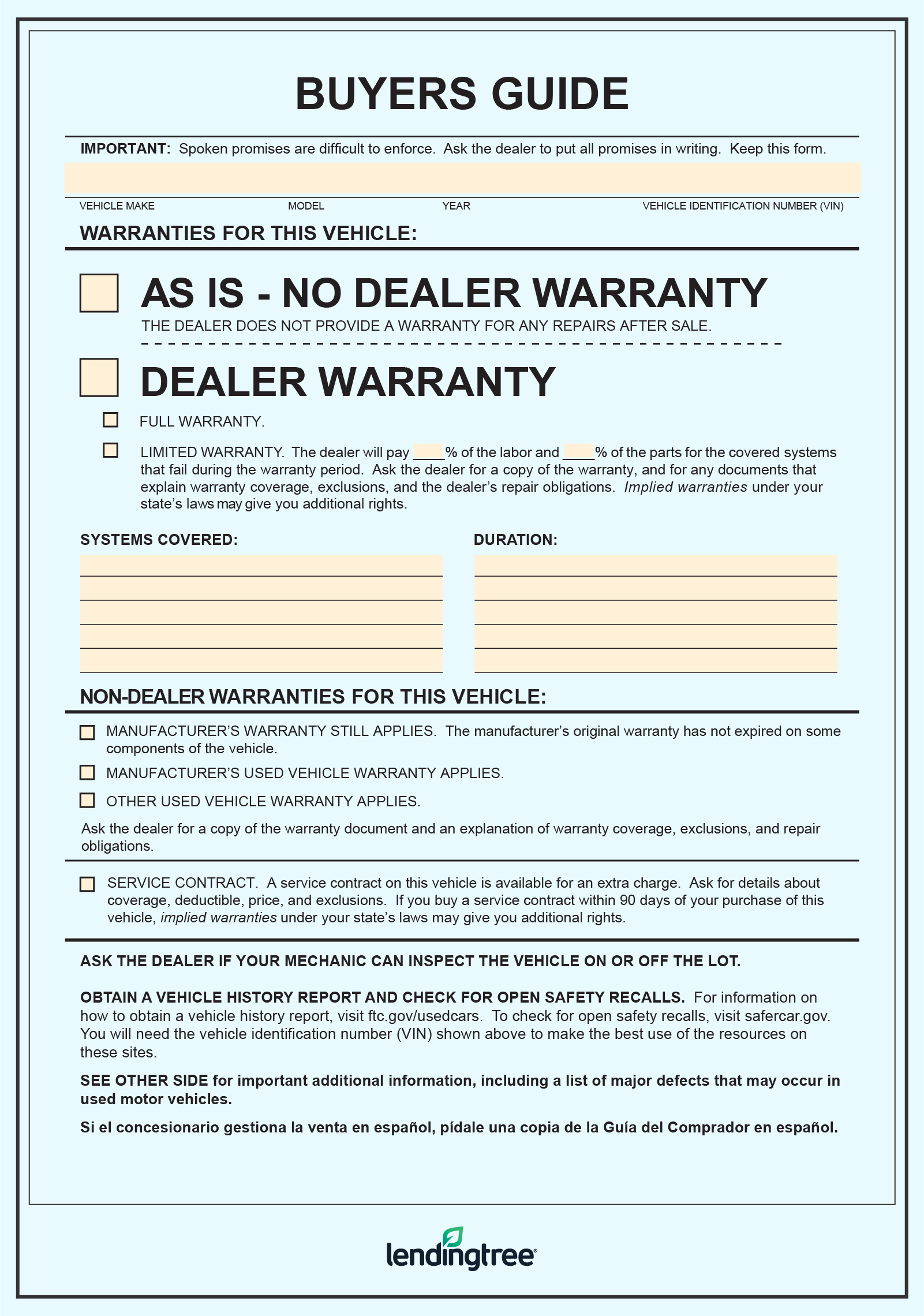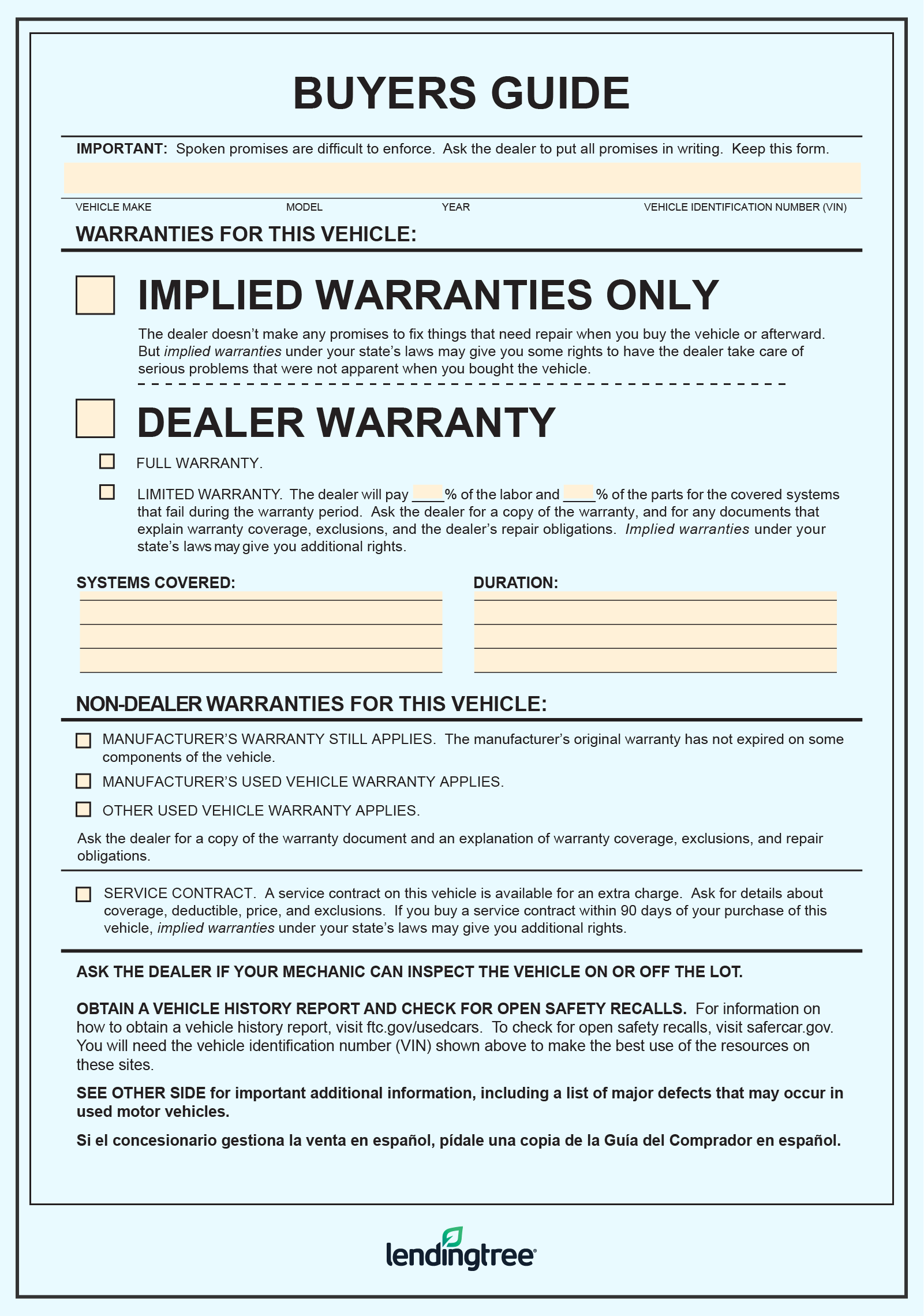 The buyer's guide will also have a back or separate page that provides consumer education information, including the major problems that can occur with used cars and the dealer's contact number.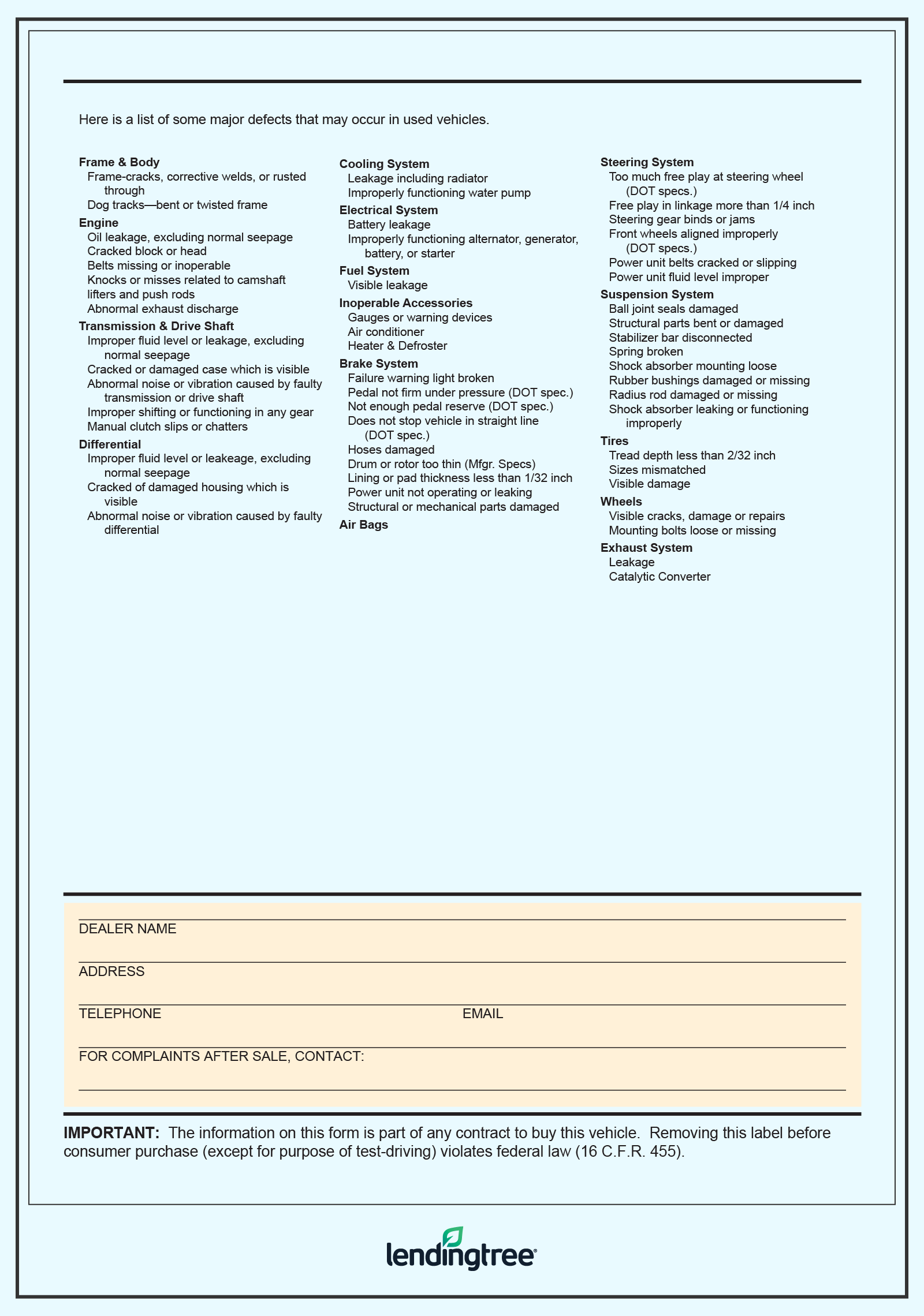 As is – no dealer warranty
One version of the federal buyer's guide has the option "as is – no dealer warranty." If this box is checked, it means buyer beware — the dealer isn't responsible for anything after you buy the car.
However, 14 states and Washington, D.C., don't allow for many used cars to be sold "as is" without a warranty.
If you live in one of the following states, the buyer's guide you see may have the "implied warranties" option: Connecticut, Hawaii, Kansas, Maine, Maryland, Massachusetts, Minnesota, Mississippi, New Jersey, New Mexico, New York, Rhode Island, Vermont and West Virginia.
Implied warranties
Implied car warranties protect buyers by covering reasonable expectations. The idea behind this is that if you buy something, it should work. Both of the following warranty laws are federal, which means you'll be covered even if your state laws don't offer lemon car protections.
Implied warranty of merchantability
If a car is in good enough of a condition to be sold as a vehicle meant for transportation rather than, say, as scrap metal or for parts, the car should work as a mode of transportation.
For example, if you buy a used car from a dealer and soon after the drive axle falls out, the engine blows up or the wheels fall off, the car wasn't in good enough condition to be sold as a transportation vehicle.
Implied warranty of fitness for a particular purpose
This applies if you tell the dealer that you need a vehicle for a specific purpose and you're relying on the dealer to recommend a vehicle or affirm that a vehicle can do the job.
For example, imagine you're buying a pickup truck because you want to use it to tow a 4,000-pound recreational vehicle (RV) and the dealer assures you it can tow the RV with no problem. Then, it turns out after you buy it that it can only tow 1,000 pounds. In this case, the warranty of fitness for a particular purpose could apply.
Stated warranties
These are written guarantees given by the dealer or manufacturer. The Magnuson Moss Warranty Act requires that any warranty must clearly state what is covered and for how long.
Full and limited warranties
The seller may provide a full or limited warranty on the car. A full warranty covers the car from fender to fender, from the tires to the sunroof and everything in between (unless the dealer specifically excludes something), promising to pay the full cost of parts and labor. A limited warranty may only cover certain car parts and/or a percentage of the parts and labor cost.
A full warranty on a used car is rare unless you buy one or get a certified pre-owned (CPO) car. A limited warranty is more common: For example, Carvana provides a limited warranty that is valid for 100 days or 4,189 miles (whichever comes first) from the time you buy the car.
Manufacturer warranty
Automakers provide a warranty for a set amount of time and miles, whichever comes first. The warranty clock starts on the day the car is bought or leased by the first owner and follows the car, not the owner. So it doesn't matter if you're the second or the fifth owner — if the car is within the warranty's time and miles limit, it's covered.
The amount of time and miles that a car's warranty is good for depends on the automaker. Each manufacturer offers its own policy, which can be specific to the year and model of its cars. You can search the internet to find out whether the used car you want is still covered.
Lack of federal law on cooling-off periods
There is no federally mandated cooling-off period for vehicles that allows you to return any used car to the dealer, which can make buyer's remorse especially hard. But some states do require dealers to offer a right to cancel, and dealers may voluntarily offer a return policy.
For example, both CarMax and Carvana give a seven-day money-back guarantee. If the dealership you're buying from has a return policy or decides to offer you one when you ask, get it in writing.
Extended warranties
Both federal and state laws can apply to extended car warranties, which are technically called vehicle service contracts. They kick in on your car when the manufacturer or dealer warranty coverage runs out. Dealers often try to sell them as an add-on that you could finance into your car loan.
Be careful with these and do your research on the price, providing company and whether you could take your car to a different dealership for warranty service. Here's more on how to find the best extended car warranty.
Should I get an extended warranty?
If you would rather minimize your risk of a bad surprise (a car repair bill, for example), you could get an extended warranty and either pay for it in full or finance it.
But if you do your homework on the car, including having an independent mechanic inspect it, the risk of a breakdown might be low enough that you could be comfortable saving the money you would use to buy an extended warranty and just having a rainy-day fund in case anything goes wrong. It depends on your confidence in the car and your level of comfortability.
How to cancel an extended warranty
All vehicle service contracts should be cancelable and prorated based on time and miles. For example, if you got a three-year, 36,000-mile extended warranty and cancel it after one year and 12,000 miles, then you should get two-thirds of your money back. If the dealer refuses to cancel the extended warranty, call the warranty company directly or contact your local consumer protection agency.
Note that extended warranty refunds will only go to you if you own the car free and clear. If you've financed the car, the refund will go to the lender and be put toward the loan principal.
State and local laws of buying a used car from a dealer
State and local laws on lemon cars and used vehicles can vary from comprehensive to nonexistent. For example, New York City allows a 48-hour period in which you could cancel a car sale, while Colorado and Alaska give no consumer protections to used car buyers. You can search the internet to find out your state's lemon laws.
What to do if you have problems
Additional consumer protections may be available to you depending on your situation.
State-specific Automotive Consumer Action Programs (examples below)
How to buy a used car
Here's a condensed version to give you a quick rundown on how to buy a used car. You could check out how to avoid buying a lemon car for more information.
Check your credit score and credit report. If you plan to finance a car, you should know your credit score. Lenders strongly lean on your score to decide whether to provide a loan — and what to charge. If you see any inaccuracies in your report, contact the correct credit bureau to have them fixed. You can check your credit score for free through LendingTree.
Look for a car. Consider the following to figure out what type of car you'd like.

What are your driving habits? Do you need all-wheel drive to handle bad weather? Do you need a large car to ferry your kids around?
What is your general budget? The cost of ownership for vehicles includes auto insurance, fuel, maintenance and more. You could use a car affordability calculator to check what car payments you could afford. And it's wise not to pay more for a car than what an industry guide says it's worth. Look up a car by year, make and model on Kelley Blue Book, NADAguides or Edmunds to see its value.

Look for financing. If you need or want financing and don't plan to pay in full, apply to a few lenders of your choice. Dealers often can — and do — raise customers' auto loan APRs, so applying directly to lenders without dealerships as the middlemen is important. Here are the lenders with the best auto loan rates.
Choose your car finalists. Once you select a finalist car or two, look up their vehicle history reports, ask for maintenance records, inspect the car from top to bottom and, within reason, drive it extensively during a test drive.
Get an independent mechanical inspection. If you want, you could ask the seller to allow you to have an independent mechanic look over the car to either flag any problem areas or give a go-ahead.
Complete the transaction. A specific cost of living in modern society is paperwork. Go through the paperwork with the dealer and don't be afraid to ask questions. Make sure you understand everything.
Is buying a used car from a dealer worth it?
In short, it's likely worth it to buy a used car from a dealer. Buying from a dealer provides more consumer protections than buying from a private seller. It's also usually more convenient for buyers as you don't have to scour Craigslist for the right car and agree to a meeting time with the seller. Dealers keep regular business hours and a stock of vehicles.
And buying used, in general, can also be worth it. New cars can depreciate 23.5% in their first year of use and 60% over five years. For example, Americans finance an average of $32,480 for a new car. Following that depreciation schedule, it would depreciate $7,633 in the first year — that's a big chunk of money.
It would take some majorly expensive repairs for you to spend that much money on a used car in its first year. And all cars will have problems as they age, whether you buy new or used. If you'd like some more guidance, there are 14 questions to ask when buying a car.