How Does LendingTree Get Paid?
LendingTree is compensated by companies on this site and this compensation may impact how and where offers appear on this site (such as the order). LendingTree does not include all lenders, savings products, or loan options available in the marketplace.
Laws of Buying a Used Car From a Dealer
Updated on: December 14th, 2022
Why use LendingTree?
We are committed to providing accurate content that helps you make informed money decisions. Our partners have not commissioned or endorsed this content. Read our .
If you're thinking of buying a used car from a dealer, a common fear among shoppers is being taken advantage of by a pushy used-car salesperson. Take comfort in the fact that there are federal and state laws that protect consumers who buy used cars.
In this guide, we'll review the laws of buying a used car from a dealer, explore your rights as a consumer and discuss how to be smart when choosing a used car. We'll also look at how you can respond if you think the dealer hasn't been fair and forthcoming with the price or condition of the vehicle.
Federal laws about buying a used car from a dealer
The Federal Trade Commission (FTC) defines a dealer as a person or business who sells more than five used vehicles in a 12-month period, and all dealers must follow certain rules on disclosing information to buyers. Private sellers who sell fewer than five cars don't have to follow the same federal rules on disclosing information to buyers.
Buyers Guide
Federal law requires that all used vehicles available for purchase or inspection by a consumer have a Buyers Guide displayed. Buyers Guides must be posted in an easily seen spot, usually on a side window or on the dashboard. Two states — Maine and Wisconsin — are permitted to use their own forms, rather than the form from the FTC.
The Buyers Guide could have one of two front pages. If the car has no warranty and is being sold "as is," the front page will have that option selected. If the car has implied warranties, it will have that option checked instead. Both versions include:
What warranties come with the car, if any
A statement specifying that all promises should be in writing
The car's vehicle identification number (VIN)
A statement explaining that an independent mechanic can inspect the car
Information on where to get a vehicle history report
Information on how to check for open safety recalls
The Buyers Guide will also have a back or separate page that provides consumer education information, including information on the major problems that can occur with used cars and the dealer's contact number.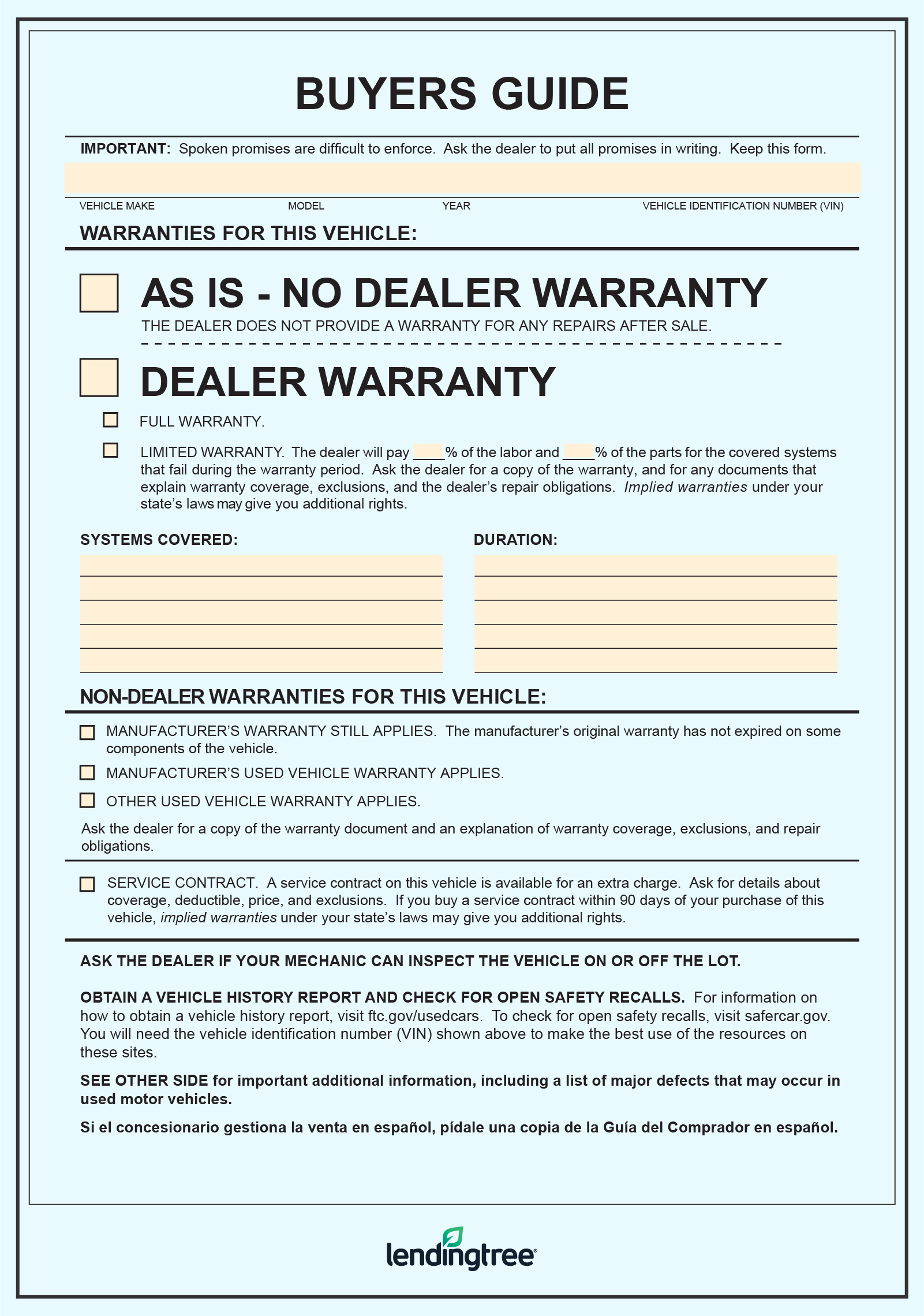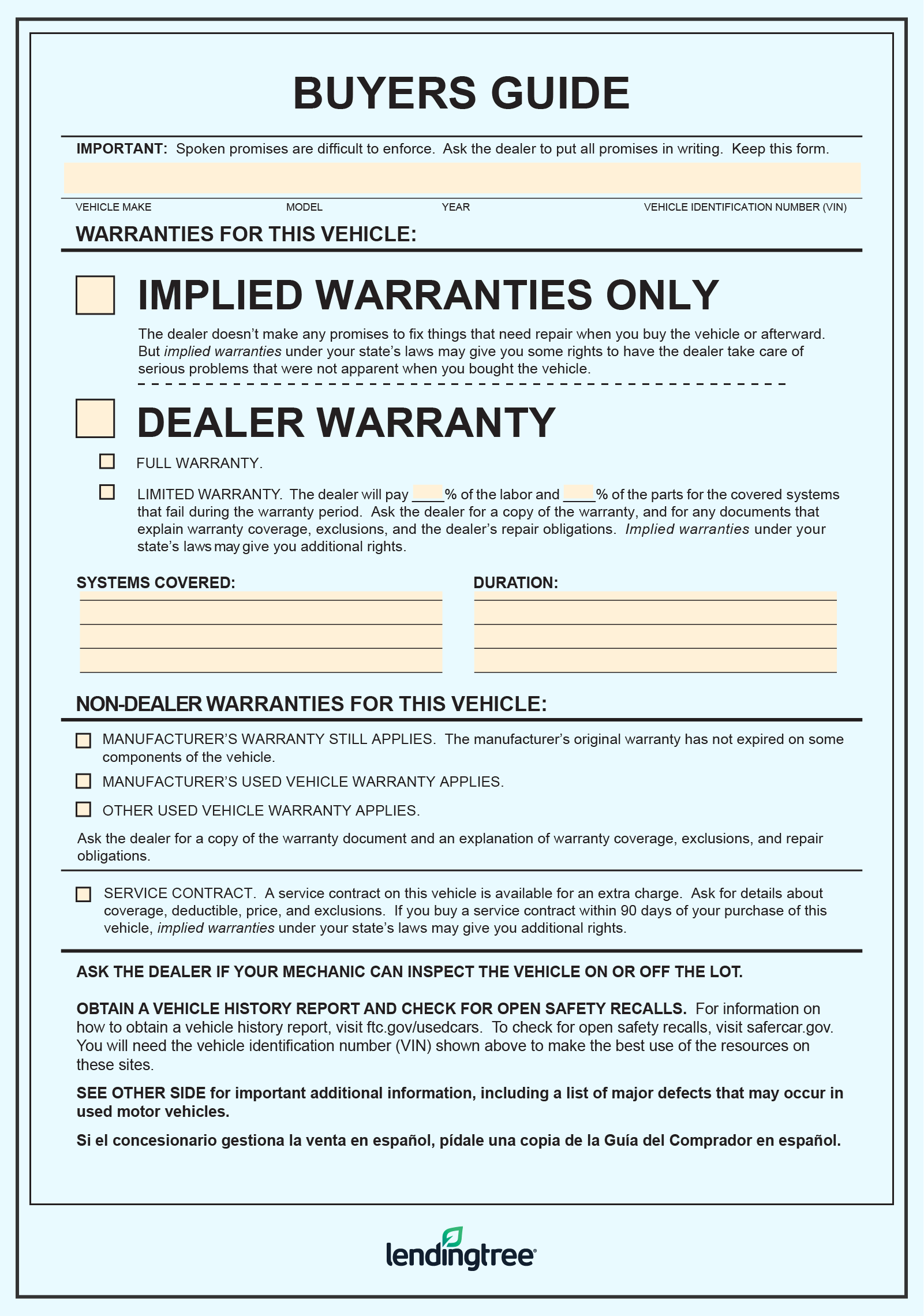 As is — no dealer warranty
The Buyers Guide may indicate that the car is being sold as-is, which means without a warranty, either written or implied. You are responsible for any problems that arise from the moment you finalize the sale with the dealer. If the "As Is" box is checked, be extra sure to get any promises in writing on the Buyers Guide, such as if the dealer pledges to fix a visible problem or allows you to return the car. Verbal promises are difficult to enforce.
Some states don't allow a dealer to sell a car as-is. Instead, these states require an "implied warranty."
In Maine, for instance, even if a car is sold as-is, it must be inspected within 60 days of the sale and have a valid inspection sticker. If the car doesn't pass inspection, the dealer must repair it for free so it can pass the state inspection.
Implied warranties
An implied warranty is an unwritten, unspoken promise from the dealer to the buyer that the vehicle will do what it's supposed to do. Here, the dealer assumes some responsibility for the condition of the vehicle. In other words, if you buy something, it should work. Implied warranties vary by state, but here are two common options:
Implied warranty of merchantability
The dealer promises the car will run and is able to be driven. It doesn't cover every possible problem, but the car should at least function. If the engine overheats or a wheel falls off, the car wasn't in good enough condition to sell. However, if the car breaks down while you're driving it home, you'll still have to prove to the dealer that the problems existed at the time of the sale.
Implied warranty of fitness for a particular purpose
This type of warranty applies when you tell the dealer you're looking for a vehicle for a specific use. Perhaps you're looking for a truck that can tow a 3,500-pound RV trailer. If the dealer makes a recommendation, there is an implied warranty that the truck will tow the trailer. If it turns out that the truck can only tow 2,000 pounds, the warranty of fitness for a particular purpose could come into play.
Implied warranty coverage can last up to four years, but limits vary by state.
Stated warranties
Stated warranties are written guarantees from the manufacturer or the dealer. The federal Magnuson-Moss Warranty Act requires dealers to disclose information about manufacturers' warranties and any applicable dealer warranties to protect consumers' rights. The Buyers Guide should indicate whether the vehicle comes with any dealer warranties or remaining factory warranties.
The dealer can offer full or limited warranties covering specific components and systems for a specific period of time. For example, the dealer may offer a six-month warranty on the engine and transmission. The warranty may also indicate whether there's a deductible for repairs and how much of the cost will be covered.
A full warranty covers anyone who owns the vehicle during the warranty period. Any needed service will be provided free of charge, and the owner must be able to choose a replacement or refund if the vehicle can't be repaired in a reasonable number of tries. A limited warranty, on the other hand, places conditions on the repair services.
Depending on the age and mileage of the vehicle, the manufacturer's warranty may still be in effect. If this is the case, the dealer will check the "Manufacturer's Warranty Still Applies" box on the Buyers Guide, and the warranty should be free.
If the dealer charges for repair coverage, then it's an extended service contract and not a warranty.
Extended warranties
An extended warranty is really a service contract from the manufacturer, the dealer or a third-party service company. It's a promise to perform or pay for repairs or services on specified systems.
If the dealer offers a service contract for an additional fee, it should be noted on the Buyers Guide. However, some states regulate service contracts as insurance, so the Buyers Guide box may not be checked.
If you buy a service contract within 90 days of buying a used car as is, you automatically get implied warranties on the engine beyond the scope of the service contract.
  Should I get an extended warranty?
If the used car you're buying has a remaining manufacturer's warranty, you may not need an extended warranty. With an older vehicle, the service contract could pay for expensive repairs. You'll have to weigh the condition of the car and the cost of potential repairs against the cost of the service contract.
What to do if you have problems
All 50 states and Washington, D.C., have lemon laws that allow a buyer to return or be compensated for a vehicle with ongoing, unrepairable problems, but in most cases, these laws apply to new vehicles.
A few states, such as Arizona, have lemon laws that apply to used cars. In Arizona, the Lemon Law covers your used car if a major component breaks within 15 days or 500 miles after purchase. You'll have to pay up to $25 for each of the first two repairs, but if the dealer can't fix it, you'll be refunded the price of the car.
If you buy a used vehicle that you think is covered by a warranty or service contract, follow the instructions outlined in the contract. If the warranty is backed by the manufacturer, contact the dealership.
You can contact consumer protection agencies or the state attorney general's office to learn more about your rights. You could also file a lawsuit against the dealer or manufacturer, but depending on the terms of the warranty or service contract, you may be required to use a dispute resolution organization first.
Consumer protection agencies
How to buy a used car
Buying a used car from a dealer is similar to buying a new car, but you have the added concern of maintenance and reliability. You don't want to buy someone else's problem car, but with a little research beforehand, you can avoid buying a lemon. Here are a few important steps to follow when buying a used car.
Determine your budget
Use an auto loan calculator to determine how much you can afford to spend on a car and what you can expect your monthly payment to be. Don't forget to consider the cost of insurance, gas and maintenance in your budget.
Check your credit score
Lenders rely heavily on your credit score and report to determine your creditworthiness, so it's a good idea to check your credit report before you apply. Visit AnnualCreditReport.com for a free copy of your credit report, and be sure to correct any errors you find that could lower your score.
Find the right car
When choosing a car, think about which features are most important and research the makes and models that meet those needs. Search online for the car you're interested in, and visit local dealers that have the car in stock. Industry guides like Kelley Blue Book (KBB) and Edmunds can help you understand the fair market value of the car you're interested in.
Find the right financing
Apply for financing with banks and credit unions before you visit a dealer so you can have auto loan terms for comparison. You can get up to five auto loan offers from LendingTree without impacting your credit score.
Narrow down your choices
Drive several different cars for comparison. Test the car in traffic, on highways and going up hills. Pay attention to any unusual sounds or smells that could indicate unseen problems. If the test drives go well, review the cars' vehicle history reports and ask to see the maintenance records.
Get an independent inspection
If you're seriously considering buying a used car, it's worth paying an independent mechanic to give it a thorough, independent inspection. You could avoid costly repairs down the road.
Complete the transaction
Finalize the deal and sign the paperwork. Beware of any unexpected dealer fees or last-minute changes in the financing rate. Make sure you understand everything you're asked to sign, and don't be afraid to ask questions.
Is buying a used car from a dealer worth it?
A used car can give you the vehicle you want for less money than a new one. The average new car loan amount was $39,867 in late 2022, while the average used car cost just $27,736.
You'll have to decide whether to buy from a private party seller or a dealer. A car from a private party may be less expensive, but you'll have less recourse if something is wrong with it. A used car from a dealer may have a higher price, but the dealer is more likely to back the car with at least a minimal warranty.
Buying a used car from a dealer is usually more convenient, as well. You don't have to meet up with a stranger from Craigslist in a grocery store parking lot to take the vehicle for a test drive. A dealer has an inventory of used vehicles and regular business hours so you can shop at your convenience.
Frequently asked questions
Generally, no. There is no federal cooling-off period for auto purchases. Some states require dealers to offer a right to cancel, and some dealers voluntarily offer a no-questions-asked return period, though this is uncommon.
A few states have lemon laws for used cars that would allow you to return it to the dealer or a right to cancel, but in most cases, if you bought it, it's yours. Be sure to get the dealer's warranty and return policy in writing and understand the terms of the sales contract before you sign.
Buying a used car from a dealer will give you more selection and protection under federal and state warranty and lemon laws.