How Does LendingTree Get Paid?
LendingTree is compensated by companies on this site and this compensation may impact how and where offers appear on this site (such as the order). LendingTree does not include all lenders, savings products, or loan options available in the marketplace.
Average Car Payment | Loan Statistics 2021
Updated on: February 5th, 2021
Editorial Note: The content of this article is based on the author's opinions and recommendations alone. It may not have been previewed, commissioned or otherwise endorsed by any of our network partners.
With the average car payment up to $563 for new vehicles, Americans are taking on auto loans in record-setting amounts and for longer stretches. To get the full picture of auto loan debt and trends in the U.S., we looked at auto loan originations, prices, term lengths and delinquencies, among other aspects of auto debt in the U.S. Here are the numbers.
Key facts about auto loans
The average monthly car payment in the U.S. is $563 for new vehicles, $397 for used vehicles and $450 for leased vehicles.
Overall, Americans owe nearly $1.4 trillion in auto loan debt.
Auto debt makes up 5% of American consumer debt.
On average, Americans take out about $56 billion across 2.3 million new auto loans each month.
Americans borrow an average $34,635 for new vehicles and $21,438 for used vehicles.
The average loan term is 70 months for new cars, 65 months for used cars and 37 months for leased vehicles.
8% of outstanding auto debt is at least 90 days late and another 5.8% is 30 days overdue.
The average auto loan APR was 9.46% in 2020, but that ranged from an average of 5.49% for borrowers with the strongest credit to 22.66% for borrowers who are credit invisible.
People with 720-plus credit scores originate as much auto loan debt as the rest of the credit tiers combined: $28 billion a month.
Americans younger than 50 take out $35.6 billion in auto debt monthly, compared with the $22.6 billion auto debt of older generations.
Gen Xers are the most likely to have a car loan, and they carry the highest auto loan balances with a median of $19,223.
The average price of a new, light-duty vehicle is $39,259, a 1.3% increase over the same period a year prior. Average used car prices are over a third less expensive — $22,351 at the end of January 2021.
Sources: Experian, Federal Reserve Bank of New York, LendingTree, Kelley Blue Book, CarGurus, Consumer Financial Protection Bureau
Table of contents
Average monthly car payments
The average monthly payment for a new car is $563, while lease payments are an average $450. Used cars have the lowest average monthly payments at $397.
In general, the worse your credit, the higher your monthly car payment — but not always. Those with credit scores between 601 and 660 (in the fair range) saw the highest average monthly payments for new vehicles at $594. You can calculate your monthly car payments here.
Average monthly payments
Credit score range
New vehicles
Used vehicles
New vehicle leases
All
$563
$397
$450
781-850
$534
$391
$443
661-780
$572
$390
$450
601-660
$594
$407
$467
501-600
$577
$413
$471
300-500
$542
$411
$449
Source: Experian
How much Americans owe for auto loans
In short: a lot. Overall vehicle debt has nearly doubled between 2010 ($705 billion) and 2020 ($1.4 trillion).
Auto loans as a percentage of American consumer debt
While mortgages take the lion share of American consumer debt, auto loans account for 9.5%, just below student loan debt.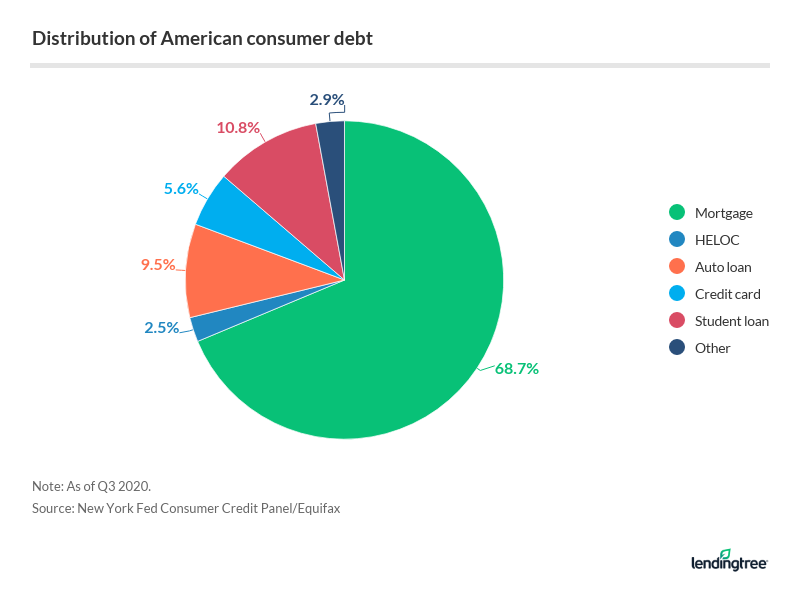 Number of monthly auto loan originations
Peak times for people to take out auto loans are March, May and August. In March 2005, Americans took out 2 million auto loans, compared with 2.5 million in March 2019.
Monthly volume of auto loan originations
The average amount of money Americans take out in auto loans each month increased 162% since its lowest point in the Great Recession.
Average auto loan amounts
The average loan amount for new cars is $34,635, and $21,438 for used vehicles. New car buyers in the prime credit tier (661 to 780) have the largest loans — $36,386 on average. That same group also borrows the most for used cars ($22,708).
Average loan amounts
Credit score range
New vehicles
Used vehicles
All
$34,635
$21,438
781-850
$32,013
$22,394
661-780
$36,386
$22,708
601-660
$36,353
$21,388
501-600
$31,816
$17,999
300-500
$26,890
$15,425
Source: Experian
The average auto loan amount across new and used cars has steadily increased over the past decade, reaching $23,678 in December 2018. Borrowers tend to take out bigger loans in December, even though other months may see more originations.
Average loan terms
The average auto loan term for new vehicles is 69.7 months, or nearly six years. Used car loans, despite being significantly smaller on average, are close behind at 65.2 months.
But auto loans are stretching even longer — topping six years — for middle-tier credit borrowers, who take out an average loan of 73.8 months. Top credit score borrowers have the lowest average loan terms at 64.9 months. The average new car lease term is 36.7 months, or about three years.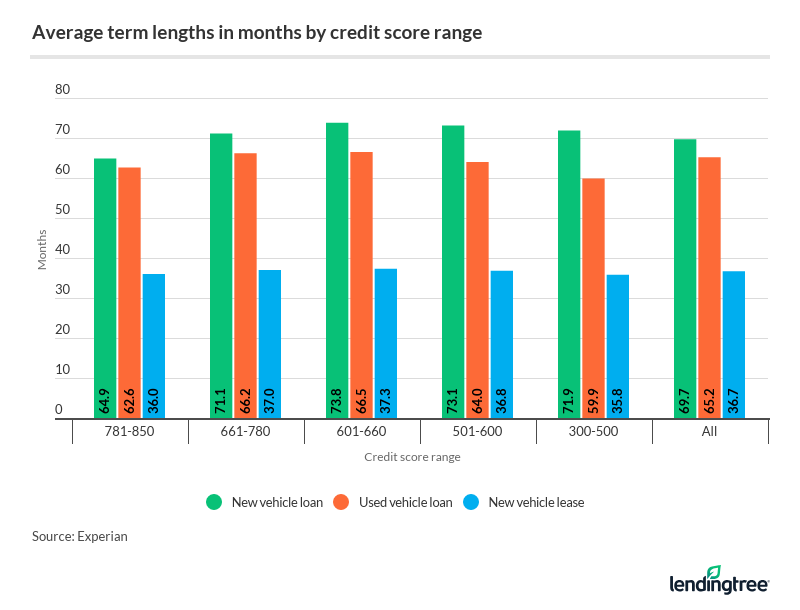 Delinquency rates for auto loans
Delinquency rates for auto loans peaked around 2008, with 30-day delinquencies spiking to 10.9% in the second quarter of 2009, but they've stayed below 8% since 2011.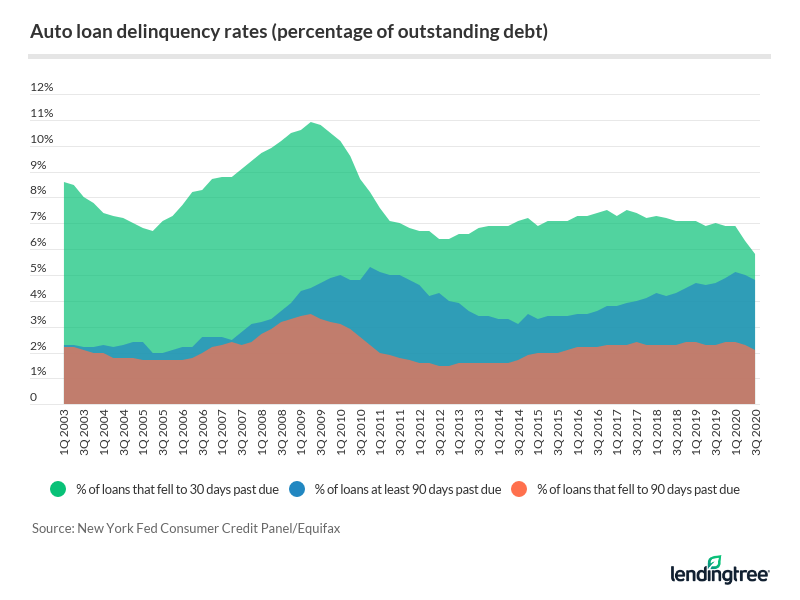 Interest rates by credit score
The average auto loan rate obtained by people using the LendingTree platform in 2020 was 9.46%, but that figure can be much higher depending on your credit score. For those who are "credit invisible," average APRs reached 22.66%, while those with scores of at least 720 averaged an APR of 5.49%.
APRs for closed auto loans by credit score on the LendingTree loan platform (2020)
Credit score
Average APR
720 or higher
5.49%
680-719
7.21%
660-679
10.07%
640-659
13.39%
620-639
14.71%
580-619
17.65%
560-579
17.44%
Less than 560
18.36%
Credit unknown/invisible
22.66%
All borrowers
9.46%
Source: LendingTree.com customer data
Auto loan originations by credit score
Those with the best credit scores borrow the most. In the third quarter of 2020, borrowers with credit scores of at least 720 took out $83.3 billion in auto loan debt. The remaining credit tiers accounted for $85 billion combined.
The median credit score of auto loan borrowers at the time they originated a loan has been above 650 since 2005.
Auto loan originations by borrower age
In the third quarter of 2020, borrowers younger than 30 took out $29 billion, with 30- to 49-year-olds borrowing another $78 billion. The age groups including 50- to 69-year-olds and those 70 and older were responsible for $56 billion and $11.5 billion, respectively.
Auto loan balance by generation
Gen Xers are the most likely to have auto debt, and they also carry the largest loans. At $19,233, the median auto loan balance of Gen Xers is 14% more than the next largest median balance.
The silent generation has the lowest amount of auto debt, even with 33% of its cohort having an auto loan balance. Their median loan balance is $13,203.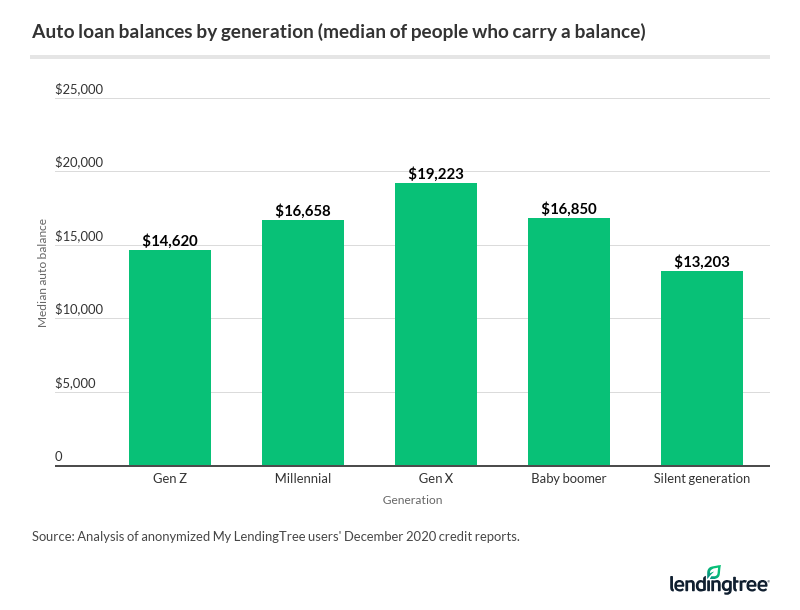 Millennials are slightly more likely to have auto loan balances than baby boomers, but boomers owe more — a median $16,850, compared with $16,658.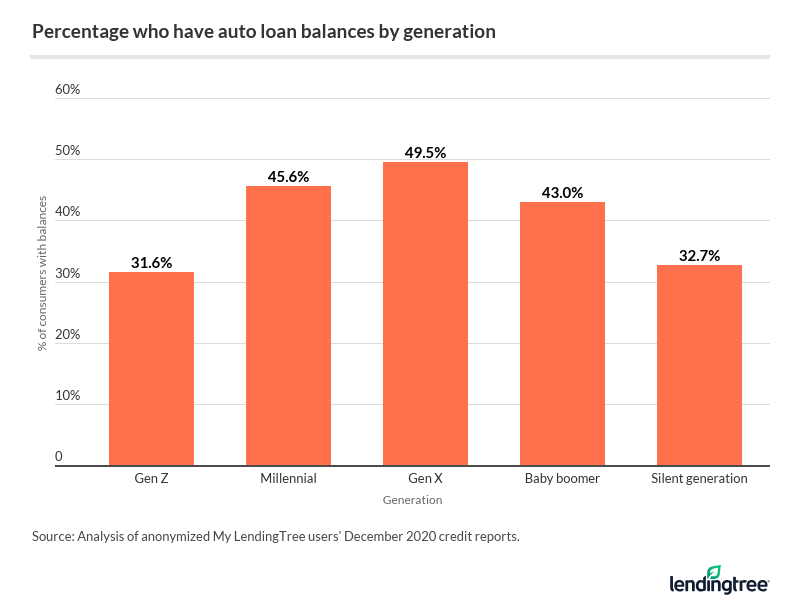 Change in the amount of auto loan applicants and rejections
Between 2009 and 2019, the number of auto loan applications increased 144%. Auto loan rejections were on a steep downward trend from 2009 to 2015, even as the rate of auto loan inquiries increased. Since May 2015, however, rejection rates have risen 7.7%.
Types of lenders financing auto loans
Dealer financing claims the crown, at 34.5% of total (new and used) auto loans. But banks and credit unions are the winners when it comes to used car sales: They handle 37.8% and 29.1% of those deals, respectively, compared to dealer, or captive, financiers' 11.9% share. "Buy-here, pay-here" businesses, often known for predatory lending practices, are most prevalent in used car financing, at 7.9%.