How Does LendingTree Get Paid?
LendingTree is compensated by companies on this site and this compensation may impact how and where offers appear on this site (such as the order). LendingTree does not include all lenders, savings products, or loan options available in the marketplace.
How to Get a Car Loan
Updated on: February 11th, 2020
Editorial Note: The content of this article is based on the author's opinions and recommendations alone. It may not have been previewed, commissioned or otherwise endorsed by any of our network partners.
Check your credit, set a budget, get preapproved, pick your new wheels and finalize the financing: While the process of how to get a car loan seems onerous and the terminology mysterious, we pull back the curtain and break it down into five clear steps. We'll walk you through each one to help you understand how to finance a car.
1. Know your credit score
Your credit score matters a lot when you apply for an auto loan. Auto lenders sort loan applicants into different tiers depending on their credit score. The better credit score you have, the better offer you'll get, and the less you'll have to pay in interest fees and down payment costs.
Here's how to check your credit score. If it's low, look at your credit history. Problems with credit reporting are the chief complaint consumers make to the Consumer Financial Protection Bureau. If there is an error, file a credit report dispute to get it resolved.
APRs for closed auto loans by credit score on LendingTree loan platform Nov 2020
Credit Score
Average APR
720 or higher
4.92%
680-719
6.88%
660-679
8.81%
640-659
12.53%
620-639
11.54%
580-619
16.43%
560-579
19.77%
Less than 560
20.79%
All borrowers
7.53%
How auto loans work
Most of us can't afford to pay for a car with our own cash, so we rely on a loan. Auto financing allows people to purchase cars by borrowing from lenders and paying the loan back with interest for a set period of time. By issuing a car loan, lenders own the title to the car until they are paid back in full.
If you default on your payments, lenders can repossess your vehicle and sell it to make up for their losses. This is why it's important to get the right loan for you – one you can afford to pay back on time and in full.
How to get a car loan with bad credit
If you have a low score or no credit history, you could still get a car loan, but you'll likely pay more in interest. Strongly consider getting a cosigner, someone with good credit who's willing to back you, because it could mean the difference in getting approved or not. You could see this for a greater understanding of bad credit auto loans.
If you don't have a cosigner, the lender will take a closer look at your ability to make loan payments. It is possible to improve your credit by paying your auto loan faithfully at which point you may be able to refinance your auto loan for a lower interest rate.
2. Set your car budget
You don't want to eat ramen every night while you pay off your car loan. And a car costs more than its sticker price — insurance, gas, maintenance and taxes can all add up — so use an auto affordability calculator to make sure the car payment is well within your budget. If you need help setting up a general budget, here are the best budgeting apps. The conventional rule of thumb is to spend 20% on a down payment and 10% of your monthly income on transportation. If that's not possible, try to put down at least 10%, opt for a loan no longer than five years and keep transportation under 20% of your monthly budget on a car payment, insurance, gas and vehicle taxes.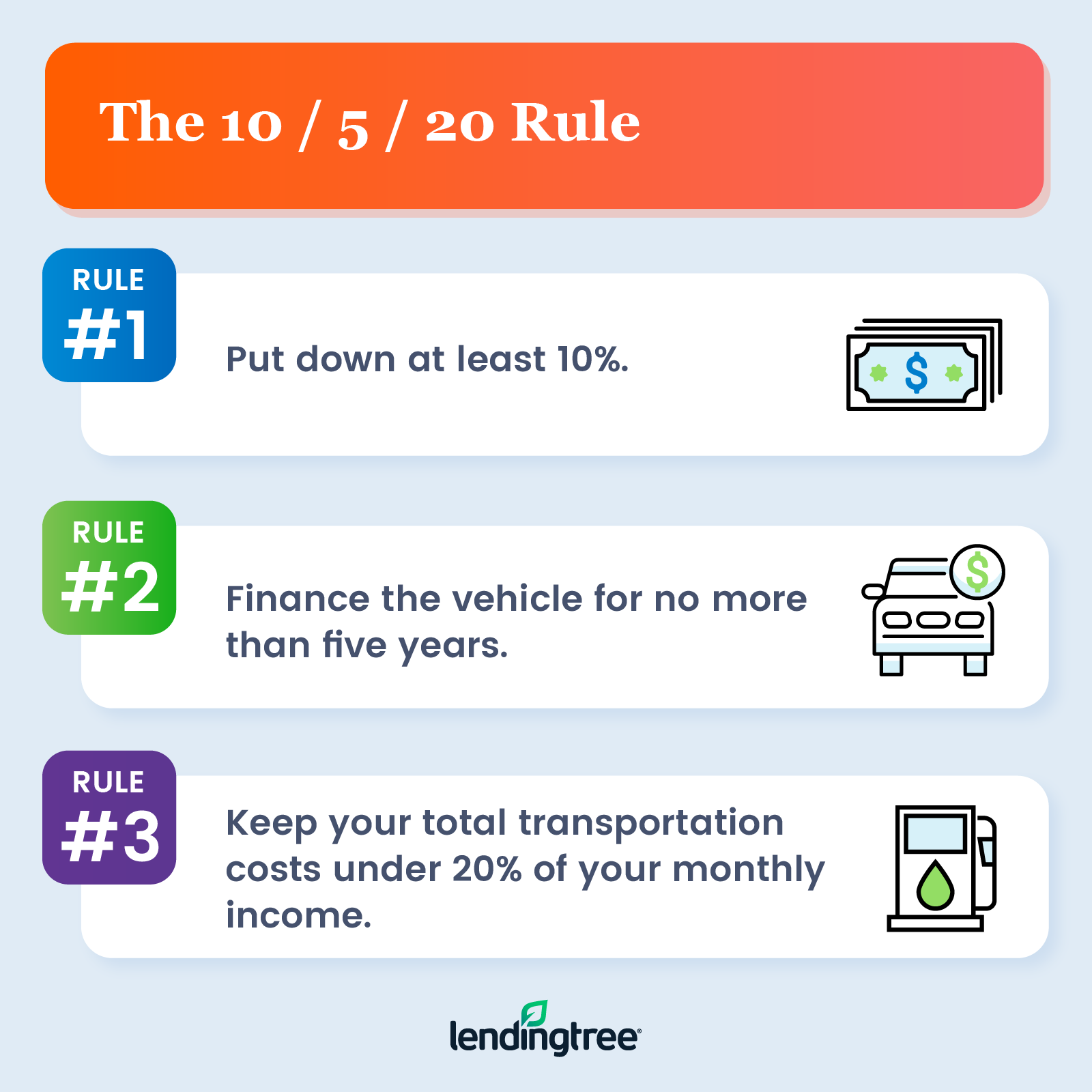 Once you have a ballpark figure, look at cars online. You can decide what you want before you have a salesperson dogging you, trying to sway your choice. Look for vehicles that match your budget and think about the type of amenities and mileage you'd like. You could check out some of the best cars in 2020.
Once you find a few cars you really like, you could use a free, online industry guide like NADAguides or Kelley Blue Book to see if they're priced well compared with the fair market value in your area.
The point of this step is to really nail down what you'd like and how much you'd like to borrow, which you'll need to know for the next step.
3. Apply for auto loans before going to the dealer
This is perhaps the most important step in the process. When you apply for an auto loan through a dealership, dealers can — and often do — raise your APR. By having an auto loan preapproval, you'll already know what APR you deserve and won't agree to a higher one. It also typically cuts down the amount of time spent haggling.
Potential lenders include:
In order to comparison shop and get the best loan for you, apply to a few lenders. It doesn't hurt your credit to apply to several lenders any more than it does to apply to one, as long as you do so within a 14-day time window; some credit-scoring methods allow a 45-day window. You could fill out an online form at LendingTree and get up to five potential auto loan offers from lenders, based on your creditworthiness.
Note: There's a big difference between a preapproval and a prequalification. In a preapproval, a lender pulls your credit and very little should change when you finalize the application. In a prequalification, a lender doesn't pull your credit and a lot could change.
What are the application requirements?
You typically don't need to know the exact car you'd like to get for a preapproval, but you may be asked for:
Personal details: Name, address, phone number, Social Security number
Employment information: Employer, length of employment, income
Desired loan amount: How much you'd like to borrow for how long; for a new or used car; from a dealership or private person
Vehicle: The car's VIN (vehicle identification number) or its year, make and model
Depending on the lender, it may ask for more information or for proof of the information above. For example, it may ask for personal references or for your last two paycheck stubs.
What if you're buying from a private party?
Make sure that when you go to finalize the loan, the lender knows that you're buying from a private party. The upside of buying from a private seller instead of a dealer is that you're probably saving money on the purchase price. The downside is that lenders may charge a higher interest rate. They see the asset (the car) as a riskier investment since it isn't being sold by a business that has vouched for it.
4. Pick your car and ask the dealer to beat your rate
Once you've picked out the car you want and agree to a price, ask the dealer to beat the preapproved offer we talked about earlier. If the dealer can find a better rate for you, great! You just saved even more money. If they can't, that's OK, you still have your preapproval offer as your fallback.
How to compare auto loan offers
When you do ask the dealer to beat your rate, keep your eye on that number, not the monthly payment. A dealer could potentially show you an auto loan offer with the same or lower monthly payment but for a longer term. That eats up any potential savings when you pay interest for longer or the dealer fits in more fees or add-ons. Here are three important loan vocabulary terms to know:
Term. This is the length of your car loan, usually expressed in months. While it is tempting to take out a longer loan for lower monthly payments, you could end up paying significantly more over the life of the loan.
APR. The annual percentage rate (APR) is the amount you're paying the lender in fees and interest, expressed as a percentage. The higher the APR, the more you're paying the lender.
Finance charge. This is the dollar amount you're paying the lender in fees and interest. If you're comparing different terms and APRs, seeing this figure is the quickest way to compare how much each loan would cost. To find out the finance charge on a loan, you could enter the information in an auto loan payment calculator.
Here are examples to illustrate how different terms and APRs can affect how much you pay monthly and in overall finance charges. For our purposes, we looked at a borrower with excellent credit buying a $20,000 vehicle with a sales tax rate of 8.6%. We didn't factor in title and registration costs.
Example 1: Different terms
If the loan offers you receive have the same APR but different terms, you'll find the loan offer with the shorter term has a higher payment but a lower finance charge.
| | | | |
| --- | --- | --- | --- |
| Term | APR | Monthly Payment | Finance Charge |
| 36 months | 4% | $641.26 | $1,365 |
| 72 months | 4% | $339.81 | $2,747 |
Example 2: Different terms and APRs
Oftentimes, auto loan offers will have more than one difference, making it hard to compare apples to apples. Lining up the loan terms, APRs, monthly payments and finance charges can help you to see total costs.
| | | | |
| --- | --- | --- | --- |
| Term | APR | Monthly Payment | Finance Charge |
| 36 months | 4% | $641.26 | $1,365 |
| 72 months | 3% | $330.01 | $2,040 |
5. Finalize the loan
If you accept financing that the dealership has arranged, the dealer will guide you through the rest of the paperwork process. If you use your auto loan preapproval to buy a car, you may have received a check to fill out or you may need to call your lender to tell them you want to finalize the car loan and they'll guide you from there.
Both ways, you'll ultimately look at the auto financing contract. All car loan contracts have a federal truth-in-lending disclosure that may look something like this.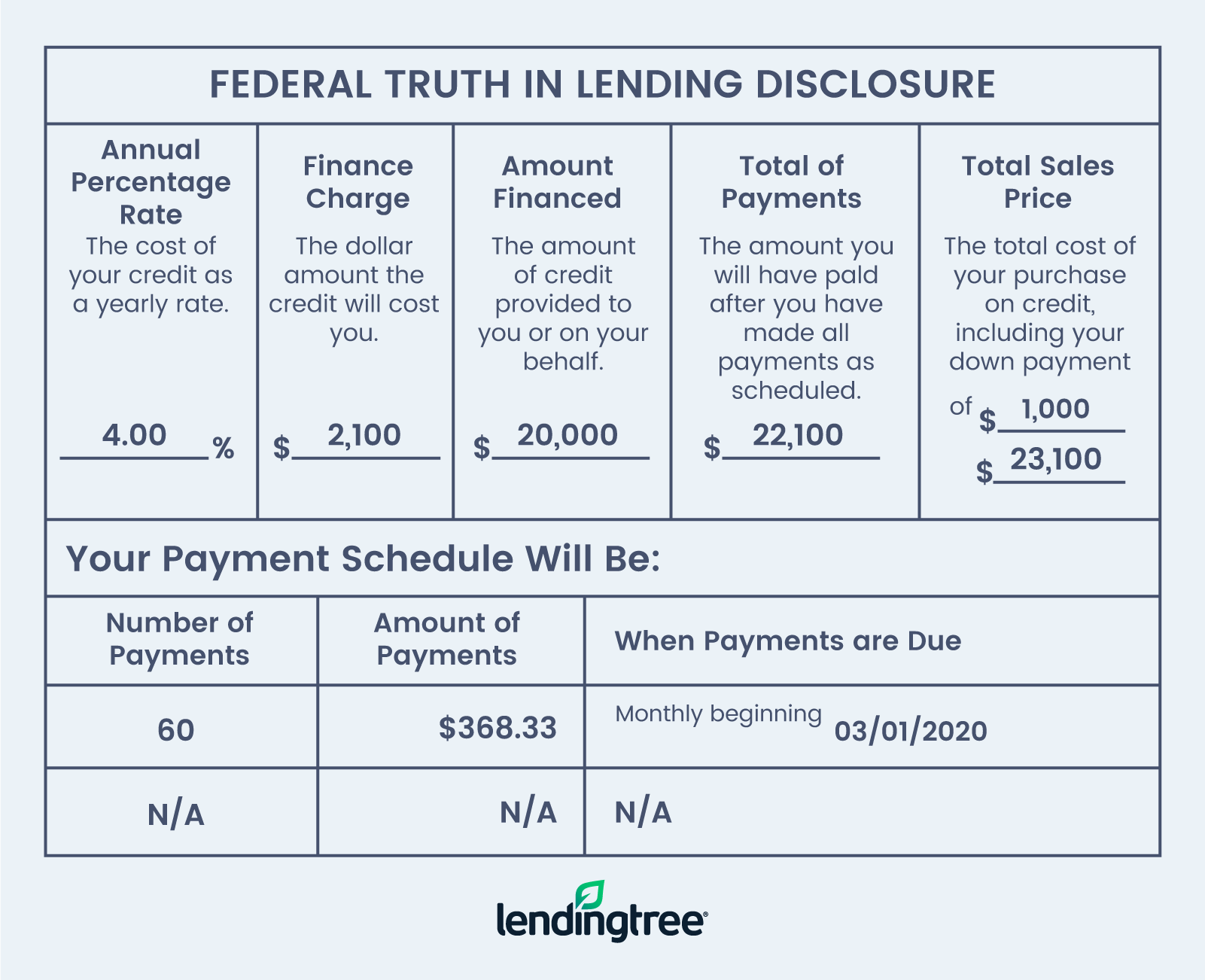 If you have any questions, ask. Your monthly payment, APR and amount financed should be what you agreed to. If they're not, hit the brakes and get the dealer or lender to fix it. If you see any odd fees or add-ons, get the dealer to explain them and/or remove them. In many states, once you sign the contract and drive the car off the lot, the car is yours and you can't return it. So it's very important that everything on the contract is what you agreed to.
When everything is right, sign it and you're done! You did it! Congrats on your new loan and car purchase.