How Does LendingTree Get Paid?
LendingTree is compensated by companies on this site and this compensation may impact how and where offers appear on this site (such as the order). LendingTree does not include all lenders, savings products, or loan options available in the marketplace.
How Car Financing Works
Updated on: September 20th, 2020
Editorial Note: The content of this article is based on the author's opinions and recommendations alone. It may not have been reviewed, commissioned or otherwise endorsed by any of our network partners.
Car financing at its most basic is to apply, sign for a loan and make payments until it's paid off. But with potentially thousands of dollars on the line, gaining a deeper understanding of how car financing works could help you get a better rate and pay off your loan faster. Here are four steps for how to finance a car:
Step 1: Determine your car financing needs
Before you start looking at cars or lenders, you should first look at your budget. Determining what you can afford is pivotal to both getting a loan and triumphantly paying it off. If you can't (or don't want to) pay cash for a car, financing or leasing are your two main routes for private transportation.
Financing vs. leasing
Car financing by definition means taking out a loan where you'll own the vehicle at the end of that contract between you and your lender. Leasing means you're paying only for the use of a car for a certain amount of time. Laying the groundwork will help set you up for your best financing deal possible.
A tale of two auto financing deals
Another important decision you'll need to make is how long you want to borrow money for your new or used car. The examples below show the difference between borrowing for five years or borrowing for six years — the shorter term equals a savings of about $660.
You could use an auto loan calculator to play with numbers based on the car you want. In the example below, we used the calculator starting with the amount financed. You can see the difference in monthly and total payments.
5 Years
(60 Months)
6 Years
(72 Months)
Purchase Price
$25,000
$25,000
Taxes, Title and Fees
$2,100
$2,100
Down Payment
$4,000
$4,000
Trade-in Value
$9,000
$9,000
Amount Owed on Trade-in
$8,000
$8,000
Amount Financed
$24,100
$24,100
APR
5%
5%
Finance Charge
$3,188
$3,845
Monthly Payment
$455
$388
Total of Payments
$27,288
$27,945
Here is a downloadable car financing worksheet where you can fill in your own offers and more easily compare financing options:
When leasing makes sense
If monthly payments seem high for car financing, you may consider leasing instead. In almost all cases, it makes more financial sense to buy a car than to lease one, especially in the long term. But there are reasons why it might make sense for your particular situation — maybe you only need a car only for a short while, or you just prefer brand-new vehicles. We'll take a look at two sample lease terms, below.
A tale of two car leases
Leasing uses a different language than buying. The two biggest terms you'll come across are money factor and residual value.
Money factor is comparable to the more familiar APR: It's the financing charge you'll pay to lease a vehicle. Multiply the money factor by 2,400 to convert the figure to APR. The lower it is, the better.
Residual is how much the car will be worth at the end of the lease. So if a car will be worth 60% of its value at the end of the lease, you would be financing 40% of its value during the lease. The higher the residual value, the better.
3 Years
(36 Months)
4 Years
(48 Months)
Purchase Price
$25,000
$25,000
Residual Value
54%
54%
Title and Registration
$2,100
$2,100
Down Payment
$1,000
$1,000
Trade-in Value
$15,000
$15,000
Amount Owed on Trade-in
$13,000
$13,000
Amount Financed
$10,600
$10,600
Money Factor (or APR)
0.00125
0.00125
Monthly Payment
$341
$268
Total of Payments
$15,276
$15,864
Here is a downloadable car leasing worksheet where you can fill in your own offers and more easily compare leasing options:
Step 2: Get a car loan preapproval
Now that you have a better idea of how much you want to borrow and for how long, it's time to start shopping for an auto loan. It's OK to have a couple potential cars picked out at this point, but we recommend loan shopping before you go car shopping at the dealership.
Research some of the best auto loan rates and apply to a few lenders for an auto loan preapproval. It doesn't hurt your credit to apply to several lenders any more than it does to apply to one as long as you do all applications within a 14-day window. Start with your own bank, credit union or online lender — it might give a rate discount for automatic payments made through one of its checking or savings accounts.
You could fill out a single online form at LendingTree and get up to five potential offers at once from lenders, depending on your creditworthiness. Here's a closer look at average APRs borrowers received on the LendingTree platform.
APRs for closed auto loans by credit score on LendingTree loan platform Nov 2020
| Credit Score | Average APR |
| --- | --- |
| 720 or higher | 4.92% |
| 680-719 | 6.88% |
| 660-679 | 8.81% |
| 640-659 | 12.53% |
| 620-639 | 11.54% |
| 580-619 | 16.43% |
| 560-579 | 19.77% |
| Less than 560 | 20.79% |
| All borrowers | 7.53% |
Source: LendingTree.com customer data
Step 3: Ask the dealer to beat your lowest preapproval rate
Now it's time to hit the car lots. Once you've picked out the car you want, negotiate your best price and then discuss how car financing works. Ask the dealer to beat your lowest preapproval rate, the offer you got ahead of time. Dealers usually jump at the chance — they often earn a fee by brokering a car financing deal between you and their network of lenders. For customers who don't walk in the door with a preapproval, dealers can raise the APR offered by the network of lenders and pocket the difference.
TIP: If the dealer offers a lower rate for a longer term, it's OK to accept it and then pay off the loan according to your original timeline. If you don't, you may end up paying more in finance costs over time, even with a lower APR. We'll tell you more about how to pay off a loan faster, below.
Private party auto loans. If you're looking to buy a vehicle from a private seller, skip this step and check out how to buy a car on Craigslist.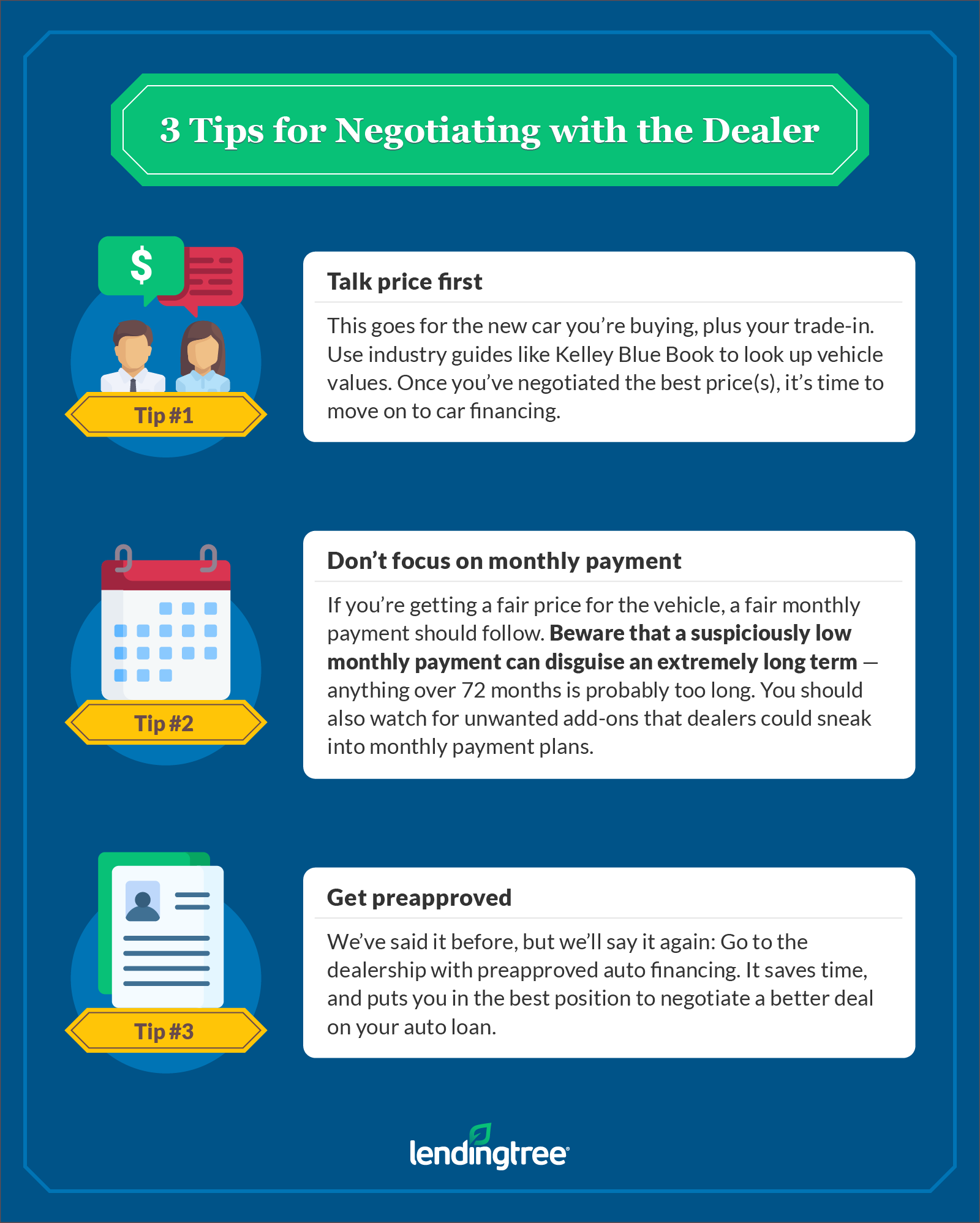 Step 4: Finalize and set up payments
To accept and finalize a loan offer, contact your preapproval lender or give the dealership the go-ahead. Your first car loan payment is usually due 30 to 45 days from the day you complete the paperwork.
We recommend setting up automatic payments, both for the rate discount some lenders offer and simply because you won't have to remember to make a payment manually each month. You could also set up bimonthly payments. By doing this, you're effectively paying off the loan earlier, but you'll want to tell the lender to apply any extra payments to the principal in order to get the biggest bang for your buck. Here's more on how to pay off your car loan faster.
Don't forget about car insurance
Before you drive off the lot, the dealer will require that you have valid auto insurance. No state requires what's known as full coverage, or comprehensive and collision insurance, but your lender might. To get your best car insurance, it's best to shop around and get a few quotes.
What to do if you have trouble making payments
It's easy to get swept up in the excitement of buying a new car, especially if you're a first-time car buyer. But anyone can run into trouble paying an auto loan.
If this happens to you, the first and best thing to do is to contact your lender. Lenders are usually willing to work with borrowers to set up reduced or deferred payments. It's not a perfect solution, as interest will continue to accrue, but it can be better than having late payments. Here are some resources: