How Does LendingTree Get Paid?
LendingTree is compensated by companies on this site and this compensation may impact how and where offers appear on this site (such as the order). LendingTree does not include all lenders, savings products, or loan options available in the marketplace.
What Car Should I Buy? 8 Questions to Ask Yourself
Updated on:
Content was accurate at the time of publication.
A quick online search for new cars can leave your head spinning with options. If you're scouring hundreds of listings and wondering, "What car should I buy?" we can help you narrow it down. These eight questions can help figure out what you're really looking for so you can make the optimal choice for your next vehicle.
In this article, we'll explore these questions:
ALSO:
1. What is the best car for my needs?
Instead of letting a salesperson, a 0% APR promotion or a flashy car commercial dictate what you buy, take a moment to pinpoint your unique priorities.
Before starting your search, you can use this list to help you figure out what you want, what you and your passengers need and how to find the right features that fit your budget for your next vehicle. A young professional with a long commute may prioritize fuel efficiency and comfort, while a large family may be looking for a roomy interior, plenty of seating and top-of-the-line safety features.
2. What is my budget?
The first step is to determine what you can afford. If you start car shopping without checking your budget, you're likely to end up with a vehicle that puts an undue strain on your finances. In the worst case scenario, you could even end up missing payments or facing repossession.
Instead of overspending, do the math to see what vehicle expenses you can sustain. In addition to having a down payment saved, consider how much room you have to take on these recurring expenses:
Insurance
Gas
Parking and tolls
Maintenance
Repairs
If possible, try saving up the full monthly expenses for a few months before you make your car purchase. This will give you a chance to see what's truly affordable and, as an added benefit, can help you save more for your down payment.
Once you determine your budget, shop around for the best auto loan. Although many dealerships offer financing, you'll often get better rates and terms through other lenders. You can fill out a single form with LendingTree and receive up to five auto loan offers to help you begin your search.
3. What car size would be right for me?
Whether it's too big or too cramped, buying a car that's not the right size can lead to instant regret.
Do you have a growing family? Lots of equipment to transport? Limited parking space? Before buying, figure out what size and how much space you need to suit your everyday use of a vehicle.
Here are a few size considerations to keep in mind when comparing vehicles:
Overall dimensions. Consider the length, height and width and make sure you search for vehicles that will fit into your garage or parking space.
Interior measurements. Compare inches of headroom and legroom, and if you plan to transport passengers and cargo, look at how many cubic feet are behind each row and in the trunk or cargo area.
Second- and third-row seating. Make sure there's enough seating space for each of your passengers and enough room for them to easily get in and out of the vehicle.
For a family car, we recommend buckling the whole family in before buying. Take some time to play with seating configurations and make sure there's space for strollers, musical instruments, sporting equipment or any other items you regularly transport.
Your location can also influence the size of car that you need. City dwellers may want a compact car that is easy to park and maneuver. An all-wheel-drive SUV or an off-road truck may be more practical in a rural area, especially where roads are not paved.
4. What type of car would be best for me?
Another basic consideration is which body type will best meet your needs. With more vehicles pushing the limits of their type (think subcompact SUVs) you'll have a lot to choose from.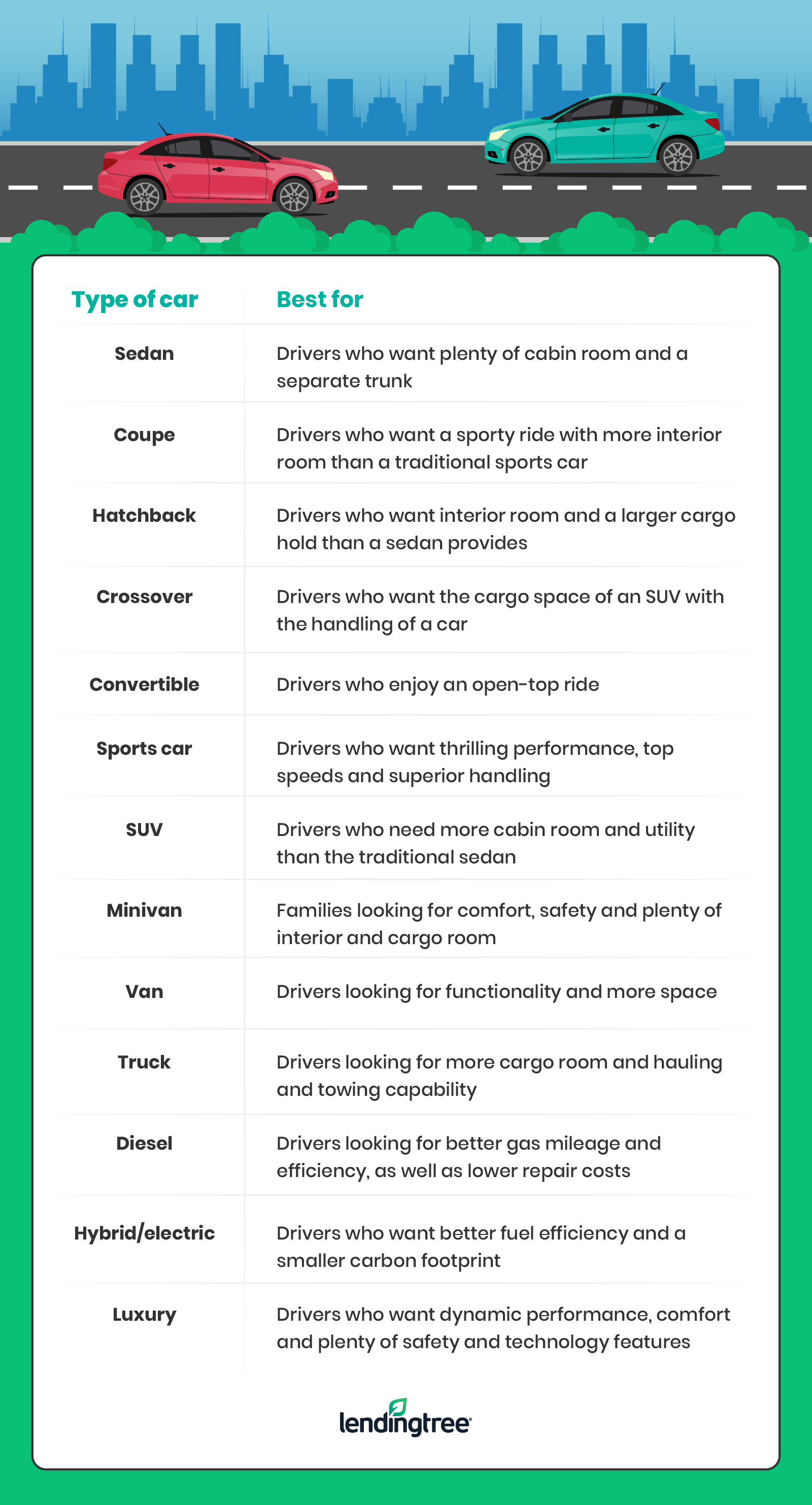 Ultimately, the right vehicle type will be a cross-section of your preferences between these key factors:
Functionality: Fuel economy, maintenance, resale value, comfort, size
Performance: Technology, handling, speed, hauling capability
Aesthetics/style: Design, body detail, infotainment systems, top-of-the line features
5. Do I want a new or used car?
Buying a brand new car has its perks. When you fork over the extra cash for a new vehicle, you'll have the peace of mind that comes with driving a car with no prior history. Plus, you'll likely get more coverage under a new manufacturer's warranty.
But buying a used vehicle doesn't have to mean settling for second best. Between certified pre-owned vehicles, vehicle history reports and mechanics' inspections, you can get into a previously owned car that's been extensively well-vetted. Plus, buying used versus new can mean avoiding the typically significant loss of value that new car owners experience as soon as they drive off the lot.

Pros
Cons
New cars

Newer technology

Reliability

More financing options

Manufacturer warranty

Higher cost

Higher sales tax and insurance premiums

Instant depreciation

Used cars

Typically lower cost

More car for the money

Reduced depreciation

Unknown history

More wear and tear

More maintenance
6. What brand of car should I get?
Each vehicle brand has its own reputation. Depending on your preference for things like reliability, longevity and resale value, you may want to omit or prioritize certain manufacturers from your car shopping list:
7. What features do I need in a car?
You'll want to consider which features are essential to your use of a vehicle. Any and all of the following features might be necessary, depending on your needs:
Robust engine: A reliable engine helps ensure longevity and reduces the need for maintenance.
Good gas mileage: Better fuel efficiency means saving money and cutting down on trips to the gas station.
Drivetrain: An efficient drivetrain can not only make your vehicle run smoothly but can reduce fuel consumption and help you maintain optimal engine performance. Cars with front- or rear-wheel drive are more likely to get better gas mileage, but if you'll regularly be driving in the snow or off-road, choosing a car with all-wheel drive may be a better choice.
Driver assistance technologies: These safety features notify the driver of impending danger. While these systems vary across makes and models, they can include alerts for certain dangers on the road and automated responses that prevent crashes and save lives.
Comfort features: For those who make long commutes or frequent road trips, features like climate control, heated seats and spacious seating that support the comfort of the driver and passengers should be a major consideration.
Technology features: Newer features like in-car Wi-Fi or hands-free Bluetooth can help you stay safely connected while also keeping your passengers entertained.
Towing capability: It may not seem important to some drivers, but exceeding your car's towing capability can cause serious damage to your engine, tires and more.
8. What features do I want in a car?
For all of the other fun add-ons and upgrades, we suggest making a list of your most coveted nice-to-haves before you start shopping around. Special features can increase your bill fast, so it's important to decide what will give you the most use and enjoyment before you start your search.
Here are a few features to decide on before shopping:
Infotainment systems
Safety upgrades
Telematics
Car camera systems
On-board Wi-Fi
Sun or moonroof
Zoned climate control systems
Heated seats and steering wheel
Where to look for a car
Once you've answered the essential questions to narrow down your ideal vehicle and secured preapproval for your car loan, it's time to begin your search.
This step of car buying can feel just as overwhelming as deciding what kind of car you want, since there are a lot of different places you can go to buy a car.
Here's an overview of your options:

In-person dealerships: The car selection at a dealer's lot will be limited, but some dealerships offer rebates or manufacturer incentives when you visit the lot.

Online car dealers: Selection is practically unlimited and going this route can help you find a great deal on any make and model. Pay attention to where the car is located and fees related to transporting the car.

Private sellers: You can find private sellers through websites like Craigslist or EBay. These sellers tend to offer the lowest prices, but going this route involves more hands-on communication, the safety concerns of meeting up with strangers and buying from an unknown seller. The online platform you use may also charge fees.

Industry guides: In addition to providing respected automotive research and reviews, industry guides such as Kelley Blue Book (KBB), Edmunds and NADAguides also help prospective car buyers search for their next car.
What car should I buy: FAQ
How do I decide which car is right for me?
Before you start shopping, start by determining what you can afford and then make a list of your top priorities for your vehicle. This list should be driven by your main uses for the vehicle, including how many passengers you'll typically have and what conditions you'll drive in on a regular basis.
What is the most reliable car brand?
There are many reliable car brands to choose from, and some brands excel at producing specific vehicle types. To find reliable makes, try researching car reviews and safety ratings from reputable companies like KBB, Edmunds, J.D. Power, the Insurance Institute for Highway Safety (IIHS) and the National Highway Traffic Safety Administration (NHTSA).
What should I do with my old car?
If you no longer need your old vehicle, there are a few ways to go about selling. Selling privately — by listing the car online or advertising the sale locally — can result in getting the best price, however you'll have to create a vehicle listing, put in some work to find serious buyers and complete a bill of sale and title transfer.
Alternatively, you could accept a lower price for the vehicle in return for the convenience of selling directly to a dealership or doing a trade-in. Just make sure you research the car's value before accepting an offer.