How Does LendingTree Get Paid?
LendingTree is compensated by companies on this site and this compensation may impact how and where offers appear on this site (such as the order). LendingTree does not include all lenders, savings products, or loan options available in the marketplace.
What Car Should I Buy?
Updated on: March 13th, 2020
Editorial Note: The content of this article is based on the author's opinions and recommendations alone. It may not have been previewed, commissioned or otherwise endorsed by any of our network partners.
With so many models on the market today, buying a car can feel overwhelming and a little scary. Beyond deciding which make and model are right for you, you'll also need to figure out whether you want to buy new or used, as well as whether to lease, finance or pay cash.
But if you are willing to do a bit of research and go through each of the steps in the process for how to find the right car, you can make sure you end up with the best car for your needs.
What kind of car should I get? 8 questions to ask yourself
1. What is the best car for my needs?
To figure out what car is right for you, first think about how you plan to use the car and which features you find most important. Consider your daily mileage and whether you'll be driving mostly on the highway, around town or in inclement weather. If you have a long commute, fuel efficiency and comfort may top your list. A large family, on the other hand, may prize plenty of seating, a roomy interior and top-notch safety features. For young professionals, affordability may be key.
Once you've identified your needs, familiarize yourself with the latest models on the market and the best car to buy right now. Check out the best cars in 2020 for information on new vehicles.
2. What is my budget?
Next, you'll need to determine how much you can afford to spend on a car. If you plan to lease or finance your next car, consider how much money you can put toward a monthly car payment.
A quick way to figure this out is to list your fixed monthly expenses and then subtract this amount from your monthly income. This will provide a clearer picture of what you can afford to pay if you plan to finance or lease a vehicle. You can also use our car affordability calculator to help you do the math.
Several factors can affect how much you'll pay each month. You can lower your monthly payments by extending your loan or making a larger down payment. The interest rate that you pay, as well as your credit score, can also affect your monthly payment. If you trade in your old car, you may be able to reduce your monthly payments.
In addition to your monthly car payment, keep in mind that you may encounter additional costs as a car owner. A car with a lower reliability rating could signify higher maintenance and repair costs over time. A luxury car or SUV may require premium gas. The type of vehicle you buy can affect your monthly insurance premiums, too.
3. What car size would be right for me?
Determining which size car is best for you depends on how you plan to use it. Large trunks and cargo areas can accommodate bags of groceries, luggage, sports equipment and even furniture. Cars with rear seats that fold down provide additional space. A large family may require a three-row SUV that can seat between six and eight people comfortably, while a single person may find that a small, fuel-efficient car is the best fit.
Your location can also influence the size of car that you need. City dwellers may want a small car that is easy to park. An SUV or a pickup truck may be more practical in a rural area, especially where roads are not paved.
4. What type of car would be best for me?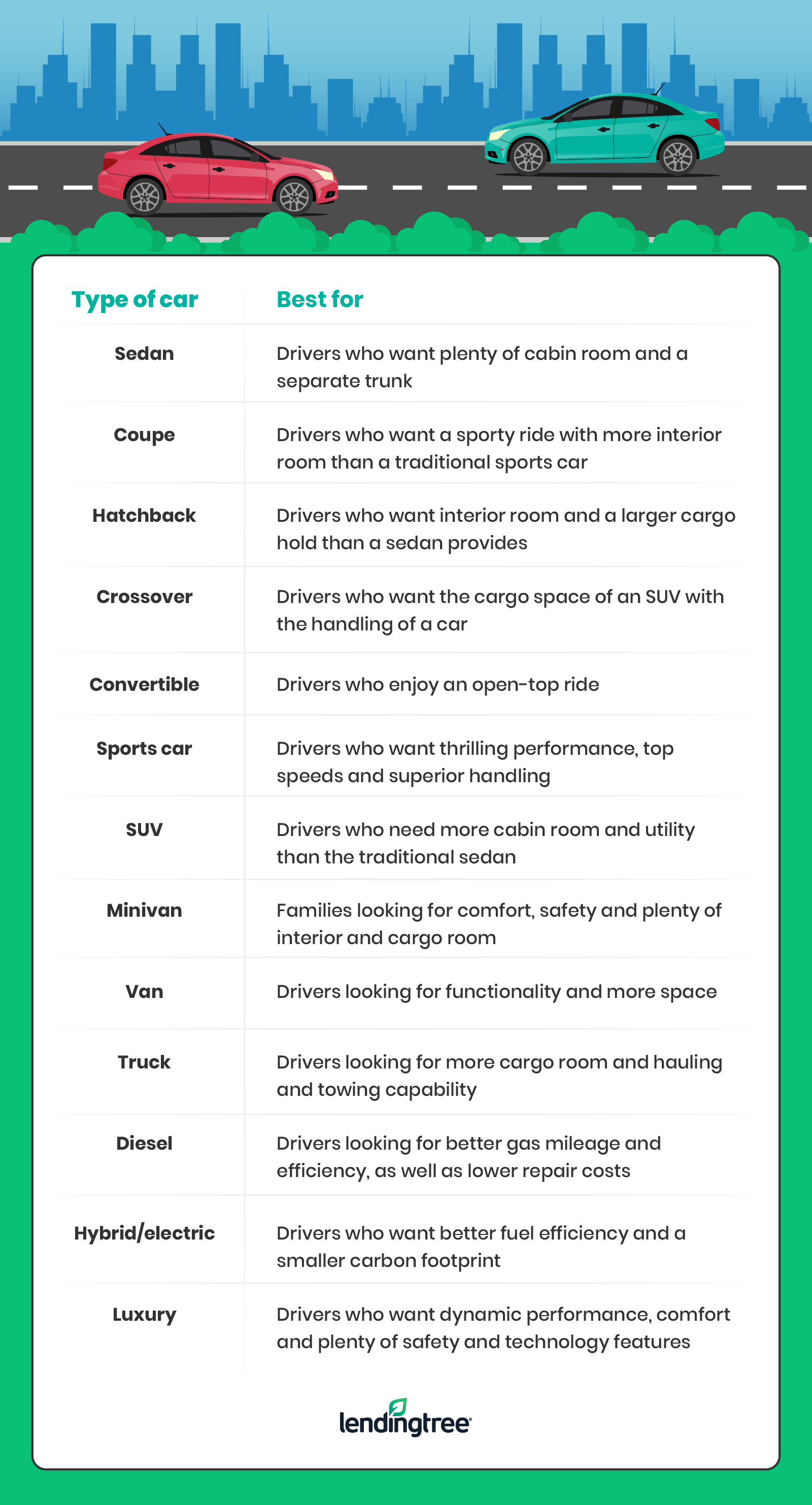 The type of car that's best for you ultimately will be the one that suits your daily needs. Mid-sized sedans and SUVs have plenty of cabin and cargo space, which makes them a great option for families or commuters who need more room. Larger families may want a three-row SUV that can seat between seven and nine passengers comfortably.
Drivers who enjoy the open road may opt for a sports car or convertible. Luxury cars provide comfort and prestige, while trucks can tow boats and haul equipment. Commuters who travel long distances may opt for hybrid or electric vehicles with good gas mileage.
5. Do I want a used or new car?
To find the best car that meets your needs, consider the benefits and drawbacks of buying a new or used model. A new car gives you the latest features, but a used car may be more affordable.
For most shoppers, buying a car new has a certain appeal. There are many good reasons to buy a new car, but there are also drawbacks:
Pros and cons of buying a new car
Pros
Cons

Latest technology and amenities
Wider choice of features and colors
Better interest rates
Standard manufacturer warranty coverage
No previous mechanical or performance problems
Most current safety features

A higher price tag
More sales tax due to car's higher price
Higher insurance premiums
More depreciation
Alternatively, you may consider purchasing a used vehicle. Of course, there are benefits and drawbacks to buying a used car as well:
Pros and cons of buying a used car
Pros
Cons

Lower purchase prices than new models
Cars less than 2 years old may still be covered under original warranty
Pay less in sales tax and insurance premiums
More amenities and features for less money

Risk of previous mechanical or performance problems
A higher interest rate than new cars if financing
Sooner repair and maintenance expenses
6. What brand of car should I get?
Buying your next car means more decisions than just picking out the model. It's also important to look at the manufacturer. While there are many similarities between brands, some carmakers place a greater emphasis on reliability, safety or technology features.
If you are wondering which brands you should consider, we've compiled a list of some of the most popular brands on the market today and what they're known for, which can serve as a starting point for your research:
7. What features do I need in a car?
Examining a car's features will help you pick a vehicle that aligns with your needs and lifestyle. Key factors to consider when deciding which features to choose include:
Robust engine: Whether you are a commuter who does a lot of highway driving or a parent who needs to ferry your family around town, a strong engine can provide plenty of power and acceleration when you need it.
Good gas mileage: Whether you have a long commute or are just looking to save money at the pump, choosing a car with good gas mileage can give you the most bang for your buck and minimize trips to the gas station.
All-wheel drive: If you plan to drive in snow, sleet or rain, all-wheel drive is a helpful feature that gives you more traction when you need it.
Driver assistance technologies: These advanced safety features notify the driver of impending danger. They can alert you to pedestrians behind your car, make sure you stay centered in your lane and monitor your blind spots.
Comfort features: Supportive seats, high-quality trim and ample cabin space can improve your ride quality. Such features also include heated seats, leather upholstery and tri-zone automatic air control.
Added technology: Popular features include hands-free Bluetooth technology and navigation systems. The latest technology keeps passengers engaged with entertainment that syncs from your smartphone.
Towing capability: If you plan to tow a boat or heavy equipment, a truck or SUV with towing capacity is a must.
8. What do I want in a car?
When picking the perfect car, you should decide which features you need and which ones would simply be nice to have. Think of your needs as non-negotiable features, such as safety equipment, good gas mileage or car size. Wants, on the other hand, are nice to have but not necessary.
While heated seats would be a comforting touch in the winter, for example, you can forgo them if they add too much to the sticker price. If you need a large SUV or minivan to transport the family around town, you may need to sacrifice high fuel efficiency.
It's true that the perfect car would include everything that you need and want, but focusing first on your non-negotiable features will help ensure you get the best car for your lifestyle.
Where to look for a car
There are a wide variety of online resources that you can use to read reviews, compare prices, check safety ratings and, ultimately, find a car that has the features you're seeking. Below are some of the top resources available to car buyers today:
How to choose a car
Once you've landed on the best features and have a firm grasp of the type of car you are looking for, it's time to decide what car to buy. Here are the key steps you'll need to take to find the perfect car:
1. Find cars for sale.
When you've narrowed down the brands and models on your list, take the time to see what's for sale and where. You can then compare prices, options and dealer promotions.
2. Take a test drive.
Before you buy any car, make sure to take it for a test drive. When you're testing a car, it's important to drive it in the way that you normally would. For example, if you do a lot of city driving in stop-and-go traffic, take routes that will allow you to test how the car handles. Heavy highway drivers should check how quickly the car accelerates. Be sure to check visibility around the car, too.
3. Make sure to check out the interior, too.
Test the seats for comfort and adjustability. Try out the infotainment system to check its quality and see whether the controls are easy to reach from the driver's seat. If you have young children, consider bringing a car seat along to make sure it can be easily installed. Evaluate the size of the cargo hold, especially if you have folding rear seats.
4. Pick your car.
Once you've tested different cars, it's time to make your choice. Now is the time to start negotiating a price with the dealership or private seller.
5. Decide whether to lease or buy.
Unless you plan to pay for your car in cash, you'll be faced with the decision of whether to buy or lease. Your monthly payments may be higher if you buy, but you will own the car once you've paid off the loan. When you lease a car, you are paying for its usage. Lease contracts typically run 24 to 36 months and have mileage limitations. Once your lease expires, you can either purchase the car at its fair market value or return it and lease another car. You may prefer leasing if you know you'll stay under your contract's mileage limits and like the idea of having a new car every few years.