How Does LendingTree Get Paid?
LendingTree is compensated by companies on this site and this compensation may impact how and where offers appear on this site (such as the order). LendingTree does not include all lenders, savings products, or loan options available in the marketplace.
How To Request a Credit Limit Increase With Bank of America
Published on: October 22nd, 2020
Editorial Note: The content of this article is based on the author's opinions and recommendations alone. It may not have been reviewed, approved or otherwise endorsed by the credit card issuer. This site may be compensated through a credit card issuer partnership.
If you are a Bank of America cardholder and would like to increase your spending power with your Bank of America credit card, it's easy to ask for a credit limit increase, but just know that if you ask too soon after getting the card or if you haven't treated the card responsibly, your request may not be granted.
Here's what you need to know about how to ask for a credit limit increase on your Bank of America credit card.
Click below to learn more:
Preparing to request a credit limit increase
While there's no way to guarantee your request will be approved, following the steps below will make it more likely that Bank of America will consider your request for a higher credit limit favorably:
Wait until you've had the card for six months or more.
Pay your credit card on time and in full every month.
Let time pass between credit limit increase requests.
By showing responsible behavior with the card over an extended period of time, credit card issuers are generally more willing to bump up your credit line.
Payment history is the weightiest factor impacting your credit score (35% of your FICO Score and 41% of your VantageScore) and if you've routinely paid your credit card bill after it's due, the odds of being granted a credit limit request aren't great.
Finally, applying for a higher credit limit too frequently might also lead to a denial. By allowing at least six months to pass, you demonstrate over time that you can manage a higher credit line responsibly.
Requesting a credit limit increase with Bank of America
Get an automatic credit limit increase
Bank of America may increase your credit limit automatically after you've had the card awhile and have managed the card responsibly. You may or may not be officially notified of the increase, so check your statements every month to see if anything has changed.
Log in and make your request online
If you'd like to initiate a credit limit increase before then, here are the steps to take:
After signing into Bank of America's online portal, navigate to the "account services" page. From there, select the "credit line increase" option, which will take you to a form for the request: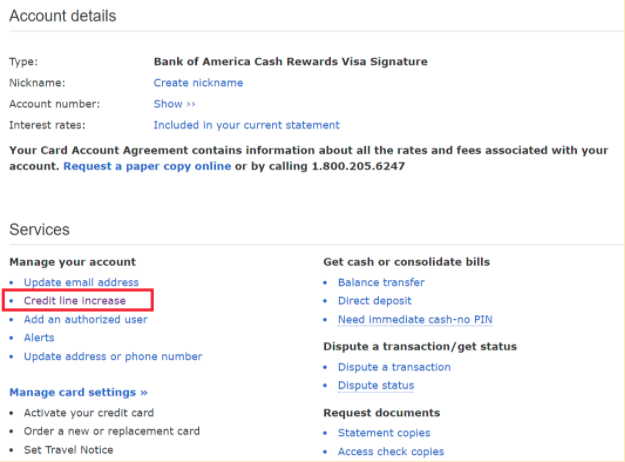 You'll be asked to enter the following information in the credit line increase form:
The desired credit line in $100 increments.
Your country of citizenship and country of residence.
The physical address where you live.
Your occupation, total income and source of income.
The type and amount of your housing payment.
In some cases, you may get an instant decision. In others, it can take seven to 10 business days before Bank of America lets you know if your request has been approved or denied.
Request an increase over the phone
To request a higher credit limit over the phone, call the number on the back of your credit card.
You'll need to prepare the same information that you'd provide to make the request online. If you're eligible, Bank of America may approve your credit limit increase request immediately.
What to do if your request for a higher limit is denied by Bank of America
If your request for more credit is denied, here's how to increase your chances for next time:
Continue to improve your credit score and check your credit reports for possible errors.
Use your Bank of America card frequently, but keep your balance manageable.
Make sure your income is up to date.
By demonstrating a history of on-time payments, keeping your utilization low, and not applying for new credit too frequently, you'll build a solid credit history. And all of these behaviors are ones that will make your issuer more likely to approve you for a higher credit limit, too.
Of course, showing Bank of America that you regularly use the card that you're asking for a higher limit can help, too. If you aren't using the credit you have, why would you need more?
Finally, having a higher income means more ability to pay back bigger purchases. If your income has increased since you first got the card, make sure to update your online profile.
How a higher credit limit can affect your credit score
When you make a formal request for a higher credit limit, some issuers conduct a hard inquiry to evaluate your credit profile while others proceed with a soft inquiry. If there's a hard inquiry, it will drop your credit score approximately five to 10 points. A soft inquiry, however, has no impact on your credit score.
Bank of America typically uses a soft inquiry, according to online discussion among cardholders.
Over the long term, a higher credit limit has the potential to improve your credit score by reducing your utilization rate when you carry a balance on the card. For example, on a card with a $1,000 limit, a $400 balance is 40% utilization. But a $400 balance on a card with a $1,500 limit would reduce your utilization to just under 27%. Personal finance experts suggest keeping utilization lower than 30% for optimal credit scores — and the closer to zero, the better.
Just don't allow a higher credit limit to tempt you into overspending. Treat your credit card like a debit card, which is to say, spend only what you can afford to pay off monthly or even weekly.