How Does LendingTree Get Paid?
LendingTree is compensated by companies on this site and this compensation may impact how and where offers appear on this site (such as the order). LendingTree does not include all lenders, savings products, or loan options available in the marketplace.
How To Request a Credit Limit Increase With Bank of America
Updated on: January 30th, 2023
Why use LendingTree?
We are committed to providing accurate content that helps you make informed money decisions. The content on this page has not been reviewed, approved or otherwise endorsed by any credit card issuer. We do maintain partnerships with some issuers, and our site may be compensated through those partnerships. Read our .
Increasing your credit card's credit limit provides additional purchasing power and has the potential to improve your credit score. If you are a Bank of America cardholder, asking for a credit limit increase is easy. In some cases, the bank will increase your limit automatically. Otherwise, you can submit a request over the phone, online or in a branch. Remember — if you just opened your card or haven't treated it responsibly, your request may not be granted.
Here's what you need to know about how to ask for a credit limit increase on your Bank of America credit card.
When to ask for a credit limit increase with Bank of America
There aren't predefined rules on when to ask for a credit limit increase. However, there are certain events and behaviors that increase your odds of approval:
You've had the card for six months or more
You've consistently paid your credit card on time and in full every month
You haven't recently requested a credit limit increase
You've started a higher-paying job or received a raise or promotion
You've paid down credit card debt and boosted your credit score
By showing responsible behavior with the card over an extended period of time, credit card issuers are generally more willing to bump up your credit line. Additionally, increasing your income or lowering your debt makes you a more attractive borrower.
Payment history is the weightiest factor impacting your credit score (35% of your FICO Score and 41% of your VantageScore). Lenders like borrowers who routinely pay their bills on time and avoid late payments. Consider setting up automatic payment of the minimum amount due to ensure that your bill is always paid on time.
Finally, applying for a higher credit limit too frequently might also lead to a denial. Allow at least six months to pass between requests. Frequent credit requests can be a sign of financial distress or overborrowing.
How to request a credit limit increase with Bank of America
Get an automatic credit limit increase
Bank of America may increase your credit limit automatically after you've had the card awhile and have managed the card responsibly. You may or may not be officially notified of the increase, so check your statements every month to see if anything has changed.
Log in and make your request online
If you'd like to initiate a credit limit increase before then, here are the steps to take:
After signing into Bank of America's online portal, select the credit card whose credit line you'd like to increase. Navigate to the "Information & Services" tab.
2. From there, select the "Credit line increase" option, which will take you to a form for the request: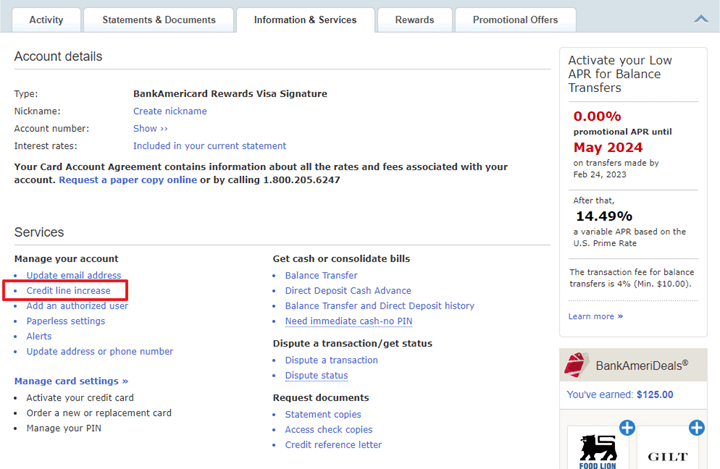 3. You'll be asked to enter the following information in the credit line increase form:
The desired credit line in $100 increments.
Your occupation, total income and source of income.
The type and amount of your housing payment.
By submitting a credit limit increase request, you authorize Bank of America to obtain a copy of your credit report and review your credit and employment history.
In some cases, you may get an instant decision. In others, it can take seven to 10 business days before Bank of America lets you know if your request has been approved or denied. To approve your request, Bank of America may transfer unused portions of your credit limit from other cards.
Use the Bank of America app
Bank customers increasingly use mobile apps to open, monitor and service their accounts. Bank of America customers with credit cards can also request a credit limit increase through the bank's mobile app.
To request an increase through the mobile app, log in and select which credit card whose credit limit you want to increase. Scroll down to the "Credit Line" section on the screen, then click on "Credit Card Line Increase."
This opens a browser window that matches what you'd see if you made your request from the bank's website. Complete the form following the steps above.
Request an increase over the phone
Call the number on the back of your credit card to request a higher credit limit over the phone.
You'll need to prepare the same information that you'd provide to make the request online. If you're eligible, Bank of America may approve your credit limit increase request immediately.
How much of a credit limit increase should you request?
When submitting a request to Bank of America to increase your credit limit, you'll need to say how much additional credit you want. You can request increases in $100 increments, but you'll need to make a reasonable request, given your current credit limit and your needs. Here are a few factors to consider when submitting your request.
Upcoming purchases. Is your credit limit prohibiting you from making a purchase? If you have a purchase in mind, ask for a large enough increase to make that purchase possible.
Be reasonable with your request. Banks provide credit limits based on your ability to repay your balance. When deciding, they look at your credit history, income, debt obligations and other factors. Unless something has changed dramatically, limit your request to 10% to 25% of your current credit limit.
Prevent overspending. Some people have a hard time controlling their spending. A larger credit limit can lead to the temptation to buy more than you can realistically repay. If this scenario can apply to you, don't ask for too large of an increase.
Before calculating the amount of the Bank of America credit line increase to request, do your homework. Look at your credit card balance and credit limit to calculate your credit utilization ratio. Ideally, your balance should be less than 30% of your credit limit. Consider how much of an increase you would need to reach that 30% ratio.
You can get your credit score through the Bank of America mobile app or website. If your score is on the lower side, you should consider whether there are ways to quickly boost your score before submitting your request, such as:
Paying off current balances. Paying down balances lowers your utilization ratio and increases credit scores.
Not applying for credit cards. If you have recent inquiries, waiting a few months can reduce their impact on your score. Making all of your payments on time shows responsibility for your debt obligations.
Will requesting a credit limit increase with Bank of America hurt your score?
No, asking for a credit line increase with Bank of America should not lower your credit score. When applying for new credit, most lenders make a "hard inquiry" on your credit report which can temporarily lower your credit score. However, users on online credit card forums note that Bank of America does a "soft pull" before increasing your credit limit. A soft pull does not affect your credit score, and other lenders cannot see the inquiry.
In fact, getting a credit line increase on your Bank of America credit card can actually help your credit score. A higher credit limit has the potential to improve your credit score by reducing your utilization rate when you carry a balance on the card. For example, assume that you were carrying a $400 balance on a credit card with a $1,000 limit (40% utilization). If you have increased your limit to $1,500, you would lower your utilization to just under 27%, below the 30% ratio recommended by personal finance experts.
Just don't allow a higher credit limit to tempt you into overspending. Treat your credit card like a debit card and only make purchases you know you can pay off when the bill is due. Otherwise, you could dig yourself into debt that you can't pay off and harm your credit score.
What to do if your credit limit increase is denied by Bank of America
Unfortunately, Bank of America does not approve every credit line increase request. If your request was declined, here are a few of the options you have.
Continue to improve your credit score. Boosting your credit score increases your odds of an automatic increase or approval when you request one.
Check your credit reports for possible errors. A study by the FTC found that 1 in 4 consumers had an error on their credit report that might affect their credit score. Correcting errors can help you get approved in the future.
Apply for a card from another card issuer. While Bank of America is a solid option, you can find high-limit credit cards from numerous banks to meet your needs.
Ask for a credit limit increase on a card from a different bank. If you have credit cards with other banks, ask for a credit limit on one of those cards.
Use your Bank of America card frequently, but keep your balance manageable. Showing that you can be responsible with your card by using it and paying it off each month illustrates good credit behavior. The bank may approve future requests based on your positive usage.
Make sure your income is up to date. Your income may have changed significantly from when your credit card was opened. Updating your income may lead to future increases in your credit limit.
Wait at least six months to ask Bank of America again. Waiting six months between credit limit requests allows positive behaviors to build your credit score. This also puts negative credit events in the rearview mirror, making them less likely to impact the bank's decision.