How Does LendingTree Get Paid?
LendingTree is compensated by companies on this site and this compensation may impact how and where offers appear on this site (such as the order). LendingTree does not include all lenders, savings products, or loan options available in the marketplace.
What Credit Cards are Most Accepted Worldwide?
Published on: November 27th, 2018
Why use LendingTree?
We are committed to providing accurate content that helps you make informed money decisions. The content on this page has not been reviewed, approved or otherwise endorsed by any credit card issuer. We do maintain partnerships with some issuers, and our site may be compensated through those partnerships. Read our .
Have you ever run into an issue trying to pay with your credit card, only to have the merchant say they won't accept it? That may be because you're using a credit card backed by a less accepted network like Discover or American Express® Compared to Visa® and Mastercard®, Discover and American Express credit cards aren't as widely accepted by merchants in the U.S. and worldwide.
To get a better understanding of your credit card's merchant acceptance, find the network logo pictured on the front or back of your credit card. Then, check out the table below, which breaks down the merchant acceptance rates for Visa, Mastercard, Discover and American Express in the U.S. and worldwide: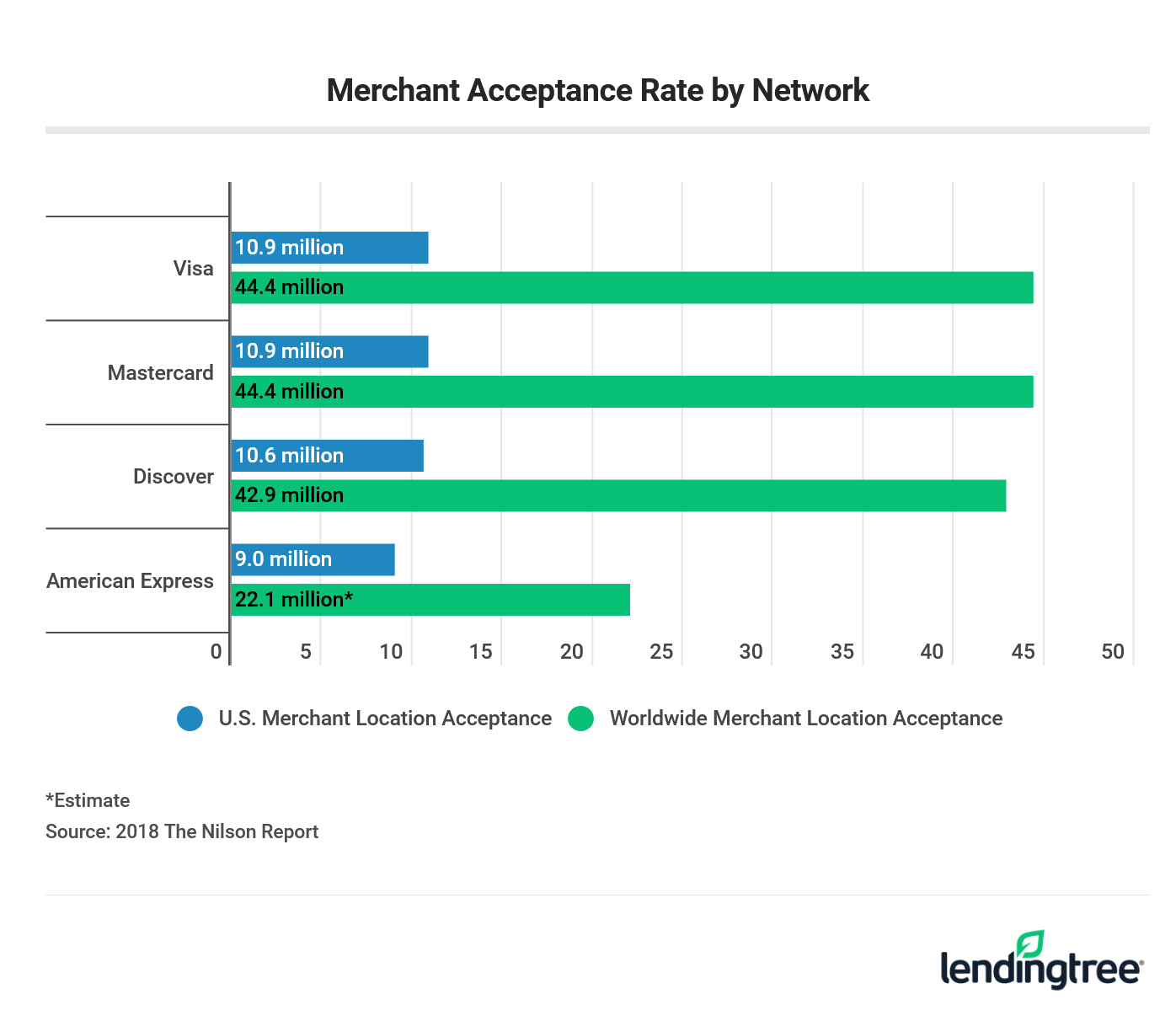 As illustrated, both in the U.S. and worldwide, Visa and Mastercard are the most accepted credit card issuers worldwide, with Discover close behind and Amex trailing significantly behind. The gap between Amex and Visa / Mastercard is most notable in the number of worldwide merchant acceptance locations — 22.1 million versus 44.4 million. That's a difference of 22.3 million merchant locations, which is why bringing along your Amex cards may not be the best choice when traveling outside the U.S. We recommend always carrying a Visa or Mastercard as a backup in case a merchant doesn't accept Amex.
Why does Amex have low worldwide merchant acceptance?
Part of the reason American Express cards have limited acceptance is due to their higher merchant processing fees (MPF). A MPF is what a merchant is charged each time a credit card is swiped, and the fee varies by network. According to a 2018 Nilson Report, Amex has the highest MPF at 2.33% compared to 2.17% for Visa and Mastercard and 2.09% for Discover.
Amex's higher fees are due in part to the higher spending of Amex cardholders, which can be more profitable for merchants. It's key to note Amex's MPFs have been steadily declining over the past several years and its acceptance rate has been rising. An Amex rep told LendingTree that Amex is attempting to reach equal merchant acceptance with Visa and Mastercard in the U.S. by 2019, and they are making good progress towards that goal.
According to Nilson Report data, Amex expanded merchant acceptance from 6.4 million locations in 2013 to 9 million in 2017. And, an Amex rep stated its data showed the issuer added 1.5 million new U.S. locations accepting their cards within the past 12 months.
Why does Discover have lower merchant acceptance?
Discover isn't as far behind Visa and Mastercard as Amex is when it comes to merchant acceptance, however, the slightly fewer locations can catch some cardholders by surprise. The lack of universal acceptance can be attributed to Discover operating differently than Visa and Mastercard. Discover is both an issuer and network, meaning it issues cards to consumers and processes transactions. In comparison, Visa and Mastercard are only networks that help process payments in unison with banks — they aren't the ones issuing cards, the banks handle that. As a result, Visa and Mastercard have more partnerships than Discover that can aid in merchant acceptance and make their cards more widely accepted.
Where do Discover and Amex cards have less acceptance?
Situations where you may be more likely to run into issues with a Discover or Amex card being rejected include shopping at small businesses and overseas. These merchant locations typically accept Visa and Mastercard, but may not accept Discover or Amex cards. Discover allows you to search its map to see where its credit cards are accepted worldwide, but beware that just because a destination says it accepts your card doesn't mean every merchant located there will accept it. See below for more details on where Discover cards are accepted.
How to check if your Discover card is accepted abroad
Discover partners with other payment networks that allow their cards to be accepted at more locations when you travel abroad, such as Diners Club, China UnionPay, and JCB — depending on the location. Check for those logos when making a purchase and since some locations may not display the logo, you can try presenting your card when paying. Note: Just because a country says it accepts Discover doesn't mean every merchant accepts your card. You can also search Discover's map for specific countries that aren't mentioned below.
Here are the Discover networks where you can use your card overseas in…
North America: Discover, Diners Club
Central America: Discover
South America: Diners Club
The Caribbean: Discover
Europe: Discover, Diners Club
Asia: Diners Club, China UnionPay, JCB
Africa: Diners Club
Oceania: Discover, Diners Club
How to check where your Amex card is accepted abroad
Unfortunately, Amex does not have a map to check where your card is accepted abroad, but an Amex rep did tell us that Amex cards are accepted in the countries listed below. Note: Again, just because a country says it accepts Amex doesn't mean every merchant accepts your card.
North America
Central America
South America
The Caribbean
Europe
Asia
Africa
Oceania
Which type of credit card should you choose?
All of the major networks offer a wide variety of credit cards that provide various benefits to cardholders. So, the type of credit card you choose shouldn't necessarily be based off the backing network, but more so on the benefits of the card — whether it's cash back, travel perks, or the ability to build credit.
You really shouldn't run into an issue using a card from one of the lesser accepted networks, unless you predominately shop at small businesses or travel abroad. If that's the case, choose a card from Visa or Mastercard to carry as a backup to your Amex or Discover card.