How Does LendingTree Get Paid?
LendingTree is compensated by companies on this site and this compensation may impact how and where offers appear on this site (such as the order). LendingTree does not include all lenders, savings products, or loan options available in the marketplace.
Survey: Attending a Destination Wedding Costs an Average of $1,422
Published on: May 17th, 2018
Why use LendingTree?
We are committed to providing accurate content that helps you make informed money decisions. The content on this page has not been reviewed, approved or otherwise endorsed by any credit card issuer. We do maintain partnerships with some issuers, and our site may be compensated through those partnerships. Read our .
From Irish castles to exotic beaches, the attractions of a destination wedding are many. Romance meets travel in a destination wedding and creates the opportunity for an unforgettable wedding experience, more quality time with guests and a mini vacation for everyone.
More brides and grooms are tying the knot in far flung locations. One in four engaged couples have chosen destination weddings, according to The Knot 2017 Real Weddings Study. That's up from one in five in 2008.
Saying "I do" is big business — from dedicated wedding venues, caterers, music, wedding planners and photographers, the U.S. wedding industry totaled $72 billion in revenue in 2016, according to IBISWorld.
Resorts and cruise lines, eager to get in on the action, cater to brides and grooms who take their wedding on the road with on-site wedding planners and ready-made wedding packages. As destination weddings grow in popularity, LendingTree surveyed 1,000 Americans to learn about the financial impact.
How much wedding guests spend
A destination wedding guest spends $1,422 on average, including travel, gifts and spending on personal items, the LendingTree survey found. That number jumps to $2,514 for destination weddings outside of the U.S.
"Weddings are a major life expense for the couple, with some celebrations ranking up there with a new car and down payment on a home," said Thomas Donaldson, senior credit card specialist at LendingTree. "Yet, wedding guests face high costs too. While it's fun to celebrate with family and friends, it's important for guests to be realistic on how much you can afford to spend and set limits to avoid post-wedding hangover."
Additional survey findings for guests clinking celebratory glasses away from home:
Members of the wedding party pay more for destination weddings with an average of $1,580, versus $1,269 for a guest.
Travel to a destination wedding in the U.S. costs an average of $640.
Travel cost a destination wedding outside of the U.S. costs average of $1,595.
The average time spent away was about five days.
Nearly two-thirds (63 percent) said they used a credit card to pay for travel.
41 percent said they applied for a new travel rewards card to take advantage of traveling to the destination.
The majority of couples holding destination weddings get hitched in the U.S. (83 percent), while 17 percent choose to travel abroad, the survey found.
Sunny California and Florida earned the most popular destination spots in the U.S., while Mexico and the Bahamas rated high for overseas celebrations.
Destination guests carry credit card and student loan debt
For destination wedding guests with debt, their average student loan debt stood at $13,281. Those with credit card debt before the wedding reported a balance of $2,572, the survey found.
After the wedding, 34 percent of survey respondents, which includes both guests and newlyweds said they owe a credit card balance because of a wedding expense.
Hangover credit card debt of newlyweds
The survey found while most couples who had a destination wedding (83 percent) set a budget, over half (64 percent) blew their budget by an average of $2,071.
Most couples (86 percent) used a credit card to pay for at least part of the wedding.
60 percent used a credit card for most or all wedding expenses.
An average credit card balance of $1,386 remains after the wedding.
Survey respondents expect to pay off wedding related balance in 15 months.
Crowdsourcing the honeymoon
Some couples forego traditional registries filled with china and crystal, instead asking friends and families to help crowdfund post-wedding travel, the survey found.
Nearly a third (31 percent) of guests were asked to donate to a honeymoon fund.
Guests gave an average $322 gift to a honeymoon fund.
Guests spent an average $288 on wedding gifts.
Wedding party members gave gifts averaging $344.
Domestic destination wedding guests presented gifts worth an average $254.
Foreign destination wedding guests gave the most, with an average of $450.
Save the date!
Destination wedding guests typically received an average 5.4 months of notice that a wedding was in the works, the LendingTree survey found. Most thought they had enough time to plan.
About half (51 percent) turned down a destination invite.
Over half (55 percent) think destination weddings can be inconsiderate to guests, with 70 percent saying they are more expensive, 41 percent saying they require taking time off and 34 percent responding that it takes too much time.
Budgeting for wedding celebrations
If you're at the point in your life when all your friends are getting married, wedding celebrations could be an ongoing budgetary issue. Most of the survey respondents (59 percent) attended two or more weddings in the past year, destination or otherwise.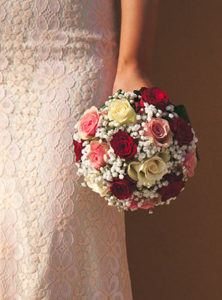 Here are several ways to keep your budget on track.
Don't be afraid to send regrets. Be choosy about which weddings you attend. Your budget may not allow you to attend every wedding — and that's okay.
Be honest. If you are in the wedding party and face a financial strain, it's okay to share your concerns with the bride or groom. They may be able to defray your costs.
Personal items. You may not need a new outfit for every wedding. Consider appropriate clothing you already own or borrow something from a friend.
Travel costs. Set up a flight alert to track airline prices. Purchase your ticket when the price dips.
Gifts. Give what you can afford. Pitch in for a group gift. Don't feel pressure to overspend. With destination weddings, part of your gift is your attendance on the day.
Explore hotel options. If you buddy up with friends, an Airbnb or Homeaway residence with several bedrooms could be a less expensive option.
Take advantage of 0% introductory interest on credit cards. There are credit cards that offer more than a year of 0% intro interest. That means no interest will pile up during the promotional period, which gives you time to pay down your balance interest-free.
Survey Methodology
LendingTree commissioned Qualtrics to poll 1,000 credit card users who have attended or participated in a wedding in the past twelve months. The survey was conducted April 26 – May 1, 2018.