How Does LendingTree Get Paid?
LendingTree is compensated by companies on this site and this compensation may impact how and where offers appear on this site (such as the order). LendingTree does not include all lenders, savings products, or loan options available in the marketplace.
59% of Borrowers Who Paid Off Credit Card Had No Balance 3 Months Later
Updated on: November 5th, 2020
Why use LendingTree?
We are committed to providing accurate content that helps you make informed money decisions. The content on this page has not been reviewed, approved or otherwise endorsed by any credit card issuer. We do maintain partnerships with some issuers, and our site may be compensated through those partnerships. Read our .
Paying off a credit card is a great feeling for consumers struggling with debt. But is this usually a fleeting success, or can consumers keep their cards paid off after hitting these milestones?
LendingTree researchers analyzed the credit reports of nearly 7,300 consumers who paid off at least $1,000 in credit card debt in a month's period. We then checked their balances three months later. The results were encouraging, as nearly 6 in 10 maintained a zero balance on that card, and more than 7 in 10 had a lower overall credit card debt load.
Here's what else our researchers learned.
Key findings
Nearly 6 in 10 (59%) borrowers who paid off a credit card kept a zero balance three months later.
Only 9% had a higher balance on their card after three months than before they paid it off, but that increase was dramatic — an average of $2,350. Meanwhile, 32% had an average balance that was $2,701 less than before they paid off the card.
From the month before paying off a credit card to three months after doing so, more than 7 in 10 lowered total debt across all their cards — and by a significant amount. Consumers owed an average of $9,628 less than before. Plus, 2% of cardholders eliminated their credit card debt entirely. On the flip side, nearly 3 in 10 grew their total credit card debt by an average of $5,657.
Three months before paying off a card, 53% had a higher balance than during the month when they paid off the card. This suggests that paying down their cards to zero was part of an ongoing effort to reduce credit card debt.
How credit card balances look 3 months later on paid-off cards
Overall, more than 9 in 10 cardholders improved their situation by owing less on the paid-off credit card three months after paying off the balance than the month before paying it off. Of those, the majority (59%) were able to maintain a zero balance.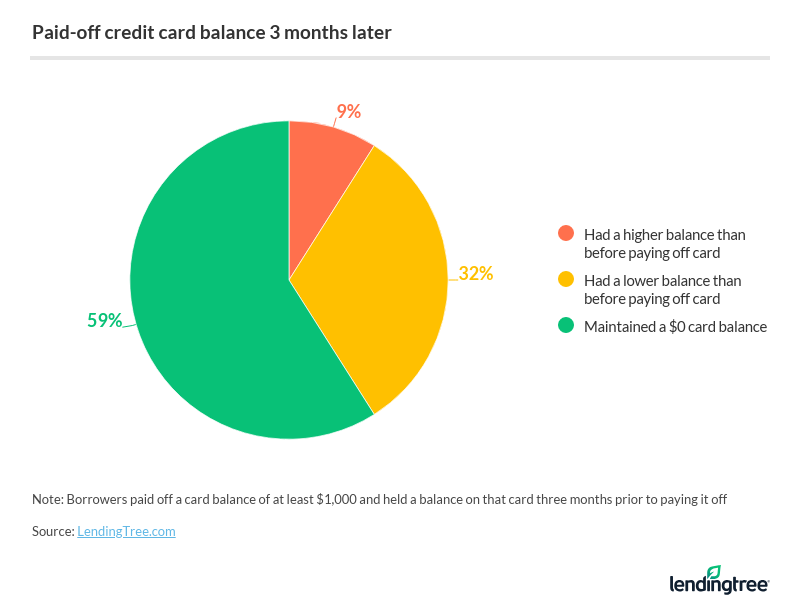 Besides the nearly 6 in 10 consumers who kept a zero balance, the rest of the card users had varying degrees of success. Some had significantly lower balances than before they started, while a smaller portion of the group ran their balances to higher levels than before.
Average credit card balance on paid-off card: Before and after
People who …
1 month before paying off card
3 months after
$ change
% change
Kept balance at zero
$3,791
$0
-$3,791
-100%
Ran up balance
$3,689
$2,109
-$1,580
-43%
Ran up smaller balance
$3,875
$1,174
-$2,701
-70%
Ran up larger balance
$3,038
$5,388
$2,350
77%
Everyone
$3,749
$868
-$2,881
-77%
Note: Borrowers paid off a card balance of at least $1,000 and held a balance on that card three months prior to paying it off
"It's great news that so many people managed to keep a zero balance so long after paying off that card," said Matt Schulz, chief credit analyst for LendingTree. That's no small feat, he noted, considering that many consumers find themselves in a cycle of running up debt, paying it off and then running it up again.
How total credit card debt looks 3 months after a card is paid off
Not only did the majority of borrowers maintain a zero balance for three months on the card they paid off, but 71% of consumers managed to lower the total debt across all their credit cards. Still, nearly 3 in 10 consumers ended up in a worse debt situation than before.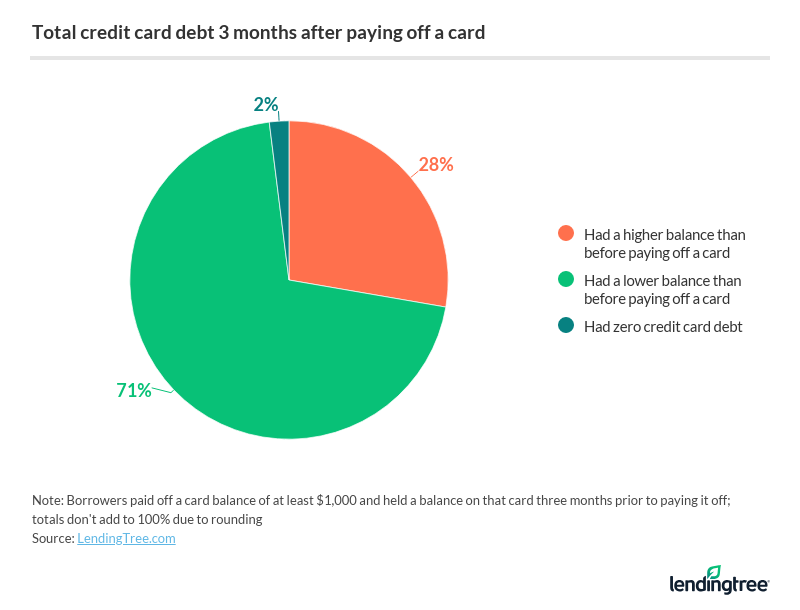 For the entire group, the average total credit card debt decreased after paying off one card, indicating that focusing on one product at a time could have an overall positive impact. Among those who kept balances down, their total debt was nearly cut in half, while those who increased their debt load tacked on more than $5,000.
Average credit card debt balance before and after paying off a credit card
People who …
1 month before paying off card
3 months after
$ change
% change
Paid off all credit card debt
$9,996
$0
-$9,996
-100%
Kept total balances down
$21,213
$11,586
-$9,627
-45%
Increased total balances
$16,627
$22,284
$5,657
34%
Everyone
$19,952
$14,527
-$5,425
-27%
Note: Borrowers paid off a card balance of at least $1,000 and held a balance on that card three months prior to paying it off
"The process of paying off debt is rarely a straight line," Schulz said. Instead, he noted that it's often one step forward and two steps back — so try not to get discouraged. "Even if you backslide a bit, keep doing what you can to keep knocking down that debt," he said.
Maintaining a $0 balance after paying off a credit card
A noteworthy aspect of our study is that when LendingTree researchers looked back to three months prior to the credit card payoff, 53% of borrowers had higher balances than in the month in which they paid off the debt completely. This illustrates that reducing and ultimately tackling credit card debt is often a long process for many consumers.
Also interesting is that paying off one card and keeping the balance at $0 was achievable for 59% of consumers, but only 2% of people were able to maintain zero debt overall three months later. Still, the overall debt was lower for 71% of people, which is still progress.
"As long as your overall debt is trending down, that's what matters the most," said Schulz.
4 strategies to pay off credit card debt
Paying off an individual card can be very motivating, but don't beat yourself up if you end up carrying a balance on that card again (or another one) in the near future, Schulz added: "You might lose some battles along the way, but it's important to remember that you're fighting a bigger war on debt."
To help stay on the right track, here are a few tactics to help tackle credit card debt.
Consider a balance transfer credit card
Transferring your balance to a card with a 0% introductory APR can be a huge help for consumers with credit card debt. A balance transfer can give you a period of time to pay down the balance without the addition of costly finance charges.
A good option, Schulz suggested, is to divide the total debt (plus any balance transfer fees) by the number of months in the balance transfer offer and pay at least that much each month. But be sure you know the rates, fees and other details of the card before applying, he warned.
Redirect extra funds toward your payoff plan
If you have extra money in your pocket because of COVID-19 restrictions, consider putting that toward paying down credit card debt. "That money that you might've otherwise used for travel, concert tickets or dining out in normal times can easily go toward lowering your debt today," Schulz said.
Work on an emergency fund
While it's important to pay down debt, failing to build an emergency fund can lead to more debt in the future. Seeding and growing an emergency fund can cover unexpected costs with cash instead of just relying again on a credit card.
Be strategic about your payoff plan
If you're carrying several balances, doing a little analysis can help you make progress faster.
"The truth is that there's no one-size-fits-all best way to tackle your debt," Schulz said. "The best choice for you is the one that you're most likely to stick with."
If you find it motivating to pay your smallest debts first so you can pile up some early victories, then focus on the card with the lowest balance first while paying just the minimum on the others. If tackling the card with the highest interest rate and the highest balance makes more sense to you, then focus your efforts there.
"No one knows what drives you more than you do, so be thoughtful in making your plans," Schulz said.
Methodology
Analysts reviewed the anonymized credit reports of 7,293 My LendingTree users who went from having a balance of at least $1,000 in October or November 2019 to a zero balance in November or December 2019. They also had to have carried a positive balance on that card in the three months prior to the month with the zero balance. We then calculated the change in balance on the card three months after the zero balance, as well as that person's entire credit card debt during these periods.