How Does LendingTree Get Paid?
LendingTree is compensated by companies on this site and this compensation may impact how and where offers appear on this site (such as the order). LendingTree does not include all lenders, savings products, or loan options available in the marketplace.
45% of Streaming Moochers Wouldn't Purchase Their Favorite Subscription Service If They Couldn't Use Someone Else's Login
Updated on: June 27th, 2022
Why use LendingTree?
We are committed to providing accurate content that helps you make informed money decisions. The content on this page has not been reviewed, approved or otherwise endorsed by any credit card issuer. We do maintain partnerships with some issuers, and our site may be compensated through those partnerships. Read our .
It was an announcement heard around the virtual world: In April 2022, Netflix announced its plans to crack down on password sharing.
Plenty of consumers — 30 million households in the U.S. and Canada, according to Netflix — will need to rethink their streaming strategy as the company makes it harder to share.
The newest LendingTree study finds that 38% of Americans use someone else's login to access a streaming service, the same percentage as in early 2021. (Fair enough, sharing is caring.) However, if they lose access to their favorite subscription, 45% of those consumers don't plan to purchase the service. Where did the love go?
Let's take a closer look at how consumers are reacting to Netflix's news and what their plans are for digital entertainment moving forward.
Key findings
As Netflix warns they'll crack down on password sharing, 45% of consumers who use someone else's login for their favorite subscription service say they wouldn't purchase an account if they no longer had access to it. Overall, nearly 4 in 10 Americans (38%) admit to using someone else's password to access a streaming service, and it's far more common among Gen Zers (71%). More than half of consumers (55%) believe password sharing is fair to the company.
People are paying more for streaming services than last year. 40% of streamers say they pay $50 or more a month this year, compared with 25% who said the same in 2021. And not all streaming subscribers are cord-cutters, as 44% of those with cable still spend $50-plus on streaming every month.
Streamers are canceling their subscriptions, but not necessarily to save money. Instead, they're getting pickier about the services they subscribe to. 43% of people with a streaming service subscription have canceled at least one in the past year. However, more than a third of streamers (35%) say they have more subscriptions than last year — suggesting that those who cancel switch to a new platform. In fact, 50% subscribed to a video streaming platform for a specific television show or movie.
The top three streaming service platforms have kept their thrones for another year. The most popular streaming service is Netflix, with 68% of streamers saying they have a subscription, followed by Amazon Prime Video (67%) and Hulu (53%). That's in line with the results from last year's survey.
Streamers are missing out on even more credit card rewards than last year. Only 28% of streamers earn rewards by paying for their subscriptions with credit cards, compared with 37% in last year's report — even though some issuers offer lucrative streaming benefits.
Nearly 4 in 10 Americans are mooching off someone else's streaming account
Netflix is threatening to crack down on password sharing — and it can be understandable why.
Almost 4 in 10 Americans (38%) use someone else's password to access a streaming service, with this percentage being highest among Gen Zers (ages 18 to 25) (71%) who likely have their parents to thank for their access.
Women seem more prone to password sharing, with 42% admitting to using someone else's login to watch streaming services, compared with 34% of men. Women, however, are less likely to do so without explicit permission from the account holder. While only 23% of women use someone else's digital streaming account without the account owner's knowledge, 52% of men report this.
But despite getting value out of these streaming services, 45% of consumers who borrow access to their favorite subscription service wouldn't purchase an account if they lost access.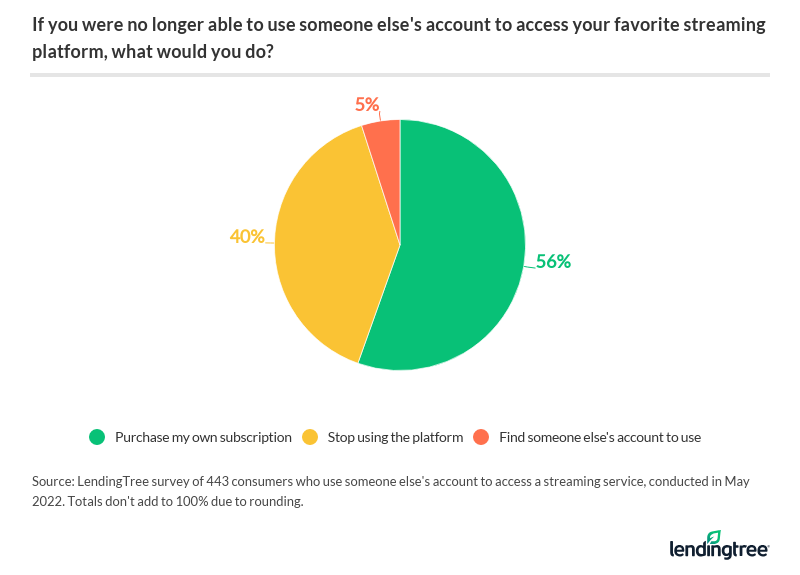 Gen Xers (ages 42 to 56) (62%) and baby boomers (ages 57 to 76) (50%) are much more likely than Gen Zers (39%) and millennials (ages 26 to 41) (38%) to not get the account on their own.
"Boomers are more likely to be on a fixed income than their younger counterparts are, so they just may not be as willing to pay for these streaming services," says Matt Schulz, LendingTree chief credit analyst.
Gen Xers and baby boomers are also more likely than younger Americans to have cable subscriptions, Schulz says. Because of this, they might see streaming as a fun extra rather than an essential expense.
Amid this discussion, there don't seem to be too many sleepless nights over password sharing, as more than half of consumers (55%) feel it's fair to the company. More than a third of consumers (38%) say they believe the streaming company already makes a ton of money off their customer base — though we have a feeling Netflix disagrees.
Those with household incomes of $100,000 or more are least likely to feel that password sharing is fair to the streaming companies, likely because they feel less of an impact on their budget. More than half (56%) of consumers in this income group feel this way.
Streamers are spending more on subscriptions than last year
Just because someone uses a password to access one streaming platform doesn't mean they aren't paying for others.
Streamers are spending more than last year, with 40% saying they pay $50 or more a month this year, compared with 25% who said the same in 2021.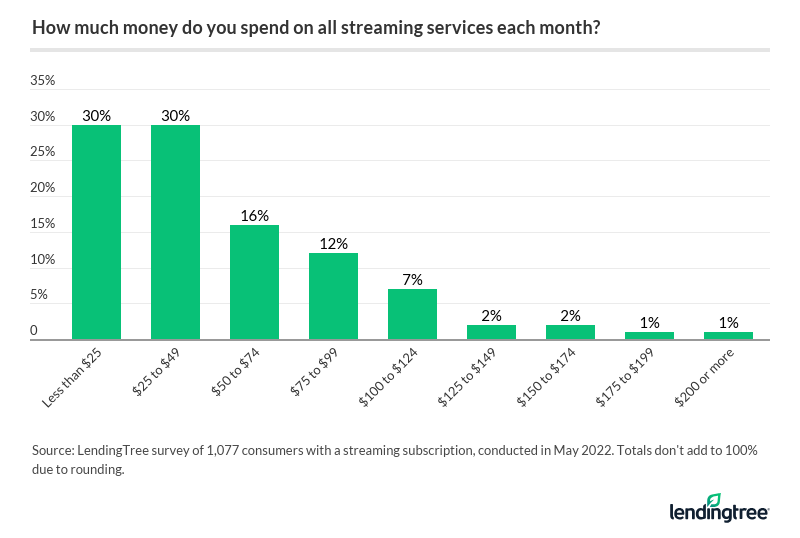 Some consumers are even doubling up and spending on both cable and streaming services, with 44% of those with cable still spending $50-plus on streaming every month.
"People love movies, TV and music," Schulz says. "They were a lifeline during the past two years when so many of us spent so much time inside and isolated. But even in the best of times, people spend a huge amount of time and money on these things. That's not going to change."
But Schulz believes rampant inflation may slow streaming spending down.
"Tough economic times require tough choices," Schulz says. "As much as we love streaming the latest shows and songs, they are a luxury for most Americans. For those with small financial margins for error who are struggling with skyrocketing gas prices and grocery bills, it might become necessary to cancel some of these streaming services for a while to help make ends meet a little more easily. It's all about prioritizing what matters most."
We highlighted how much streamers spend now, but how much are Americans willing to pay each month on a single streaming service? The majority of consumers aren't willing to spend $20 or more on a single platform. Interestingly, 7% of respondents with children younger than 18 are willing to spend at least $70 on a service — higher than any demographic outside of consumers making $100,000 or more. This could likely be the case because parents of minor children have more people in their household to entertain.
43% of streamers canceled a subscription in the past year, and many switched to a new platform
On average, consumers pay for three streaming platforms, led by:
Millennials, who grew up in the digital age
Parents with kids younger than 18, who need digital baby-sitting at times
Those who make $75,000 or more, who may have more disposable income
And while 43% of people with a streaming service subscription have canceled at least one in the past year, they didn't necessarily do so to save money.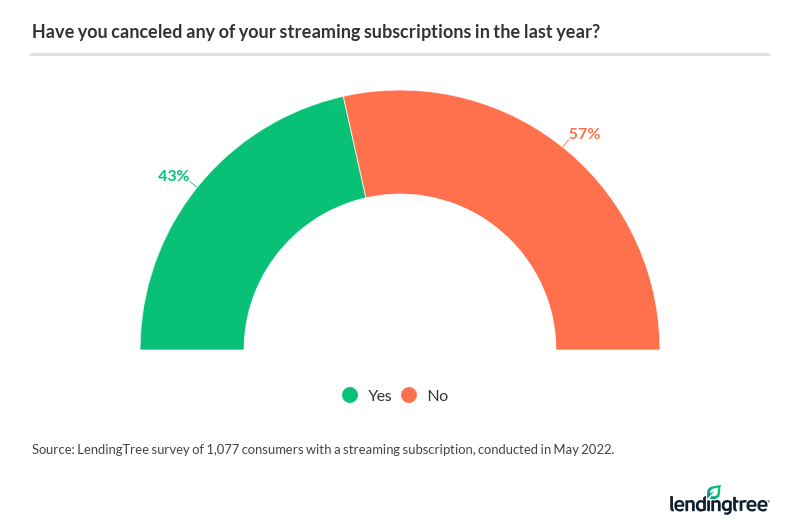 A desire to focus on specific content that meets their entertainment needs may be influencing their purchasing decisions, as 35% of streamers say they have more subscriptions than last year. This suggests that those who cancel choose to switch platforms.
Unlike cable subscriptions, which have traditionally been nightmarish to cancel, streaming services tend to be easier to stop and start quickly.
And what causes consumers to subscribe to a particular service? Half (50%) of consumers with a video streaming subscription subscribed to access a specific show or movie; 1 in 5 (20%) will cancel their subscription after watching that season or series.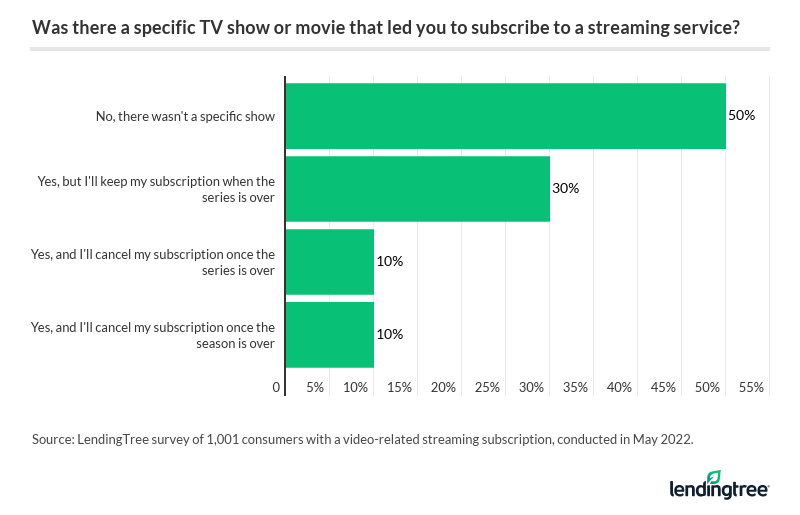 Women, Gen Zers, those with cable and parents with kids younger than 18 are most likely to subscribe to gain access to a specific show.
"People are far more likely to watch a buzzed-about show on one streaming service, cancel the subscription once they've watched and then jump to the next service and the next hot show," Schulz says. "It puts enormous pressure on these streaming services to keep creating great content, because folks will take their entertainment dollar elsewhere if they don't."
Netflix, Amazon Prime Video, Hulu remain favorite platforms
Netflix, Amazon Prime Video and Hulu are streamers' most-used platforms, so it'll be interesting to see if consumers pony up and buy their own Netflix account if need be.
Netflix (14%) and Disney+ (12%) have the largest percentages of streamers that mooch off of someone else's account, another reason it's understandable why Netflix is feeling the push to crack down on password sharing. Will Disney+ be next?
Take a closer look at which streaming platforms are the most popular with consumers: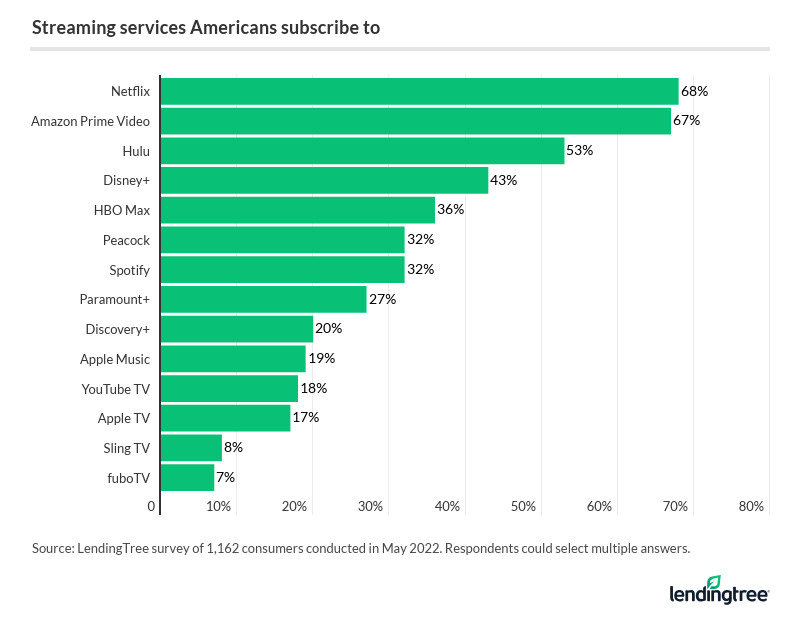 Use credit card rewards to your advantage — and other ways to save money on streaming
If someone is looking to buy a streaming subscription but wants to keep costs lean, here are a few options Schulz recommends for saving money.
Revisit your budget. If a streaming service is important enough to you, there may be wiggle room in your budget — if you're willing to make sacrifices. An up-to-date budget allows you to shuffle costs around so you can more easily afford those priority items.
Be patient. It can be maddening to wait to watch the program everyone's talking about, but remember that the show or movie probably isn't going anywhere. Streaming services are generally going to keep the most popular content around. Even if you have to wait a few months to check out the show, it'll likely be there.
Look for bundles. Some companies allow you to bundle services for a lower price. For example, Disney allows you to bundle Disney+, ESPN+ and Hulu at a discount. It may not be a huge savings, but every little bit counts when trying to cut costs.
Earn credit card rewards. Most (72%) streamers could be missing out on earning credit card rewards for their purchases. Make sure you use a rewards credit card instead of a debit card to purchase your subscriptions. Some rewards cards offer cash back on streaming subscriptions, while others provide annual credits. Even if you're not using a card with streaming benefits, you could still earn regular cash back or rewards points.
Get social. You don't have to password-share to share. If you don't have a subscription, consider getting together with people who do. Bring snacks and drinks for a "Stranger Things" or "Obi-Wan Kenobi" watch party that could be an inexpensive-but-fun alternative. "Just be cautious so that get-together doesn't end up costing more than the monthly streaming subscription," Schulz warns.
Methodology
LendingTree commissioned Qualtrics to conduct an online survey of 1,162 U.S. consumers,  fielded May 16-23, 2022. The survey was administered using a nonprobability-based sample, and quotas were used to ensure the sample base represented the overall population. All responses were reviewed by researchers for quality control.
We defined generations as the following ages in 2022:
Generation Z: 18 to 25
Millennial: 26 to 41
Generation X: 42 to 56
Baby boomer: 57 to 76
While the survey also included consumers from the silent generation (those 77 and older), the sample size was too small to include findings related to that group in the generational breakdowns.