How Does LendingTree Get Paid?
LendingTree is compensated by companies on this site and this compensation may impact how and where offers appear on this site (such as the order). LendingTree does not include all lenders, savings products, or loan options available in the marketplace.
3 in 4 Americans Have An Online Subscription, And Video Streaming Is King
Updated on:
Content was accurate at the time of publication.
Why use LendingTree?
We are committed to providing accurate content that helps you make informed money decisions. The content on this page has not been reviewed, approved or otherwise endorsed by any credit card issuer. We do maintain partnerships with some issuers, and our site may be compensated through those partnerships. Read our .
Three out of every four Americans has at least one online subscription, according to a new report from LendingTree. The most popular choice among subscribers? Video streaming.
Whether it's shopping perks, music or video streaming or some other type of content, most Americans can't go a day without being pitched some new online subscription service. The latest — and of the most high profile ones in recent years — is reportedly about to come from Apple. The technology giant is expected to announce its new video streaming service on March 25, 2019. When announced, the service will join a litany of companies battling for your dollar in the increasingly competitive online-subscription space.
Click below to learn more:
LendingTree asked consumers about their views of these services, including how many they subscribe to, what types they prefer and how much they pay for them. What we learned was that most Americans have multiple online subscriptions, younger folks spend more on them then older folks do, and even carrying $5,000 in credit card debt isn't going to stop them from signing up.
Key findings
76% of those surveyed reported having at least one online subscription.
Video streaming services was the most popular: 58% said they pay up for services like Netflix and Hulu, while 41% said they paid for online subscription shopping like Amazon Prime, and 34% subscribe to a music service like Spotify or Pandora.
Those with online subscriptions usually have more than one type: 66% percent of online respondents said they have more than one subscription, while just 34% said they've only one.
Those with online subscriptions spend an average of $38 a month on them. The median monthly spend was $23.
Millennials and Generation X spend more than baby boomers on online subscriptions. Millennials with at least one subscription spend an average of $44, while Generation X spends $41, and boomers only $27.
Men with a subscription spent an average of $43 per month on them, while women only spend $33.
26% of those with video subscriptions pay for more than one type every month.
Credit card debt isn't an impediment to paying up monthly subscriptions. 73% of folks with $5,000 or more in credit card debt currently pay for an online subscription, and 11% with the same amount of debt pay $100 or more monthly.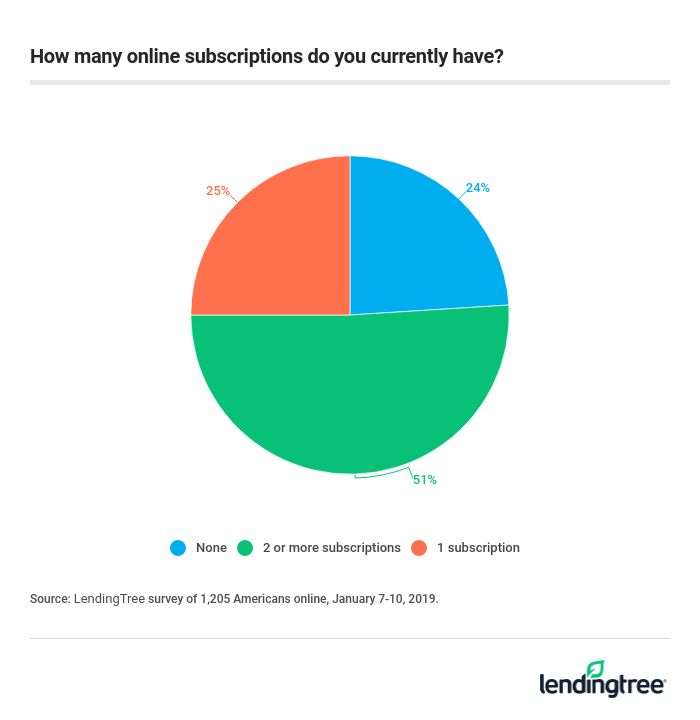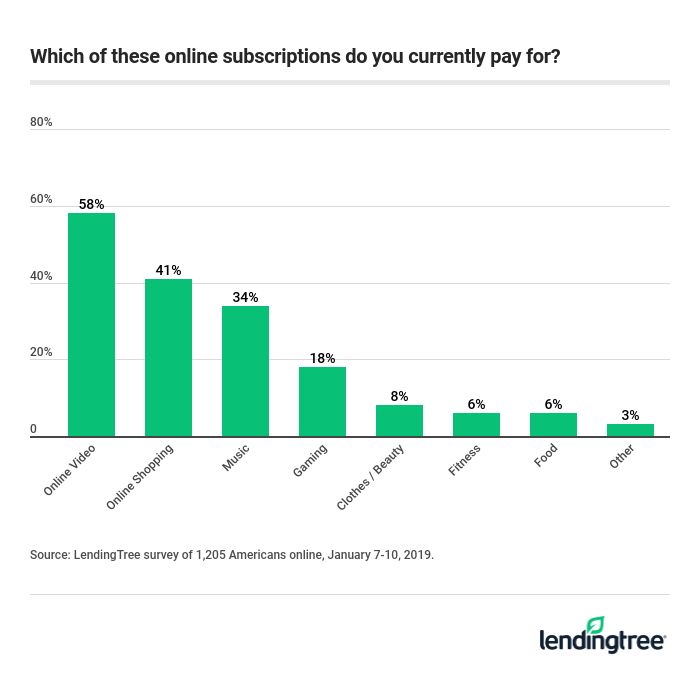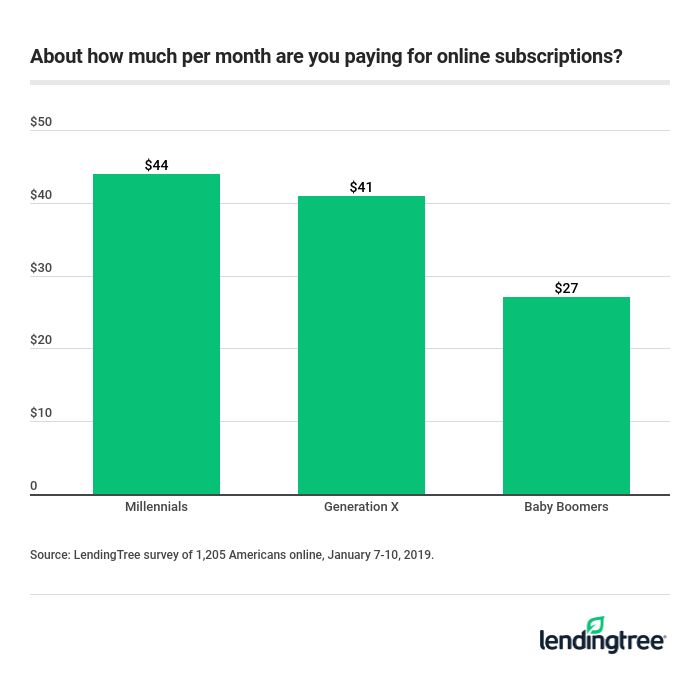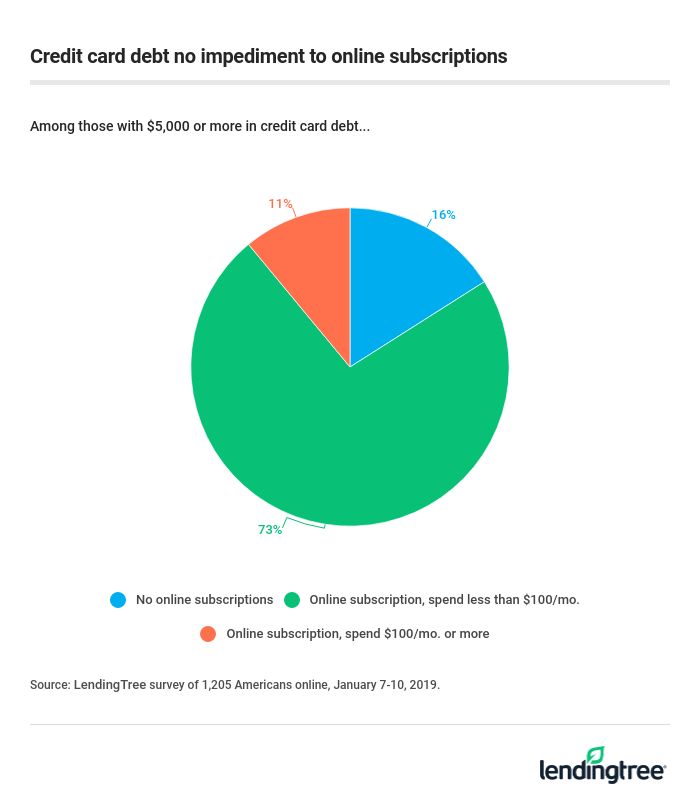 The bottom line: Enjoy those subscriptions, but manage them wisely.
Who doesn't love settling in for an evening to binge-watch the latest show on Netflix or Hulu? These days, that's as American as football, apple pie and polarization. As the survey shows, most Americans subscribe to at least one online service, and many of us to far more. That willingness by consumers to juggle multiple subscriptions at once certainly seems like good news for Apple and other companies battling for a piece of the online subscription pie.
Here's the thing, though: Companies make it so easy to sign up for free trials of services that it is easy to get sucked in and then forget about unsubscribing. Before you know it, you're stuck paying $50 for a service that you realized you didn't want about 10 minutes after you initially signed up for it. Or perhaps you did remember to unsubscribe, but you can't figure out how or where to do it. Many companies don't make it easy to do. In fact, some companies' entire business model depends on this retention-by-confusion strategy: Make it so difficult for them to unsubscribe that some of them will just give up and keep paying. Really consumer-friendly, eh?
Recently, MasterCard announced that it would soon require companies that offer free-trial subscriptions for physical products (such as wine or magazines or health-care products) to have subscribers opt-in again at the end of the free trial period before charging them. That's very different from how things work today. The problem is that MasterCard's policy only applies to physical products, not to streaming services such as Netflix or Spotify. That means that you will need to be cautious about those subscriptions for the foreseeable future. And that policy doesn't yet extend to subscriptions charged to your Discover, Visa or Mastercard.
So what does it mean to manage them wisely? Here are some tips:
Use technology to remind you: The next time you sign up for a free trial, set a reminder in your online calendar for a day or two before the trial is supposed to end. Then, once you get the reminder, cancel the service or just keep it, whichever you prefer.
Keep a list: If you have more than one online service, a simple spreadsheet of those services can help you keep track of them all. List the cost, the due date, the card you pay it with and any other data you think is relevant. It may take some time to compile initially, but it'll be worth it.
Not using them? Cancel them: Most Americans live on a budget with a very small margin for error. That means that canceling just a subscription or two – even if they just total $10 to $20 month – can make a difference, helping you extend the family budget just a little bit further. Making ends meet can be challenging enough. Don't let yourself be held back by services that you don't even use anymore.
Use them to help your credit. No, really: People frequently ask me the best way to go about canceling a credit card. The truth is that when it comes to your credit, you probably shouldn't cancel your credit card at all. (If the card has an annual fee, it's a different story. There's typically no need to pay $89 a year for a card you don't use. But for non-annual-fee cards, keeping the card is generally your best move.) Instead of closing it, keep it open, put a recurring subscription on it and set up autopay to pay it off in full each month. Then, stash it in a desk someplace where you won't think to use it. That way, the card stays active, the balance stays low, your bills get paid on time every time and that account just keeps building a positive credit history.
Above all, don't overspend: Sure, that series or that documentary that everyone is talking about is probably amazing, but is it worth getting into debt over? Almost certainly not. Job No. 1 for anyone with a credit card is to pay your balance off as soon as possible. If that streaming service or that shopping subscription prevents you from doing that, you should probably just say no.
Methodology
LendingTree commissioned Qualtrics to survey 1,205 Americans online from January 7 – 10, 2019 to ascertain their spending habits surrounding online subscriptions.