Credit scores simply explained
Let's start with the basics
Credit scores provide a snapshot of your financial health. Most visitors to LendingTree are interested in the credit score needed for a home loan. But your credit score can affect everything from credit card limits to loans to your ability to rent an apartment or buy a home. Higher credit scores indicate that you are more credit worthy whereas lower credit scores suggests you may be a risky borrower.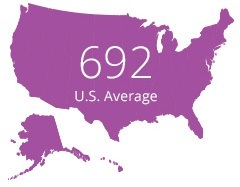 Credit scores can differ depending on which credit bureau calculates your score. To simplify this confusion, the three main credit bureaus partnered together to create the VantageScore. LendingTree provides you with the most recent version of this credit score: VantageScore 3.0®.
How Your Score Is Calculated
Specific credit related behaviors, such as late payments, show up in your credit file as 'reason codes'. We simply call them "Reasons." You can receive up to 5 good or bad reasons that explain why your score is what it is. But if your score is low, don't worry. There are opportunities to get a home loan with a low credit score.
Glossary Terms
Credit Score

A credit score is a number generated by a statistical system used to rate the credit of an applicants according to various characteristics relating to... <a href='/glossary/what-is-credit-score' title='See the full definition of Credit Score'>read more</a>

Credit Report

A credit report is a report of an individual's credit history that a credit reporting company or credit repository prepares to determine a borrower's... <a href='/glossary/what-is-credit-report' title='See the full definition of Credit Report'>read more</a>

Credit History

The record of how you've borrowed and repaid debts. <a href='/glossary/what-is-credit-history' title='See the full definition of Credit History'>read more</a>

Credit Bureau

An agency that keeps your credit record. <a href='/glossary/what-is-credit-bureau' title='See the full definition of Credit Bureau'>read more</a>

Credit Reporting Company

Company that collects information received from more than one credit repository, merges all the information, and reports it in one form; merged credit... <a href='/glossary/what-is-credit-reporting-company' title='See the full definition of Credit Reporting Company'>read more</a>

Equal Credit Opportunity Act

A federal law that requires lenders and other creditors to make credit equally available without discrimination based on race, color, religion,... <a href='/glossary/what-is-equal-credit-opportunity-act' title='See the full definition of Equal Credit Opportunity Act'>read more</a>

Revolving Debt

Open-ended accounts, usually with variable interest rates, pre-determined credit limits and payments that are calculated as a percentage of the unpaid... <a href='/glossary/what-is-revolving-debt' title='See the full definition of Revolving Debt'>read more</a>