How Does LendingTree Get Paid?
LendingTree is compensated by companies on this site and this compensation may impact how and where offers appear on this site (such as the order). LendingTree does not include all lenders, savings products, or loan options available in the marketplace.
3 Smart Ways to Build Credit from Scratch
Updated on: August 14th, 2020
Editorial Note: The content of this article is based on the author's opinions and recommendations alone. It may not have been reviewed, commissioned or otherwise endorsed by any of our network partners.
Building credit from scratch takes time and diligence as there are no shortcuts when it comes to establishing credit history. But it's worth the effort, because without a credit profile, you may struggle to get a loan, buy a car, rent an apartment or even land a job as some employers check applicants' credit as part of the interview process.
Your credit history may also affect your ability to set up utilities such as electric, cable and water, or to buy a cellphone on a monthly payment plan.
We'll examine ways to build credit from scratch and offer tips for keeping a good credit score.
Open a credit card
While it's possible to build credit without a credit card, these are excellent tools to do so if managed properly. If you're just starting out building a credit profile, you likely won't qualify for a high-end travel card, for example, but you can start with a secured card, student card or store card.
We'll explain below how each type of credit card works and who it's best for.
Secured credit cards. A secured card requires that consumers submit a security deposit to the issuer before getting the card. This deposit will typically be the same amount as the desired credit limit, for example, a $200 deposit for a $200 limit. This protects the issuer should the cardholder default on what they've charged to the card, and secured cards are often recommended for those with no credit or bad credit. The deposit is generally refundable if you pay off the card in full and close the account or if you're upgraded to an unsecured card from the same issuer.
Student credit cards. A student card is aimed at helping college students build credit while they're in school. Some will offer rewards or benefits such as cellphone protection, but you must be at least 18 and be able to prove that you have some type of income to qualify.
Store credit cards. A private-label store card is one that can only be used with a particular merchant. You've likely been offered a store card at some point when checking out at a department store, for example. They're likely to offer rewards programs or discounts on purchases, but can only be used at that particular retailer. The credit limits on these cards are generally low to start with and have very high interest rates, therefore easier to qualify for.
Any of the above credit card types can be used to build credit as long as the card issuer reports the account and payment activity to the three major credit bureaus – Equifax, Experian and TransUnion.
One pitfall to be aware of, especially with secured cards and store cards, is that they're likely to have high interest rates. If you spend only what you can afford to pay off in full each month, you can typically avoid interest charges.
Through a review of cards available on LendingTree, as well as from top issuers, we've selected the best secured, student and store credit cards to help you start building credit.
Best secured card: Discover it® Secured Credit Card
Why we like this card: Many secured credit cards don't offer rewards, but the Discover it® Secured Credit Card sets itself apart with a valuable cashback program. Earn 2% cash back at gas stations and restaurants on up to $1,000 in combined purchases each quarter. 1% unlimited cash back on all other purchases – automatically. Discover also provides cardholders free access to their FICO Score pulled from TransUnion data, so you can track your credit score progress as you build credit.
Plus, Discover begins conducting automatic reviews of your account after seven months to determine if you qualify to graduate to an unsecured card and have your deposit refunded.
Know that Discover considers your behavior across all credit accounts when evaluating you for an upgrade to an unsecured card, and a refund isn't guaranteed (unless you close the account). The card requires a deposit from $200 to $2,500, and charges an annual fee of $0.
Finally, there's a unique sign-up bonus for new cardmembers. Unlimited Cashback Match – only from Discover. Discover will automatically match all the cash back you've earned at the end of your first year! There's no minimum spending or maximum rewards. Just a dollar-for-dollar match.
What to watch out for: This card has a high 27.24% Variable APR APR, which means carrying a balance month to month can be expensive. If you pay off your card in full each month, you can prevent debt from creeping up and avoid incurring interest charges.
Best student card: Journey Student Rewards from Capital One
Why we like this card: This card allows college students with fair/limited credit to establish credit history while earning flat-rate cash back at the same time.
Earn 1% Cash Back on all purchases; 0.25% Cash Back bonus on the cash back you earn each month you pay on time; 5% Cash Back on hotels and rental cars booked through Capital One Travel (terms apply). And CreditWise from Capital One allows you to check your VantageScore for free, so you can make sure you're building credit the right way.
Finally, after demonstrating responsible behavior with the Journey Student Rewards from Capital One, you may be considered for a higher credit limit in as little as six months.
What to watch out for: There's an extremely high 29.74% (Variable) APR, so avoid carrying a balance from month to month and only charge what you can pay off when the statement comes due.
Best store card: Target REDcard™ Credit Card
Why we like this card: While many store credit cards have complicated redemption structures and limited rewards value, the Target REDcard™ Credit Card keeps things simple. When using this card you'll get a 5% off at Target in-store and online, which is applied at checkout.
Plus, cardholders get benefits including:
Free shipping on most items on Target.com.
An additional 30 days for returns and exchanges.
Exclusive gifts and special offers.
What to watch out for: This card comes with a high 25.90% (variable) APR, so avoid carrying a balance.
Also, note that Target offers both a credit card and a debit card. Since your goal is to build credit, you want the credit card, as debit cards do not build credit history.
Become an authorized user
If you're trying to build credit from scratch or improve your credit score, piggybacking on someone else's credit card account could be a good strategy. Just be sure the primary cardholder carries a low balance and always pays on time – and make sure that the credit card issuer reports cardholder behavior on the authorized user's credit report.
The primary cardholder is ultimately responsible for all charges made on the authorized user's account, so if you use the card for purchases, it's best to come up with a repayment agreement. Know that you don't even have to use the authorized user card to have the account and payment activity reported to your credit profile. Once your credit score rises to an acceptable level, you can then apply for your own card and have the primary account holder remove you as an authorized user.
Build credit with a loan
Whether you're looking to build credit without a credit card or simply improve your credit score with a more diverse mix of credit, adding the right type of loan can help. We'll take a look at four different types of loans, when they're appropriate, and what to watch out for:
Student loans. We don't recommend taking out student loans specifically to build credit. However, if you take out student loans in the course of paying for college, once you begin making monthly payments on those loans, you'll be building credit history.
Auto loans. As with student loans, getting a car loan isn't something we recommend just to build credit. But if you need a vehicle, paying on an auto loan also builds credit.
Secured loans. This is the most risky type of loan on our list, because the borrower must put up collateral such as a house or car. If you default, the lender claims the collateral – meaning you could lose your home or your vehicle. However, secured loans may be available to consumers who can't qualify for other types of credit.
Credit-builder loans. If you don't need to borrow money and are just interested in building credit, a credit-builder loan might be the way to go. These loans may be offered by online lenders, credit unions and smaller banks. Rather than getting a sum of money from a lender and then paying it back, with a credit builder loan you make monthly payments of your own money over a set period of time. The financial institution often deposits the money into a savings account or certificate of deposit, and at the end of the loan period, you'll get your money back (minus any fees or interest charged).
Loans such as the ones listed above are considered installment credit, meaning you borrow a fixed amount and repay it over a set amount of time. By contrast, credit cards are a type of revolving credit, where you borrow from a line of credit and pay as you go. Having a healthy mix of installment and revolving credit accounts is a good strategy when building credit from scratch.
How to build and maintain good credit
Just having a credit card or loan that reports to the credit bureaus isn't enough to build good credit. In fact, if you aren't careful, you can severely damage your credit score. But by following the tips below, you can build a great credit score and maintain it throughout the years.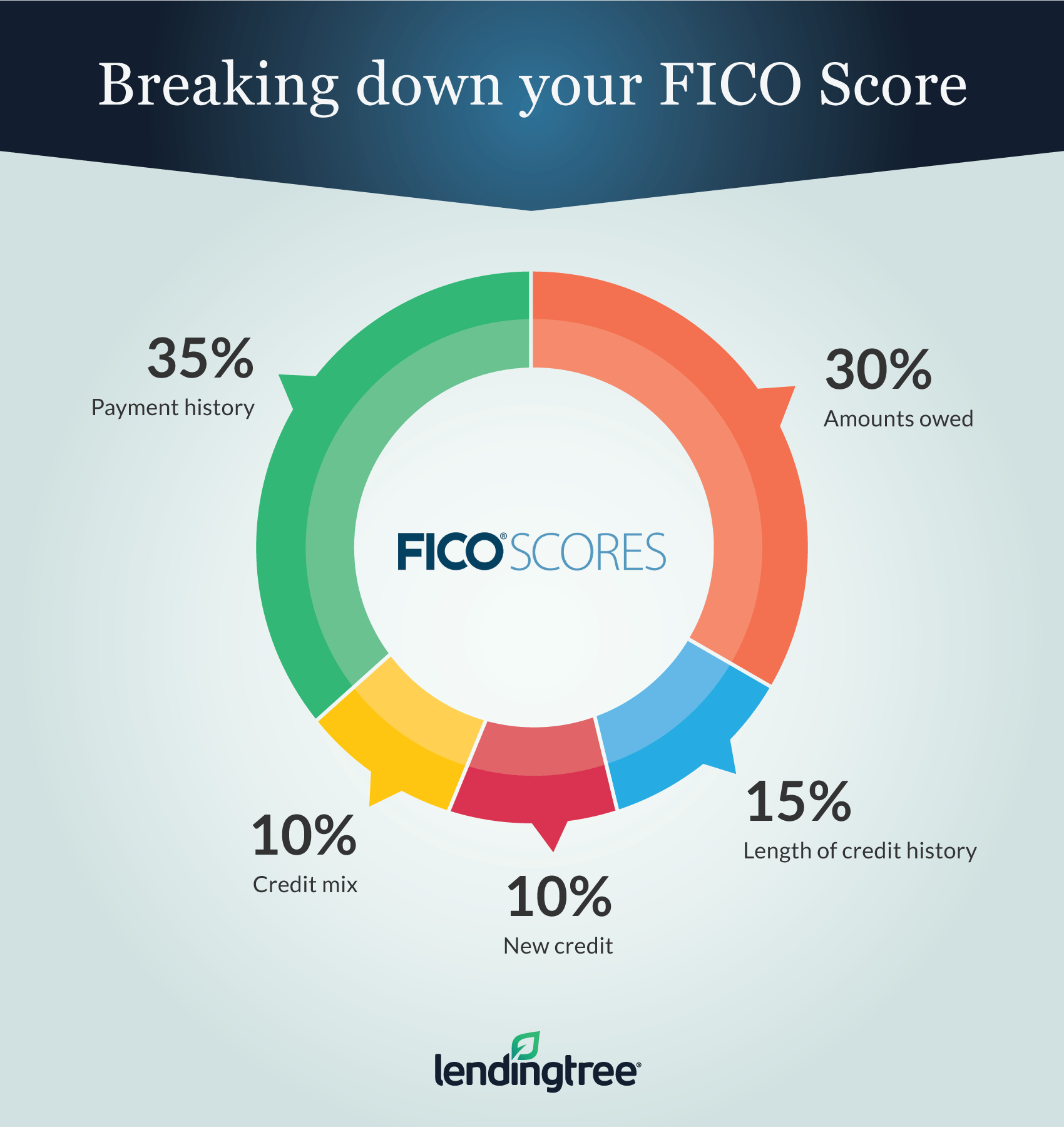 Paying on time every time. Payment history accounts for 35% of your credit score, making it the most important factor in building great credit. Make at least the minimum payment each month so your bank reports on-time payments to the credit bureaus – but if you can pay in full, that's preferable, to avoid allowing a balance to creep up.Keeping balances low. Maxing out your credit cards makes you look like a risky borrower. Experts recommend keeping your balance below 30% of your credit limit. For example, on a card with a $500 credit limit, don't spend more than $150.
Keeping cards open. Length of credit history accounts for 15% of your credit score. This means it helps build credit to keep your older credit cards open, even if you don't use them for day-to-day spending. Note that you may need to put a small charge on older cards every few months to avoid having the issuer close the account for inactivity.
Mixing up types of credit. Consumers who responsibly manage a variety of credit accounts, such as credit cards, student loans and an auto loan, will score well on the "credit mix" factor impacting your credit score. While this only makes up 10% of your score, it's still an important step that can help when working toward excellent credit.
Again, building credit from scratch takes time, but a good credit score will determine whether you're approved or denied for credit or a loan as well as the interest rates you'll be charged if approved.
For example, when estimating rates on a $30,000 new auto loan for a resident of the state of New York over 36 months, a savings loan calculator from FICO shows a possible APR of 3.81% for those with the best credit scores and a possible APR of 15.688% for those with the worst credit scores. In the estimate, that translates to a monthly payment of $883 compared with a monthly payment of $1,050 – a difference of $167 per month.
To ensure what you're doing to build credit is working, it's wise to regularly check your credit score. One way to check your score for free is LendingTree, which offers VantageScore access.
Learn more about your credit score!