How Does LendingTree Get Paid?
LendingTree is compensated by companies on this site and this compensation may impact how and where offers appear on this site (such as the order). LendingTree does not include all lenders, savings products, or loan options available in the marketplace.
Americans Are (Sort of) Confident About Money and Finances, Survey Says
Updated on: December 3rd, 2018
Why use LendingTree?
We are committed to providing accurate content that helps you make informed money decisions. Our partners have not commissioned or endorsed this content. Read our .
Managing your money can seem complicated, but a surprising number of people are pretty comfortable with it — at least according to a recent financial confidence survey conducted by LendingTree
The results show that more than half of adults see themselves as on track to meet financial goals, although there was a significant gender gap in confidence. At the same time, the survey showed some troubling signs that financial success still feels out of reach for most Americans.
Key findings
Confidence levels are highest when dealing with the basics.

Eighty-three percent of respondents said they feel confident about managing their finances overall, while 88% agreed they feel confident about both balancing their checkbooks and paying bills on time. But when it comes to taking out loans, just 57% of respondents agreed they felt confident with the process.

Men exhibit more financial confidence than women.

Among survey respondents comfortable taking out a loan, just 54% were women, compared with 63% of men. And, among those who expressed confidence about retirement plans, 53% of men were confident, compared with 37% of women. Men were also more confident in managing investments, too.

More than half of all respondents feel they're better off than their parents and on track to meet financial goals.

Fifty-one percent of respondents said they think they are doing better than Mom and Dad at a similar age, while 54% felt they were on track to meet financial goals. Still, about one-third of respondents neither believe they'll do better than their parents nor feel they're on the right path to accomplish financial objectives.

Just 43% of survey respondents consider themselves a financial success

. Low rates of savings may be part of the reason why, as half of all respondents have less than $1,000 saved, and 61% lack an emergency fund with enough money to cover six months of living expenses.
Most feel confident about the basics but don't feel successful
Our survey on financial confidence had some great news: Most people are really confident about handling basic financial tasks. In fact, more than 8 out of 10 respondents were confident about balancing their checkbook, creating a budget, paying bills on time and overall financial management.
Further, a majority of respondents (54%) expressed confidence they're on track to meet their personal financial goals.
Yet, despite this confidence, only 43% of respondents consider themselves "financially successful," compared with 39% who don't describe themselves that way.
Homeowners were far more likely than renters to consider themselves a financial success, perhaps because the homeowners tended to have higher savings rates than the renters, and the chances of them having an emergency fund were much greater.
In fact, among those respondents with six months of living expenses saved up, 52% were homeowners, compared with just 24% of renters.
Men feel better about managing money than women do
When it comes to finances, there's a clear gender gap, with men more confident about taking out loans, planning for retirement, managing investments and being on track to meet their financial goals.
One reason for this is that men tend to have more money and talk about it more with friends. In fact, more than 4 in 10 women (42%) have less than $500 in savings, compared with just a third of men, while 55% of men have more than $1,000 in savings, compared with just 47% of women.
Likewise, nearly 70% of men who feel confident said they have no problem broaching money subjects with their friends and family, while only 59% of women said the same.
Men are also more confident in negotiating their salary. Among the respondents who said they were confident about salary negotiations, 64% of men reported they feel comfortable in such negotiations, compared to just 50% of women. This willingness to bargain could explain why 51% of men who believe they are paid what they're worth were confident, compared with just 40% of women.
Yet while women may feel less confident, married women aren't just handing over money management to their spouses. Here, 51% of all respondents said they felt confident letting their spouse manage their investments, with no significant difference between men and women on this question.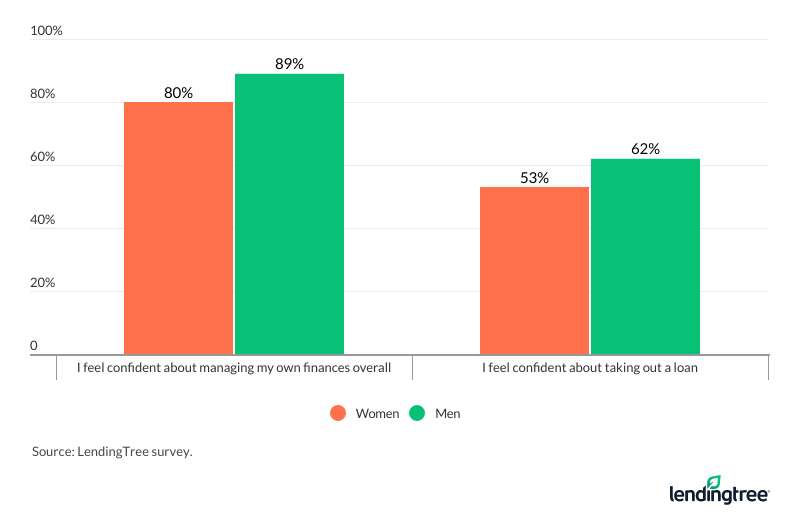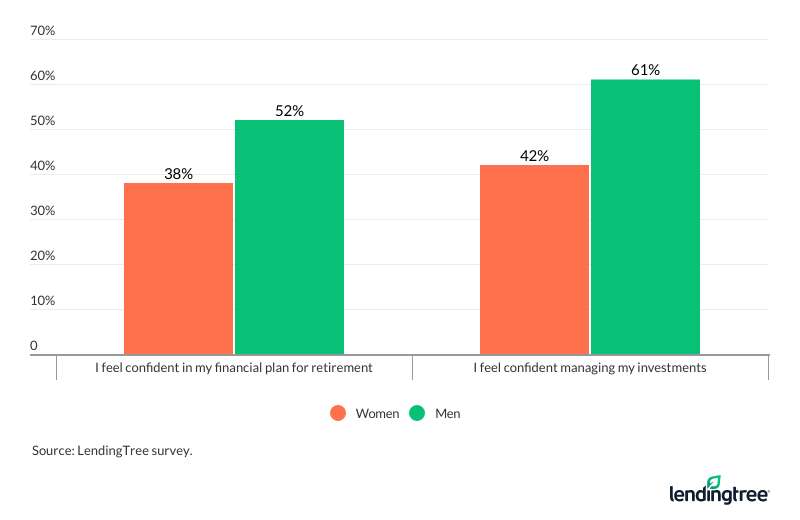 Student loans add to financial stress, reduce savings levels, sap confidence
Unsurprisingly, having student loans reduces confidence levels, adds to money stress and makes it harder to accomplish other financial goals.
While 61% of survey respondents said they felt stress when thinking about money, just 57% of people with no loans admitted to having money worries, compared with 75% of respondents with educational debt.
Student loan borrowers also had lower savings rates. Forty-three percent of people with student loans had less than $500 in savings, compared with 37% of people who didn't owe money for school.
And, while a quarter of respondents without student debt had $10,000 or more in savings, just 14% of student loan borrowers had put this much aside.
While it's undeniably burdensome to repay student loans, taking control of this debt can help to reduce stress levels and make it easier to accomplish other financial priorities. For example, refinancing your student loans might help you reduce your interest rate so that loan payments are more affordable, while choosing the right student loan payment plan could allow you to reduce monthly payments by capping what you pay as a percentage of your income.
Financial confidence comes more easily if you have a plan
To boost your financial confidence, it helps to have a plan for what you want to accomplish and how to achieve it. You can create a budget while setting clear financial goals and considering your options to achieve them.
Your confidence will likely rise as soon as you have a plan in place. Knowing what you want your money to do will help make it easier to ensure your financial choices bring you closer to your goals.
Methodology
LendingTree received responses to this survey from 1,017 Americans 18 years or older. The poll was conducted via SurveyMonkey on Aug. 14, 2018. The margin of error is plus or minus 3%.