How Does LendingTree Get Paid?
LendingTree is compensated by companies on this site and this compensation may impact how and where offers appear on this site (such as the order). LendingTree does not include all lenders, savings products, or loan options available in the marketplace.
Survey: 60% of LGBTQ Student Borrowers Regret Taking Out Student Loans
Updated on:
Content was accurate at the time of publication.
It's not easy being LGBTQ. Members of the community continue to face varying levels of discrimination. But they also face more common challenges, such as managing student loan debt.
Our latest survey finds that LGBTQ borrowers feel concerned about their education debt. In fact, more than half (60%) regret the decision to take out student loans.
On top of that, LGBTQ youth who've been kicked out of their homes by family members face unique challenges. They have to attend school and manage their finances without familial support.
Here's what we found out about student loan debt and the financial barriers faced by the LGBTQ community.
Key survey findings
LGBTQ student borrowers regret their debt. A majority (60%) of LGBTQ student loan borrowers say they regret taking on student loan debt. Only 45% of student loan borrowers in the general population feel this way.
More than a quarter of LGBTQ student loan borrowers feel their debt is unmanageable. Twenty-eight percent feel like they can't manage their student loan payments. Only 26% of LGBTQ borrowers think their student loans are "very manageable."
LGBTQ borrowers are more likely than the general population to make less than $50,000 a year. More than half (53%) of the LGBTQ respondents in our survey report making less than $50,000 a year, exacerbating their difficulties in affording student loan payments. On top of that, you can still be fired for your sexual orientation or gender identity in more than one-half of U.S. states.
The LGBTQ community is less prepared for retirement. Only 47% of those in the community have a retirement savings vehicle, compared to 56% of the general population.
Less than half of the members of the LGBTQ community feel completely accepted by their families. Only 39% of our respondents say they feel completely accepted by their families. Additionally, 33% report being kicked out of their homes at some point due to their sexual orientation or gender identity.
Almost one-third of LGBTQ respondents report being denied financial help. When seeking financial help and services, 32% of LGBTQ respondents say their gender identity or sexual orientation was a factor in being denied services.
More than a quarter of LGBTQ borrowers feel their student debt is unmanageable
On average, LGBTQ respondents have $112,607 in student loan debt, about $16,000 more than the general population average of $96,211.
Taking that into consideration, it's not surprising that 28% of respondents consider their student loan debt unmanageable. This result is similar to the findings in our women and money survey. It found that 28% of women feel their student loan debt is unmanageable. Only 13% of men feel the same way.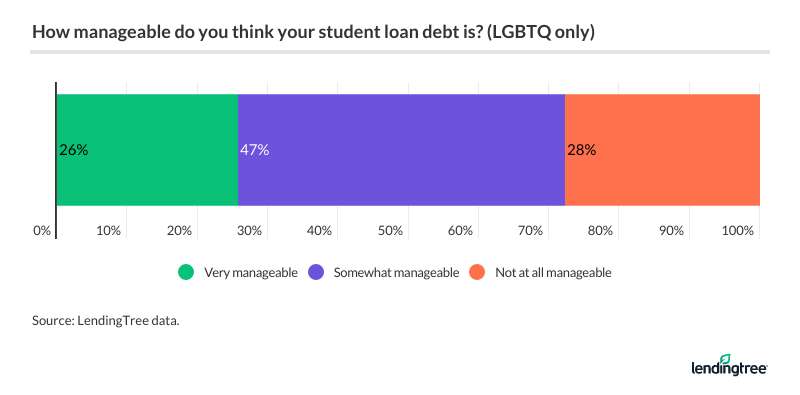 Many LGBTQ respondents cite difficulties finding jobs that allow them to keep up with their student loan payments. Additionally, they report not understanding how much they would have to repay after graduation.
"I feel like I'm going to be paying these for the rest of my life," wrote one respondent.
"I can't find a job in the [subject] area I went to college for and now I'm in severe poverty with bad credit," wrote another respondent.
Student loan difficulties might be exacerbated by employment issues
A number of respondents feel as though they don't make enough money to manage student loan payments. Compared with the general population, the average LGBTQ worker makes less money.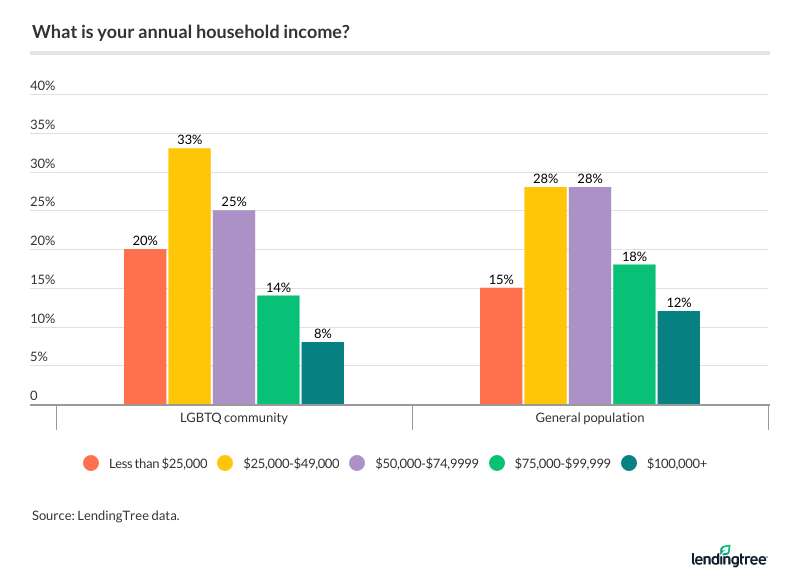 Many respondents wrote that when you don't make as much money, it can be difficult feeling as though you'll ever come out ahead of your student debt.
LGBTQ workers face employment discrimination
But it's not just income that makes it difficult for LGBTQ borrowers to make ends meet. In some cases, they also live in fear of losing their jobs.
According to a 2017 fact sheet on workplace equality put out by Out & Equal, a nonprofit organization that advocates for LGBTQ workplace equality, you can be fired for your sexual orientation or gender identity.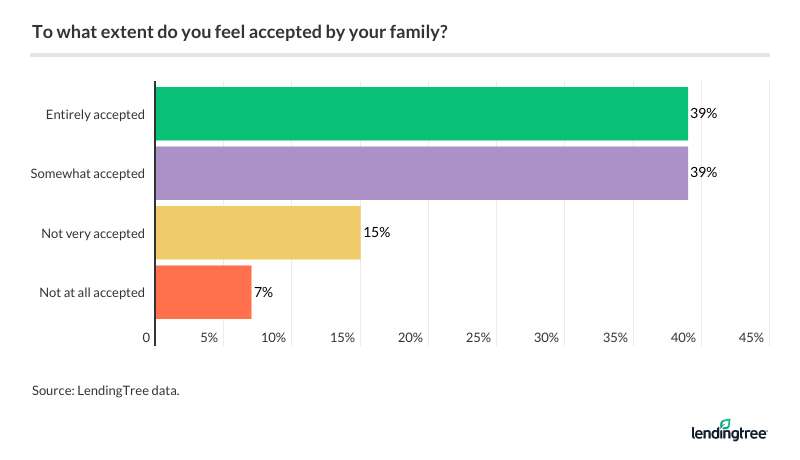 According to Out & Equal, 1 in 4 LGBTQ workers have experienced employment discrimination in the past five years, and nearly 1 in 10 have left a job due to an unwelcoming environment.
Things can be even tougher for transgender people, who experience unemployment at a rate that's three times the national average.
Andi Tremonte is a transgender person and an LGBTQ+ cultural competency trainer at the Utah Domestic Violence Coalition. He pointed out that even in states that have nondiscrimination laws, such as Utah, there are loopholes that worry him.
"Because I rent from a private person, they could decide to kick me out, because there's an exception in the law," said Tremonte. "My workplace has few enough employees that my employer is an exception to the law and could decide to fire me for being transgender."
Tremonte said many other LGBTQ people live with the same fears, contributing to their worries that a slip to the wrong person about orientation or identity could mean a loss of income. That, in turn, could lead to difficulty in making student loan payments and meeting other obligations.
Workplace advancement
Worries over lower income and job loss aren't the only issues affecting the LGBTQ community. A report from the Center for American Progress, a nonpartisan public policy think tank, indicates that some barriers are much more subtle than outright discrimination.
"I couldn't be fired for being gay," said one research participant, who works for a Fortune 500 company with a nondiscrimination policy. "When partners at the firm invite straight men to squash or drinks, they don't invite the women or gay men. I'm being passed over for opportunities that could lead to being promoted."
John Schneider, a financial expert with the Queer Money Podcast, said he's seen the same thing in his own experience.
"Even if they're out, many gay men trying to climb the corporate ladder try to 'act straight.' They try to fit in with the boys' club so they have access to promotions and raises they might not get if they act 'too gay,'" he said.
LGBTQ workers are falling behind in retirement planning
When it comes to retirement planning, LGBTQ people are less likely than the general population to have a 401(k), IRA, or other retirement investment vehicle. Fifty-six percent of the general population has a retirement savings vehicle, compared to 47% of the LGBTQ population.
When asked about what's holding them back from getting on track for retirement, respondents wrote about their strained finances, citing bills, high debt, and difficulty finding decent-paying work.
Spending patterns and LGBTQ retirement preparedness
Another piece of the retirement savings puzzle, though, has to do with spending patterns. According to "The LGBT Financial Experience," a report published by the financial company Prudential, LGBT respondents were more likely to consider themselves spenders, compared to the general population.
The report asserts that saving for retirement is a big goal for many LGBTQ individuals, but they still tend to spend more and save less.
Schneider agreed that spending habits can lead to high amounts of credit card debt and less money in retirement savings for many LGBTQ consumers. Our survey reveals that 60% of those with student loan debt also have other types of debt. And 79% of those with other types of debt have credit card debt.
"There's a lot going on here," Schneider said. "To some degree, keeping up with the Joneses is a major concern in the gay community."
Schneider recalled that when he was younger, he racked up tens of thousands of dollars in debt with his partner. "We weren't doctors or lawyers, but society's image of the rich successful gay leads you to feel like you need to drive the Audi and buy the clothes and hang out at the club," he said.
On top of that, Schneider pointed out that many LGBTQ spenders are trying to make up for feelings of inadequacy. "If you look successful," he said, "maybe your parents will finally accept you."
Overcoming these feelings can be difficult, but it has to be done, said Schneider. He and his partner finally sat down and figured out what mattered to them. They began reforming their spending habits. Today, they've paid off all their debt and have started building a tidy nest egg.
"Do some introspection and figure out what you want from life and set your priorities," Schneider said. "Think about one to three financial goals that matter most to you, and focus on those, instead of trying to impress your neighbors or family."
LGBTQ youth and paying for school
In some cases, the higher amount of student debt seen in the LGBTQ community might be due to the fact that many young people don't get financial help from parents. Only 39% of our respondents report feeling "entirely accepted" by their families. Thirty-three percent report being kicked out of their home at some point.
In fact, LGBTQ youth are 120% more likely than their peers to become homeless, according to the "Missed Opportunities: Youth Homelessness in America" report from Voices of Youth Count, a policy research initiative aimed at understanding and solving problems related to youth homelessness.
This can put young people at a disadvantage from the start, said Tremonte. "Many of the youth I serve don't have the resources to go to college without help."
One of the biggest issues is filling out the Free Application for Federal Student Aid (FAFSA). Tremonte pointed out that most students have to provide their parents' income information on the form. However, it can be difficult to get that information.
"Without parent information, a FAFSA might be rejected, leading to no federal aid," said Tremonte. "Some parents have used this reality for power and control. They tell their student that they have to do certain things or stop being queer in order to get the information [the student] needs."
Even when students do get information from parents, it can still lead to greater student loan debt.
A parent's income might be calculated into the expected family contribution, but the LGBTQ student might not be receiving any help. Thus, they might lose eligibility for aid intended for low-income college attendees and be forced to borrow more.
"Because of the way the government has it set up, I'm punished for my parents' income even though they don't support me," lamented one survey respondent who hasn't been able to qualify for financial aid, despite living in poverty.
Indeed, many students struggle with this issue, regardless of sexual orientation or gender identity. Not all parents provide financial support to their students, even if the government assumes they will. However, Tremonte points out that nonacceptance by parents can further harm LGBTQ students who lack financial support.
Closing college funding gaps with private student loans is also difficult. Many lenders run a credit check. Without a willing cosigner, many LGBTQ students won't qualify.
Getting financial help in the LGBTQ community
Another concern held by LGBTQ community members is getting financial help. Thirty-one percent of respondents report being denied financial help due to their sexual orientation or gender identity.
"There's a bit of fear associated with asking for financial help in our community," said Schneider. "Even if you acknowledge you need help, many in our population feel that traditional banks and other financial services providers won't work with us if they know our orientation or identity."
Additionally, for LGBTQ borrowers with low income and credit problems, it might not be possible to refinance student loan debt or get debt consolidation loans to ease the situation.
Schneider said that some financial firms are trying to be accepting and are offering financial services aimed at the LGBTQ community. For students, there are available scholarships based on gender identity and sexual orientation. These resources can go a long way toward helping LGBTQ students reduce their obligations and get on their financial feet.
Ultimately, though, it'll take continued movement toward acceptance in the wider population for LGBTQ people to catch up financially.
"Tolerance isn't the same as acceptance," Tremonte said. "Mere tolerance by society isn't going to lead to the change we need.
"Many of us don't feel safe, especially with how things have been going in the last couple of years," Tremonte continued. "When you're looking at discrimination, facing all these financial barriers, and wondering if you're going to be attacked for using a public restroom, the last thing you're thinking about is whether or not you signed up for your company 401(k)."
This survey was administered to a nationally representative sample of 11,184 adults aged 18 and over between Feb. 16, 2018, and Feb. 18, 2018. We surveyed student loan borrowers who identify as LGBTQ. "Do you, personally, identify as lesbian, gay, bisexual, transgender, or queer?" and "Do you have student loan debt?" were used as screening questions. The margin of error is plus or minus 1 percentage point.