How Does LendingTree Get Paid?
LendingTree is compensated by companies on this site and this compensation may impact how and where offers appear on this site (such as the order). LendingTree does not include all lenders, savings products, or loan options available in the marketplace.
Student Loans and the 2020 Presidential Election: Your Complete Guide
Updated on:
Content was accurate at the time of publication.
With college costs spiraling out of control and Americans owing more student loans than ever before, college affordability and student loan debt reform are one of the hot-button topics among the 2020 presidential election rivals Donald Trump and Joe Biden.
The campaign has already seen a wide variety of proposals, but with only two candidates left, let's take a look at their respective positions on student loan debt and other related issues.
President Donald Trump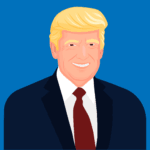 In response to the coronavirus pandemic, the Trump administration has enacted a temporary freeze on federal student loan repayment and interest charges through the end of the year, a move also supported by the Democrats.
Prior to that, the administration — including its leadership at the Department of Education, headed by Secretary of Education Betsy DeVos — had proposed various changes to student loan repayment and forgiveness, although most of these failed to pass Congress.
Here's what Republican standard bearer President Trump and his Cabinet did in addressing college costs and student loan debt reform prior to the coronavirus outbreak, along with his proposals on the issue.
Renewed the Carl D. Perkins Career and Technical Education Act, the main federal funding source for career and technical programs for high school and high school grads. By signing this bipartisan legislation, Trump allowed $1.2 billion per year to go to states in support of these programs.
Called for more vocational schools in his 2018 State of the Union, along with increased investment in workforce development and job training.
Eased student loan forgiveness for disabled veterans and removed tax liability on those discharged loans. Trump also called for states to waive state taxes on loans forgiven through "total and permanent disability discharge."
Eased regulations for for-profit colleges and challenged the borrower defense to repayment program, which cancels loans for students who were defrauded by for-profit colleges. After months of delay, a judge ruled that standing in the way of borrower defense was illegal and allowed the program to resume. Even after the ruling, however, the New York Times reported that the Department of Education had yet to approve any loan relief applications in the second half of 2018.
Discussed a single income-driven repayment plan to replace the current plans, such as Income-Based Repayment and Pay As You Earn. Trump's proposed plan would cap monthly payments at 12.5% of a borrower's income and offer student loan forgiveness after 15 years for undergraduates and after 30 years for graduate students.
Proposed repealing the Public Service Loan Forgiveness program. Trump's 2017 and 2020 budget proposals both called for eliminating this loan forgiveness program, but this has yet to be taken up by Congress.
Proposed eliminating subsidized loans, which don't accrue interest during a grace period and are offered to low-income students.
Outlined a funding cut of 10% to the Department of Education in the 2020 budget plan.
Joe Biden, former vice president and former U.S. senator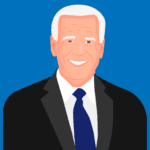 Joe Biden's plan for higher education, announced prior to the coronavirus outbreak, involves a $750 billion investment over 10 years. Here are some of his major proposals:
Offer two years of tuition-free community college to students, both full-time and part-time, including DREAMers.
Immediately forgive at least $10,000 in federal student loans for every borrower as a response to the coronavirus crisis.
Forgive all student loans for borrowers who attended two- or four-year public colleges or universities and earn less than $125,000 per year.
Supports making public colleges and universities tuition-free for students from families who make under $125,000
Create a grant program that will help community colleges provide better outcomes for their students, including $8 billion inn funds to improve their facilities
Support community college students by allowing them to use Pell Grants and other aid to cover living expenses, as well as incentivize community colleges to partner with local organizations to provide support services for students
Double the value of Pell Grants and make them accessible to more Americans
Invest $50 billion into workforce training, such as apprenticeships and community college business partnerships
Simplify income-driven repayment plans, and allow student loan borrowers who make less than $25,000 to reduce their payments to $0 without accruing interest on their debt. Borrowers who make more than $25,000 annually would pay just 5% of their discretionary income (the current plans cap payments at 10% or more) and be eligible for forgiveness after 20 years.
Simplify the Public Service Loan Forgiveness program and allow eligible borrowers to get $10,000 in forgiveness annually for up to five years
Crack down on predatory for-profit schools and require that all institutions prove their value before accessing federal financial aid
Increase investments in Historically Black Colleges and Universities and Minority-Serving Institutions
Endorsed Sen. Elizabeth Warren's proposal to bring back protections for student loan borrowers which would allow them to discharge student loan debt in bankruptcy.
Biden's running mate, Sen. Kamala Harris had also voiced support for free community college during her own bid for the presidential nomination. While she did not propose eliminating tuition and fees at public four-year colleges completely, Harris did suggest making them debt-free for students.
In response to the coronavirus pandemic, Harris also called for $10,000 in loan forgiveness for all federal student loan borrowers.
It's not clear whether any of Harris' positions will impact the Biden-Harris ticket's student loan platform. But it's worth noting that in her role as attorney general in California, Harris helped prosecute Corinthian Colleges, a now-defunct chain of for-profit schools accused of defrauding students.