How Does LendingTree Get Paid?
LendingTree is compensated by companies on this site and this compensation may impact how and where offers appear on this site (such as the order). LendingTree does not include all lenders, savings products, or loan options available in the marketplace.
Survey: Student Loan Borrowers Wait Longer and Pay More to Get Divorced
Updated on:
Content was accurate at the time of publication.
Going through a divorce can be complicated and expensive. The average cost ranges between $12,500 and $19,200, depending on whether there are children involved, according to Lawyers.com.
But according to our debt and divorce survey, student loan borrowers tend to have it worse than people without student loans. Here's what we found.
Key findings
Student loan borrowers take on more debt in a divorce. Fifty-eight percent of divorcees with student loans took on debt to help pay for attorney fees and other related costs during their divorce proceedings. Compare that with 48% percent of all divorcees who borrowed money to pay for a divorce.
Couples with student loan debt are more likely to delay divorce because of cost. More than a third of respondents with student loans (35%) delayed their divorce because they couldn't afford it, compared with 24% of couples without student debt.
Student loan debt is a contributing factor in some divorces. Thirteen percent of respondents who had student loan debt going into their marriage claim that it eventually led to the end of their marriage.
Divorce has caused the majority of divorcees to change their money habits. Almost 7 in 10 divorcees have changed how they manage their money after their divorce. This holds true for people with and without student loans.
The costs associated with divorce
The cost of a divorce can vary depending on how you handle it and what's involved. For example, mediation can be cheaper than a litigated divorce where one or both sides contest the terms of the annulment. Common costs associated with divorce include:
Lawyer fees
Document fees
Appraisal fees
Accountant fees
Parenting classes
Custody assessment
Court fees
Respondents to our survey spent an average of $18,652 on their divorce proceedings. Interestingly, student loan borrowers spent over $2,000 more than people without student loans on their divorce.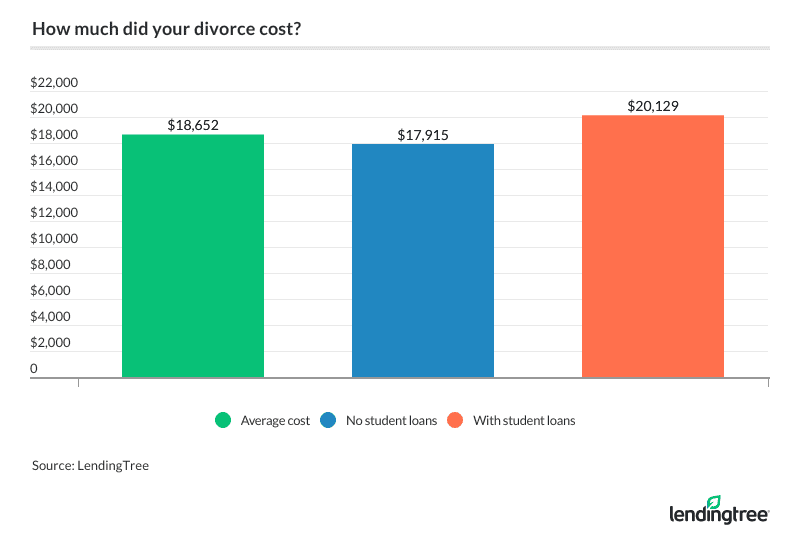 Besides paying these costs, you may be on the hook for some of your ex-spouse's student loan debt, which could make your divorce even more expensive. Specifically, this is the case if you live in a community property state, which includes Arizona, California, Idaho, Louisiana, Nevada, New Mexico, Texas, Washington, and Wisconsin.
"If a person applies for that debt while they're married, it's considered community property," said Taetrece Harrison, a New Orleans-based family law attorney at Harrison Law Group. "So, half the debt is yours, and half the debt belongs to the spouse. It doesn't matter if the loan only has your name on it."
If you get married, for instance, and your spouse takes out $50,000 in student loans to pay for graduate school, you could be forced by the court to split the student loans and pay half of it.
According to Harrison, it's possible to create a payment plan with the court, but you may need to pay the full amount all at once.
Why student loan debt can lead divorcees to take on more debt
Class of 2017 graduates left school with $39,400 in average student loan debt.
With a 10-year repayment term and a 6.00% interest rate, that's a monthly payment of $437. So it's no surprise that 28% of student loan borrowers with federal loans in 2017 were on income-driven repayment (IDR) plans, according to the College Board.
These plans make it possible to get a lower monthly payment based on your discretionary income and family size rather than on the original repayment terms.
When you have monthly payments that you can't afford or that are stretching your budget too thin, paying thousands of dollars for a divorce out of pocket can be difficult.
Based on our survey, 58% of student loan borrowers took out more debt to cover the costs of their divorce versus 43% of people without student debt. What's more, 23% of student loan borrowers borrowed $10,000 or more for their divorce, and 10% took out $30,000 or more in loans.
Why delaying divorce can be costly
Student loan borrowers are more likely to delay their divorce because of the costs associated with an annulment. Of the people we surveyed, 35% of respondents with student loan debt had delayed the proceedings because of cost, while only 24% of people without student loans did so.
But delaying a divorce can come with its own costs. "People's whole situations can change," said Harrison. "There are a lot of different factors that come into place. Things may change financially for you where things get worse, and if you had gotten some assistance, you could have gotten a divorce when you wanted it."
To avoid this problem from the get-go, Harrison recommended getting a prenuptial agreement. "The easiest time to get someone to agree with something is when you're in love," she said.
Here are some other potential issues that could come up:
New and appreciated assets: Any assets that you accumulate before you file for divorce can still be considered marital property.
Alimony: If you're going to be on the hook for alimony, the amount and duration of your monetary support are partially based on the length of your marriage.
Emotional costs: Nobody wins in a divorce, and delaying the end of a tumultuous relationship can be hard on you and your spouse. If children are involved, delaying the inevitable can also be hard on them.
Moving on: Waiting to get divorced can make it difficult to move on. In fact, if you start a new relationship or move out before filing for divorce, that decision could be used against you, especially if it comes to a custody battle.
How student loans can lead to divorce
More than a third of student loan borrowers claim that debt and other money factors contributed to their divorce, whereas only 23% of divorcees with no student loans claim the same reasons. In fact, 13% of divorcees blame student loans specifically for ending their marriage.
Harrison sees how student loans could make other problems worse, but she doesn't see them as the primary reason for someone wanting to leave a marriage.
"Usually there's some relationship stuff that's going on, and then on top of that, they start to complain about the debt," she said. "I don't think [student loan debt] would be the driving factor, but it's definitely a secondary factor."
That said, money problems of any kind can make for a rough marriage, and if you have oppressive student loan debt, the financial pressure can become unbearable.
Large debt balances and monthly payments can make it difficult to buy a home, save for retirement, or make it from paycheck to paycheck. And since it's virtually impossible to get student loan debt discharged in a bankruptcy, you're stuck with it whether you can afford it.
This feeling of being trapped can exacerbate all the other issues you encounter in marriage, money-related or not.
Another survey we did about student loans and relationships found other ways student loan debt can harm a marriage. For example:
Thirty-six percent of student loan borrowers report having lied to a partner about money.
Roughly a third of respondents claimed a decreased sex drive because of their student loans.
Many student loan borrowers have delayed big relationship steps because of their debt, including starting a family and taking their first romantic getaway.
While student loan debt isn't guaranteed to cause problems in a marriage, it can be a concern.
What you can do about your student loan debt
If you're trying to manage student loans and marital problems, finding ways to reduce your debt burden can help relieve some of the pressure.
If you're already considering divorce, you can still improve your monthly cash flow and reduce the amount of debt you need to take on as a result of the annulment. Consider these steps.
1. IDR plans
If you have federal student loans and aren't already on an IDR plan, applying for one could reduce your monthly payment to between 10% and 20% of your discretionary income.
This option alone can ease a lot of short-term cash flow problems and make it possible to cover other essential expenses and work toward other financial goals. But keep in mind that private student loan companies typically don't offer IDR plans.
2. Apply for a forgiveness program
Federal student loans also give you access to loan forgiveness, primarily through the Public Service Loan Forgiveness (PSLF) program and teacher loan forgiveness.
The PSLF program, for instance, offers forgiveness after you've made 120 qualifying monthly payments if you work for a qualifying government or nonprofit organization and meet other requirements.
While this may not necessarily solve short-term problems, it can be the light at the end of the tunnel that you need right now.
3. Student loan refinancing
Student loan refinancing companies allow you to consolidate your student loans into one new loan and potentially get a lower interest rate or monthly payment in the process.
These lenders offer both fixed and variable interest rates, but you typically need a great credit score and financial profile to get the lowest rates available.
Student loan companies also allow you to change your repayment term — some of the best lenders go up to 20 years — which can also help you lower your monthly payment.
One drawback to refinancing federal student loans is that you lose certain benefits, such as access to IDR and certain student loan forgiveness programs. But if you don't need those benefits and you can get a lower rate or payment through refinancing, it can be worth it.
Whatever you choose to do with your student loans, it's essential that you take the time to do your research and consider all your options.
By doing your due diligence, you can potentially improve your relationship with your spouse. And if not, you can at least improve your financial situation for the long term.
Methdology
This survey on divorce and student loans was conducted from June 25 to June 28, 2018, in partnership with SurveyMonkey. We collected 808 responses from adult Americans 18 and older who identified as divorced.