How Does LendingTree Get Paid?
LendingTree is compensated by companies on this site and this compensation may impact how and where offers appear on this site (such as the order). LendingTree does not include all lenders, savings products, or loan options available in the marketplace.
More Than 196 Million Americans Used a Delivery Service Within the Last Year, and About 30% Admit to Overspending
Updated on:
Content was accurate at the time of publication.
Why use LendingTree?
We are committed to providing accurate content that helps you make informed money decisions. The content on this page has not been reviewed, approved or otherwise endorsed by any credit card issuer. We do maintain partnerships with some issuers, and our site may be compensated through those partnerships. Read our .
More than three-quarters of Americans have placed an order with an on-demand delivery service in the last year, according to a recent LendingTree survey of more than 1,000 consumers. Fueled by the pandemic, many shoppers have grown accustomed to getting all sorts of items — from food and groceries to medicine and household items — delivered to their door. Some, notably, are even spending more than they can afford.
See which delivery services are most popular, who's using them and if the trend is expected to grow.
Key findings
More than three quarters (77%) of Americans — or more than 196 million — used an on-demand delivery service within the last year. Retail delivery such as Amazon is the most popular delivery type (used by 51%), followed by food delivery (45%).
Consumers spend nearly $2,000 on delivery services per year, on average. This figure was estimated based on Americans' reported spending last month, which totaled $157.
Seven in 10 (70%) Americans are willing to spend extra money to save time and effort. While the majority (37%) would cap that extra spending at $50 per month, nearly 1 in 5 (19%) are willing to shell out $100 or more for the convenience.
The cost of convenience: 29% of Americans admit to spending more than they can afford on delivery services. Overspending is most prevalent among younger consumers, with 48% of Gen Z and 39% of millennials owning up to splurging too much on delivery. The same is true for parents with kids under 18 (48% of whom say they overspend).
The delivery era is here to stay. In the survey, 45% of Americans said they intend to continue using delivery services just as often as they did during the pandemic.
Not having to leave the house is the primary reason for choosing on-demand delivery services for 51% of Americans, followed by saving time (30%) and saving money (16%).
77% of Americans used on-demand delivery services within the last year
With retailers like Amazon and food deliveries from apps like UberEats and DoorDash leading the way, more than 3 out of 4 Americans are using on-demand delivery. The youngest consumers are most likely to be placing orders from home, including 92% of Gen Z and 89% of millennials, with food delivery the most popular category. Meanwhile, for the 77% of Gen X and 56% of baby boomers waiting for the delivery truck to pull up, it's mostly for retail purchases.
Other noteworthy trends:
More than 1 in 5 millennials ordered from a meal kit delivery service (like HelloFresh or Blue Apron)
Parents with kids under 18 are more likely to have used a grocery delivery service (like Instacart) than non-parents (40% versus 30%)
With the popularity and availability of on-demand delivery, some credit card companies have started offering bonus points and rewards programs aimed at consumers who spend regularly on delivery or rideshare services. As such, 37% of respondents said they've opened a new rewards credit card specifically to take advantage of such programs. Among younger consumers, the percentage jumps even higher: 51% for Gen Z and 53% for millennials.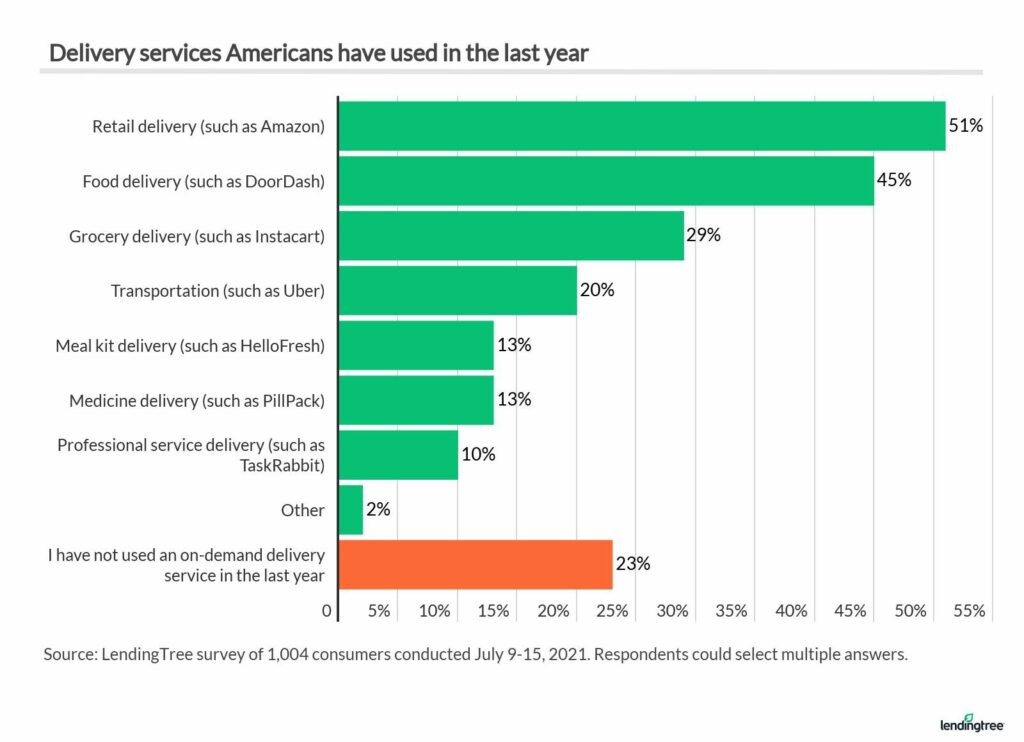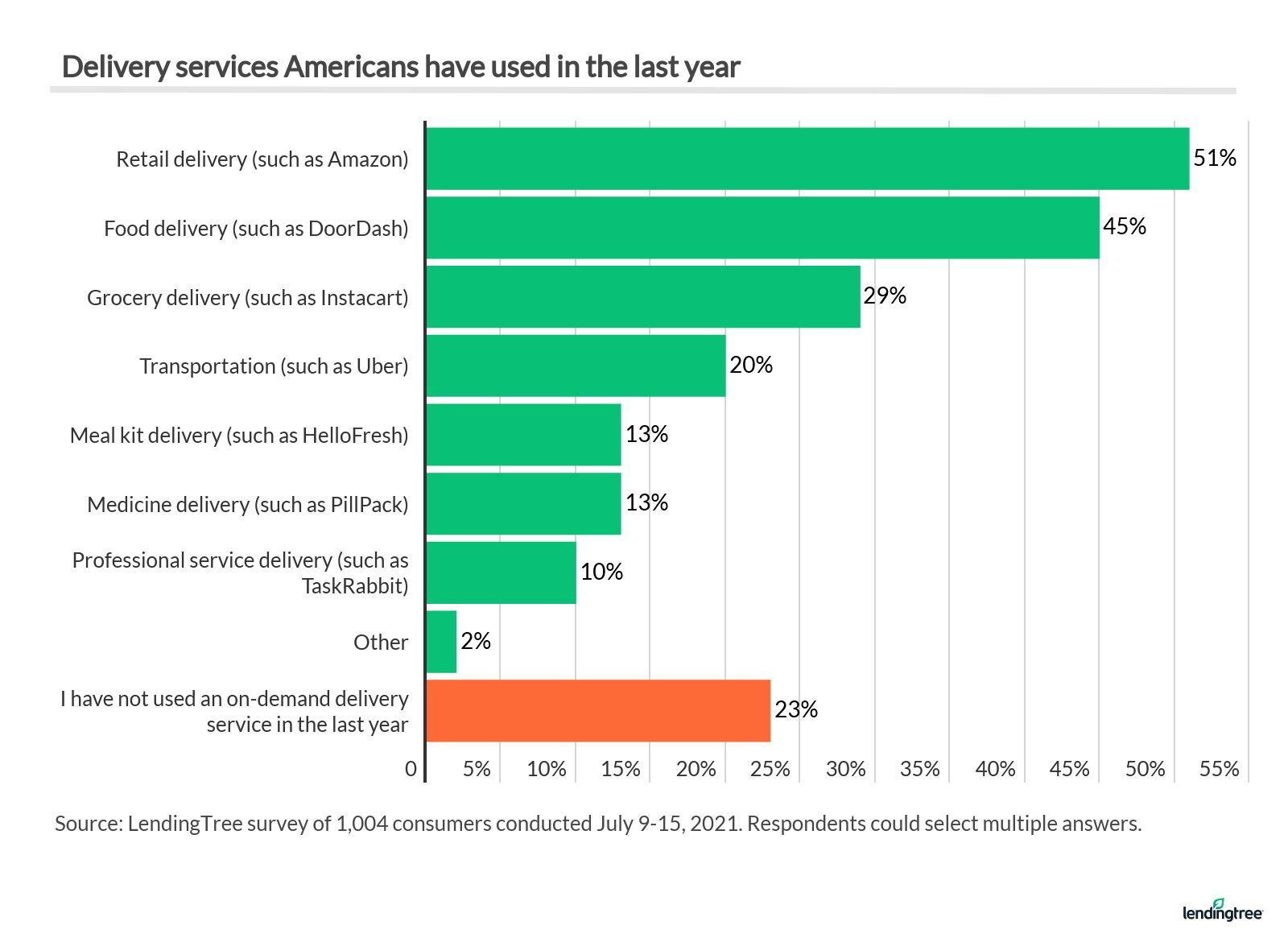 Consumers are willing to spend big to save time and effort
Across all demographics, the average monthly spending on delivery services totals nearly $2,000 per year ($157 per month). Some groups, though, are spending more than others: For example, parents with children under 18 spent more than any other demographic at $260 per month — that's over $3,000 per year.
For anyone who's had to go shopping while lugging strollers, diaper bags and young kids, it's easy to understand why people are willing to pay more to avoid those exhausting trips. In fact, parents may even tell you that they save money by not having kids add extra items to their shopping carts. Not to mention that during the pandemic, many parents may feel safer keeping their unvaccinated tots out of crowded stores.
Regardless of parent status, younger consumers in general are the ones spending more on delivery than older generations. Both Gen Zers and millennials spent just over $200 per month, while Gen Xers stayed in the $150 ballpark and boomers spent just under $80. This could be attributed to the comfort level of using apps and online platforms to place orders.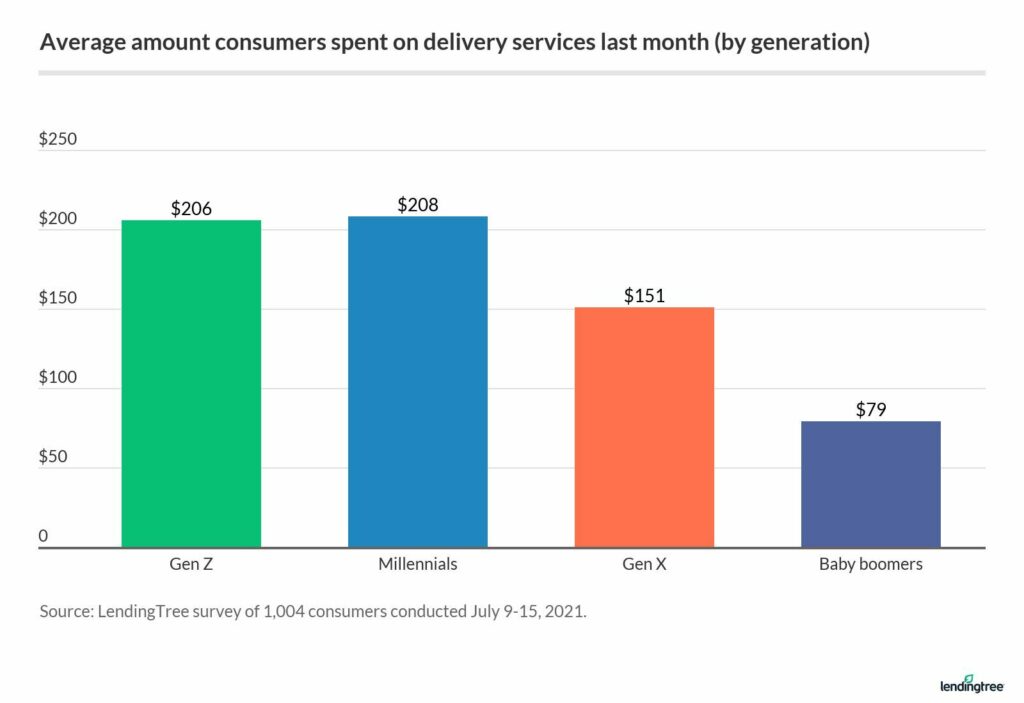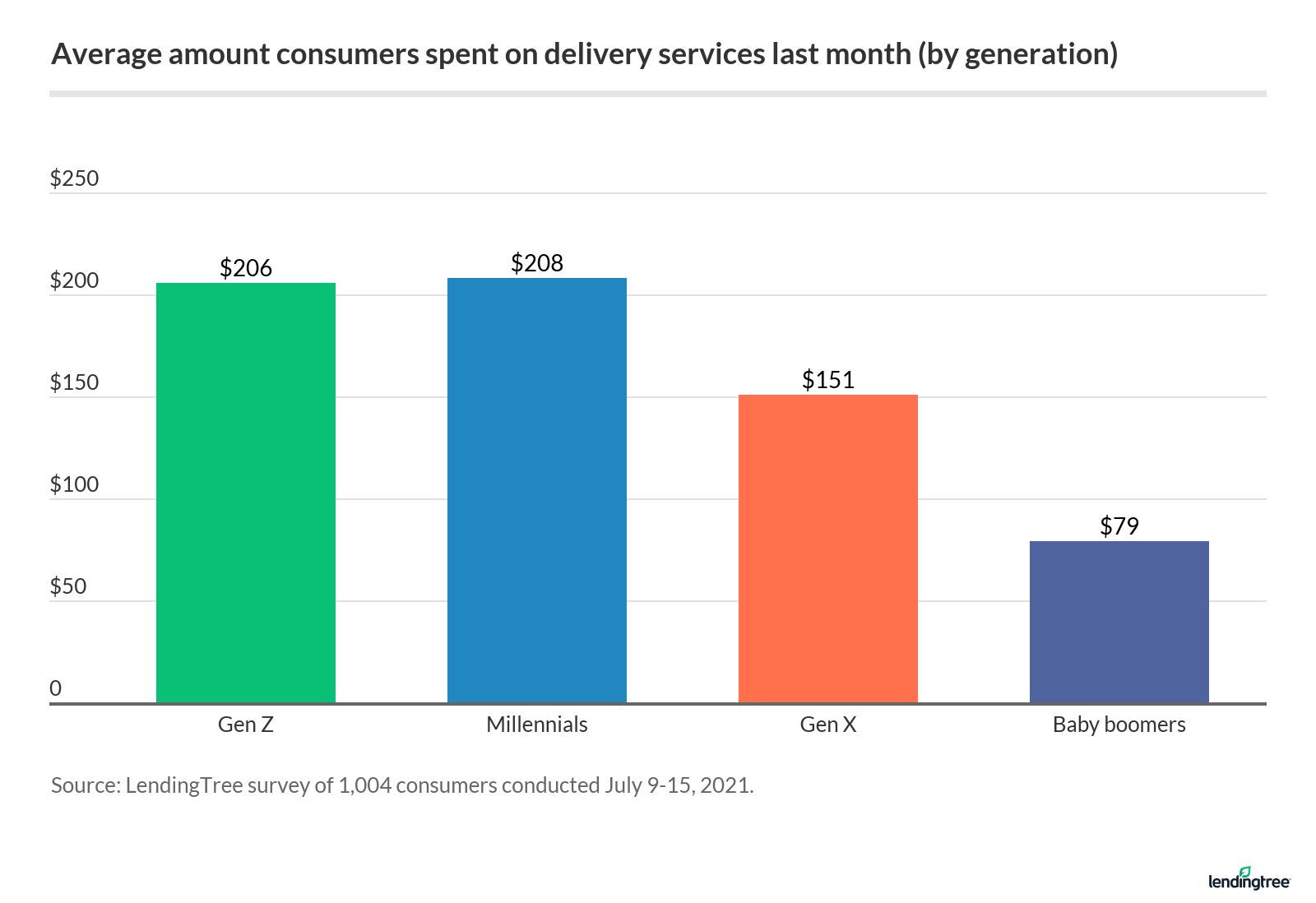 Many people relate to the idea that "time is money" and, therefore, are willing to pay for the convenience of not having to drive to, shop for and lug their purchases. In fact, 70% of Americans said they're willing to spend extra money — say, an extra $10 per week on groceries to avoid setting foot in the store. While more than one third (37%) would spend no more than $50 per month on delivery fees, nearly 1 in 5 (19%) said they would shell out an extra $100+ for home delivery services.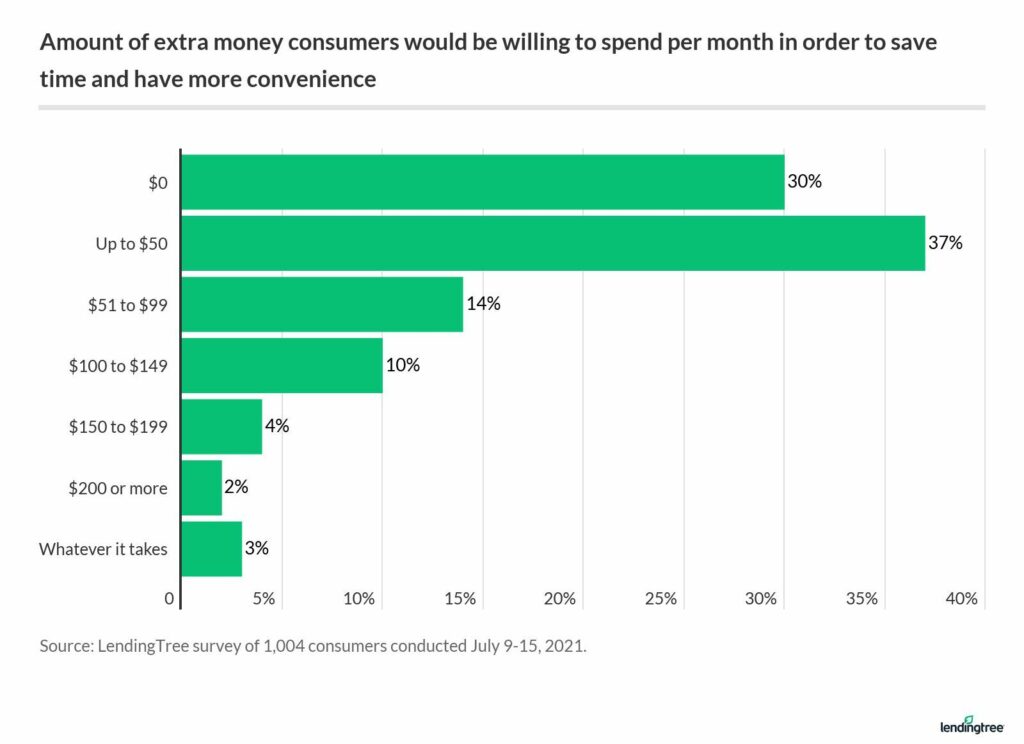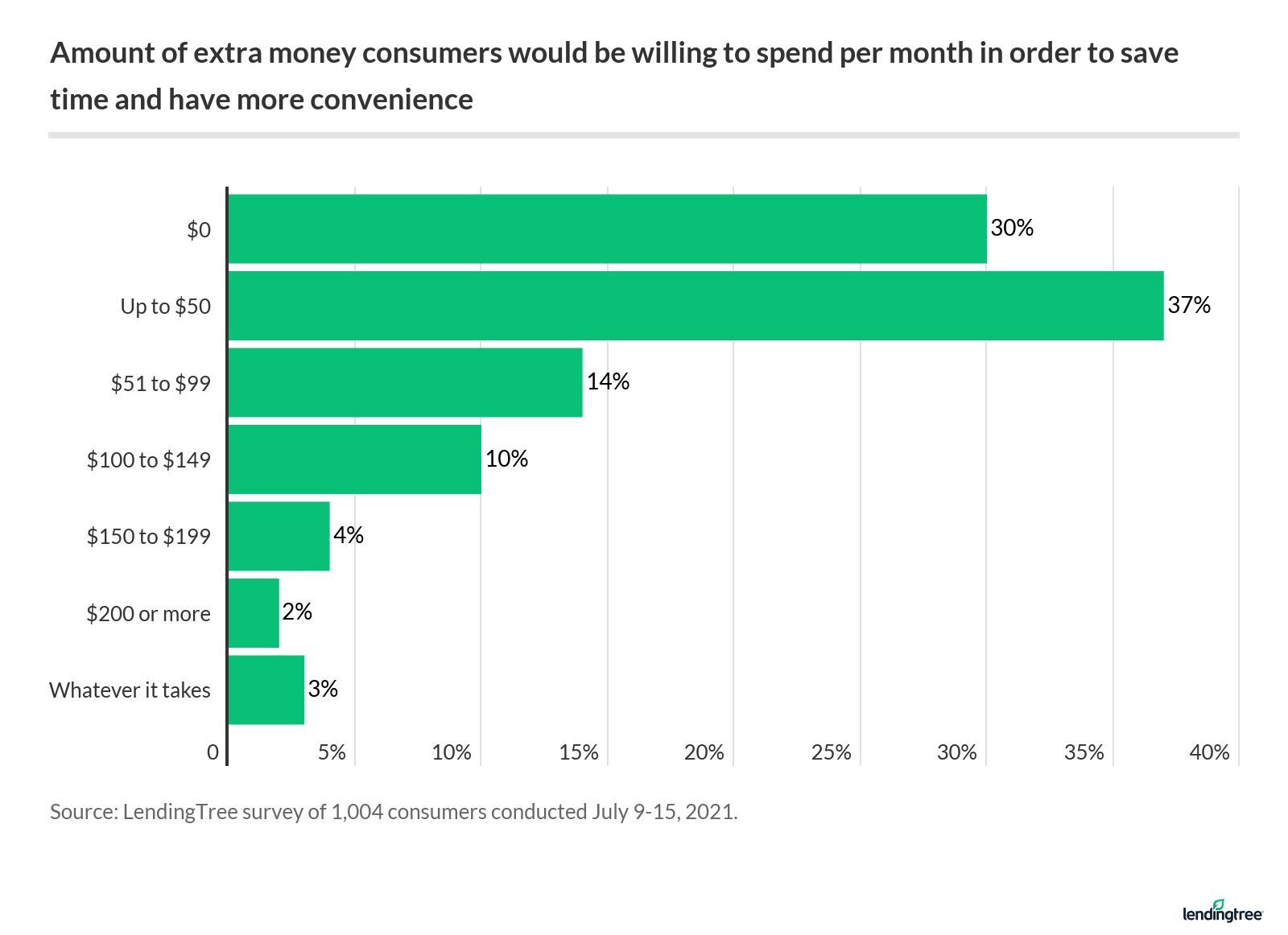 Of course, sometimes, the cost of delivery convenience is sometimes beyond what a consumer's budget allows — but that's not stopping some people from being on a first-name basis with Amazon and UberEats drivers. In fact, nearly 3 in 10 (29%) of Americans admit to spending more than they can afford on delivery services. Overspending is most prevalent among younger consumers (48% of Gen Z and 39% of millennials) and parents with kids under 18 (48%), all of whom own up to blowing their budgets on delivery services.
Most increased their usage of delivery services during the pandemic, and 45% will continue that frequency in the future
There's no doubt that the coronavirus pandemic increased the usage of on-demand delivery services in many households. The survey found that those placing orders at least once per week went from 30% pre-pandemic to 37% during the pandemic.
Some consumers even said they used on-demand delivery services daily during the pandemic, including 15% of Gen Z and 10% of millennials.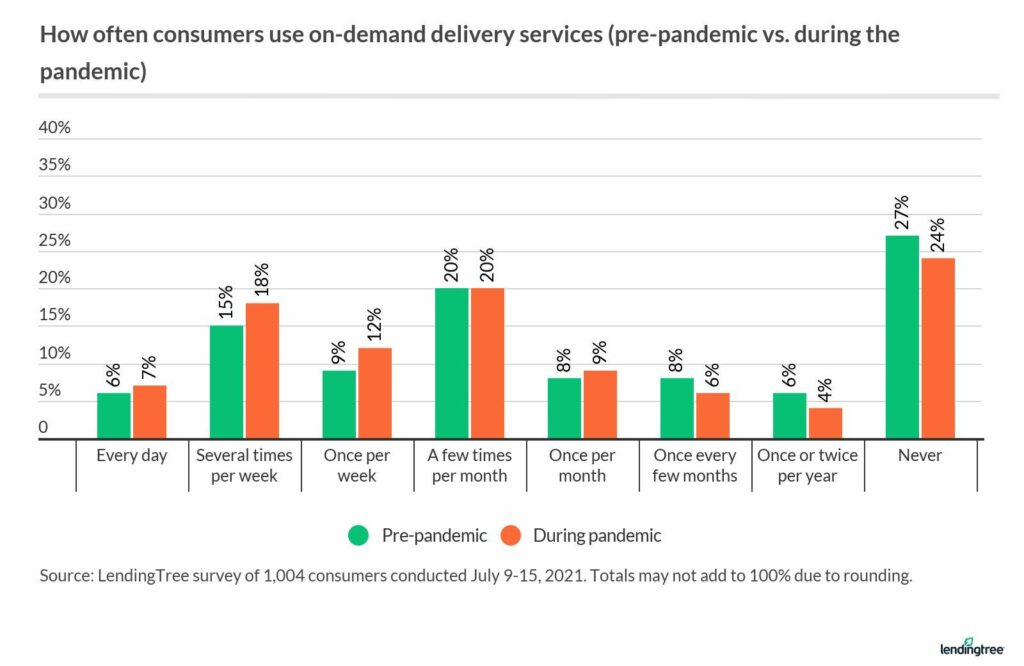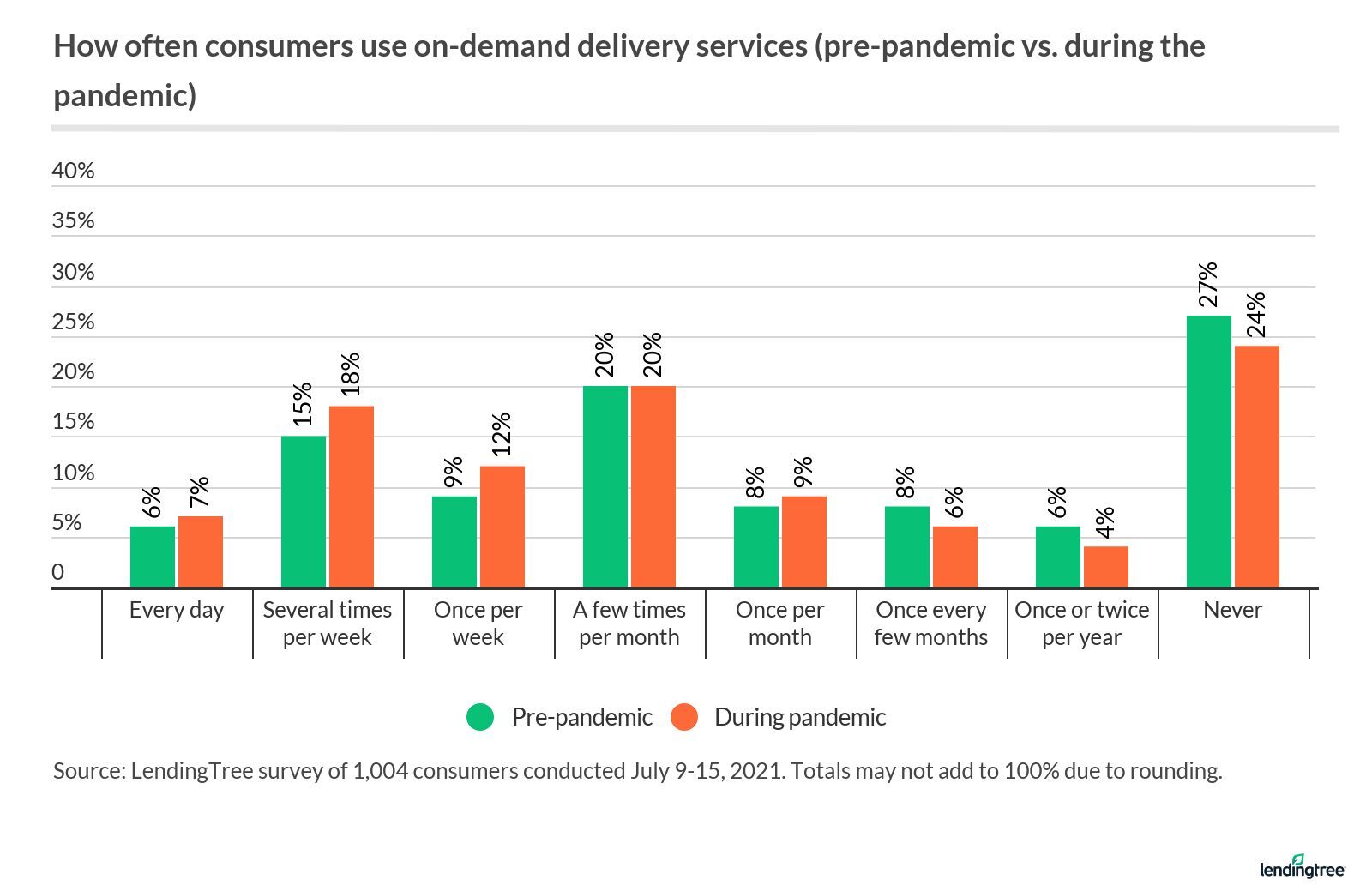 Even when restrictions ease and people feel safer, on-demand delivery habits are here to stay for nearly half of Americans — 45% said they will continue using delivery services just as often as they did during the pandemic. However, the group that spent the most on delivery (parents of kids under 18) noted being less likely than respondents overall to continue once the pandemic subsides.
Reliance on delivery services all comes down to what consumers value. For instance, baby boomers were most likely to cite "not having to leave their homes" as their top reason for ordering (65%), while millennials (37%) chose "saving time" more than the other demographics and 25% of Gen Z said they turn to delivery to "save money."
Overall, here's how respondents ranked what they valued most when it comes to delivery services:
Not having to leave the house: 51%
Saving time: 30%
Saving money: 16%
Enjoy the convenience of delivery without breaking the bank
Having everything from personal care items and clothing to food and meal kits delivered right to your home — sometimes in the same day — adds up. Here are some ways to enjoy deliveries without blowing your budget:
Evaluate your ordering habits when signing up. Some deliveries incur a per-order fee, while others charge a monthly or yearly subscription fee. Think about how often you order and crunch the numbers to decide which delivery plan level makes the most sense for you.
Compare prices. Did you know that some food apps not only charge a delivery fee, but also charge higher prices on individual menu items as well? You might also notice that in-store sales may not apply when placing online orders for groceries. See if ordering from a restaurant directly is cheaper, and consider an in-person trip for food shopping when the circular discounts are too good to pass up.
Research to find the best deals and coupon codes. Many delivery services offer ways to save, from pop-up promo codes on their social media pages to purchasing an annual subscription for a discounted rate. First-time users of a service can almost always find a code to save a percentage or dollar amount as well, so search online or check those postcards you get in the mail before you order.
Maximize credit card rewards. Only about a third (36%) of cardholders are earning card points, miles or cash back from their spending on delivery services. But if you're like the average person, spending $157 per month on deliveries, you could be leaving rewards on the table. See if any of your current cards offer rewards for delivery spending, and if so, use that card to pay. For big delivery spenders, it might even be worth opening a new rewards card that focuses on the services you use most.
Don't get caught paying after free trial periods end. If you do take advantage of a free trial offer but don't plan on continuing with a paid subscription, be sure to cancel the account before you are charged a monthly fee.
Avoid temptation. Although online orders allow you to avoid impulse buys at the checkout counter, you may find yourself being prompted to order by an email or text message. If you've fallen into that trap, simply opt out of promotional emails and texts so you're not lured in.
Rein in debt. If your delivery habit has gotten out of control and you're carrying balances on your credit cards, work out a plan to pay them down as best as you can. In the meantime, cut yourself off from deliveries except for essentials you can't otherwise get, or in cases where the delivery actually saves you money.
Methodology
LendingTree commissioned Qualtrics to field an online survey of 1,004 U.S. consumers, conducted July 9 to July 15, 2021. The survey was administered using a nonprobability-based sample, and quotas were used to ensure the sample base represented the overall population. All responses were reviewed by researchers for quality control.
We defined generations as the following ages in 2021:
Generation Z: 18 to 24
Millennial: 25 to 40
Generation X: 41 to 55
Baby boomer: 56 to 75
While the survey also included consumers from the silent generation (defined as those 76 and older), the sample size was too small to include findings related to that group in the generational breakdowns.