How Does LendingTree Get Paid?
LendingTree is compensated by companies on this site and this compensation may impact how and where offers appear on this site (such as the order). LendingTree does not include all lenders, savings products, or loan options available in the marketplace.
2 in 3 Parents Stressed About Paying For Back-to-School, Up From 43% in 2019
Updated on: August 25th, 2020
Why use LendingTree?
We are committed to providing accurate content that helps you make informed money decisions. The content on this page has not been reviewed, approved or otherwise endorsed by any credit card issuer. We do maintain partnerships with some issuers, and our site may be compensated through those partnerships. Read our .
This back-to-school season is unlike any we've ever seen. With the school year riddled with uncertainty, it's no wonder 2 in 3 parents said they're stressed about shopping for gear and supplies. LendingTree's annual Back to School survey of parents reveals a significant stress uptick compared to last year's report, along with some other pandemic-related findings.
Click below to learn more:
"In a normal year, there's stress from the cost of back-to-school shopping, the rush to get it all done, the arguments with your kids over what you should buy and more," said Matt Schulz, chief credit analyst at LendingTree. "However, this year's widespread joblessness and confusion over just what the upcoming school year will even look like means that everyone is even more on edge than normal."
Key findings
Stress is up! With 67% of shoppers stressed about paying for back-to-school shopping this year, it marks a big increase from the 43% who said the same in 2019.
Looming back-to-school debt. This year, 3 in 10 expect to go into debt because of back-to-school shopping, up from 26% last year.
Bigger expenses. Back-to-school shoppers expect to spend 11.7% more than last year, at an average of $478 per shopper compared to $428 in 2019.
Family tensions on the rise. 1 in 5 respondents anticipate more shopping-related fights with their child than last year, with the majority citing the pandemic as the cause of anxiety. Those who were laid off or furloughed expect more arguments than parents who are still working.
A shopping shift. Nearly half (44%) of parents plan to do most of their back-to-school shopping online. That's up from 13% of shoppers who said the same in 2019.
From supplies to spending, pandemic changes back-to-school shopping
From what the kids need to how much things cost in a pandemic-riddled school year, here's how COVID-19 may impact back-to-school shopping carts.
Spending expected to increase
Depending on where people live, school plans may include students starting out fully remote, a hybrid model — or these plans might even still be up in the air. As such, parents are trying their best to be prepared for whichever learning format dominates the fall.
Here are some of the homeschooling-focused categories that survey takers said they expect to spend more on:
Electronics: 47% more than last year
Office supplies: 44% increase from 2019
Athletic equipment: up 37%
"This year's back-to-school shopping cart will look a lot different for many folks," said Schulz.
"Forget lunchboxes and backpacks — now it's all about trying to create a good space in your home for your kids to learn remotely," he added. "That means many parents might be in the market for desk chairs, laptops, faster internet connectivity and other such things."
As for the sports equipment, Schulz suggested it could be that without in-person physical education, parents may be buying soccer balls and inexpensive workout tools to keep kids active.
Students' supplies needs change
Here's a snapshot of the supplies parents said they plan to purchase: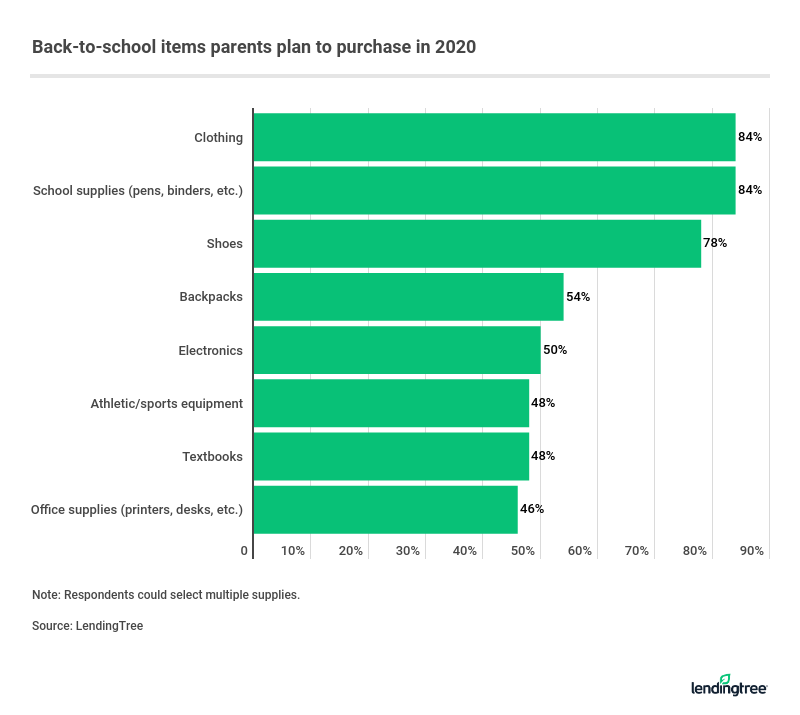 Again, each child's learning situation can impact what's on their list this year. For instance, parents whose children are attending school in-person at least part time said they were more likely to buy clothing than those whose kids will be fully remote. For students heading back to the classroom, those families are more likely to buy backpacks than those who are fully remote.
What's interesting (and hard on the wallet) is that parents are under pressure to plan for all scenarios.
"Part of what's driving up back-to-school shopping costs is likely that parents have to prepare for both remote and in-person learning," said Schulz. "The outbreak is so unpredictable and the whole situation is so fluid that parents need to be ready for either one. That's not cheap!"
Shoppers are more stressed and many contemplate taking on debt
Higher costs and overall pandemic worries are taking their toll, more so on millennial parents than on Gen X parents. Not surprisingly, more laid off or furloughed parents (64%) are worried about affording back-to-school shopping this year than those who are still employed (48%).
In fact, one reason for the extra anxiety is that 1 in 6 shoppers said they had to use savings meant for back-to-school shopping to cover other expenses during the pandemic.
"Even though government stimulus and extra unemployment benefits have allowed millions of Americans to put more money away in savings than in recent years, the fact is that most Americans' financial margin for error is still pretty small," said Schulz.
To help them bridge the gap, 4 in 10 parents said they will rely on their credit cards when shopping this year, while 3 in 10 expect to go into debt because of it — that's up from 26% last year.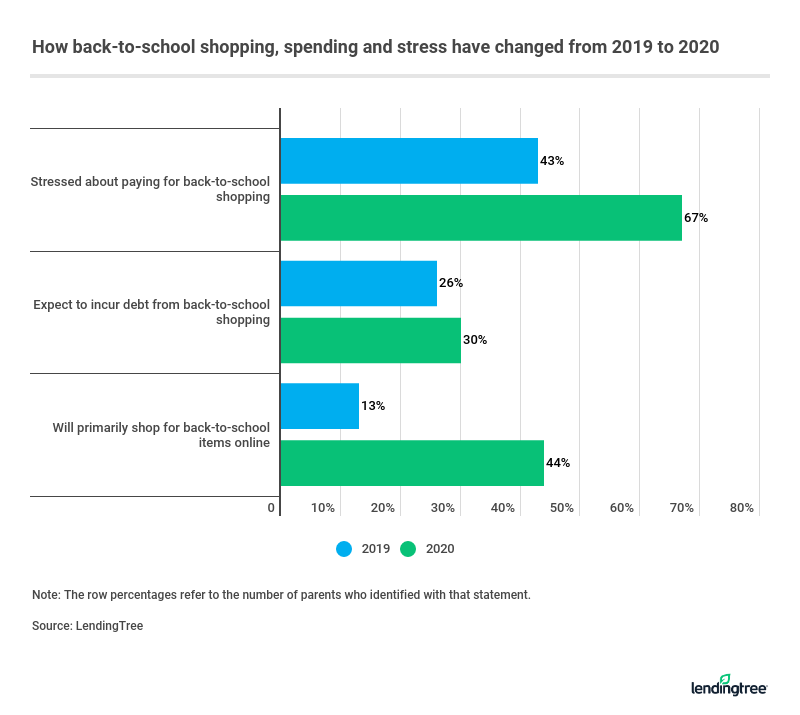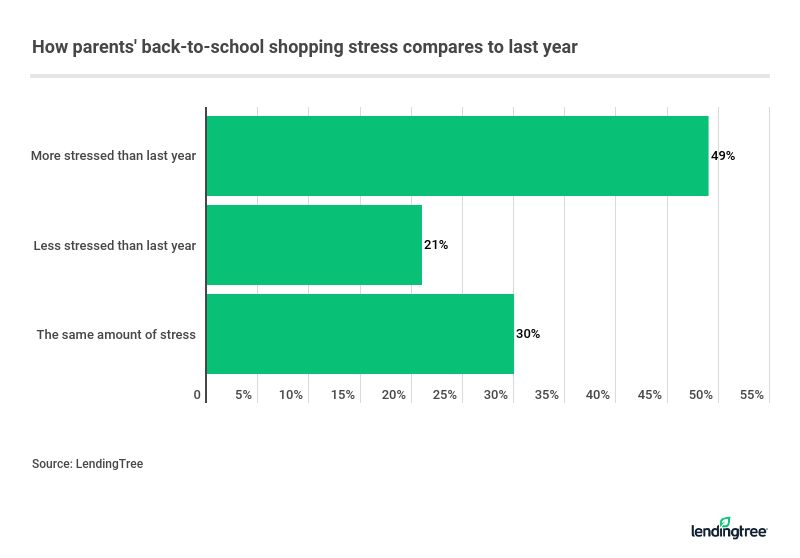 Stress leads to arguments for some families, while others expect less conflict
The result of all this pent-up stress may boil over into family fighting, as 1 in 5 parents said they expect more conflict than last year.
The majority said that the anxiety all stems from the coronavirus. Those who were laid off or furloughed expect more arguments than parents who are still working.
"There's an enormous amount of budget stress in American households today," said Schulz. "When money is tight, tensions tend to flare pretty quickly."
On the other hand, 38% actually expect to argue less, and many said it's because there's simply less to buy.
How parents can reduce back-to-shopping stress
In order to alleviate some of the school shopping stress, try these strategies:
Shop around for the best price: "Shopping online for school supplies makes a ton of sense in the middle of a pandemic," Schulz noted. And with 44% of parents planning to do most of their back-to-school shopping online, they can compare prices with the click of a button. However, it could be pricier, since you may not find those bargain-bin type of deals on basics like pencils and paper online, as you would in a store. Take the time to look for deals.
Use credit cards to earn rewards: Take advantage of lucrative rewards by paying with a credit card (like the Target REDcard, Capital One Walmart Rewards® Card or Prime Visa). "A good cashback card can help you extend your budget," Schulz advised. Plus, if you're considering a new card, some sign-up bonuses will give you $150 or more back after you spend $500 on the new card, he added: "That $150 can really make a difference."
But try to avoid credit card debt: If you're using credit because you're cash-strapped, another strategy to consider is browsing 0% intro card offers, some of which give you a year or more to pay down a balance without incurring any extra interest. Try to keep the balance manageable and create a plan to have it paid off completely by the time the introductory period ends. If you're relying on an existing card, one positive is that the average APR is down overall since the Federal Reserve cut rates back in March. "That's good news for consumers who carry a balance," said Schulz.
Buy just the basics for now: If your child is going to start off fully remote, they don't need a whole new wardrobe for fall. Even with a hybrid approach, you could get by on a few staple wardrobe items, and siblings may be able to share equipment. For in-person instruction, take an inventory of what you have in the house already before you shop (i.e. art supplies and loose-leaf paper).
School the kids on budgets: When it comes to money and kids, be upfront with them. "You don't have to show them your budget spreadsheet or bore them with details, but if you let them know that you have less money to spend on school shopping this year, it'll be OK," said Schulz. "They may whine and they may complain at first, but generally they'll understand."
Find creative ways to compromise: If last year's backpack is still in good condition, that'll free up cash for other essentials. For smaller kids, a pack of stickers can help jazz up bargain bin supplies without having to splurge on more expensive brand items.
The bottom line
Although back-to-school shopping may bring more financial stress than usual for many parents this year, trimming down the shopping list to the things you absolutely need in those first few weeks can help. That way if situations change, you won't have overspent on a giant pile of new clothes that end up sitting in the closet, or a shiny new desk that might not get much use.
For the must-have items, shop around online, get the kids on board regarding this year's budget and use your credit cards strategically. No matter how the semester pans out, this year has proven that families are resilient, and this back-to-school season, too, shall pass.
Methodology
LendingTree commissioned Qualtrics to conduct an online survey of 1,006 parents with children under age 18 — 829 of whom plan to go back-to-school shopping this year. The survey was fielded July 31-Aug. 3, 2020.
The information related to the REDcard, Capital One Walmart Rewards® Card and Prime Visa has not been reviewed or provided by the issuer prior to publication. Temrs apply.