How Does LendingTree Get Paid?
LendingTree is compensated by companies on this site and this compensation may impact how and where offers appear on this site (such as the order). LendingTree does not include all lenders, savings products, or loan options available in the marketplace.
LendingTree Balance Transfer Credit Card Report
Updated on: December 12th, 2018
Editorial Note: The content of this article is based on the author's opinions and recommendations alone. It may not have been reviewed, approved or otherwise endorsed by the credit card issuer. This site may be compensated through a credit card issuer partnership.
Debt-strapped Americans are flocking to 0% intro balance transfer card offers, which are still plentiful even in the face of regular Federal Reserve rate increases, according to a new report from LendingTree. Unfortunately, millions of consumers aren't playing those cards right – and are unnecessarily costing themselves real money.
For its 2018 Balance Transfer Credit Card Report, LendingTree looked at the terms and conditions of more than 160 balance transfer cards. What we found was that 0% interest introductory offers are still common and can last up to 36 months, though the offers come with nuances and deadlines that can potentially trip up a cardholder, keeping them from getting the most out of the card.
That's just what's happening for millions of cardholders. As part of the report, we also asked consumers whether they had ever had a balance transfer card and how they handled it when they did. We found that far too many are paying more in fees and interest than is necessary. That means that while they're still likely saving significant money by doing the balance transfer, they're not quite saving as much as they could.
Key findings:
41% of Americans have had a balance transfer card in the past, but 4 in 10 of those who have gotten a balance transfer card have failed to pay off the balance in full during the reduced-rate introductory period.
Balance transfer credit cards are clearly popular. More than 40% of consumers – and half of current credit cardholders – have applied for one. However, job No. 1 for anyone with a balance transfer card is to pay the transferred balance off during the reduced-rate introductory period. That's how you get the most out of the card. Of course, life happens, and sometimes it's just not possible to pay the balance in full during that time. It should always be the goal, however, and millions of Americans are falling short of that.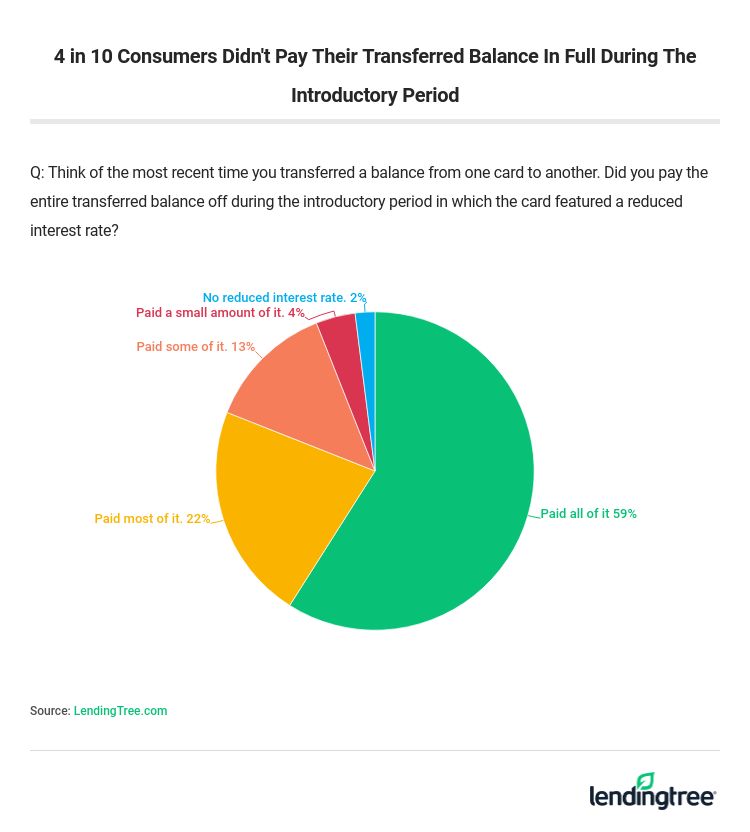 The wealthier you are, the more likely you are to have used a balance transfer credit card, and nearly half of those with household incomes over $100,000 per year have done so multiple times.
While balance transfer credit cards can be a great weapon against credit card debt for consumers at any income level, this survey makes clear that the richest among us use these cards the most.
69% of consumers with household incomes of $100,000 or higher have used a balance transfer card at least once, including 47% who have done so multiple times.
For those with household incomes between $50,000 and $99,999, just 39% have applied for a balance transfer card at least once.
For those with household incomes of less than $50,000, just 28% have had a balance transfer card at least once.
This means that millions of consumers who could benefit most from the savings that a balance transfer card can bring – low to middle-income Americans, many of whom are living on a budget and paycheck to paycheck – are not taking advantage of them. That's not a good sign.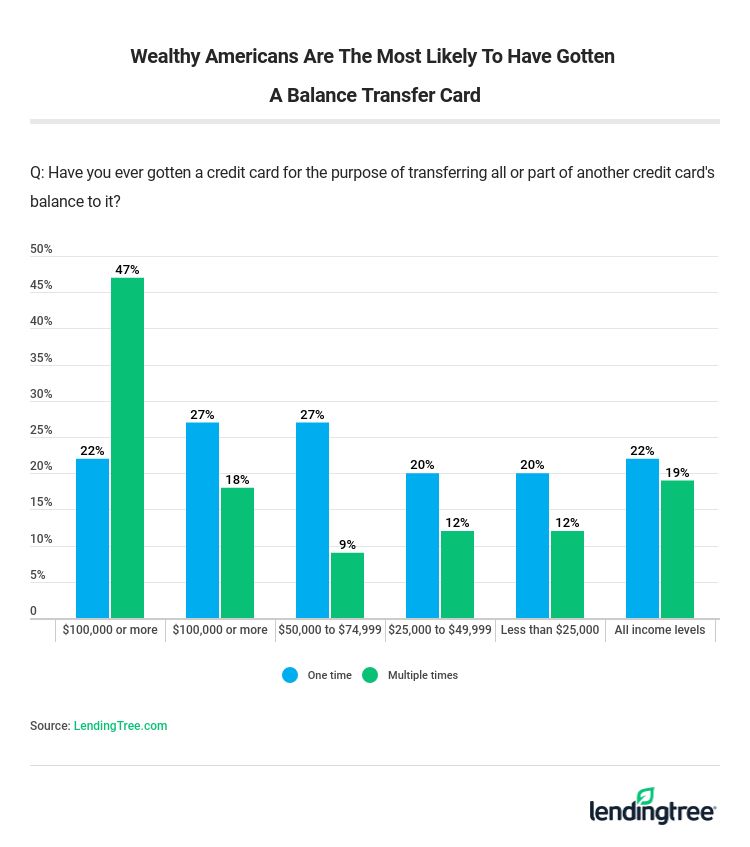 Men and women don't agree on much of anything when it comes to balance transfer credit cards.
Almost without fail, LendingTree studies show significant differences between men and women when it comes to their financial views, perceptions and behaviors. Balance transfers are certainly no exception.
70% of men say they paid their last transferred balance off in full during the reduced-rate introductory period; just 43% of women said the same.
54% of men said they had used a balance transfer card at least once, compared to just 31% of women. That includes 34% of men and just 7% of women who had applied for those cards multiple times.
30% of women said they'd paid no balance transfer fee the last time they transferred a balance vs. just 7% of men.
24% of women said they paid a balance transfer fee with their last transfer, but didn't know the specific percentage or amount, while just 7% of men said the same.
That first bullet point is perhaps the most telling. As we saw with income groupings, the demographic group that could benefit most from balance transfer card savings isn't taking full advantage of their opportunity.
Given that women generally earn less than men and are more likely to head single-family households and bear other financial burdens, the survey results show that many women simply are not paying their transferred balances in full during the introductory period.
Financial struggles may also have left them with damaged credit scores, restricting their ability to acquire some of these cards, which typically require good credit for approval.
However, the small percentage of women who have benefitted from a balance transfer card leaves little doubt that these cards represent an untapped opportunity for many women across the nation.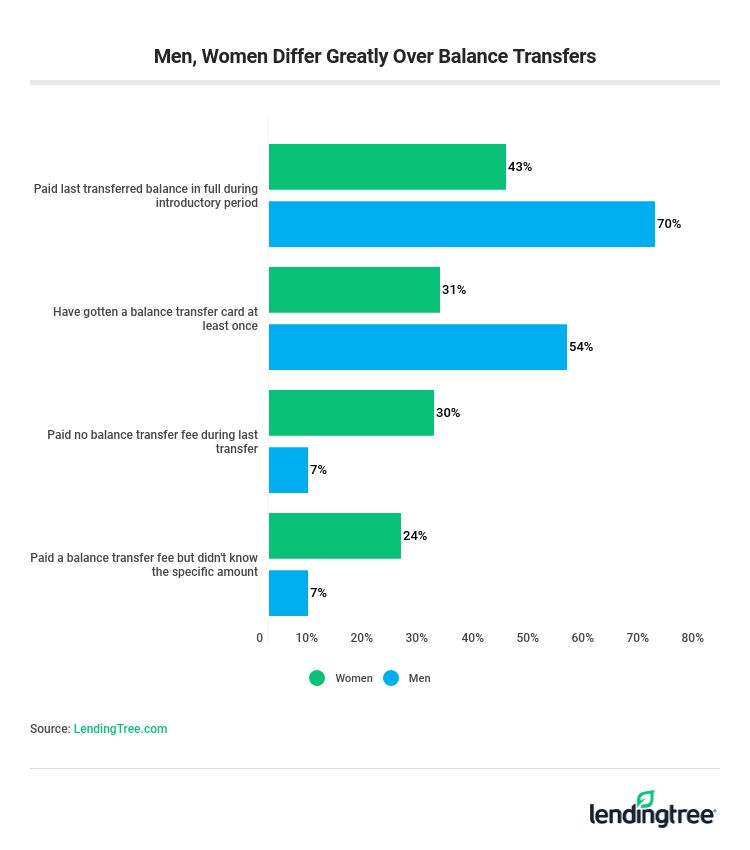 Just 1 in 6 Americans who have had a balance transfer card said they paid no balance transfer fee the last time they transferred a balance, while more than 6 in 10 said they paid a fee of 3% or more.
We found 19 balance transfer cards that came with no transfer fee, though three of those cards required the transfer to be made within 60 days of account opening to get the deal. However, our survey shows that far too few consumers are taking advantage of these deals. That means that millions of Americans are likely paying hundreds of dollars more in fees than they need to.
Those savings could be significant. For example, a 5% fee on a $10,000 transferred balance equals $500. That's money that you could otherwise use to further knock down your debt.

76 of the 165 balance transfer cards we reviewed came with a 0% intro APR offer, and all but two of those 76 had introductory periods that lasted at least a year.
Zero-percent intro balance transfer offers are still prevalent, even as other credit card interest rates continue to climb. Nearly half of the balance transfer cards we reviewed came with a 0% intro offer, and most of those cards had introductory periods that lasted as long as 15 months. Seven cards' introductory periods lasted at least 18 months, while just two lasted less than a year.
These interest-free periods can be nothing short of a godsend for those who take advantage of them. Avoiding interest for a year or more can dramatically reduce your total payoff amount as well as the time it takes to pay it. For example:
Say you have a $5,000 balance on a card with a 20% APR.
You then transfer that balance to a card with a 3% balance transfer fee and a 0% interest rate for 15 months.
If you pay that balance in full during the introductory period, you can save yourself more than $600 in interest.
That's a big deal, and you don't need perfect credit to get one of these cards. Many of these cards simply require good credit, so a credit score of 700 or better will likely do.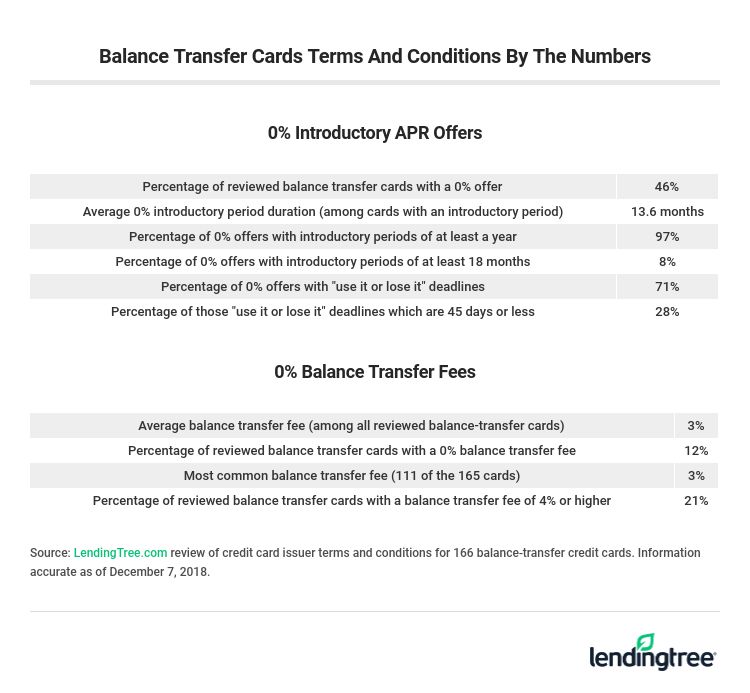 54 of the 76 cards with 0% intro APR offers came with "use it or lose it" deadlines for that offer, with the shortest deadline being fewer than 30 days.
Got a new balance transfer credit card? Don't wait too long to use it or that introductory 0% offer that you found so appealing might just slip through your fingers.
Among cards with these deadlines, 60 days was the most common, seen in 20 of the 54 cards advertising a time-sensitive offer. However, the timeframes ranged from fewer than 30 days (one card only offered the reduced rate until the end of 2018) to either four months or 120 days (eight cards).
Even the shortest of those timeframes may seem like plenty of time in which to complete a transfer, but it is still important to be aware of those deadlines. We all have to-do lists that are a mile long, and it's easy for things to slip through the cracks. Once that happens, it's easy to forget about that balance transfer for a month or more.
The best way to avoid that is to transfer the balance as soon as you get the card. Typically, you'll start the transfer via the issuer website for the card to which you're transferring the balance. You can also call the 800-number on the back of your new card.
If you don't do the transfer right away, make sure you don't forget to do it later. One way to do that: Once you've applied for the card, put a reminder in your calendar for 20 days after you were approved. You should have the card in hand by then, and you'll still have plenty of time to complete the transfer before missing a deadline.
The bottom line: The right balance transfer card, used wisely, is worth the effort.
You can still save a fortune with a balance transfer card if you handle your business correctly.
However, it's important to remember the fees, deadlines and other quirks that come with the card. (For example, the credit line offered with the balance transfer card might not be big enough to allow you to transfer the entire balance from your high-interest card.) These cards can be intimidating if you've never done a balance transfer deal before, but if you take the time to do your homework and understand what you're getting into, you'll likely be rewarded with some real savings on your credit card debt.
Don't wait, though. Credit card interest rates continue to rise, and as they do, it is likely that these offers will get less and less attractive. Consumers and banks alike love these offers too much for that limited-time 0% intro offer to ever go away completely, but we will likely see shorter introductory periods and perhaps even higher fees as the Federal Reserve raises rates and banks look to keep these 0% introductory offers as profitable as possible. That means now is the time to act.