How Does LendingTree Get Paid?
LendingTree is compensated by companies on this site and this compensation may impact how and where offers appear on this site (such as the order). LendingTree does not include all lenders, savings products, or loan options available in the marketplace.
Despite End-of-Year Bump, Credit Card Openings in Q4 2020 Were Down Nearly 20% From Previous Year
Updated on: February 18th, 2021
Why use LendingTree?
We are committed to providing accurate content that helps you make informed money decisions. The content on this page has not been reviewed, approved or otherwise endorsed by any credit card issuer. We do maintain partnerships with some issuers, and our site may be compensated through those partnerships. Read our .
The number of credit card openings jumped 7% between the third and fourth quarters of 2020 — a potential sign of a comeback — though originations were still down 19% from the fourth quarter of 2019.
LendingTree researchers analyzed 100,000 anonymized credit reports to look for trends. We used a separate sample of 1,000 credit reports to find that credit card limits tightened amid the coronavirus pandemic before an upswing in the fourth quarter.
"The pandemic changed virtually every aspect of American life, and the credit card world is no exception," said Matt Schulz, LendingTree's chief credit analyst.
Key findings
Credit card originations were down 19% in the fourth quarter of 2020 compared to that same quarter in 2019. In 2020's fourth quarter, 21.4 cards were opened per 100 people with a credit report, down from 26.4 in 2019's fourth quarter.
The number of new cards being opened rose 7% between the third and fourth quarters in 2020, signaling a possible credit comeback.
Retail cards fared better than bank and credit union cards, but both saw large drops. The number of new retail cards being opened was down 10% between the fourth quarters in 2019 and 2020, compared with a 24% decline for bank cards in that same period.
Despite average credit limits on newly opened cards being higher in the first quarter every year since 2016, limits in 2020 were highest in the fourth quarter. Average credit limits in the fourth quarter of 2020 were up $16, or less than 1%, year over year.
Number of credit card openings rose in second half of 2020 after substantial drop earlier in year
Credit card originations declined steadily once the pandemic took hold in 2020 — hitting rock bottom by the second quarter. But as the initial economic shock of the crisis subsided, new card openings began turning around, most prominently in the third quarter and a bit more in the fourth.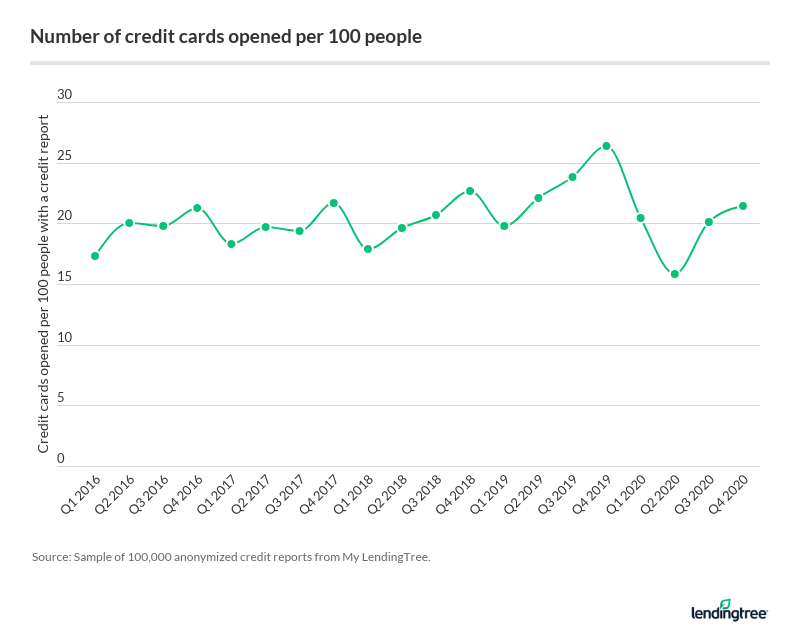 "Credit card openings cratered in the second quarter of 2020, in large part because a huge spike in unemployment meant that millions of Americans had become risky to lend to overnight," Schulz said. "Banks didn't know what to do, so they pulled back."
In addition, issuers had to shift their focus onto their hardship programs rather than acquiring new customers, he added. "That slowly changed as 2020 rolled on, but we're still not close to where things were before the pandemic began," Schulz said.
Looking ahead, once vaccines become widespread, cases fall and a potential third government economic impact payment comes to fruition, things should steadily improve.
"Once the pandemic is in the rearview mirror, the
credit card marketplace
could see a boom time like they've rarely seen before," Schulz said. "There's likely to be an absolute explosion of spending and an arms race to acquire new cardholders."
While a large group of Americans have been financially devastated by COVID-19, those who are flush with cash and tired of lockdowns will be poised to get back to spending. "I hope that spending boom happens in late 2021, though I suspect much of it may have to wait until 2022," Schulz said.
Bank, credit union credit card originations plummet 24%
Both retail and bank and credit union cards saw year-over-year declines between the fourth quarters of 2019 and 2020, but the latter were the hardest hit. Retail cards saw a more modest drop of 10%.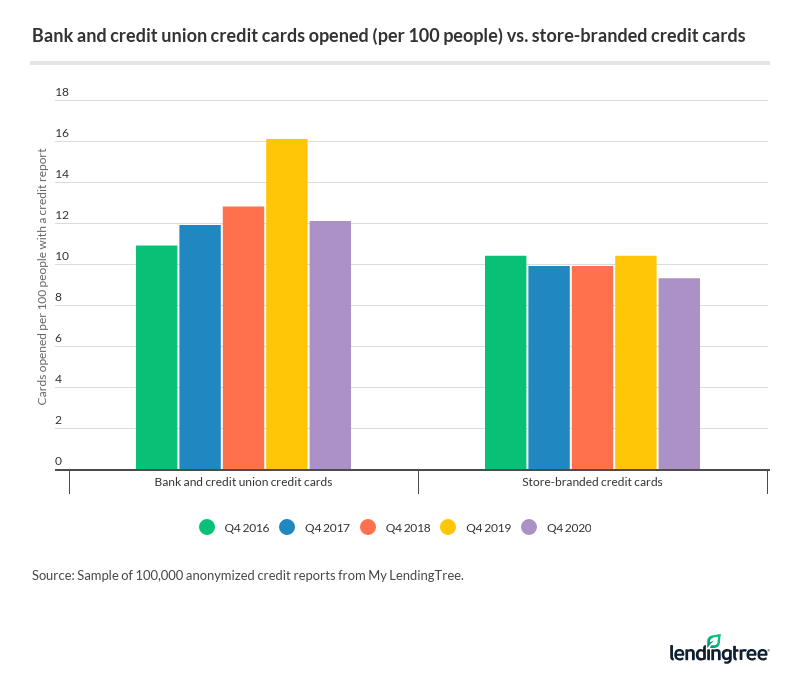 Store credit cards are typically more friendly to those with thin or damaged credit than bank cards, said Schulz, and people who were hurting financially may have sought these products as a lifeline.
"Store-branded cards are frequently offered to those with imperfect credit," he said. "The issuers of these cards were already comfortable with a fairly high level of risk, so they saw no reason to pull back."
Should you apply for a credit card amid the coronavirus pandemic?
It's fine to apply for credit during the pandemic, Schulz said. What you don't want to do, however, is use that new credit as an excuse to go on a spending spree: "The last thing you need in volatile economic times is to spend money unnecessarily."
For those struggling with existing card debt, it pays to reach out to your creditor to discuss their credit card relief programs.
"You don't need excellent credit to get help from your card issuer," Schulz said. "Millions of Americans, including folks from all along the credit spectrum, have been helped by banks' hardship programs."
Just be mindful that it's up to you to take the proactive step to ask for help.
Average credit limit slightly up year over year
A look at 1,000 My LendingTree credit reports found that the end of 2020 saw a rise in average credit limits from the end of 2019.
Average credit limits on newly opened credit cards
Quarter
Average credit limit
Year-over-year % change
Q4 2020
$2,363
0.7%
Q4 2019
$2,347
-1.5%
Q4 2018
$2,382
3.6%
Q4 2017
$2,300
3.9%
Q4 2016
$2,213
N/A
What's noteworthy is that credit limits were the highest in the fourth quarter of 2020, versus the first quarter in every other year since 2016. This anomaly further illustrates the impact that the trajectory of the pandemic had on the credit card industry.
"Millions of Americans had their credit limits slashed or had cards closed altogether as banks scrambled to shrink their risk in the early and middle parts of the year," Schulz said.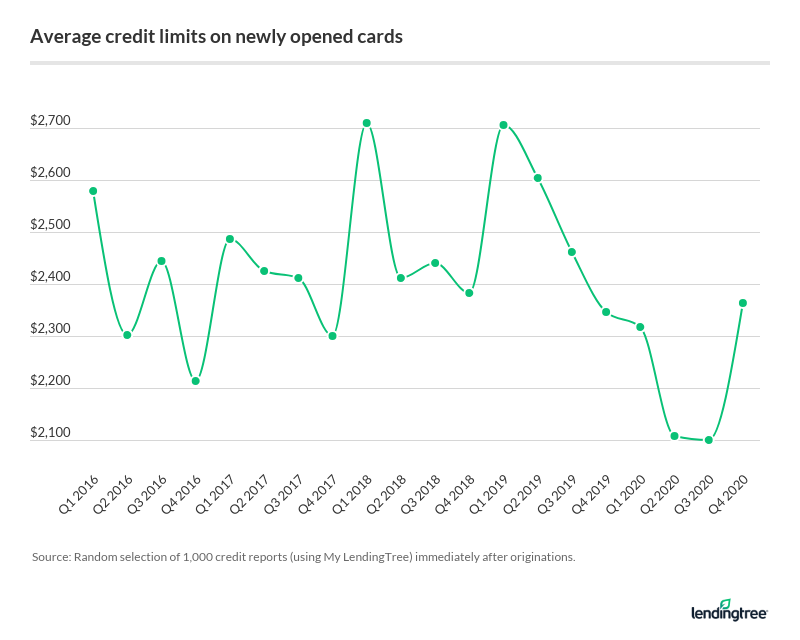 However, some people might have been given an increase as part of a hardship program from a card issuer, or simply because they felt more confident and financially secure at the end of the year and asked their issuer for one.
"As the economy recovers, I'd expect credit limits to rise significantly," Schulz said. "Banks aren't going to want to do anything to keep their best customers from going on that post-COVID splurge that many are planning."
What to do when your credit limit increase is denied
Anyone can ask for a credit limit increase, but that doesn't mean your issuer will always say yes. If you're denied, you can try one of these tactics:
Don't take no for an answer: "Run the request up the flagpole and ask them to reconsider," Schulz said. A supervisor may be able to push through your request, especially if you've been a good customer.
Try another card: If it's a card that you don't use frequently and you tell the issuer that granting a higher limit might get you to use it more, that could possibly spur the issuer to take action.
Apply for a new card: As long as you're ready for the responsibility of a new line of credit, opening a new card — especially when you can score additional rewards and benefits — might be a good move.
Research low-rate personal loans: If your credit is healthy, a small personal loan with favorable terms could serve as a lifeline to get you through a temporary setback.
Methodology
Analysts used a random sample of 100,000 anonymized credit reports from My LendingTree to count the number of credit cards that originated per quarter from 2016 through 2020. Additionally, we randomly selected 1,000 credit reports immediately after originations in the same periods to calculate average credit limits.