How Does LendingTree Get Paid?
LendingTree is compensated by companies on this site and this compensation may impact how and where offers appear on this site (such as the order). LendingTree does not include all lenders, savings products, or loan options available in the marketplace.
Number of New Credit Cards Falls for Second Consecutive Month, Down 65% in May
Updated on: July 1st, 2020
Why use LendingTree?
We are committed to providing accurate content that helps you make informed money decisions. The content on this page has not been reviewed, approved or otherwise endorsed by any credit card issuer. We do maintain partnerships with some issuers, and our site may be compensated through those partnerships. Read our .
The number of new credit cards opened declined in May. This is the second month in a row that credit card originations dropped, according to a new report from LendingTree. The average credit limit tied to a new card decreased significantly, too.
Key findings
Credit card originations (the number of new credit cards opened) were down 65% between April 15 and May 15, 2020, compared to the same period in 2019.
The average credit limit on new cards fell 35% compared to the same period last year. The average dollar value of the drop was $1,076.
Bank and credit union card originations were down 67% between April 15 and May 15 compared to the same period in 2019. New store cards fared slightly better with a 59% drop.
Number of credit cards opened between April 15 and May 15 per 100 people with a credit report
Year
Total Cards
Average Credit Limit
Bank and Credit Union Cards
Store-Branded Cards
2017
7.4
$2,621
5.1
2.4
2018
7.9
$2,330
5.7
2.3
2019
9.1
$3,089
6.7
2.4
2020
3.2
$2,013
2.2
1.0
New credit card decrease is huge, but smaller than previous month
Looking at credit card originations dating back to March, when the coronavirus outbreak really took hold in the United States, it is clear the usual flood of new credit cards opened in this country slowed down to a trickle.
March 15 to April 15, 2020:
Credit card originations fell 74% from the same period in 2019, moving from 8.8 cards per 100 people with a credit report to just 2.3 cards.
The average credit limit on a new card fell 36% (or $1,084) from $3,032 a year ago to $1,948.
April 15 to May 15, 2020:
Originations fell 65% from the same period in 2019, dropping from 9.1 cards to 3.2.
New card credit limits fell 35% (or $1,076) from $3,089 a year ago to $2,013.
It is stunning to see these declines, and speaks to just how enormous the impact of the coronavirus pandemic has been in our country. As the crisis continues, unemployment remains high and overall economic uncertainty keeps its grip on the nation; it's likely that future months will show huge year-over-year decreases as well.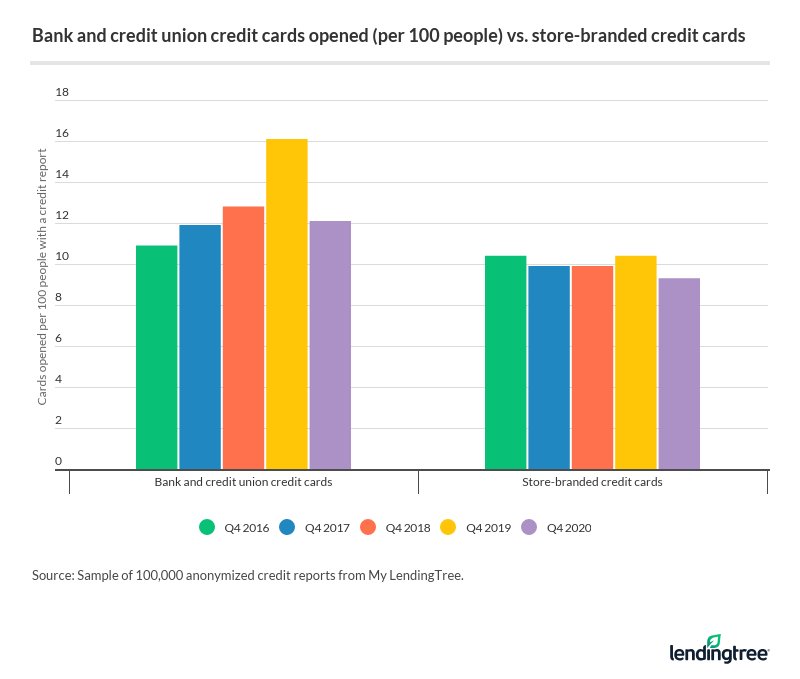 Bank, credit union card originations fell more sharply than retail cards
Traditionally, retail credit cards are easier to qualify for than general-purpose credit cards. Retailers cast a wide net, hoping to entice any and all shoppers to sign up for a card, including folks with less-than-perfect credit.
That availability to riskier borrowers is a major reason why retail cards come with higher APRs and lower credit limits than other types of credit cards. This lower barrier to entry might explain why retail credit cards didn't see as big a drop-off in originations as other cards.
Here's why: For credit card issuers, the decision to lend or not to lend is all about risk. Issuers want to understand just how likely a borrower is to pay them back. They lean on credit bureaus and credit scoring firms to analyze a customer's data and give them a score based on what credit scoring formulas determine to be their creditworthiness – or how likely they are to repay their debts.
In a time of massive economic volatility, risk becomes harder to assess. Someone with a spotless payment history and an 800 credit score can lose her job or become sick.
If that happens, she becomes a risky borrower overnight, but her credit report or score won't show it because it can take months for missed payments or closed accounts to appear on her report. That essentially means that banks are flying blind in their lending decisions, lacking accurate, meaningful data to help them decide.
When that happens, banks tend to severely restrict lending, as we've seen in recent months. That's especially true with higher-end cards that typically target consumers with excellent credit. Since they can't predict who is a good risk, they begin to treat everyone as if they're a bad risk, so the best cards often become harder to get. In the most extreme times – say, during a pandemic – you see decreases like what our report shows.
With retail cards, it is a slightly different ballgame. The issuers of these cards assume that a certain amount of their cardholders will be risky, and the cards' APRs and credit limits are set to reflect that. Since a higher tolerance for risk is already baked into the card, it's possible that issuers may be a bit more willing to approve consumers for these types of cards than others.
Options if you need more credit
Yes, banks are being tighter with their lending because of the pandemic and this is likely to last at least a while longer. But that doesn't mean your only option is a payday loan or some other loan with sky-high interest.
Here are a few other moves you can consider:
Requesting a higher credit limit on another card: This will be harder to get than it was before the pandemic, but it is still worth asking about. Our report shows that banks are clearly being stingy with credit limits on new cards, but they still might be willing to provide a boost for a current customer with a good track record. If you have multiple cards, pick one and make the call.
Consider a personal loan: Personal loans can be a great alternative to a credit card, in part because of their predictability. If you know exactly how much you must pay each month and for how long, it makes a loan easier to budget and plan for.
Get a secured credit card: Secured credit cards, which require a deposit to acquire, are still widely available during the pandemic. It's important to understand these cards come with small credit limits, typically equal to the amount of your initial deposit. That means that they won't provide a huge safety net for you, but in tough economic times, every little bit helps when you're trying to extend your budget, so they're worth considering.
Methodology
Using a random sample of 100,000 anonymized credit reports of June 10, 2020, from My LendingTree users, analysts counted the number of cards that originated in the period of April 15 through May 15 in the years of 2017, 2018, 2019 and 2020, as well as for each calendar month between January 2017 through April 20202. Additionally, we selected at random, 1,000 credit reports immediately following originations during those periods to calculate the average credit limits they received.