How Does LendingTree Get Paid?
LendingTree is compensated by companies on this site and this compensation may impact how and where offers appear on this site (such as the order). LendingTree does not include all lenders, savings products, or loan options available in the marketplace.
81% of Credit Cardholders Have Been in Debt, But Only 39% Have Taken Advantage of Consolidation
Updated on: July 31st, 2023
Editorial Note: The content of this article is based on the author's opinions and recommendations alone. It may not have been reviewed, commissioned or otherwise endorsed by any of our network partners. This site may be compensated through a credit card partnership.
If you find yourself saddled with credit card debt — as more than half of cardholders are right now — a number of payoff strategies can help. But according to the latest LendingTree survey of more than 1,900 Americans, many aren't taking advantage of tools like credit card consolidation or balance transfers.
Our survey dives deep into how consumers use and pay off their credit cards and deal with debt. Find out which generation uses credit most frequently, how consumers typically pay their credit card bills and the specific reasons people open new cards.
On this page
Key findings
While credit card debt is generally considered bad, that hasn't stopped most cardholders from accruing it. More than 4 in 5 (81%) cardholders have had credit card debt at some point, including 54% currently. Cardholders in the youngest generation — Gen Z — are the least likely to currently have credit card debt at 36%, versus 60% of Gen X and 58% of millennial cardholders.
Americans burdened by credit card debt have options, but most aren't taking advantage. Among those who've had credit card debt, only 39% have consolidated it, and just 43% of all cardholders have utilized a balance transfer to get a lower APR. Millennials who've had credit card debt are the most likely generation to have consolidated it (46%), while millennial cardholders are also more likely to have done a balance transfer (49%) — positive moves that could help them get out of debt.
Most Americans use credit cards, though not all use them the same. Across the 79% of Americans with credit cards, 46% use them for almost every purchase. Another 31% use them just for big purchases, while 23% rarely pull theirs out. By age group, millennial cardholders use theirs most frequently.
Cardholders vary in the frequencies with which they pay off their balances. When deciding when to make payments, 41% do so when the bill is due, 25% do so when they get paid and 13% wait until their balance reaches a certain dollar amount. 39% of cardholders say they usually carry a balance to the next month, versus the 37% who sometimes do and the 24% who never do. Millennial cardholders are most likely to carry balances, followed by Gen Zers.
Checking a balance can be a spending wake-up call for some. Among cardholders, 86% say looking at their balance can affect how much they spend the rest of the billing cycle, but not everyone is looking frequently. Just 19% of cardholders check their statement daily, 43% check weekly and 35% check when they pay their bill.
More than 4 in 5 credit cardholders have had credit card debt
Most people (81%) have had credit card debt at some point, our survey finds, but there are disparities between demographics. For example, about two-thirds (66%) of cardholders in the youngest generation — Gen Zers (ages 18 to 26) — say they have or have had credit card debt, including 36% who have it now.
That compares with:
86% of Gen X cardholders (ages 43 to 58) (including 60% now)
84% of millennial cardholders (ages 27 to 42) (including 58% now)
80% of baby boomer cardholders (ages 59 to 77) (including 53% now)
Having children appears to be a contributing factor for credit card struggles, with 85% of parent cardholders reporting they are or have been in debt, versus 75% of cardholders with no children.
Meanwhile, men and women cardholders equally have or have had related debt (81%), though more women (very slightly) say they currently have debt — 56% versus 53%, respectively.
Here's a full breakdown across various demographics, including income:
While these numbers may feel disheartening, it's important to remember that not all debt is necessarily bad, says Matt Schulz, LendingTree chief credit analyst.
"Not everyone agrees with this, but there's such a thing as good debt," he says. "Good debt brings you a significant return on investment in the long run. This could include debt from starting a small business or improving your wardrobe to prepare for job interviews."
In fact, Schulz says that the return doesn't even have to be financial.
"Taking on a bit of debt for a dream honeymoon or Taylor Swift concert tickets can be seen as good debt because they can create memories that last a lifetime," he says. "There's real value in that, too."
Of course, moderation is key when walking the fine line of good versus bad debt.
"Taking on a little bit of manageable debt every once in a while is one thing," Schulz says. "Taking on suffocating amounts of debt regularly is something else entirely."
Many haven't utilized credit card consolidation or balance transfers
If you get in over your head, credit card consolidation (also known as debt consolidation) could be a good tool in your arsenal to help you dig out. With this, you take out a loan to pay off all your existing high-interest credit card debt, then pay it back — ideally at a lower APR — with fixed monthly payments for a set period.
Yet, the survey finds that less than 4 in 10 (39%) consumers who've had credit card debt have taken advantage of it. Millennials with credit card debt have embraced consolidation more than other age groups, at 46%. That compares with:
38% of Gen Zers who have or have had credit card debt
38% of baby boomers
32% of Gen Xers
Meanwhile, men who've had credit card debt are much more likely to have utilized consolidation than women (49% versus 31%).
"Consolidating your credit card debt can be amazing," Schulz says. "We've all got to-do lists a mile long. Anything that makes that list shorter while saving us money is a good, good thing."
Beware: There may be fees, including origination fees, that you'll owe when you get a consolidation loan.
A slightly more popular option among respondents — though this is across all cardholders, rather than just those who have or have had credit card debt — is using a 0% balance transfer credit card, so you have time to pay it down without interest. More than 4 in 10 (43%) credit cardholders say they've done this.
The highest-earning cardholders (more than $100,000 a year) are more likely to have completed a balance transfer than the lowest-earning cardholders (less than $35,000 a year) — 59% versus 31%, respectively.
According to Schulz, 0% APR balance transfers are the best weapon in battles with credit card debt — but he warns you'll likely need a credit score of around 680 or higher to qualify.
"Most of these cards offer 12 months with no interest accrued on the transferred balance, and some go as long as 21 months," he says. "That's a big deal and can save you a huge amount of interest."
Beware: Most of these cards require a one-time fee each time you transfer a balance — typically 3% to 5% of the balance. There may also be a limit on how much you can transfer and a deadline for accessing the introductory deal.
Nearly half of credit cardholders use them for almost every purchase
The majority of Americans (79%) have a credit card — 56% of whom have more than one. The oldest generation tracked — baby boomers — are the most prolific cardholders, with 22% of them carrying four or more.
As far as usage, 46% of cardholders say they use their cards for almost every purchase and 31% say they do just for big purchases. The rest — 23% — say they rarely rely on plastic.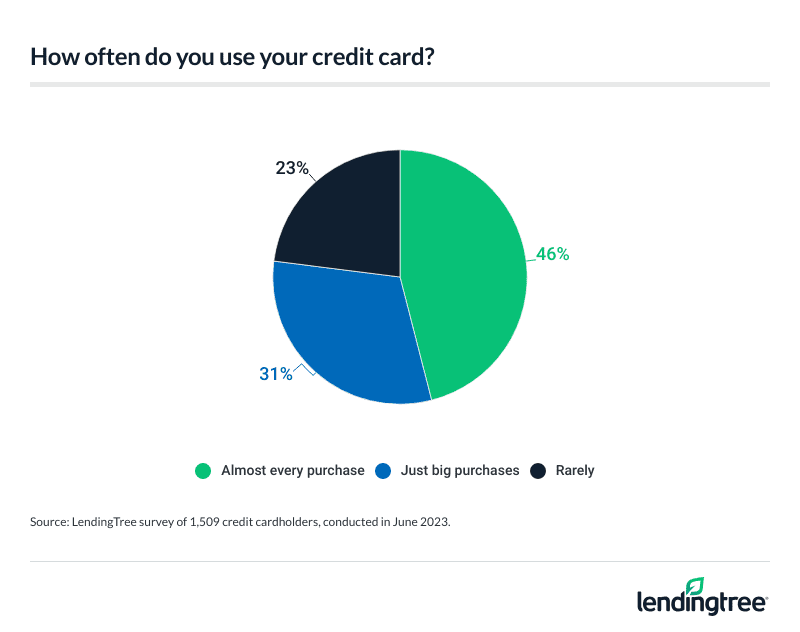 Millennial cardholders are the age group most likely to say they use theirs for almost every purchase (52%, versus 47% of baby boomer cardholders, 42% of Gen Xers and 40% of Gen Zers).
"Using your card for every purchase can be great, but only if you manage it correctly," Schulz says.
Having all your purchases on a card can help with budgeting and tracking spending — plus, it allows you to earn more rewards. There's a risk, however, that if your financial situation changes overnight, it can leave you struggling to pay the balance.
"That can lead to you paying extra interest or even damaging your credit score if you're unable to pay the bill," Schulz says.
How credit cardholders pay (and check) their balances
When deciding when to make a payment, only 41% of cardholders do so when the bill is due — though this is utilized by 68% of baby boomers and 61% of parents with adult children. A quarter (25%) of cardholders pay on payday (led by Gen Zers, at 38%), while 13% let their balances run up to a certain dollar amount before they click "make a payment." Only 6% have autopay set up.
As for maintaining a zero balance, less than half (48%) of cardholders say they pay off their balance in full each month. This is least common among women cardholders (38%), Gen Xers (39%) and those who make less than $35,000 a year (40%).
In fact, for more than three-quarters of cardholders (76%), carrying a balance at least sometimes the next month is the norm — especially among millennial cardholders (82%).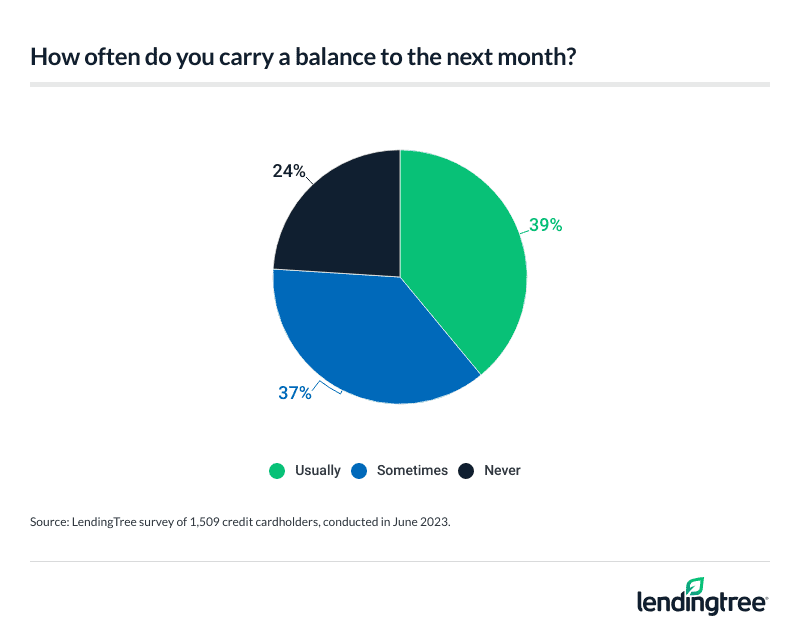 However, most cardholders (86%) acknowledge that keeping tabs on their credit card balances helps them rein in spending. This is most common among millennial cardholders (90%) and Gen Zers and parents with young children (both 89%).
In fact, nearly 1 in 5 (19%) cardholders say they check their statement daily, while 43% do so weekly. That still leaves 35% who say they only look when they pay the bill. Gen Z and millennial cardholders are the more frequent balance checkers: 72% and 70%, respectively, look daily or weekly. In comparison, 55% of Gen X cardholders and 50% of baby boomers do the same.
Credit cardholders look for specific rewards when opening — here are 3 things to consider
When choosing a new credit card, the most popular features cardholders look for include cash back (59%), rewards for everyday purchases (27%) and travel rewards (24%).
Other findings:
Millennial cardholders and those with kids younger than 18 are the most likely groups to seek out balance transfer card offers (27%)
Parents with kids younger than 18 favor cash back cards the most (67%)
Cardholders with six-figure incomes are the most into travel rewards cards (40%)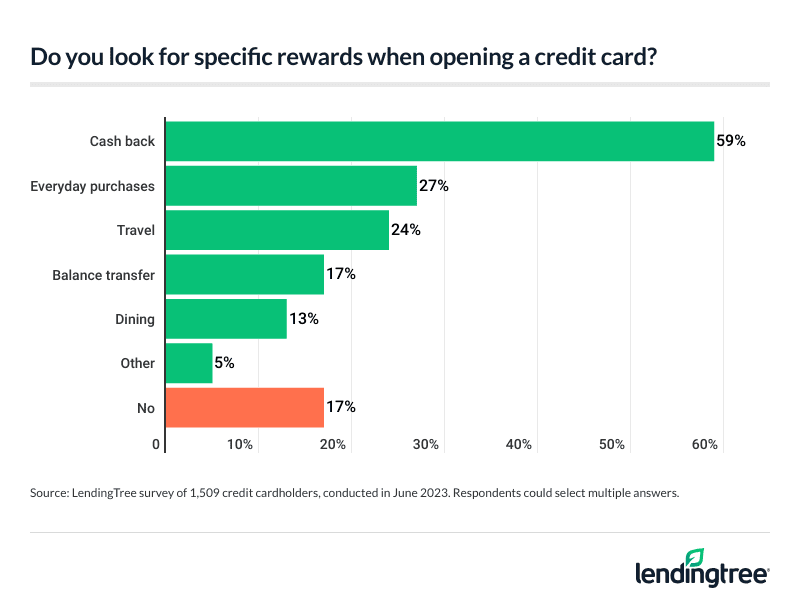 If you're in the market for a new card, here are some tips to keep in mind:
Look at the whole picture. It's easy to get blinded by a big sign-up bonus, but that's only one of many factors to consider when getting a card, says Schulz. Other things to consider: What's the APR? Is there an annual fee? Can you do a balance transfer? Does it offer travel insurance? Is there a foreign transaction fee?
Align the card with your spending habits. "The card should reward you for the things you spend on the most, not force you to change what you do to chase rewards," Schulz says. Asking yourself how you intend to use the card and what you want to get from it will help set you on the path to finding the best card for your needs.
Don't overspend to chase a bonus or rewards. Before you apply, make sure you're comfortable meeting the minimum required spend to get the bonus. If you're not, you're probably better off passing on the card, Schulz says.
Methodology
LendingTree commissioned QuestionPro to conduct an online survey of 1,906 U.S. consumers ages 18 to 77 from June 26-27, 2023. The survey was administered using a nonprobability-based sample, and quotas were used to ensure the sample base represented the overall population. Researchers reviewed all responses for quality control.
We defined generations as the following ages in 2023:
Generation Z: 18 to 26
Millennial: 27 to 42
Generation X: 43 to 58
Baby boomer: 59 to 77