How Does LendingTree Get Paid?
LendingTree is compensated by companies on this site and this compensation may impact how and where offers appear on this site (such as the order). LendingTree does not include all lenders, savings products, or loan options available in the marketplace.
64% of Cardholders Say Inflation Is One of Their Biggest Money Concerns, and It's Forcing Them to Rely More on Plastic
Updated on: April 25th, 2022
Why use LendingTree?
We are committed to providing accurate content that helps you make informed money decisions. The content on this page has not been reviewed, approved or otherwise endorsed by any credit card issuer. We do maintain partnerships with some issuers, and our site may be compensated through those partnerships. Read our .
As prices for groceries, gas and everything else continue to rise with inflation, nearly two-thirds of Americans say they've been turning to credit cards to make ends meet — that's according to a recent LendingTree survey of more than 1,200 credit cardholders about inflation's impact on their wallets.
"Many Americans already had a razor-thin financial margin for error," says Matt Schulz, LendingTree chief credit analyst. "But now, thanks to skyrocketing inflation, any wiggle room that those families had in their budget might just be gone."
More than 8 in 10 Americans reported inflation has had a negative impact on their monthly budgets and expenses, and 56% said they wouldn't be able to get by if it wasn't for their credit cards.
When you factor in interest rate hikes, more consumers may be heading toward a credit card debt spiral. Find out which demographics are struggling the most, along with money management tips to help you navigate through this inflationary period.
Key findings
Nearly two-thirds (64%) of credit cardholders say inflation is one of their top money worries. Included in that percentage are 26% who said inflation is their single-biggest concern. Baby boomers are the generation most worried about inflation.
More than 8 in 10 (83%) have seen negative impacts of inflation in their monthly budget and expenses. This is highest among baby boomers (90%), many of whom are living on a fixed income. Gas is the No. 1 expense where consumers have noticed increased spending (reported by 46%), followed by groceries (30%).
More than a quarter of Americans (28%) say their reliance on credit cards has increased compared to this time last year. That's especially true for those making less than $35,000 (36% increased their reliance on cards), millennials (35%) and parents of young kids (33%).
More than half (56%) of Americans wouldn't be able to cover all of their monthly expenses without charging a credit card. That percentage includes 23% who need plastic to pay for necessary items like food and housing, and 33% who rely on their card to fund extras. such as dining out.
A vicious cycle: Consumers who are already in credit card debt continue to rely on their cards to make ends meet. And those who are already in credit card debt are more likely to say they need their card to cover their monthly expenses than those who aren't (71% versus 39%). Among the indebted group, 39% said they increased their reliance on plastic over the last year, compared with 15% who aren't in credit card debt.
Inflation a top money worry for cardholders
The majority of people (64%) are worried about inflation slashing their budget; more than a quarter said inflation is their single-biggest concern.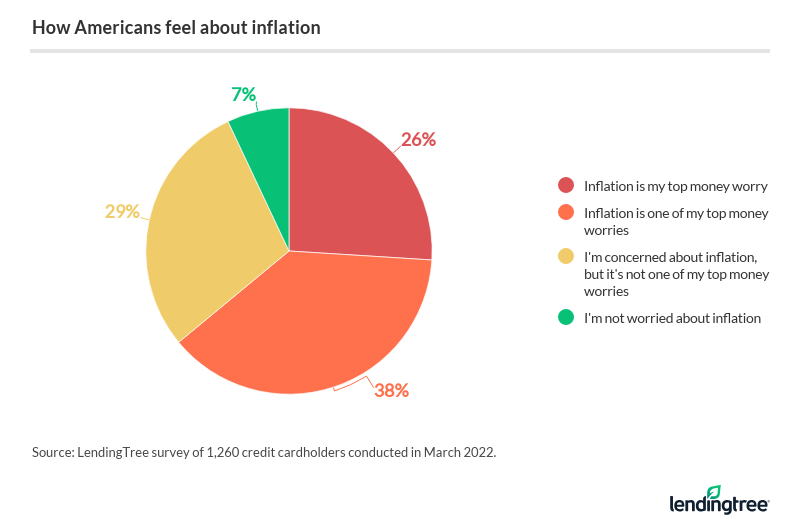 Baby boomers are more worried about inflation than any other generation, with 67% saying it's a top concern, followed by millennials at 66%.
"A large number of boomers are on fixed incomes, or will be in the near future, so any increase in inflation hits them particularly hard," says Schulz. As for millennials, he called this economic climate "yet another gut punch" to a demographic that may have young families, or otherwise be in "one of the most expensive times of their lives" — "it's keeping them from growing any sort of financial cushion."
Inflation worries are also more prominent for those making up to $99,999 per year (67%), versus those making $100,000 or more (55%).
"The highest-income Americans are more likely to have savings and investments to draw on in difficult financial times. They're less likely to sweat a few extra dollars spent at the grocery store or at the pump," says Schulz.
Notably, though, the income bracket with the high percentage of those concerned with inflation are those making $75,000 to $99,999 (68%).
Americans report negative financial impact of inflation, noting increased spending
Paying a bit more here and there is adding up to financial frustration for most people, with 83% of respondents reporting negative impacts of inflation on their monthly budgets and expenses. Among baby boomers, many of whom are on a fixed income, that percentage rises to 90%.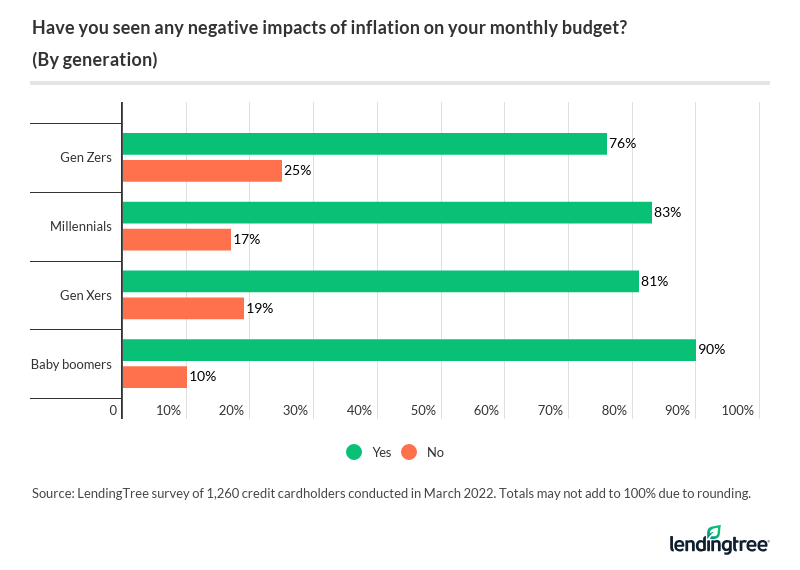 When asked to pick which prices they've noticed increasing most, these were the top three choices identified by consumers:
Gas: 46%
Groceries: 30%
Household bills (such as electricity or rent): 10%
For many, the persistent pain at the pump and more expensive household necessities has them turning to plastic.
More than half rely on credit to cover monthly expenses
With higher costs and stagnant income, 56% of consumers said their reliance on credit cards has increased. (Reliance is defined as them not having enough money in their bank account to afford their purchases otherwise.)
Of that group, 23% are using credit to cover their basic necessary expenses like food or housing, while 33% are paying for their extras, like dining out or entertainment, with plastic.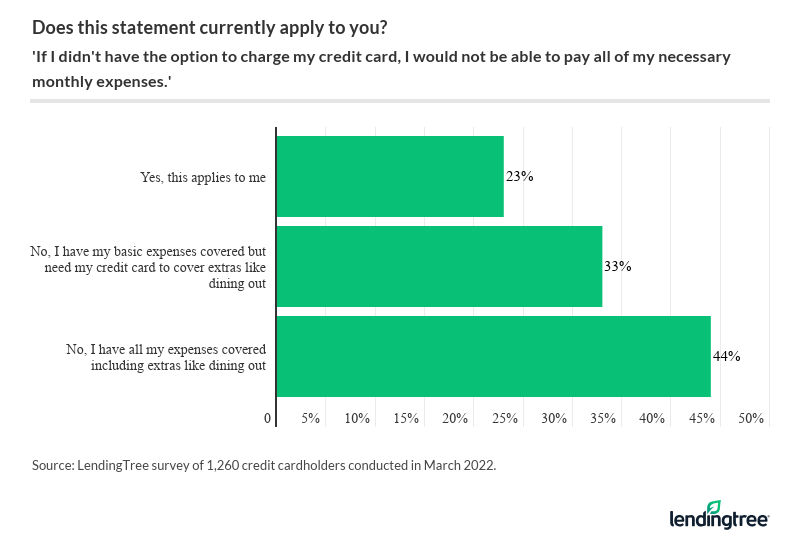 "Regardless of why you are relying on credit cards, it is important that your budget reflects your priorities," says Schulz. For those simply trying to keep the lights on and put food on the table, those priorities are really straightforward, he added. But if you're relying on your cards for fun extras, it can be a little more complicated. "In either case, having a budget is a must," says Schulz.
Some groups, including 68% of Gen Zers and 66% of millennials, as well as 64% of parents with kids younger than 18, are relying on credit cards more than others.
As for the top 5 areas where cardholders rely on credit cards the most, fun is the biggest category, but the next four involve basic needs:
Extras like dining out or entertainment: 37%
Gas and transportation: 35%
Groceries: 34%
Medication or health care: 21%
Necessary household bills (e.g., electricity): 17%
Compared to last year, 28% of cardholders said their reliance on credit has become more prevalent. That percentage rises among some groups, too, including 36% of those making less than $35,000, 35% of millennials and 33% of parents of young kids.
"Raising a kid has always been crazy-expensive, and inflation is making things far worse," says Schulz. "That has forced even more parents than usual to lean on credit cards to get by, and that can spell trouble down the road."
About 1 in 2 cardholders are in credit card debt
Just over half of cardholders in the survey (53%) said they are currently carrying a balance on their credit cards, up slightly from 50% this time last year — with most people blaming inflation for their debt. Gen Xers have a higher percentage in debt (64%), however, as well as by parents with young kids (63%).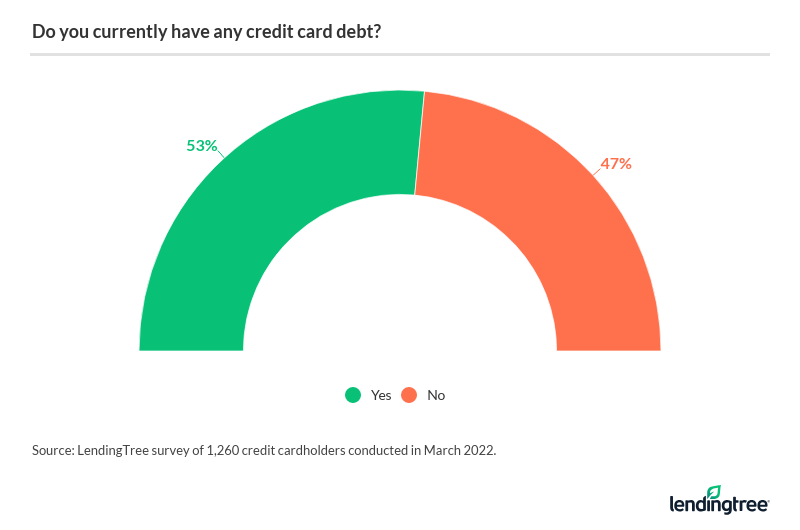 Some consumers are using up their entire available credit limit, too, with 31% of cardholders maxing out several times per year. Gen Zers are most likely to hit their card's spending limit (51% do so multiple times a year), as are parents of young children (42%). Maxing out cards can hurt your credit utilization (the percentage of available credit you are using) — the higher your utilization, the bigger the negative impact on your credit score.
Unfortunately, inflation plus existing credit card debt can create a vicious debt cycle. For example, of those relying on their cards for monthly expenses, 71% are already in debt compared to 39% who are not. Also worth noting: One-third of the indebted cardholder group wouldn't be able to pay for basic expenses like food and housing if they didn't use their cards.
"The cycle of debt is so hard to break," says Schulz. "If you're constantly relying on credit cards to make ends meet, there's just no opportunity to build savings and give your family a little bit of breathing room. Then, when you factor in that credit card interest rates are rising, too, and those increases are only likely to accelerate in the coming weeks and months, it makes for a very, very difficult situation."
Managing money amid price increases: 5 tips
Inflation is complicating things for people living paycheck-to-paycheck already. Here are a few strategies that can offer some temporary relief.
Maximize gas and grocery rewards cards to stretch your budget. "Rewards can help extend budgets even in the best of times, but they're most important when times get tough," says Schulz. A few extra dollars in cash back at the pump, when buying groceries or anywhere else can help offset higher prices.
Look into a balance transfer or 0% intro APR card offer to help you pay off debt or buy some time. Interest rates are rising and are almost certainly going to continue to do so, according to Schulz. "If you're struggling with card debt and have good credit, a 0% balance transfer card can be a life saver, saving you a lot of money in interest and potentially reducing the amount of time it takes to pay the debt off," he says. Bonus tip: Call your creditors to ask for a lower APR on your current cards — 70% of such requests are approved, according to a recent Lending Tree survey.
Get back to basics. Planning menus around what's on sale, couponing and being frugal at the grocery store can help alleviate some of the sting of inflation. "If your local grocery is having a really good deal on something that you don't usually put on the menu, shake it up a bit. It can help save you money but it could also be a fun, tasty change," says Schulz.
Trim some of the extras out of your budget. It can be hard to cut back on the fun things in your budget, whether it's multiple streaming services or a weekly dinner out, but sometimes it is necessary to cut back, says Schulz. "Just know that there are often lower-cost alternatives out there for many of the things you enjoy and that, chances are, these tough times aren't going to last forever."
Save to break the debt cycle. It might seem counterintuitive, but if you're able to put just a little bit of money into savings when you're paying down your debt, it's a good idea, says Schulz. "Yes, it can mean it will take longer to pay down that debt, but if you have a little bit of savings built up, it can mean that you won't have to jump right back into debt if some unexpected expense pops up."
Methodology
LendingTree commissioned Qualtrics to conduct an online survey of 1,260 credit cardholders, conducted March 10-15,  2022. The survey was administered using a nonprobability-based sample, and quotas were used to ensure the sample base represented the overall population. All responses were reviewed by researchers for quality control.
We defined generations as the following ages in 2022:
Generation Z: 18 to 25
Millennial: 26 to 41
Generation X: 42 to 56
Baby boomer: 57 to 76
While the survey also included consumers from the silent generation (defined as those 77 and older), the sample size was too small to include findings related to that group in the generational breakdowns.