How Does LendingTree Get Paid?
LendingTree is compensated by companies on this site and this compensation may impact how and where offers appear on this site (such as the order). LendingTree does not include all lenders, savings products, or loan options available in the marketplace.
Super Bowl Spending Expected to Drop 19% As Fewer Americans Say They'll Watch
Published on:
Content was accurate at the time of publication.
Why use LendingTree?
We are committed to providing accurate content that helps you make informed money decisions. The content on this page has not been reviewed, approved or otherwise endorsed by any credit card issuer. We do maintain partnerships with some issuers, and our site may be compensated through those partnerships. Read our .
After an exciting NFL playoffs season, it's Super Bowl time! However, instead of matching or exceeding the amount of money spent last year on Super Bowl-related activities, many Americans plan on scaling back.
According to LendingTree's survey of more than 2,000 Americans, Super Bowl spending is expected to be down 19% from 2021, and more than a quarter of respondents says they won't be tuning in at all. On the other hand, 3 in 10 do plan on placing a Super Bowl-related bet (including on the Puppy Bowl!), and many of those bettors will be using a credit card to do so.
Find out who plans to do the biggest game day spending and gambling, and score some credit card sports betting tips that'll increase the odds of keeping your finances intact.
Key findings
Expected consumer spending on the Super Bowl drops by 19%, with fewer Americans planning to watch. Americans expect to spend $88 this year on game day activities, compared with $108 last year. At the same time, 28% say they won't watch the big game, up from 21% last year.
Northeasterners plan to be the biggest Super Bowl spenders — even though the four teams within the region all have been eliminated since the survey was conducted. Residents up north will spend $144 celebrating the Super Bowl, more than double the averages of the West and Midwest, and they're more likely to bet on the game than those in any other region.
Three out of 10 of Americans will make a Super Bowl-related bet. Those most likely to wager on the big game include Gen Zers (42%), millennials (41%) and men (36%).
One in 3 Super Bowl gamblers will use a credit card to place at least one of their bets. This could be partly attributed to the fact that 52% of bettors will place their best via mobile apps or websites, some of which accept credit cards as a payment method.
About 1 in 7 Americans say they won money betting on the Super Bowl last year, while nearly 1 in 10 lost money. This year, most bettors will wager less than $100.
Fans will spend less on the big game this year
While Americans spent an average of $108 on last year's Super Bowl (including food, drinks, decor, betting and more), this year, respondents expect to shell out just $88.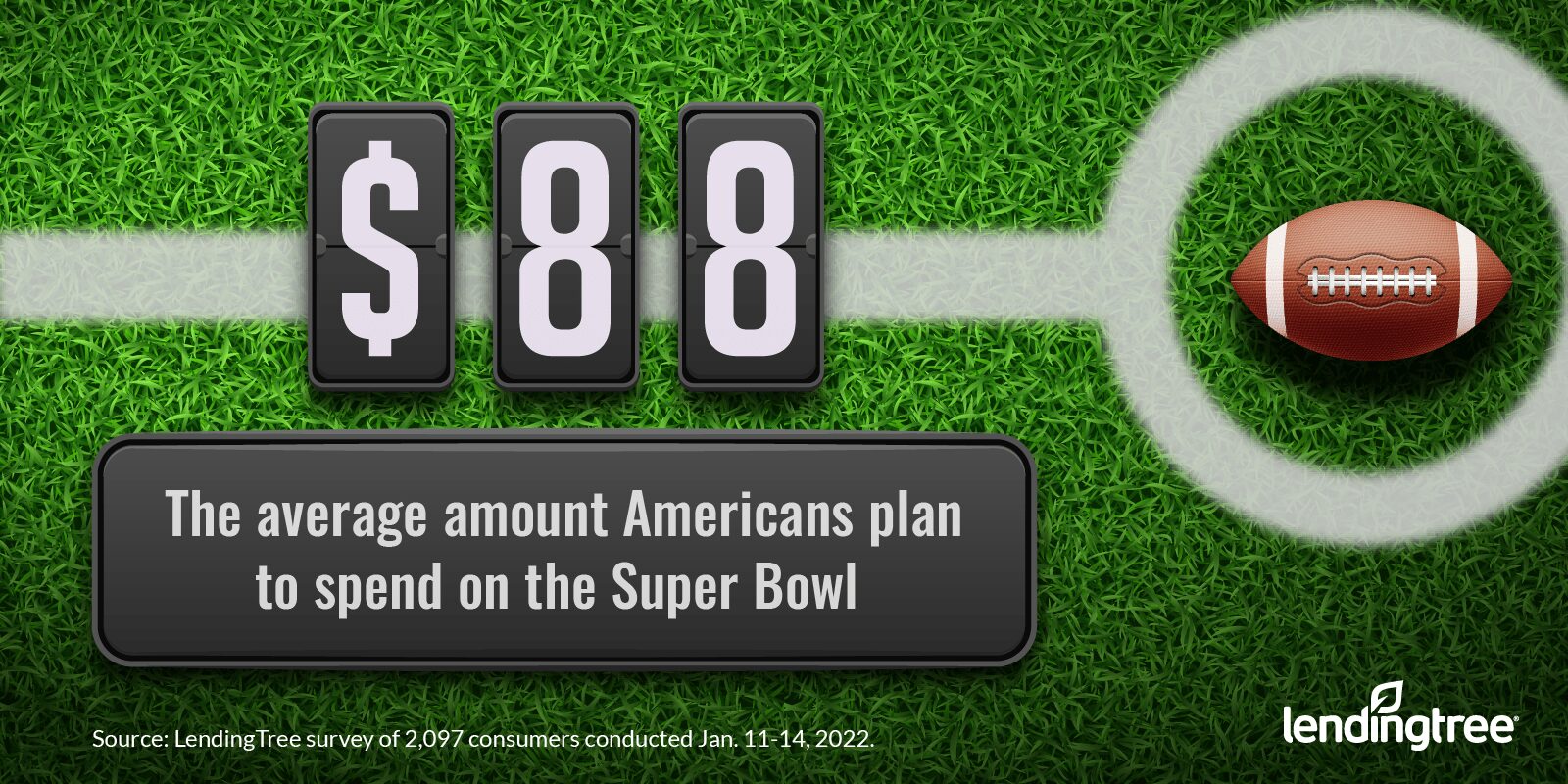 Matt Schulz, chief credit analyst at LendingTree, says he's surprised that people plan to spend less on this season's Super Bowl, but he has one theory. "While many Americans had a little extra cash in the bank last year at this time thanks to reduced spending and some government stimulus, most people have likely burned through that cushion," he says. "That may prompt more people to take a little more low-key approach to watching the game."
Of course, not everyone will be downplaying Super Bowl Sunday. Millennials say they will spend the most ($138) among the age groups, while high-income fans (earning over $100,000 per year) plan to go over the $200 mark.
Regionally, Northeast fans expect to spend the most ($144), around double other areas' fans — and they're also more likely to get in on some betting action than the other regions.
Professional sports often dominate the discussion in the Northeast more so than college sports, which are a bigger draw elsewhere, Schulz notes. "Combine that with the fact that incomes tend to be higher in that part of the country and that several big states in that region have legalized sports betting, and it stands to reason that folks in that area would be more likely to bet on the big game," he says.
More people say they won't be watching the Super Bowl this year
Surprisingly, more than a quarter (28%) of respondents say they don't plan to watch the game at all — a greater percentage than last year, when 21% say the same.
Schulz is skeptical of that response, though he admits that last year's game had enormous star power with Tom Brady and Patrick Mahomes quarterbacking.
"The Super Bowl is one of the few things left in this country that everyone feels they have to stop and watch when it happens," he says. "It is an event that is bigger than the game itself and will likely be that way for a long time, no matter who plays in it."
Gen Zers and millennials most likely to place game bets
Overall, 3 in 10 Americans plan to do some Super Bowl gambling — a number that Schulz says seems lower than expected. "Sports betting is a colossal business in this country and is only getting bigger because it is getting easier and easier to do. And nothing draws bettors' interest quite like the Super Bowl."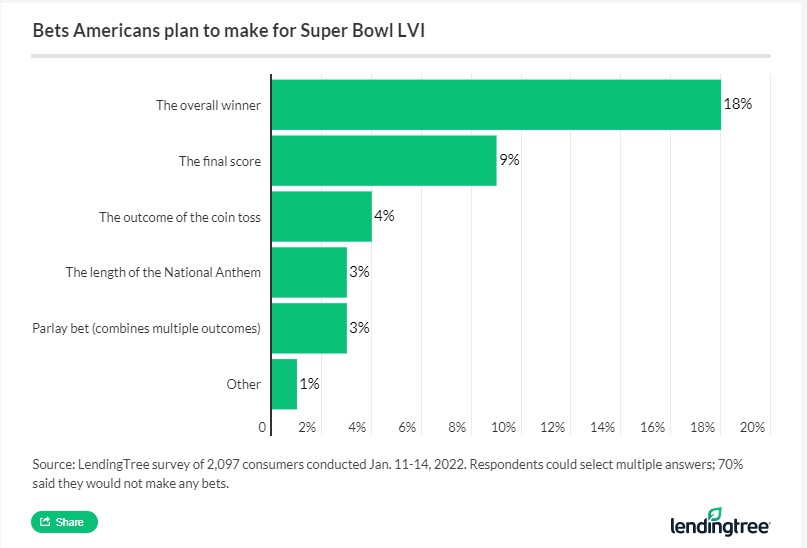 However, some groups are more into making wagers than others, including Gen Zers (42%), millennials (41%) and men (36%). "There's no question that younger males are the biggest driver," says Schulz.
The good news is that most people (62%) are aiming to keep their betting budget in check, planning to gamble less than $100.
1 in 3 Super Bowl bettors will do so with a credit card
One-third of Super Bowl gamblers plan to place their bets using a credit card. This is likely related to the fact that more than half (52%) will be using a mobile sports betting platform.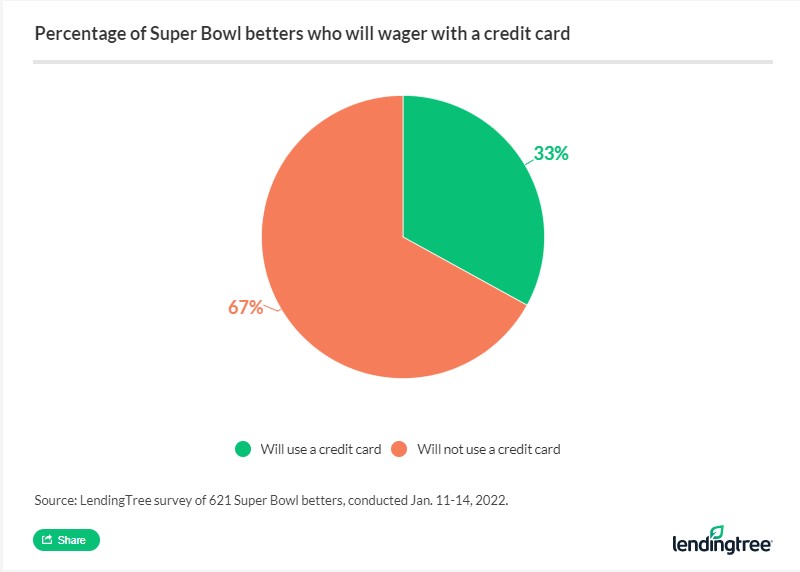 While Schulz expects credit card issuers to become more comfortable with the growing legalization of sports gambling, he warned that credit cards and sports betting can be a volatile mix for some. "Done in moderation, gambling with your credit card can be largely harmless fun. Done recklessly, it can wreck lives," he says.
You should check with your card issuer to see how online gambling is treated — in some cases, it may count as a cash advance transaction, which typically means much higher interest rates and less favorable terms. You also may not earn cash back or rewards as you would with other types of purchases.
In some cases, gambling could pay off — if you can manage to pick a winner. Last year, 14% of people say they came out ahead, while 8% lost money on the big game.
It's also worth noting that some people aren't just betting on the game itself — the survey found that 35% of Americans would actually rather bet on the Puppy Bowl than the Super Bowl (in particular, 44% of women versus 25% of men).
Though he loves watching the Puppy Bowl, Schulz was surprised to hear that it was such a popular source of betting, quipping, "Make no bones about it: Doing anything more than placing a little fun wager on something like that is probably a doggone bad idea."
Credit cards and sports betting: 5 things to know
Using credit credits to place a bet will likely become more commonplace with the growth of legal online sports betting platforms, but tread carefully.
Your betting plans could get sacked. "Some card issuers are still leery of online gambling, in part because of the risk inherent with it," says Schulz. As such, some transactions may be declined. In addition, platforms may have specific credit card limitations; for instance, DraftKings doesn't take deposits via American Express for its sportsbook. However, one workaround is if a site accepts PayPal, you could then link the transaction to your preferred card and it should go through. "I suspect that we'll see more card issuers embrace, or at least learn to better tolerate, online gambling simply because of how much money is involved. It will take time, though," he adds.
Don't draw a penalty. Be mindful of your state's regulations. Legalized sports betting is spreading like wildfire around the nation (it was just approved in New York in recent weeks), but it isn't everywhere yet, says Schulz. Know the laws in your state so you don't get caught up in illegal gambling trouble.
Do some play analysis. Never bet more than you can afford to lose, says Schulz. "It is easy to get swept up in the excitement of betting, but doing so in too big a way too often can rock your financial world." He suggests that if you enjoy gambling, consider carving out a part of your monthly budget to devote to it, so it becomes another expense to manage rather than a forbidden pleasure that's done in secret.
Punt your debts away. If you spend too much on the big game, take action. Consider a 0% balance transfer credit card or a low-interest personal loan to help reduce the interest that you'll pay, says Schulz. You can also call your credit card issuer and ask them to lower your interest rate on your card — you'd be surprised how often that works.
Don't fumble with your finances. Gambling can offer an adrenaline rush and can even be lucrative, but it can also get out of control. If you or someone you know is struggling, reach out and get help, says Schulz. "There are many, many groups out there that do amazing work with folks that are battling gambling addiction, so seek them out and take advantage of what they can offer."
Methodology
LendingTree commissioned Qualtrics to conduct an online survey of 2,097 consumers from Jan. 11-14, 2022. The survey was administered using a nonprobability-based sample, and quotas were used to ensure the sample base represented the overall population. All responses were reviewed by researchers for quality control.
We defined generations as the following ages in 2022:
Generation Z: 18 to 25
Millennial: 26 to 41
Generation X: 42 to 56
Baby boomer: 57 to 76
While the survey also included consumers from the silent generation (those 77 and older), the sample size was too small to include findings related to that group in the generational breakdowns.