How Does LendingTree Get Paid?
LendingTree is compensated by companies on this site and this compensation may impact how and where offers appear on this site (such as the order). LendingTree does not include all lenders, savings products, or loan options available in the marketplace.
Nearly 30% of Americans Turn to Credit Cards, Loans After Being Denied Unemployment Benefits
Updated on: March 17th, 2021
Why use LendingTree?
We are committed to providing accurate content that helps you make informed money decisions. The content on this page has not been reviewed, approved or otherwise endorsed by any credit card issuer. We do maintain partnerships with some issuers, and our site may be compensated through those partnerships. Read our .
Roughly 4.1 million Americans, or 2.9% of the workforce, were getting unemployment insurance as of the end of February. But those who apply for unemployment insurance and are denied have to find creative ways to make ends meet.
LendingTree researchers, using data from the U.S. Census Bureau Household Pulse Survey, explored how this cohort is getting by on both a national and state level, as well as how likely it is that people turn to credit cards or loans to bridge the gap.
Key findings
When denied unemployment benefits, 29% of people are going into credit card or loan debt to cover expenses.
Maine (52.4%), New Hampshire (47.7%) and Missouri (46.2%) are the states most likely to have residents rely on credit cards or loans to meet spending needs.
Among the states least likely to use credit cards or loans to meet spending needs are Wyoming (6%), Indiana (10%) and Idaho (11.3%), which round out the bottom three.
When paying household expenses becomes very difficult, 35% of people swipe their credit cards or take out loans to cover the costs.
After being denied unemployment, nearly 3 in 10 have to turn to credit cards or loans
Not having access to unemployment benefits can force people into seeking alternative ways to get by. For 29% of people, it's credit cards or loans to the rescue. But that was the fourth-most selected choice among the survey responses, behind:
Regular income sources (42%)
Government economic impact payments (34%)
Money from savings or selling assets (32%)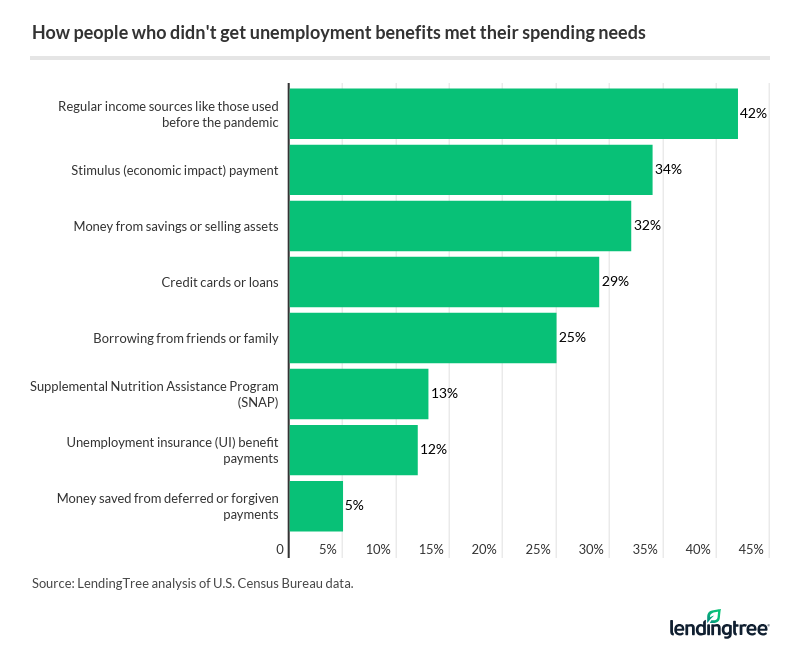 "If you're denied unemployment, your primary focus is keeping the lights on and putting food on the table for your family," said Matt Schulz, LendingTree's chief credit analyst.
Difficult times force us to make choices that we wouldn't otherwise make, like having to rely on plastic, he said.
The good news is that Americans are exploring other options before
turning to debt
, with credit cards or loans and borrowing from friends or family (25%) lower on the list of options.
Ideally, you would be able to turn to your emergency savings, economic impact payments from the government and money saved from reduced spending due to lockdowns, said Schulz. But if savings aren't an option, a credit card could be a good short-term alternative — as could a personal loan. If you have the luxury of borrowing from family or friends, that could work, too.
"Just tread lightly," Schulz noted. "Many relationships have been wrecked by money problems over the years."
States where residents turn to credit cards or loans the most after being denied unemployment
An analysis of the top states in which residents who were denied unemployment relied the most on credit cards and loans didn't reveal a particular pattern.
"It's a pretty unique mix of states," Schulz said of the top five states, which includes two in the Northeast and one each in the Midwest, South and West.
States with highest reliance on credit cards, loans
State
% who use credits cards, loans after being denied unemployment
Maine
52.4%
New Hampshire
47.7%
Missouri
46.2%
Louisiana
45.2%
New Mexico
43.3%
It's noteworthy that more than half of Maine residents have leaned on creditors or lenders.
One slight commonality among the states in the top three is that each had unemployment rates at or below 5%:
New Hampshire: 3.8%
Missouri: 4.4%
Maine: 5%
This could indicate that fewer people are accessing benefits. However, Louisiana at No. 4 (7.9% unemployment rate) and New Mexico at No. 5 (8.6% unemployment rate) trend in the opposite direction.
States where residents turn to credit cards or loans the least after being denied unemployment
Except for Colorado, the states where the smallest percentage of people are leaning on credit cards or loans also happen to be low-cost-of-living states.
Western states take three of the bottom five spots, while the South and Midwest each have one. That means the Northeast — represented at the top with Maine and New Hampshire having the highest percentages of residents reliant on credit cards and loans after being denied unemployment — has no states in the bottom five.
States with lowest reliance on credit cards, loans
State
% who use credits cards, loans after being denied unemployment
Wyoming
6%
Indiana
10%
Idaho
11.3%
Mississippi
12%
Colorado
13.6%
As far as unemployment rates go, there doesn't seem to be any correlation between the percentage of people getting unemployment benefits and the percentage of those relying on credit cards and loans. Colorado had the highest unemployment rate — 6.9% — among this group.
Full rankings
As the difficulty in paying household expenses rises, so does the usage of credit cards or loans
Among those struggling to afford their everyday bills, bigger struggles mean a greater likelihood of having to swipe or borrow:
| | |
| --- | --- |
| How hard is it to meet spending needs? | Percentage relying on credit cards and loans |
| Not at all difficult | 13% |
| A little difficult | 29% |
| Somewhat difficult | 35% |
| Very difficult | 35% |
Unfortunately, credit cards often become a financial lifeline for those who have a tiny financial margin of error, Schulz said: "In tough financial times, people simply may not have any other options than their plastic."
5 things you can do if you're denied unemployment benefits
Losing out on unemployment money can be rough on your budget, especially if you don't have alternative sources of income. Here are a few strategies to help you get through that rough patch:
Look at the next step in the benefits process. If you're denied unemployment, the first thing you should consider is trying to appeal that decision. The process for making a formal appeal varies by state, but don't wait too long — you'll typically have to do so within 10 to 30 days.
Use your savings (if you have any), but try not to tap retirement funds. If you have a rainy-day fund, now is the time to use it. But although desperate times call for desperate measures, borrowing from your retirement accounts should always be considered a last resort. Not only can there be penalties involved, but your future self may end up shortchanged.
Ask your credit card issuer if it has a hardship program. Millions of Americans struggling with making payments on their credit cards have taken advantage of such programs throughout the pandemic — and if you need to, you should as well, Schulz said. "They can help you by deferring payments, reducing APRs, waiving fees, boosting credit limits and other such things, but you need to ask for help," he said.
Look for a card with 0% APR intro offer. If your credit is still healthy, you could apply for a card that offers an introductory 0% period on purchases. Some cards offer 12, 15 or even 18 months of interest-free wiggle room. "That can be nothing short of a lifesaver when you're trying to make ends meet while unemployed," Schulz said. Still, try to use this card sparingly, especially as you approach the date when the regular APR kicks in.
Cash in unused points or rewards on cards you may have. Though it can feel painful to use the points you've been saving for a dream vacation for groceries instead, they could help you get by. "Priorities change when tough times arrive, so it is OK to take advantage of all the possible sources of income that are at your disposal," Schulz said.
Methodology
LendingTree researchers analyzed Week 24 data from the U.S. Census Bureau Household Pulse Survey — covering Feb. 3, 2021 to Feb. 15, 2021 — to estimate the number of people who applied for unemployment benefits and didn't receive them.
We then calculated the percentage of people who didn't receive unemployment benefits and reported using credit cards or loans to meet their spending needs. The percentage was then estimated for every state and the District of Columbia.