How Does LendingTree Get Paid?
LendingTree is compensated by companies on this site and this compensation may impact how and where offers appear on this site (such as the order). LendingTree does not include all lenders, savings products, or loan options available in the marketplace.
The Maxed-Out Credit Card Capital Of The U.S. Is…
Updated on: October 30th, 2019
Editorial Note: The content of this article is based on the author's opinions and recommendations alone. It may not have been reviewed, approved or otherwise endorsed by the credit card issuer. This site may be compensated through a credit card issuer partnership.
Nearly 1 in 3 cardholders in Bridgeport, Conn. have a maxed-out credit card. That's the highest percentage among the nation's 100 largest metropolitan areas, according to a new report from LendingTree, but plenty of other big American city residents are not far behind.
LendingTree analyzed an anonymized sample of credit reports from 1.3 million My LendingTree users with active credit cards to see in which cities card-holding consumers had the most maxed-out credit cards – meaning their balance is greater than or equal to their credit limit. We included both bank cards and retail credit cards in our analysis.
What we found was that a disturbingly high percentage of cardholders are running up against their credit limits as they wrestle with card debt, and the likelihood of maxing out a credit card varies quite a bit based on the part of the country you call home.
Click below to learn more:
Key findings
Bridgeport, Conn. has the highest percentage of cardholders with at least one maxed-out credit card. Nearly 1 in 3 borrowers (32.3%) have maxed out at least one card, and one out of 10 have maxed out multiple cards. (New York and Virginia Beach came in second and third at 31.5% and 31%, respectively.)
Memphis, Tenn., has the highest percentage of cardholders with more than one maxed-out credit card at 11.5%, just ahead of Virginia Beach and San Antonio. Bridgeport ranked just 15th for cardholders with more than one maxed-out card.
Residents of Provo, Utah, are the least likely to max out their cards. 18% have at least one maxed-out card and 6% have more than one, both the lowest percentages among the nation's biggest cities. Madison, Wis., was second in both categories.
Consumers are more likely to max out bank-issued cards than branded store cards, which often have lower credit limits. Residents of Bakersfield, Calif. have the highest rate of maxed-out store cards, at 10.6%, and Provo has the lowest at under 4%.
Western and Midwestern cities fared the best. Nine of the 10 cities with the lowest percentage of maxed-out cards are west of or along the Mississippi River, while 7 of the 8 cities with the highest rate of maxed-out cards are in the east.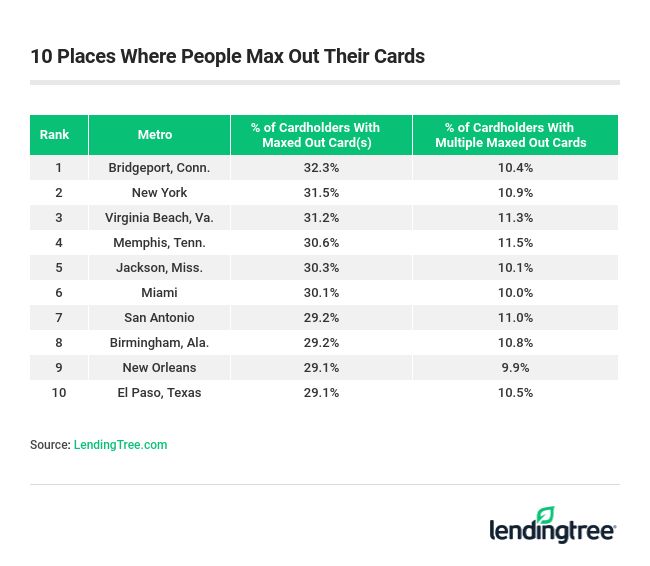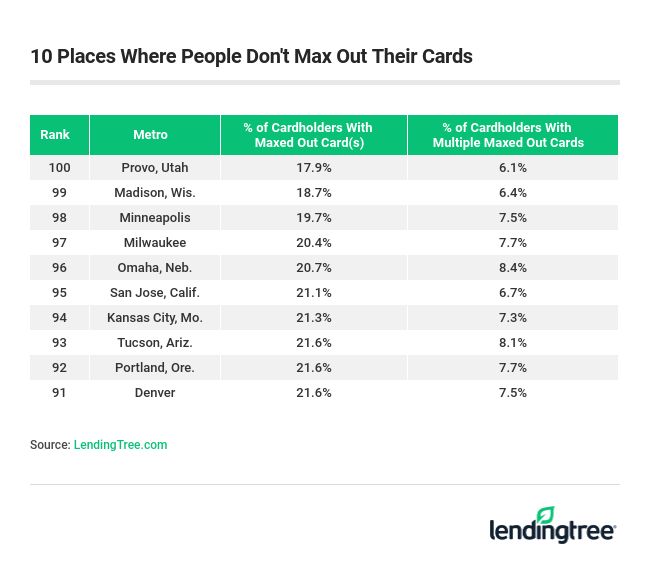 Where does your city rank? Click here or scroll down to see the full 100-city rankings.
Why Bridgeport?
It's not the first time that this Connecticut seaport city — located about 60 miles from Manhattan — has appeared at the top of an unflattering LendingTree report. (For example, it also topped the list of places where people are most likely to have five-figure credit card balances.) One possible reason for that: massive income inequality.
A 2018 Brookings Institution report said the Bridgeport metropolitan area had the greatest income inequality of any of the nation's largest cities. The metro area contains the cities of Greenwich, Conn. – one of the highest income communities in the entire country – and Bridgeport – one of the nation's lowest income communities.
But why does income inequality mean a city's residents are more likely to max out their credit cards? It's because very high-income and very low-income cardholders often use credit cards very differently, but both are more likely than those with average incomes to run up debt.
The wealthy might see credit card debt as a short-term investment, using them to pay to remodel a house or start a small business. They're not afraid to spend big and accrue a bit of interest because they know they can afford to pay off the balance. Meanwhile, low-income folks are more likely to run up debt just to make ends meet. Plus, their credit limits are likely lower, so it's much easier to bump up against those limits.
Interestingly, New York City, which ranked second just behind Bridgeport, also ranked very high in terms of income inequality.
The West and Midwest are the best (when it comes to staying under credit limits)
If you're looking for the cities where residents are doing the best job of steering clear of their credit limits, you'll have to look far west of Bridgeport and New York City. In fact, 9 of the 10 cities with the lowest percentages of maxed-out credit cards are west of the Mississippi or right along it, as the case of Minneapolis. (Only Milwaukee is east of the Mississippi.)
The truth is that we tend to see midwestern and western cities fare well in many of the studies we do at LendingTree. (For example, top cities in LendingTree's "Here's Where Millennials Have Great Credit Scores" study from December 2018 were mostly out west. And Minneapolis and Milwaukee ranked highly in LendingTree's "10 Best Places To Pay Down Debt" report in January 2019.) But beyond location, what do these places have in common?
The primary element is that these areas have a lower cost of living than many of the big cities along the coasts or even in the south. (Super-pricey San Jose being one clear exception.) The higher the cost of living, the harder it can be for average residents to steer clear of debt. However, there's likely something more than that going on because we also see lower cost-of-living areas where maxed-out cards are more common (Jackson, Miss; San Antonio; Birmingham, Ala.). Perhaps cardholders in these different parts of the country simply have different approaches to money. Or, there's no one simple reason behind it. Whatever those in the western U.S. are doing right, however, they need to keep doing it.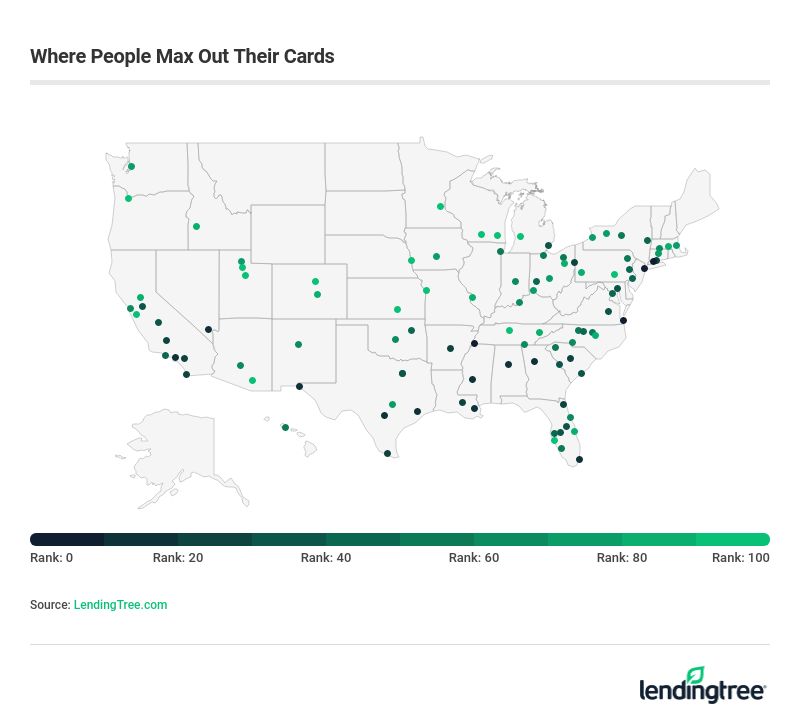 The bottom line: Don't push it to the max
Hardly anyone needs to be told that it's not a good idea to max out your credit cards. After all, who likes being in debt? However, people may not understand that the closer you get to your credit limit, the more damage you likely do to your credit. That's because your credit utilization – how much you owe compared to how much credit you have available – is the second-most important factor in credit scoring behind your payment history.
Simply, as your utilization rate goes higher, your credit score tends to go lower.
The typical rule of thumb is that you shouldn't exceed 30% of your credit utilization. That means that if you have $10,000 in available credit, your balance shouldn't be more than $3,000. However, life's expensive in 2019, and that is often easier said than done. Still, if you've maxed out your credit cards, 30% or less is a good goal to aim for.
There are some moves you can make to help avoid maxing out your credit card. However, these only make sense if you're disciplined enough to manage them wisely. Otherwise, your best move is to slowly and steadily pay down that debt as best as you can.
One possibility: Asking your credit card issuer to expand your credit limit. They may not grant your request, depending on the overall state of your credit, but if they do, it can help knock your utilization down a notch. Just don't see the extra credit as an excuse to go spend – otherwise, you're just digging yourself a deeper hole.
Another option is a balance transfer credit card. Yes, it may seem counterintuitive to fight credit card debt by getting another card. However, that extra credit can knock down your utilization rate and the card's 0% period – often 12 to 18 months – can help lower the total amount of interest you'll pay and reduce the payoff period. That's all good news. But again, just make sure you don't just go shopping with that new-found credit or you can make a bad situation that much worse.
Methodology
Using an anonymized sample of Q1 2019 credit reports from over 1.3 million My LendingTree users with active credit cards, analysts calculated the percentage of consumers with current balances equal to or greater than their credit limits on at least one card and more than one. Analysts also calculated the percentage of bank-issued card holders with at least one maxed-out bank card, the percentage of store cardholders with at least one maxed-out store card and the percentage of people with both card types with at least one maxed-out card of each type.
My LendingTree is a free credit monitoring service available to the general public, regardless of their debt and credit histories, or whether they've pursued loans on a LendingTree platform. My LendingTree has over 9 million users.