How Does LendingTree Get Paid?
LendingTree is compensated by companies on this site and this compensation may impact how and where offers appear on this site (such as the order). LendingTree does not include all lenders, savings products, or loan options available in the marketplace.
Tax Refunds Are $3,660 on Average — See How Much Taxpayers in Your State Receive
Updated on: March 29th, 2021
Editorial Note: The content of this article is based on the author's opinions and recommendations alone. It may not have been previewed, commissioned or otherwise endorsed by any of our network partners.
Every spring, American taxpayers must reflect on their income from the previous year to square away their earnings with Uncle Sam. Most are relieved to find out they've overpaid on their federal income taxes and are owed a refund, but an unfortunate few are left with an expensive tax bill.
Just over three-quarters of Americans are owed a refund when tax season rolls around, and they receive $3,660 on average, according to the latest study from LendingTree. Researchers analyzed the most recent IRS data to estimate the average tax refund and see where taxpayers are owed — and owe — the most.
Key findings
Most taxpayers (76%) were owed a refund for tax year 2018, at $3,660 on average. Taxpayers in Wyoming ($4,602), Connecticut ($4,452) and the District of Columbia ($4,403) received the largest average tax refunds. On the other hand, Maine ($2,743), Vermont ($2,914) and Oregon ($2,970) taxpayers got the smallest average refunds.
2018 tax refunds would cover about three and a half months' worth of rent. Residents in Wyoming could cover just over five and a half months' worth of rent with their 2018 tax refund, the most of any state. In Hawaii, however, the average tax refund could cover just over two months' worth of rent.
Just over a fifth (21%) of taxpayers owed the IRS money, at $5,621 on average. Residents of North Dakota ($7,247), Massachusetts ($6,942) and the District of Columbia ($6,897) owed the most. California and Maryland had the highest percentage of taxpayers who owed refunds, at 26%, followed by Oregon and the District of Columbia, at 25%.
Tax refunds are a boon for budgets, at $3,600+ on average
Tax season provides a much-needed stimulus to help people bolster their savings or pay off debt they accrued over the holidays, so it's significant that most taxpayers can expect to get a federal income tax refund. According to the most recent IRS data, from tax year 2018, 76% of taxpayers received a refund, while 21% owed money to the IRS.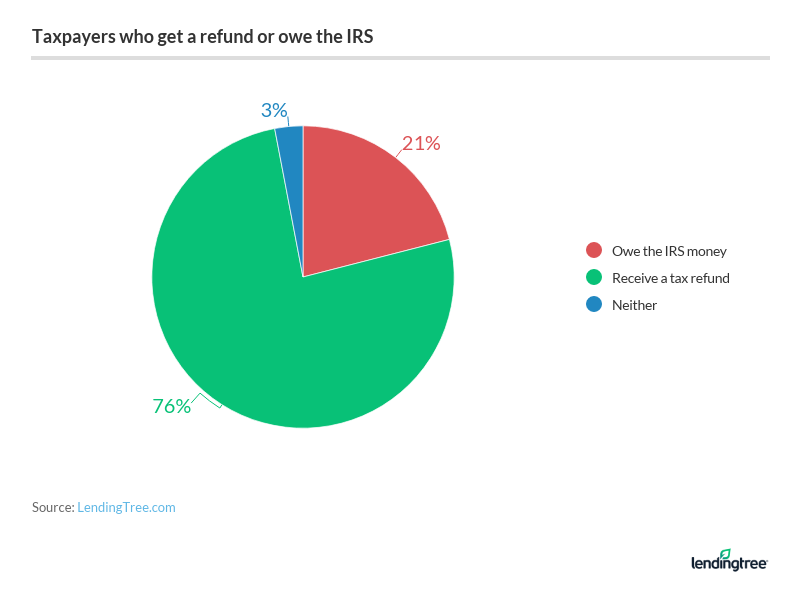 In some states, a higher proportion of residents will get a tax return than in others, and likewise for those who owe. For example, just 14% of West Virginia residents owed money to the IRS in tax year 2018, while 83% were owed a refund. In California, more than a quarter (26%) of residents had to pay the IRS, and 71% got a refund.
Where a high % of taxpayers receive a return
Where a high % of taxpayers owe the IRS
West Virginia
83%
California
26%
Indiana
81%
Maryland
26%
Kentucky
81%
Oregon
25%
Mississippi
81%
District of Columbia
25%
Louisiana
80%
Colorado
24%
Taxpayers who were owed a refund got $3,660 back on average. That's a big deal for many households, since 4 in 10 Americans rely on their tax refund, according to a LendingTree survey published in February 2020.
States where residents receive largest (and smallest) tax refunds
Residents of certain states tend to receive larger refunds than others. Wyoming taxpayers who received a refund got back $4,602 on average — that's about double the amount than that of Maine residents, who received the smallest refunds at $2,743.
But there are no distinct commonalities that stand out among the groups of states that got larger or smaller refunds, as each one has its own unique demographics.
Take household income for example. In our nation's capital, where taxpayers receive the third-largest tax refunds, the median household income is relatively high, at $86,420, compared with the national average of $62,843. But in Florida, where taxpayers also receive some of the largest refunds, the household income is far below the national average, at $55,660.
Florida also has a sizable population of adults 65 or older, at 21%, which is much higher than the national average of 17%. But the same is true of Maine, which also has a 21% share of adults 65 and older but received the smallest tax refunds of any state.
Tax refunds go the furthest in states with low costs of living
A dollar can take you much further in some states than it can in others, and the same is true with your tax refund. To put into perspective how long an average tax refund would last for residents, LendingTree researchers compared the average tax refund to the median rent in each state.
For Americans as a whole, the average $3,660 tax refund would cover about three and a half months' worth of rent. In Wyoming, a $4,602 tax refund could cover almost half a year's worth of rent payments, assuming the state median rent of $818. See how other states in our analysis compare: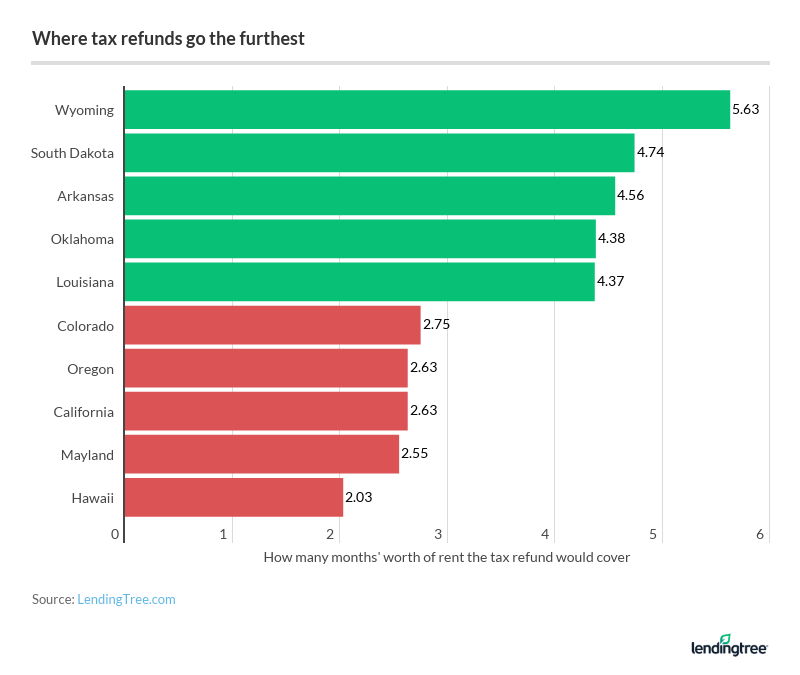 Some of the states where taxpayers received the largest federal income tax refunds also have high costs of living.
For example, residents of the District of Columbia got some of the biggest refunds in the country, but that refund won't take them as far as it would in a state where the cost of living is lower. Our nation's capital has the third-highest median rent of any state on our list at $1,516. So, the $4,403 tax refund would pay for less than three months' worth of rent, comparatively.
Among those who owe the IRS, the average tax bill is $5,600+
Many people dread doing their taxes due to the sheer amount of math involved, but others dread tax season because they know they'll be left owing thousands of dollars to the IRS. About a fifth (21%) of taxpayers end up with a tax bill. On average, they need to pony up $5,620 to the IRS, which is worth more than five months in rent payments.
We also analyzed tax bills by state to determine where taxpayers are stuck owing the most money to the IRS during tax season. Some of the same places where residents received the largest refunds — Wyoming, Connecticut and the District of Columbia — are also where people owe some of the most money to the IRS.
States with the highest average tax bills
1. North Dakota
$7,247
2. Massachusetts
$6,942
3. District of Columbia
$6,897
4. Connecticut
$6,821
5. Wyoming
$6,771
6. Nevada
$6,579
7. Washington
$6,550
8. California
$6,500
9. New Jersey
$6,456
10. Florida
$6,421
In North Dakota, people who owe taxes are stuck with a bill well over $7,000 — that's worth nearly nine months' of rent payments, since the median rent is just $808. In California, where the median rent is $1,520, the high tax bill is slightly less burdensome. A $6,500 tax bill would eat up a little more than four months' worth of rent.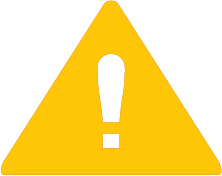 Tip:
It may seem like an injustice when you're the one stuck with such a high tax bill in April. If you're searching for
tax debt relief
, consider enrolling in a payment plan with the IRS or settling your tax debt for less than what's owed with an offer in compromise (OIC). If all else fails, you could consider putting your tax debt on a
personal loan
or a credit card with a 0% intro APR offer.
Methodology
LendingTree researchers analyzed the latest IRS tax data, which is from tax year 2018, to estimate the average tax refund and taxes owed in every state. Specifically, researchers looked at the number of tax returns that underpaid on their taxes and found the average amount underpaid. We then compared that to housing costs from the 2018 U.S. Census Bureau American Community Survey one-year estimates.
For people who owe taxes, researchers looked at the number of returns with taxes due at the time of filing and found the average amount of taxes owed.