How Does LendingTree Get Paid?
LendingTree is compensated by companies on this site and this compensation may impact how and where offers appear on this site (such as the order). LendingTree does not include all lenders, savings products, or loan options available in the marketplace.
The Mental Toll of Student Debt: What Our Survey Shows
Updated on:
Content was accurate at the time of publication.
The idea of being stressed about student loans has become almost too cliché to have meaning anymore. When we talk about feeling stressed, those around us might simply think, "Don't we all?"
But the toll of this stress is serious. In a survey of more than 1,000 student loan borrowers, we dug deep on the psychological effects of debt — specifically, student loan debt. More than 61 percent of respondents said they fear their student loan debt worries are spiraling out of control — and more than 70 percent reported suffering from headaches due to the stress of it.
From insomnia to physical symptoms of anxiety to social isolation, student loan-induced stress is threatening to take over the lives of borrowers. Here's what to do if this feels all too familiar to you.
3 major takeaways about the psychological effects of student loan debt
The psychological effects of debt are just starting to enter the dialogue on personal finance. Typically seen as just a numbers game, it's finally becoming apparent that money troubles go far deeper than what can be seen on paper, an app, or an Excel spreadsheet.
There's often a steep emotional hurdle to climb to reach financial goals. Unfortunately, that hurdle might be even steeper for many student loan borrowers. Here are just a few of the results uncovered in our survey on the psychological effects of debt.
People are losing sleep over their student loan debt
First of all, if you ever lose sleep due to stress over paying your student loans, you're not alone. More than half of the respondents in this survey reported suffering from sleepless nights due to debt — 64.5 percent to be specific.
One respondent talked about the anxiety spiral that can cause this:
"When you think you have a healthy savings, you realize just how much you owe and the interest you've been paying on student loan debt. It stresses me out and whirls me into anxiety, and I just crawl into my shell."
Insomnia isn't just frustrating, it can damage your health. According to the Mayo Clinic, insomnia can lead to a lower quality of life, including poor job performance, increased risk of certain diseases, and even mental health disorders. And this brings us to the next point:
People are experiencing physical symptoms from their stress
More than 67 percent of respondents reported having physical symptoms of anxiety due to the stress from their student loan debt.
As if losing sleep wasn't bad enough, these symptoms include headaches (71.5 percent), muscle tension (55.9 percent), and upset stomach (50 percent). Other symptoms included rapid heartbeat, tremors, fatigue, and shortness of breath.
And when we asked respondents about how they'd describe their feelings about debt, this is what they had to say: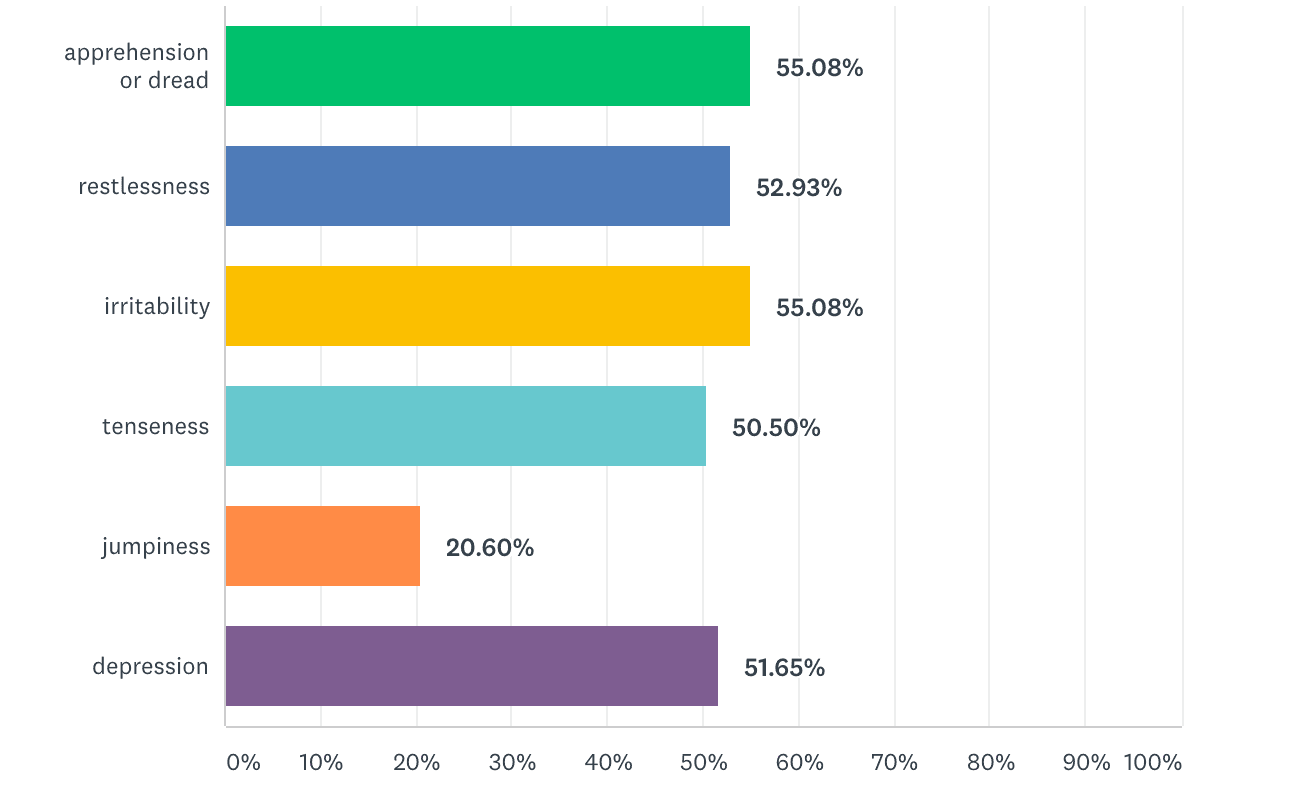 What's worse, taking steps to improve your health is harder to do when you feel overwhelmed. One respondent spoke to the paralyzing effect of debt:
"I lose motivation because I feel stuck in a rut. I lose motivation to cook, to eat, to leave the house, and I feel alone in my feelings."
And it's feeling alone that causes some to choose to be alone.
Some isolate themselves because of their debt
Depression and anxiety can lead to self-imposed isolation. More than 74 percent of respondents reported shutting other people out of their lives often due to their student loan debt stress. In their own words:
"I avoid doing things with friends and family because I don't want them to know how broke I am."
"It's strained my relationship with my family because they don't believe I should have gone to college. My debt just makes them feel right."
"I'm constantly working all of the time to earn money to pay the debt, and I don't get to spend time with family and friends."
But why do they turn to isolation?
Sometimes isolation is easier than being vulnerable about what we're going through. Below are various feelings the respondents associated with having debt.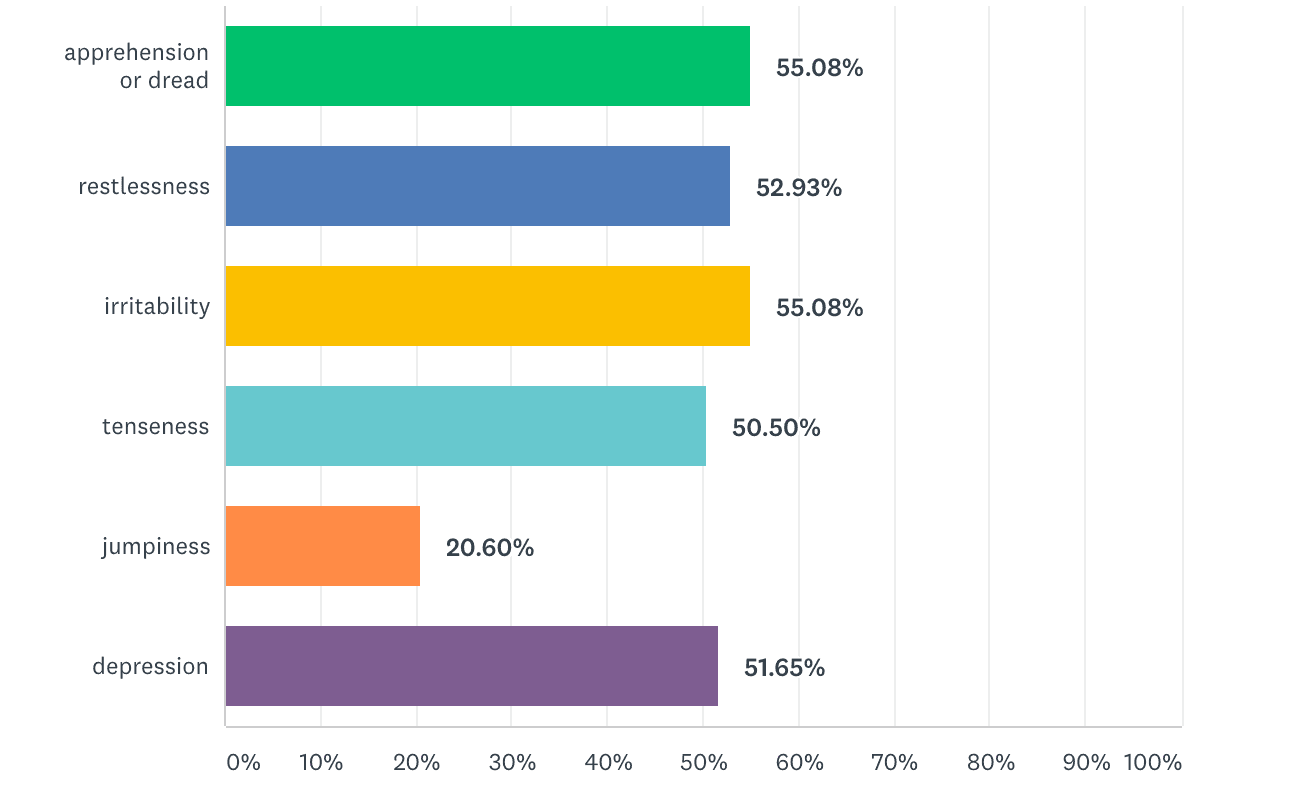 None of these make it easy to talk about what you're going through — or have hope that someone will understand. However, there is help available.
What to do about student debt stress
Financial stress can create a vicious cycle. Debt causes fear. Fear causes loss of sleep and poor job performance, which in turn creates worry about job security and paying the bills, causing the cycle to repeat.
Breaking this cycle of financial anxiety is crucial.
The sooner you get help, the sooner you can release yourself from anxiety. And know that you deserve help — because having debt doesn't mean you should have to suffer alone. Here are ways to do it.
Take the first small step
Psychologist Dr. Susan Chanderbhan explains the best thing you can do is to take one small step:
"The more you avoid facing it, the bigger it gets. And in taking that first step to face it, we often find that it's not as bad as we feared. Taking that first step helps us feel more in charge of our lives, more in control."
And if you need help in facing your anxiety over student debt, Dr. Chanderbhan advises using the National Alliance on Mental Illness (NAMI) to find affordable care.
Factor your loans into your life plan
Clinical psychologist Dr. Nancy Irwin speaks to the power you can achieve when you do take control, whether taking control involves creating a new student loan payoff plan, finding a therapist to talk to, or a combination of these and other moves. According to her, this can change your mindset and your results:
"Assertive, powerful people factor student loan debt into their overall life plan, feeling grateful that they were able to get an education and embark on a career that is meaningful. Give yourself a break, and remind yourself that you chose to go to school and get a higher education for some important reasons. Review them regularly and focus on your mission."
Some survey respondents might already be doing this. Nearly 40 percent said that their debt gives them a new awareness of the consequences of debt, and more than 18 percent stated that they now feel more confident about money. Sometimes a simple understanding of the challenges ahead and can change everything.
Utilize financial tools
Once you've gotten a handle on some of the psychological effects of debt, here are a few steps to take to regain financial control:
If you're making payments regularly and in a stable career, consider refinancing your student loans at a lower interest rate to lower your payments or shorten your repayment period.
If you're struggling to make your payments and have federal loans, use an income-driven repayment plan to decrease your payments and eventually qualify for forgiveness.
Whether your loans are federal or private, you might be able to use deferment or forbearance to pause your payments temporarily.
How to find light at the end of the tunnel
The road ahead might seem long, but you can make sure your destination grows nearer with each passing day. Author and psychotherapist Dr. Will Meyerhofer has an important reminder for us all:
"Stay true to yourself and try to live a life that reflects your authentic self, despite the loans."
Find a therapist, financial planner, or a financial therapist. Create a debt payoff strategy. And focus on creating the life you want to live today. You might not get immediate freedom from your debt, but knowing your goals and feeling empowered to go after them can put you in the driver's seat. And what's more freedom-inspiring than being in control of your own life?
Survey Methodology
LendingTree conducted this survey via Survey Monkey on August 8, 2017, and collected responses from 1,007 student loan borrowers living in the United States. The screening question was, "Do you have student loans?" for which the target answer was "yes."