LendingTree Holiday Spending Report Analyzes Last-Minute Shopper Trends
Released December 21, 2020
LendingTree® analyzed data from over 29,000 anonymized transactions to track spending habits of last-minute holiday shoppers in the week leading up to Christmas in 2019 to better understand what last-minute shoppers where buying and how much they were spending. Additionally, LendingTree will update the report to reflect 2020 trends for last-minute shoppers this Holiday season once the data is available.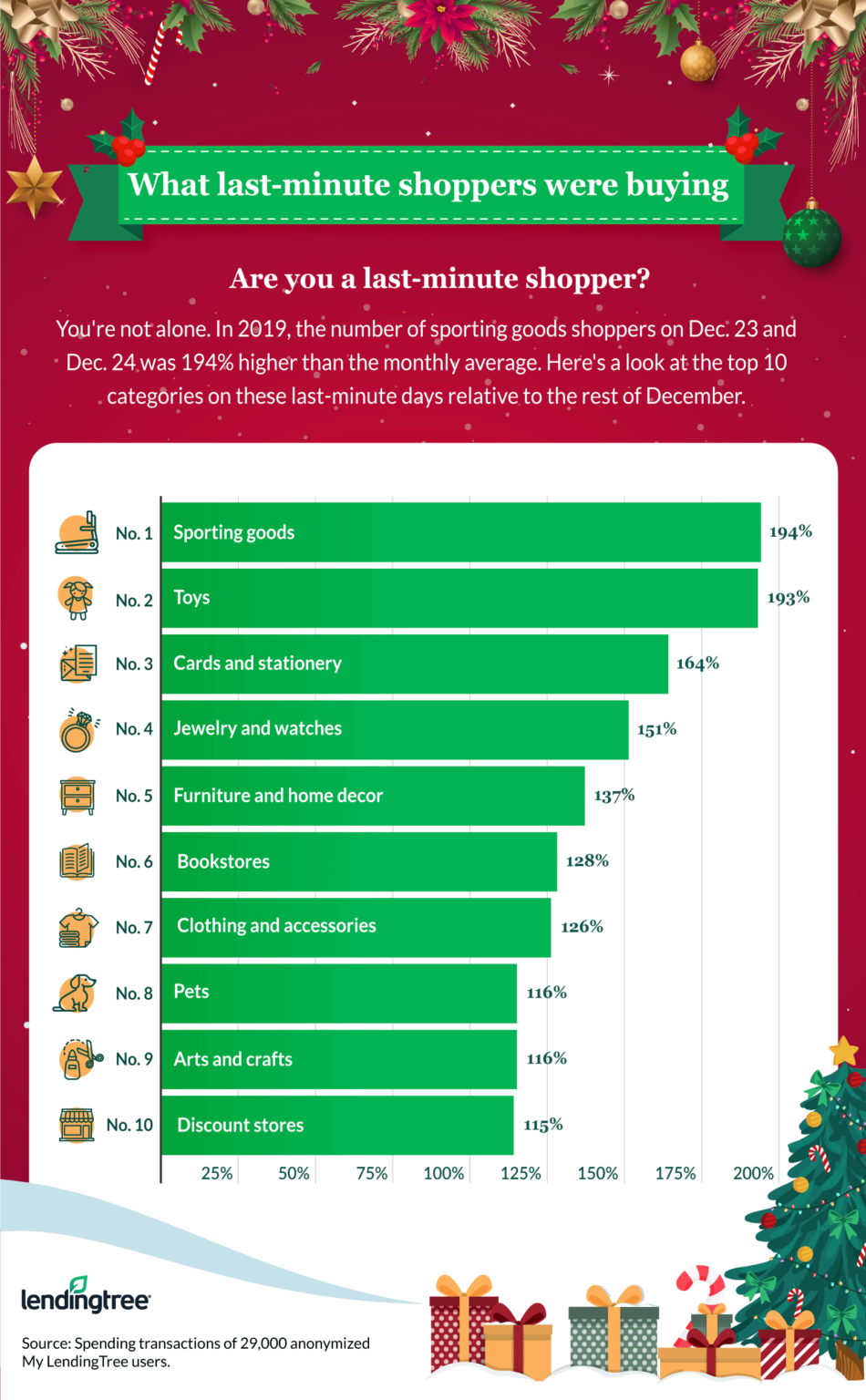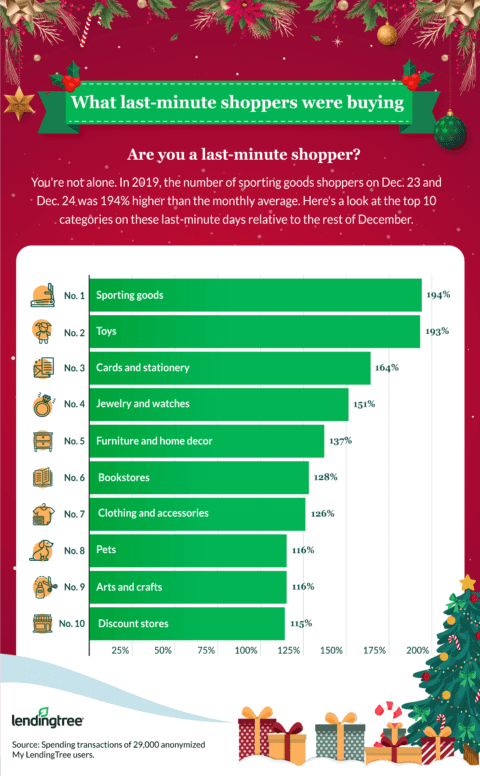 Key Findings
Sporting goods and toys were at the top of last-minute shoppers' lists in 2019. On 

Dec. 23

 and 

Dec. 24

, the number of sporting goods and toy shoppers were 194% and 193% higher, respectively, than the monthly average.
Shoppers spent the most at outlet stores during the last-minute gift-buying rush. On 

Dec. 23

 and 

Dec. 24, 2019

, the average shopper spent 

$266

 at outlet stores. Spending at jewelers and watchmakers was next, averaging 

$231

 a purchase during the two-day period.
Compared to average spending in 

December 2019

, florists saw the biggest spending increase among last-minute shoppers. The average spent at florists on 

Dec. 23

 and 24 was 

$219

, more than twice the usual December spend of 

$97

.
The number of shoppers on 

Dec. 24

 (a  Tuesday) was up 20% compared to the other Tuesdays that month — the highest of any December day in 2019. Up next was 

Dec. 23

 (a Monday), where the number of shoppers was up 10% compared to the other Mondays that month.
In an earlier survey, LendingTree found that while 25% of consumers already finished their holiday shopping as of October 2020, another 19% said that they typically  wait until the last minute to shop. Additionally, nearly a third of consumers (31%) expect to go into holiday shopping debt this year. Among those who were laid off or furloughed because of the pandemic, 47% expect to go into holiday shopping debt compared to 18% of those who did not their income impacted this year.
For the full report and updated last-minute shopping data (which will be published after Christmas), please visit: https://www.lendingtree.com/debt-consolidation/lendingtree-holiday-spending-report/.