How Does LendingTree Get Paid?
LendingTree is compensated by companies on this site and this compensation may impact how and where offers appear on this site (such as the order). LendingTree does not include all lenders, savings products, or loan options available in the marketplace.
| Advertising Disclosure
LendingTree is an advertising-supported comparison service. The site features products from our partners as well as institutions which are not advertising partners. While we make an effort to include the best deals available to the general public, we make no warranty that such information represents all available products.
1 in 4 Americans Have Already Finished Their Holiday Shopping
Updated on: October 20th, 2020
Editorial Note: The content of this article is based on the author's opinions and recommendations alone. It may not have been reviewed, approved or otherwise endorsed by the credit card issuer. This site may be compensated through a credit card issuer partnership.
With the COVID-19 pandemic casting a shadow of uncertainty over traditional holiday gatherings and celebrations, many consumers in the U.S. are using their wallets to get into the holiday spirit – for better or for worse.
To gauge consumer sentiment about their holiday shopping plans this year, LendingTree surveyed more than 1,000 consumers in the U.S. in early October.
Some Americans are ushering in the holiday season early this year, as 1 in 4 consumers have already completed shopping for everyone on their lists. Others, faced with financial challenges related to the coronavirus crisis, are turning to credit cards to help them create a sense of normalcy this holiday season. As a result, many consumers may start the new year digging out of debt.
Click below to learn more:
Key findings
According to survey findings, 1 in 4 (25%) consumers have already finished their holiday shopping. That number rises to 44% of parents with kids under 18, and nearly half (49%) of those with household incomes of $100,000 or more.
Those who are anticipating holiday shopping debt include 55% of parents and 47% of those who were laid off or furloughed due to the pandemic. Overall, 31% of consumers believe they will incur debt this holiday season.
About 6 in 10 (59%) parents will spend more this holiday season than last year, as will 52% of men. On the other hand, 50% of baby boomers and 47% of women expect to spend less this holiday season.
More than 1 in 5 (22%) consumers will buy all of their holiday gifts online. In contrast, just 11% will do all of their holiday shopping in a physical store.
25% of consumers finished holiday shopping by early October
Not ones to let the crisis slow them down, 25% of consumers completed all of their holiday shopping by the first week of October.
The COVID-19 pandemic might have played a role, suggested Matt Schulz, chief credit analyst for LendingTree. "Because of the coronavirus relief bill, increased unemployment benefits and overall reduced spending during the last six months, many Americans have a little more money in their bank accounts today than they otherwise would. It's possible that some folks have taken advantage of that surplus to do a little early holiday shopping," Schulz said.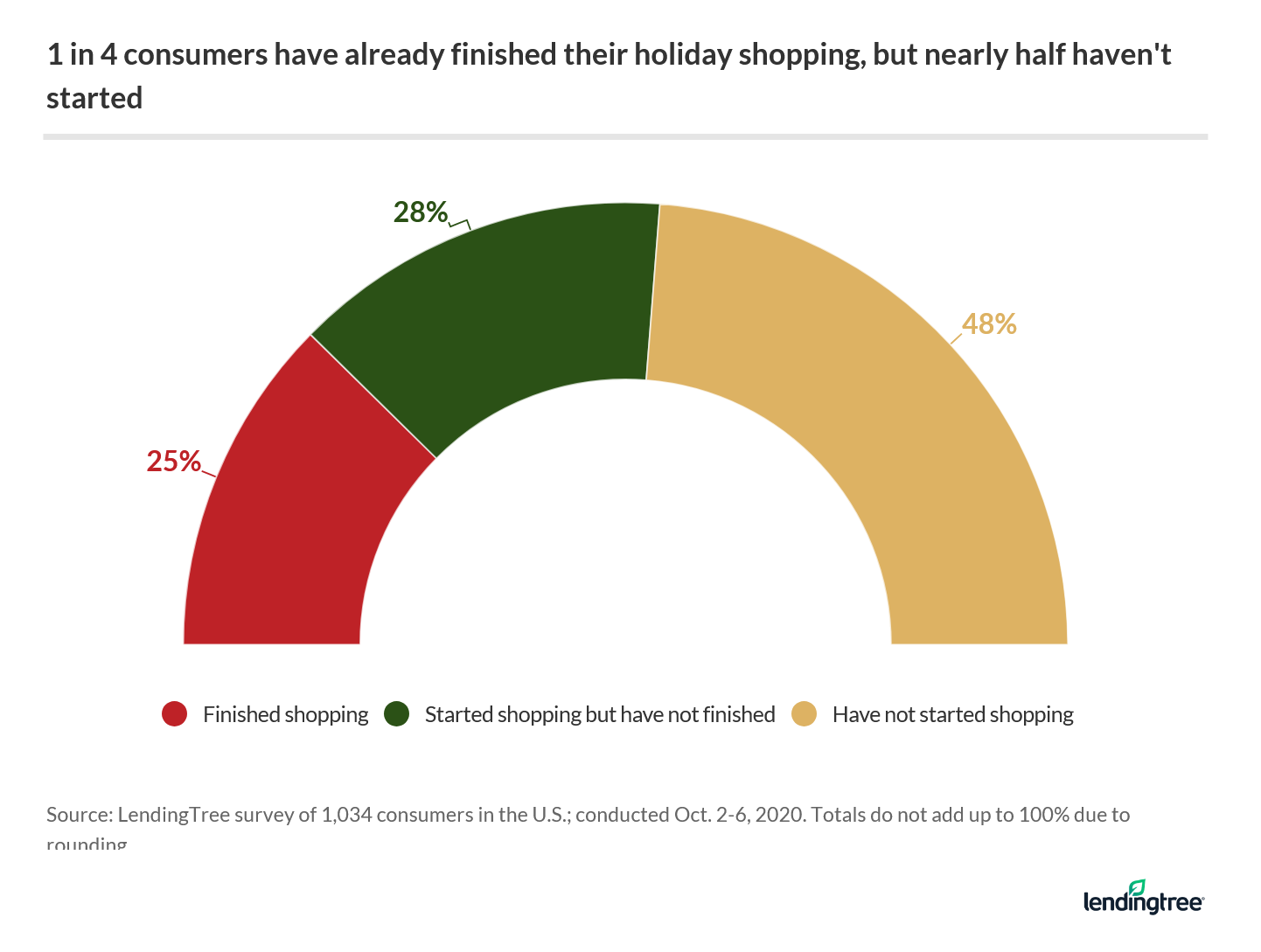 Parents with kids under 18 were among the most proactive, with 44% having finished their holiday shopping.
Other groups who finished their shopping early:
49% of consumers with household incomes of $100,000 or more
41% of men compared to 7% of women
Gen Xers were least likely to wait until the last minute with 50% finishing their shopping by early October compared with:
23% of millennials
21% of Gen Zers
7% of baby boomers
For some consumers, holiday shopping is a year-long activity, as 1 in 3 (33%) buy holiday gifts throughout the year. Other shoppers take different approaches:
31% do most of their shopping during the fall
17% buy most of their gifts during Black Friday or Cyber Monday sales
19% wait until the last minute to shop
Those impacted by layoffs, furloughs at risk of holiday debt
While the holiday season may bring joy to some, it is potentially shaping up to bring a host of new financial challenges for others — particularly those who have been hard-hit by the crisis.
Nearly a third of consumers (31%) expect to go into holiday shopping debt this year. Among those who were laid off or furloughed because of the pandemic, 47% expect to go into holiday shopping debt compared to 18% of those who did not their income impacted this year.
"There's always concern about going into debt over the holidays," said Schulz. "But when unemployment is as high as it currently is, that concern should be even greater." In September, the unemployment rate was 7.9%, compared to 3.5% in September 2019.
Parents are also at risk of overspending. More than half ( 55%) of parents with kids under 18 expect to finish the holiday shopping season with more debt.
Nearly half of men (47%) expect to incur debt compared with 14% of women. Also 58% of Gen X respondents expect to rack up debt this holiday season, leading all generations.
Having more income doesn't necessarily lead to less debt, as 58% of those with a household income of $100,000 or more expect to go into holiday shopping debt compared to 26% of those with a household income of $50,000-$74,999.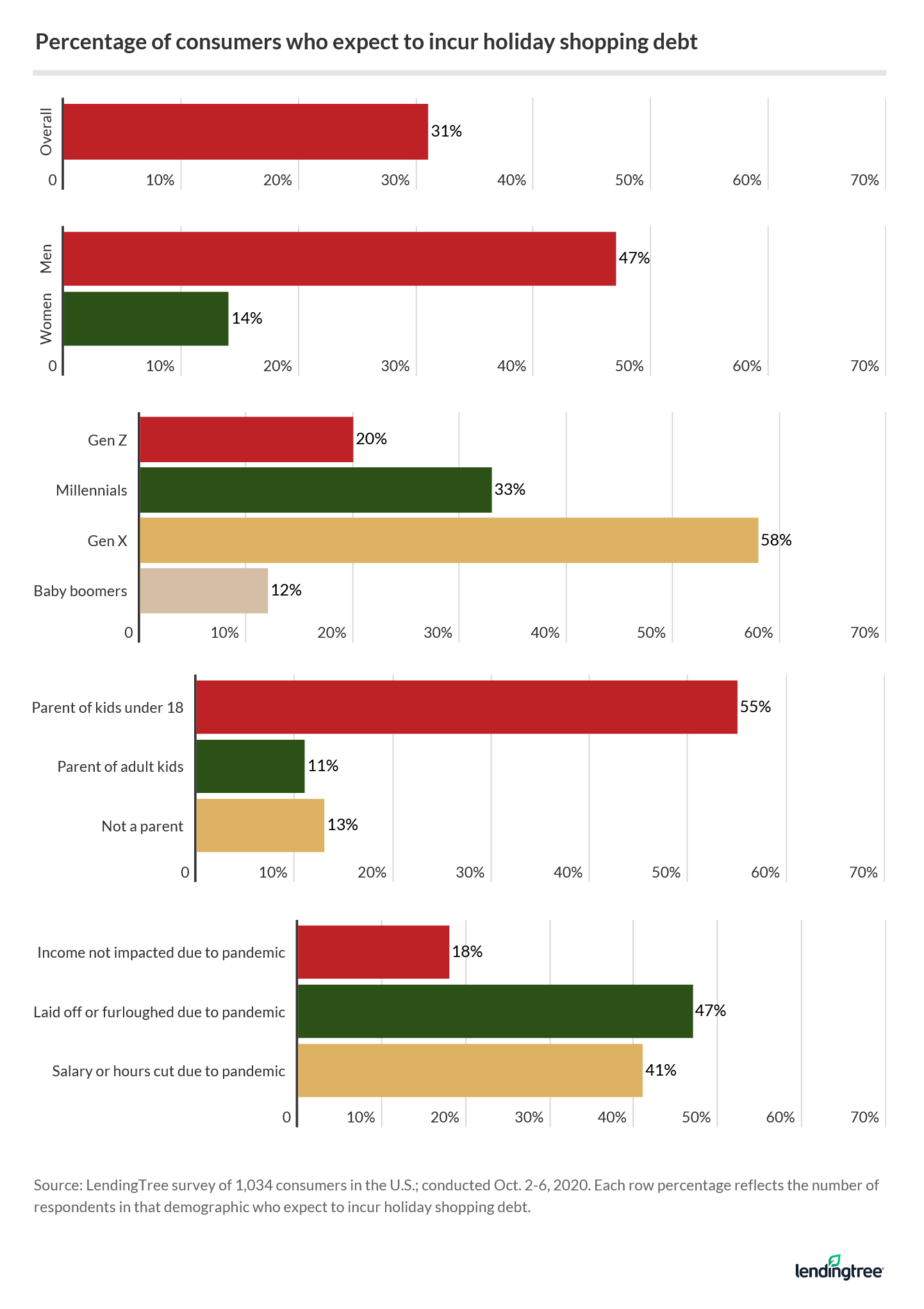 The highest percentage of shoppers (47%) will use a credit card to pay for their purchases this holiday season, followed by 44% who will pay via debit card and 26% who will pay by cash or check. Of those paying by credit card, 59% said cashback cards are their favorite form of credit card to use for holiday shopping.
While 35% of consumers expect to spend more this holiday season than last year, 36% expect to spend less.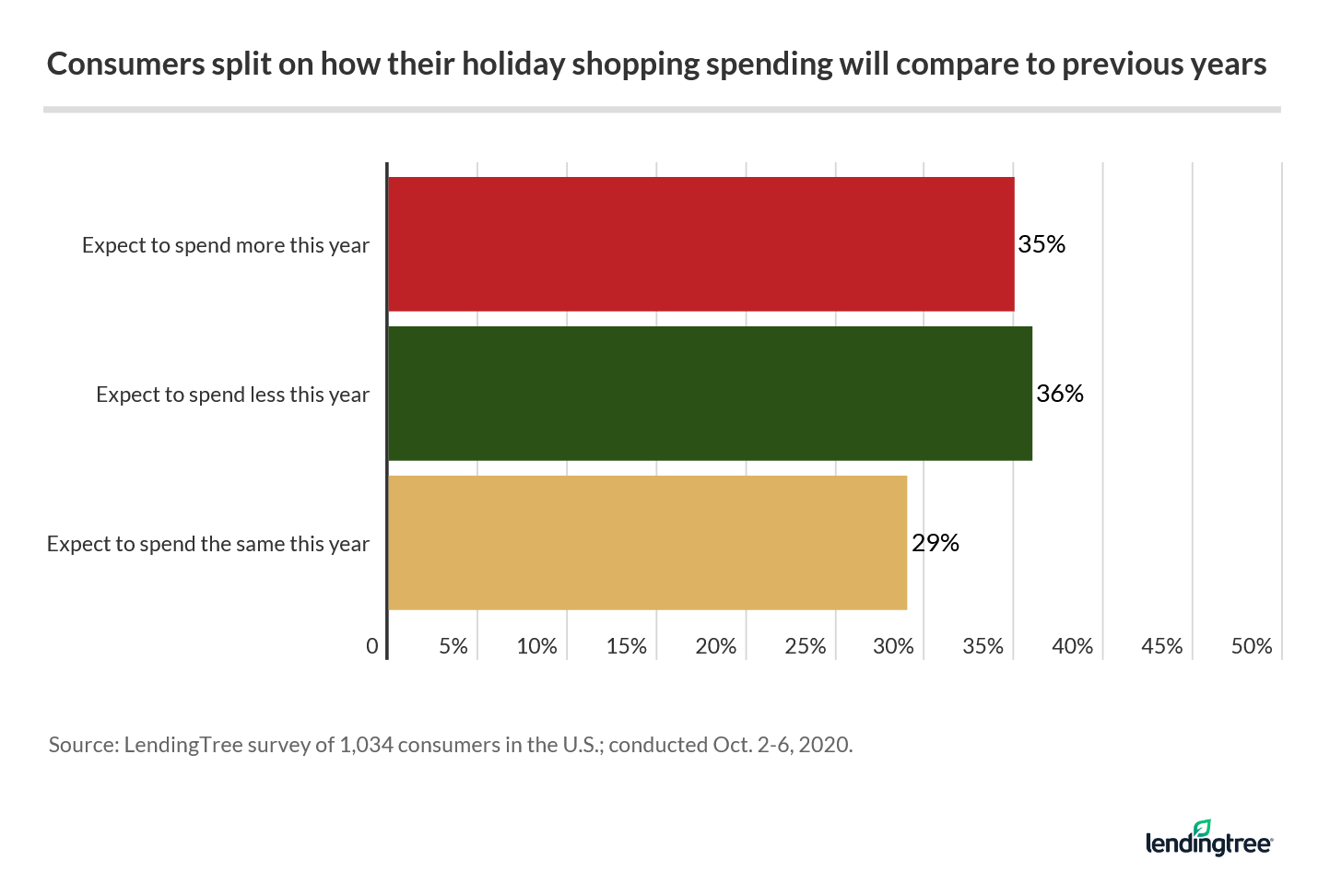 A majority of men (52%) and parents with kids under 18 (59%) expect to spend more while nearly half of women (47%) plan to decrease their spending from last year.
When asked why they would spend more this year:
53% said they had more people to buy for
35% want to show appreciation for essential workers by giving gifts
34% want to show loved ones they care during this challenging time
19% have been able to save more money for gifts due to reduced spending
15% want to gift a specific item that is more expensive than they would usually spend
10% want to give their kids a great holiday since they've missed out on so much due to the pandemic
When asked why they would spend less this year than last year:
32% said someone in their household lost income due to the pandemic
29% said they were trying to save money for something else
28% said they were attending fewer holiday gatherings where they would normally need to bring gifts
23% said family or friends decided not to give gifts this year since the pandemic has been challenging to everyone
More than 1 in 5 shoppers will purchase all gifts online
While some consumers shop online every holiday season, this year may see even more interest because of the crisis. In fact, 22% of consumers said they will buy all of their holiday gifts online this year, while only 11% said they would do all of their shopping in a brick-and-mortar store.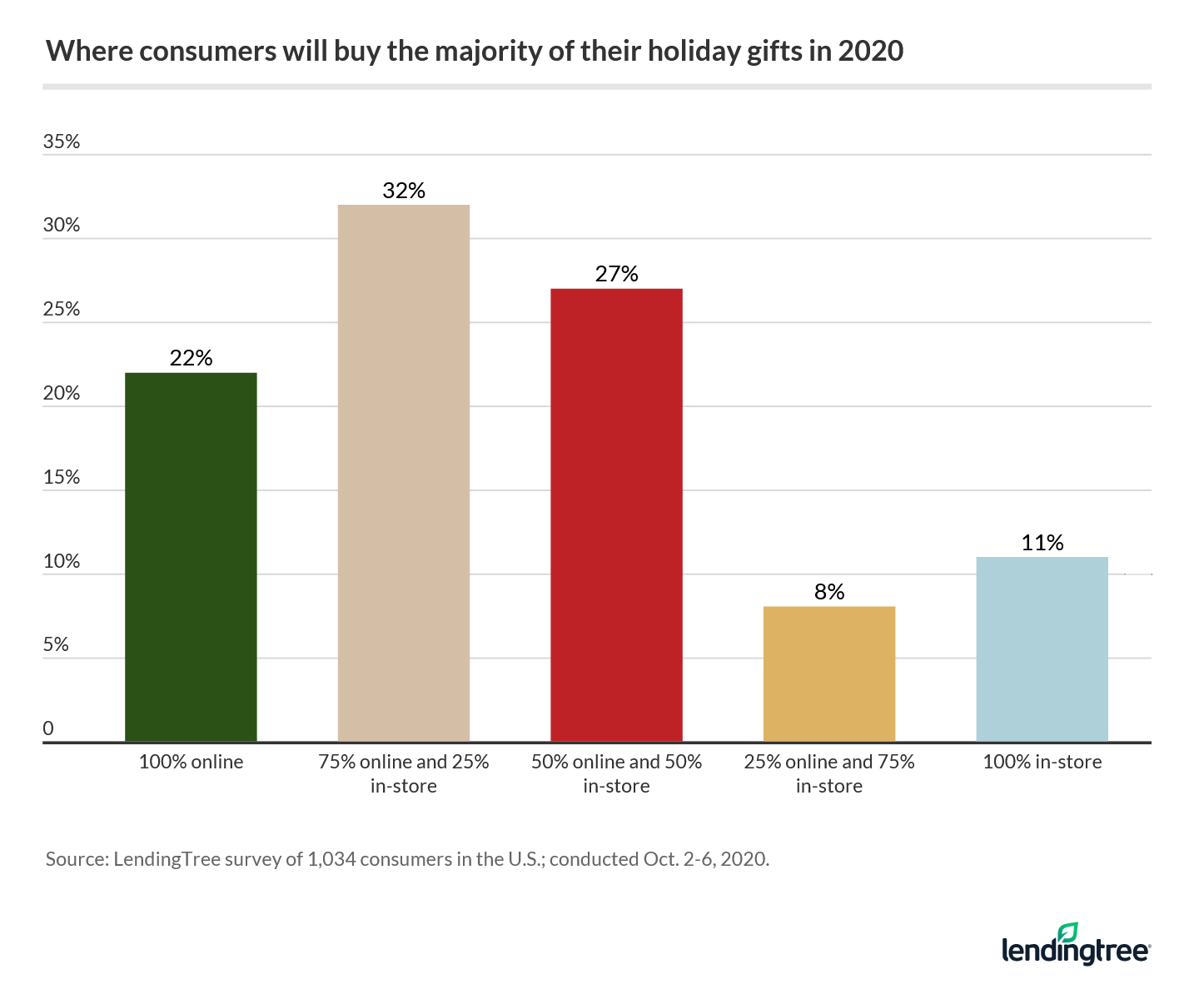 When it comes to buying gifts for those outside of the immediate family, 37% of Gen Zers and 33% of millennials plan to give holiday gifts to friends compared to 25% of Gen Xers and 26% of baby boomers.
However, some consumers will be skipping the gift exchanges entirely, as 9% of baby boomers and Gen Zers said they won't be buying gifts this holiday season at all.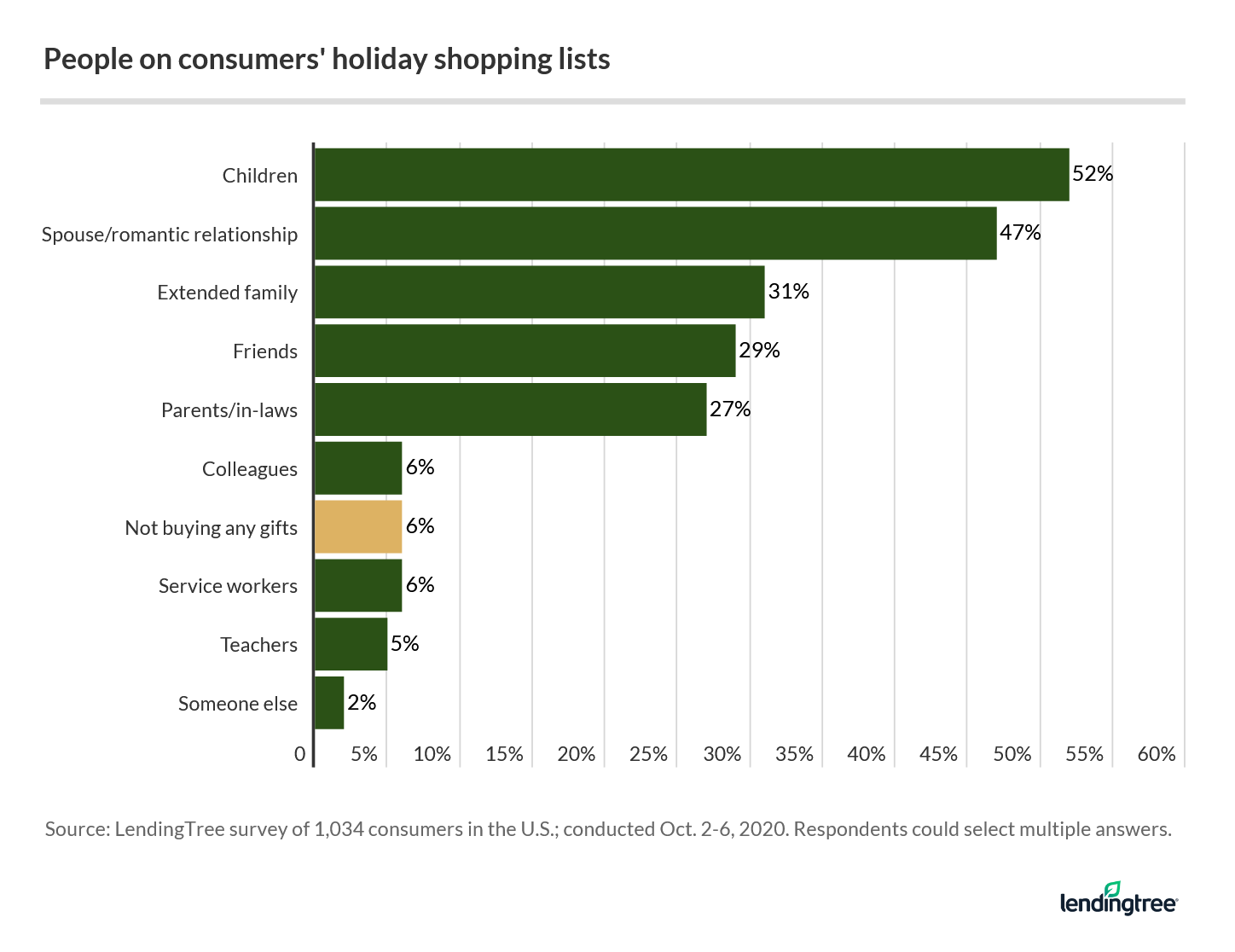 4 ways to avoid holiday credit card debt
While it can be tempting to spend money during the holiday season and leave the worrying for later, it's always a better idea to plan your purchases so you don't incur debt. Here are four ways to start the new year with a clean financial slate.
Make a budget. Impulse purchases wreck countless people's finances this time of year, and the best way to avoid them is to know exactly what you want to get before you go, Schulz said. "A holiday shopping budget is a must, as is taking the time to make a list of what you plan to buy before you hit the stores."
Take advantage of credit card rewards. If you have multiple credit cards, make sure you understand which card gives the most cash back for different types of purchases, Schulz advised. "For example, one card may give extra for dining out or takeout, while another may give more for groceries and still another might give more for gas."
Leverage sign-up bonuses. Some cards offer new cardholders extra rewards just for becoming a new customer. "Many cards will give you $100 or more as a bonus once you spend a certain amount with your new card," said Schulz. "That extra cash back can be a big help this time of year."
Consider balance-transfer options. If you end up overspending and can't pay off your entire bill when it's due, you may be able to move high-interest debt to a low-interest balance transfer card, saving you money while you pay off the debt.
Methodology
LendingTree commissioned Qualtrics to conduct an online survey of 1,034 consumers in the U.S., with the sample base proportioned to represent the overall population. The survey was fielded Oct. 2-6, 2020.
Generations are defined as the following as of October 2020:
Generation Z: Ages 18 to 23
Millennials: Ages 24 to 39
Generation X: Ages 40 to 54
Baby boomers: Ages 55 to 74
Silent generation: Ages 75 and older