How Does LendingTree Get Paid?
LendingTree is compensated by companies on this site and this compensation may impact how and where offers appear on this site (such as the order). LendingTree does not include all lenders, savings products, or loan options available in the marketplace.
Average Holiday Debt Nears $1,550, Highest in LendingTree Survey's 8-Year History
Updated on: December 27th, 2022
Why use LendingTree?
We are committed to providing accurate content that helps you make informed money decisions. The content on this page has not been reviewed, approved or otherwise endorsed by any credit card issuer. We do maintain partnerships with some issuers, and our site may be compensated through those partnerships. Read our .
Despite rampant inflation and rising interest rates, the percentage of Americans going into debt over holiday spending dipped slightly in 2022, according to a new report from LendingTree.
However, that's where the good news ends. Among those taking on holiday debt, the average amount is the highest since LendingTree began tracking in 2015, most say they didn't intend to take on any debt, and more than 1 in 3 say their debt will take at least five months to pay off.
In 2022, 35% of Americans took on holiday debt, down a tick from last year's 36%, but the average amount among those who took some on this year is $1,549. That's up 24% from last year and is the highest in the eight-year history of the LendingTree holiday debt survey. It spells trouble for many Americans struggling with rising costs heading into the holiday shopping period.
Worse, the percentage of holiday debtors who say it'll take five months or more to pay off that debt rose significantly, too, going from 28% a year ago to 37% today. There's never a good time to carry debt, but this is a particularly bad time with interest rates at record highs.
Key findings
Average holiday debt spiked to the highest level since tracking began in 2015, while the percentage of debtors stayed largely unchanged. 35% of Americans took on holiday debt this season, down slightly from 36% last year. However, the average debt taken on reached $1,549, up 24% from last year's $1,249.
More people are taking five months or longer to pay off holiday debt. 37% of those taking on debt expect to take five months or more to pay it off, up from 28% a year ago. This year's percentage jumps to 47% among Gen Xers and 42% among women.
More people are taking on debt without planning to do so. 63% of those who took on holiday debt didn't plan to do so, up from 54% a year ago. This year, the most likely to say they didn't plan to go into debt are women (68%) and those making $35,000 or less a year (67%).
The buy now, pay later (BNPL) explosion cooled this year. 24% of those taking on debt say BNPL was part of it, down from 33% last year. Still, despite the decrease, BNPL was the second-most common choice behind credit cards (59%, not including store cards) in 2022.
Average holiday debt spikes, though percentage of debtors stays largely unchanged
A year ago, this survey showed the first decrease in average holiday debt since tracking began in 2015. However, following a year of rising prices, seven interest rate hikes from the Federal Reserve to drive credit card interest rates to record levels and overall economic uncertainty, a second-straight decrease wasn't in the cards. Instead, we got the biggest dollar increase in the eight-year history of this report.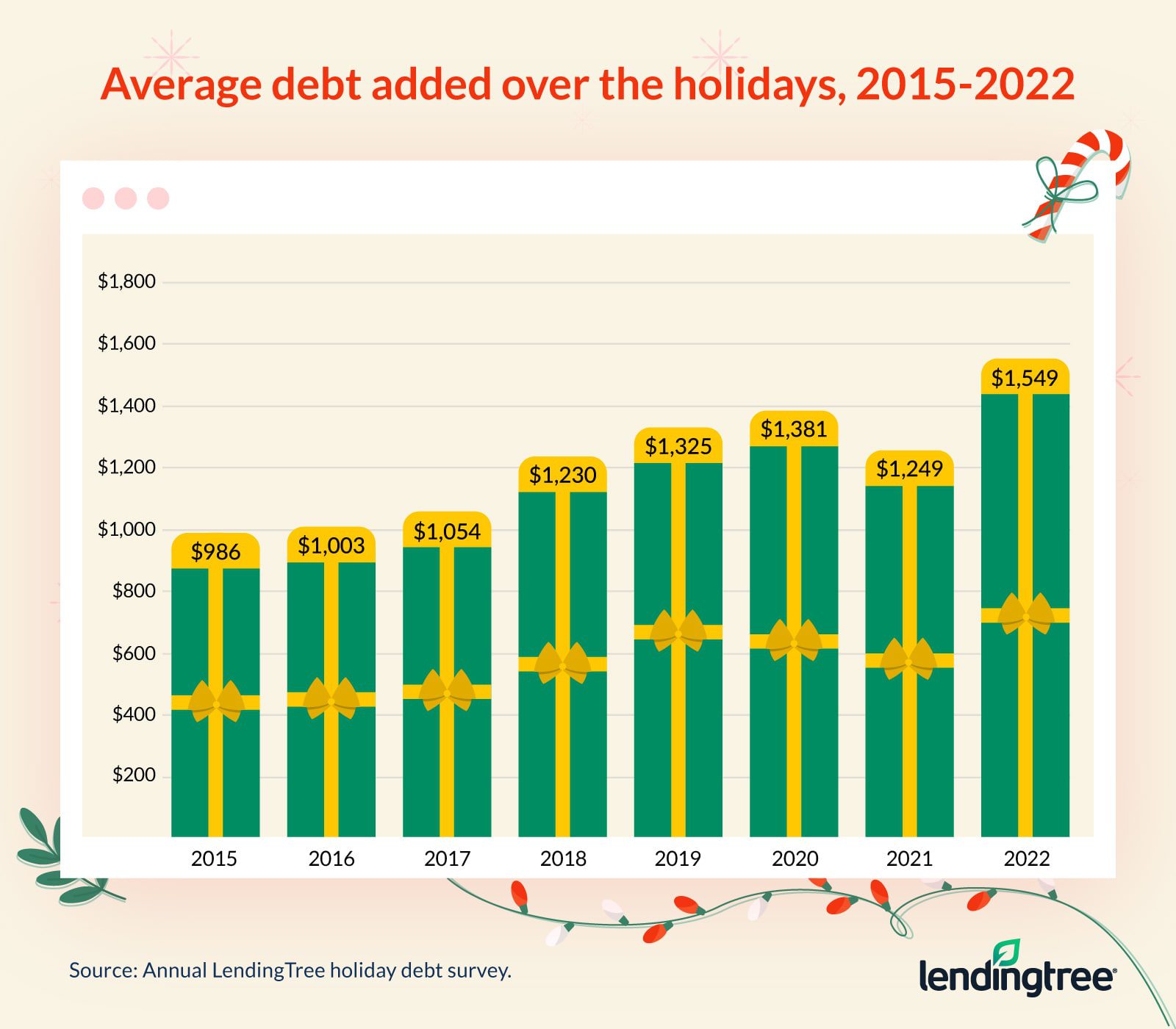 The average holiday debt for those taking it on is $1,549, which far surpasses the previous record of $1,381 set in 2020. It's also a $300 — or 24% — increase from 2021, the biggest jump seen in this report.
What we didn't see, however, was a spike in the percentage of those taking on holiday debt. That rate dipped slightly, from 36% in 2021 to 35% in 2022.
The most likely demographics to have taken on holiday debt are parents with kids younger than 18 (48%), millennials ages 26 to 41 (43%) and those making between $50,000 and $99,999 (41%).
More people are taking 5 months or longer to pay off holiday debt
How big a problem holiday debt is depends on how much you take on.
A little debt you'll pay off in a month or two isn't necessarily a big deal. Chances are that you won't pay a fortune in interest in that period, and the debt won't wreak too much havoc with your finances. However, extend that debt out five months or more — especially with interest rates as high as they are today — and things change. That's what many Americans are facing heading into 2023.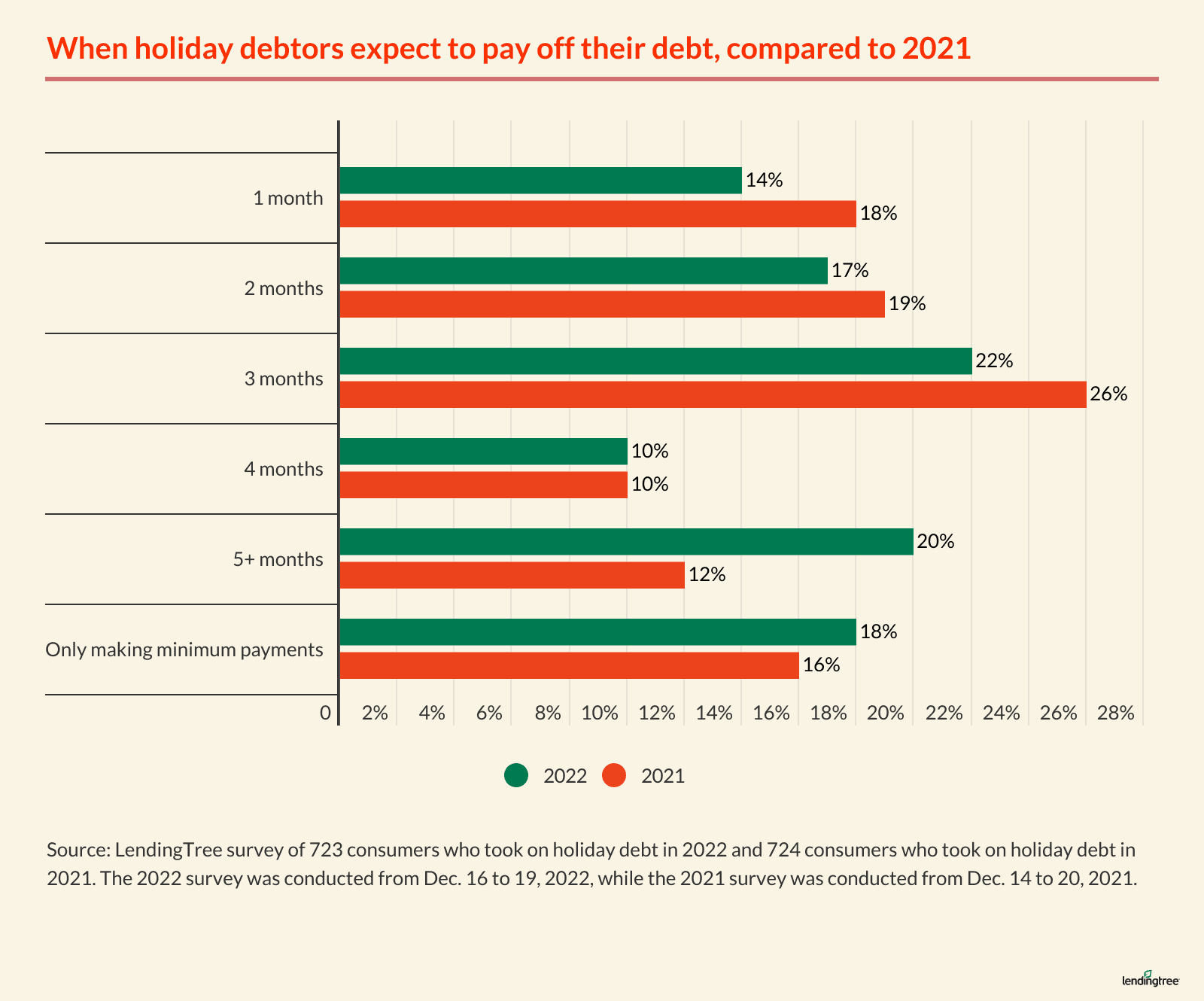 More than 1 in 3 (37%) who took on holiday debt this year expect to take five months or more to pay it off, a significant jump from 28% a year ago. The news is even worse among Gen Xers ages 42 to 56 (47% to take five months or longer) and women (42%).
If someone takes five months to pay off a $1,549 balance on a card with an APR of 18.43% — the average rate today on a card that carries a balance, according to Federal Reserve data — they'll pay an extra $48 in interest. Double that payoff time to 10 months and keep everything else equal, they'll pay $108 in interest. That's real money. Make that payoff time longer or that interest rate higher and those numbers keep climbing. That's why it's so important to pay off that balance as soon as possible.
More people are taking on debt without planning to do so
For millions of Americans, it's not possible to pay off their credit cards in full regularly. Life is expensive in 2022, and it isn't going to get any less so in 2023. That means that people's financial wiggle room is almost zero, so any unexpected expense can put them in debt whether they like it or not.
Our survey hints that this happened for many Americans this holiday season. Higher prices everywhere led people to take on debt they didn't plan to accumulate. In all, 63% of those who took on holiday debt say they didn't plan to do so. That's up from 54% a year ago.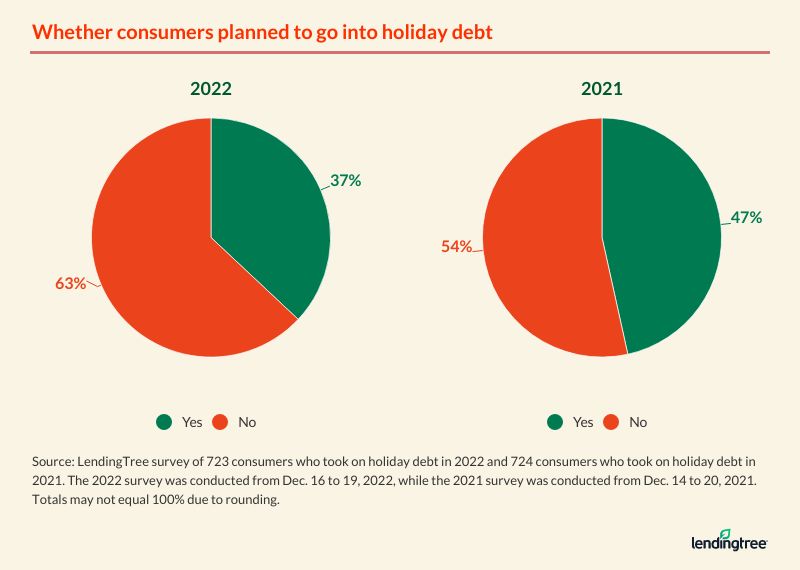 Again, women (68%) are among the most likely to have taken on debt they didn't plan to take on. Those making $35,000 or less a year are nearly as likely (67%).
Bigger-ticket spending may contribute to this higher debt. About 1 in 5 holiday debtors (19%) say the most expensive gift they bought cost $500 or more. That's nearly double the 10% of those who didn't take on holiday debt who say they spent that much.
However, despite all this extra debt, fewer holiday debtors plan to take advantage of debt consolidation and balance transfers to lower their interest rates. Just 33% of holiday debtors say they'll try to consolidate their debt or shop around for a balance transfer credit card to lower their interest rates. That's down from 45% a year ago, and with interest rates currently at or near record levels, that drop is bad news. It means that far too few people are planning to take advantage of two of the best weapons in anyone's arsenal for the fight against credit card debt.
Buy now, pay later phenomenon cools
Among holiday debtors, credit cards are the most frequently mentioned source. Nearly 6 in 10 (59%) say their debt came, at least in part, from credit cards. The next most commonly mentioned sources were store credit cards and buy now, pay later — or BNPL — loans, both at 24%. (Note: Respondents could choose more than one option.)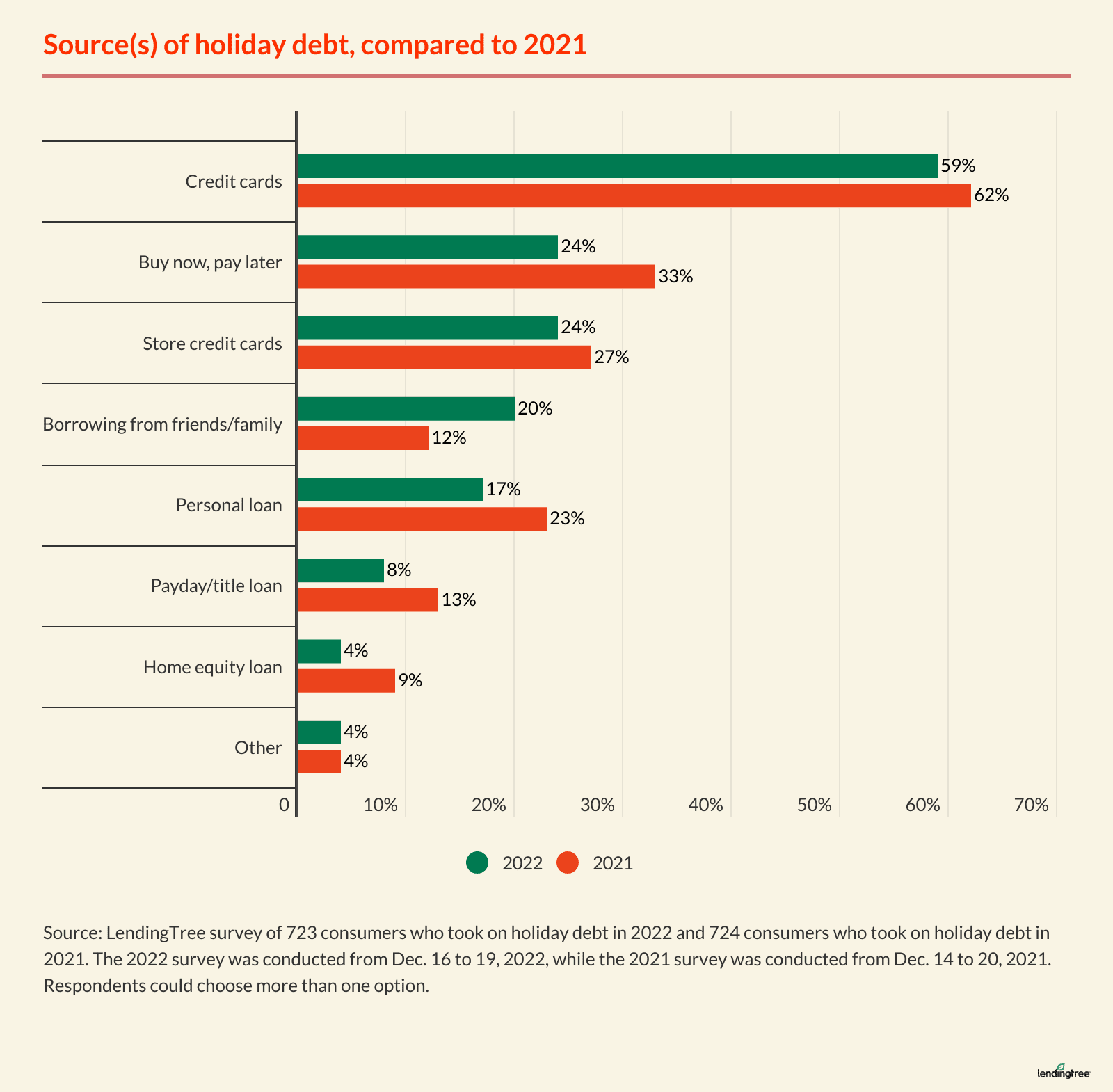 That's a significant decrease for BNPL loans. In 2021, 33% of those with holiday debt said BNPL had played a part. It's unclear what spurred the decrease. The loans have never been more widely available or better known.
In 2022, millennials (29%) and Gen Zers ages 18 to 25 (26%) are the most likely generations to say they used these loans. The least likely demographics to say so are baby boomers ages 57 to 76 (13%) and those earning $100,000 or more a year (18%).
Oddly, the only source of holiday debt more common in 2022 than in 2021 was borrowing from friends and family. One in 5 holiday debtors (24%) say that was a source of their debt, compared with 12% a year ago. The reasons for this are unclear. However, it could be a result of interest rates rising and banks making it tougher for folks with imperfect credit to get a loan.
How to tackle holiday credit card debt
Holiday debt can be scary, especially in a time of inflation and economic uncertainty. However, your problems will only get worse if you don't do anything to combat it. The good news is that you have options. Here are some tips for helping you take on credit card debt:
Get a 0% balance transfer credit card. It may seem weird to fight card debt by getting a new card, but balance transfer cards can be an absolute godsend for debtors. These cards can allow you to go up to 21 months without accruing any interest on the balance you transfer to the card. Once that 0% period is over, you'll only pay interest on what's left from that transferred balance. You'll need good credit to get one, and there are fees, deadlines and restrictions to know about, but they can be an amazing deal.
Get a low-interest personal loan. You won't get a 0% offer with one of these, but you may be able to find a rate that's lower than what you're paying on your credit card. These loans can also help you by consolidating a bunch of loan payments into one.
Revisit your budget. If you haven't reassessed your budget in a few months, you need to. Any assumptions you made about costs six to nine months ago are likely outdated thanks to inflation. That means you're likely not getting the most accurate picture of how much money you have available to spend, which can cause some real headaches when bills come due.
Call and ask for a lower credit card APR: No, really. It works more often than you'd think. An April 2022 LendingTree survey showed that 70% of those who asked for a lower APR in the past year got one, but far too few people ask. It's absolutely worth your time to try.
Pick a payoff method that fits you best: There's no one-size-fits-all best method for paying off your credit card debt. It's about what motivates you and will keep you moving forward. If you need some quick, early wins to get you fired up to keep going, consider the snowball method, which has you pay off the cards with the lowest balances first. That way, you get the joy of seeing your first $0 balance quickly. However, if you're all about paying the debt off by paying the least amount of interest possible, the avalanche method may be a better choice. With it, you focus on the cards with the highest interest rates first rather than the smallest balances. It may take longer to get that first big win that way, but it'll also likely save you more money in the long run.
Methodology
LendingTree commissioned Qualtrics to conduct an online survey of 2,050 U.S. consumers ages 18 to 76 from Dec. 16 to 19, 2022. The survey was administered using a nonprobability-based sample, and quotas were used to ensure the sample base represented the overall population. All responses were reviewed by researchers for quality control.
We defined generations as the following ages in 2022:
Generation Z: 18 to 25
Millennial: 26 to 41
Generation X: 42 to 56
Baby boomer: 57 to 76