How Does LendingTree Get Paid?
LendingTree is compensated by companies on this site and this compensation may impact how and where offers appear on this site (such as the order). LendingTree does not include all lenders, savings products, or loan options available in the marketplace.
36% of Americans Took On Holiday Debt, Averaging $1,249
Updated on: December 29th, 2021
Why use LendingTree?
We are committed to providing accurate content that helps you make informed money decisions. Our partners have not commissioned or endorsed this content. Read our .
The holiday season can be a busy time for consumers, from making travel plans to purchasing gifts for loved ones. For some Americans, this can mean spending outside their budget by adding debt to their credit card, using buy now, pay later financing or taking out personal loans.
The newest LendingTree survey found that more than a third of consumers (36%) incurred holiday debt this season, averaging $1,249. Holiday debt can include expenses such as gifts, travel and entertainment.
While the percentage of holiday borrowers rose year over year, the average amount of spending dropped 10%.
Read on to learn more about what else LendingTree analysts found.
Key findings
More consumers took on debt this holiday season than last, though the average amount dropped year over year for the first time since this survey began in 2015. 36% of Americans took on holiday debt this season, up from 31% in 2020. But borrowers owe an average of $1,249, down 10% from $1,381 last season.
Parents with children younger than 18 and millennials were most likely to take on holiday debt, at 54% and 50%, respectively. Both groups borrowed an average of $1,462.
Nearly 40% of Americans used buy now, pay later financing for holiday gifts this year. This is up slightly from 37% in 2020. This financing was most common among parents with young children (64%), six-figure earners (61%) and millennials (60%).
Most holiday borrowers with debt put it on their credit cards (62%). Personal loans also remained a popular choice at 23%, though this was down from 27% in 2020.
82% of those with holiday debt won't pay it off within a month, but nearly 45% will try to consolidate their debt or open a balance transfer credit card. That could be a helpful solution for the 35% of borrowers paying above-average APRs.
36% of Americans acquired holiday debt in 2021
More Americans took on holiday debt this season (36%) than in 2020 (31%). However, despite a higher percentage of borrowers in 2021, the average holiday debt dropped 10% from 2020. This was a first for the holiday debt survey, which moved to LendingTree in 2021. The survey had been published on MagnifyMoney since 2015.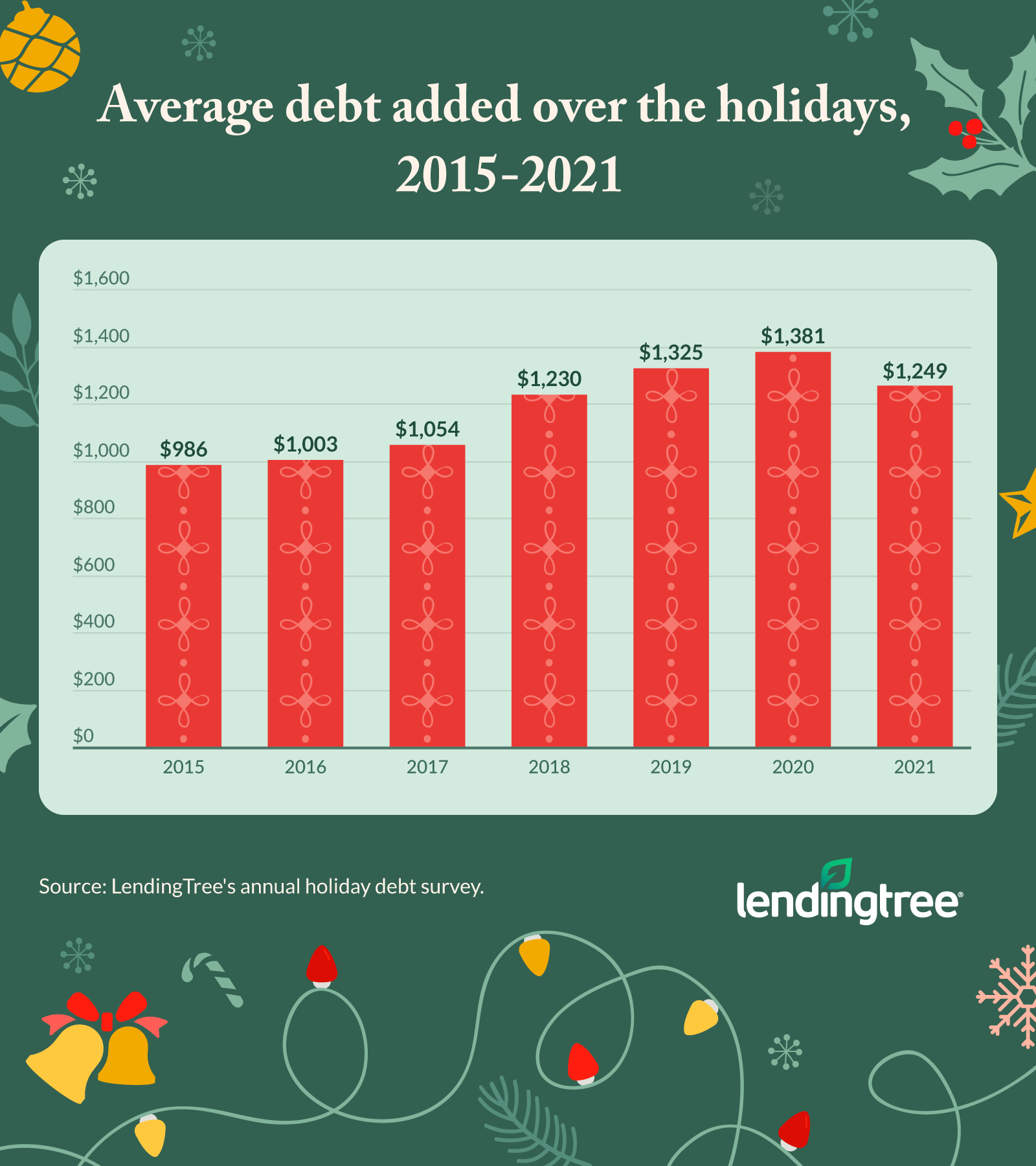 "There's a real divide in how Americans are feeling financially right now," says Matt Schulz, LendingTree chief credit analyst.
Those with the highest chance of incurring holiday debt were parents with children younger than 18 (54%) and millennials ages 25 to 40 (50%).
"The pressure on parents from kids, friends, relatives and from society in general to give until it hurts during the holidays is very real," Schulz says.
Meanwhile, he says, millennials are still paying off student loans and trying to put some money away, while generally living paycheck to paycheck.
"Millennials aren't college kids anymore," he says. "Many are getting married and starting families, and those things are really expensive. When you factor in inflation, it's an even bigger issue."
Meanwhile, baby boomers ages 56 to 75 (16%) and parents whose children are all 18 or older (23%) took on the least holiday debt.
Which Americans took on the most debt this holiday season
The two groups incurring the most holiday debt — parents with children younger than 18 and millennials — borrowed an average of $1,462. That's more than the average borrowed by all respondents, $1,249, but lower than that borrowed by men ($1,518, on average).
By age, the averages varied widely:
Gen Zers ages 18 to 24: $821
Millennials: $1,444
Gen Xers ages 41 to 55: $1,139
Baby boomers: $1,078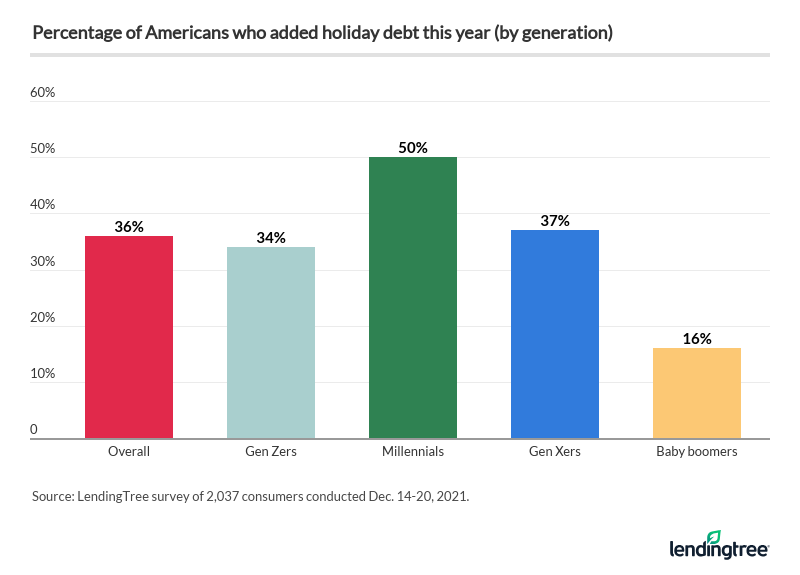 While many Americans have more cash in their checking and savings accounts than usual thanks to government relief and reduced spending, Schulz says they still might borrow out of habit or convenience. However, they may not need to borrow quite as much to put presents under the tree this Christmas.
On the other hand, Schulz says, many other Americans have been devastated financially by the pandemic. While those folks will still need to borrow during the holidays, they may not feel comfortable taking on as much debt as they have in past years.
Amid high averages, nearly half (47%) of those who took on holiday debt said they planned to do so.
Higher earners — likely not a surprise — were more likely to plan to take on debt.
Here's what that looked like:
Less than $35,000: 34%
$35,000 to $49,999: 34%
$50,000 to $74,999: 41%
$75,000 to $99,999: 62%
$100,000 or more: 65%
Meanwhile, debt-related stress plagued more than 50% of borrowers across all demographics, except for baby boomers and those with children all 18 or older.
Buy now, pay later financing popular this holiday season
Buy now, pay later (BNPL) financing programs continue to be a popular trend among consumers, especially during the holiday season.
Nearly 40% of American shoppers utilized BNPL to pay for holiday gifts this year. (Note that this percentage includes not only those who took on holiday debt this year, but also those who didn't.) This percentage increased slightly from 37% the year before.
The financing was most common among:
Parents with young children (64%)
Six-figure earners (61%)
Millennials (60%)
While some might find it surprising that higher-income earners were among those most likely to use BNPL, Schulz says it makes sense.
"High-income folks borrow, too," he says. "A large number of them have credit card debt, for example, so I'm not surprised that they've embraced BNPL."
It's easy to see why anyone — including those in higher income tax brackets — might find BNPL attractive, Schulz says.
"They're easy to get, give you a little bit of extra time to pay for something without any extra costs, are predictable and don't leave you in the end with a lot of extra credit that could become debt in the future," he says.
For more statistics, check out the LendingTree BNPL Tracker, which will be updated monthly.
Credit cards are most popular form of holiday debt
While BNPL financing remains a popular form of payment, the LendingTree survey showed that most borrowers put holiday debt on their credit cards (62%) — not including store credit cards.
Another popular choice, holiday personal loans, came in at 23%, though this figure dropped somewhat from 2020 (27%).
Other forms of popular debt this holiday season among borrowers included:
Buy now, pay later: 33%
Store credit cards: 27%
Payday/title loans: 13%
Borrowing from friends/family: 12%
Home equity loans: 9%
Other: 4%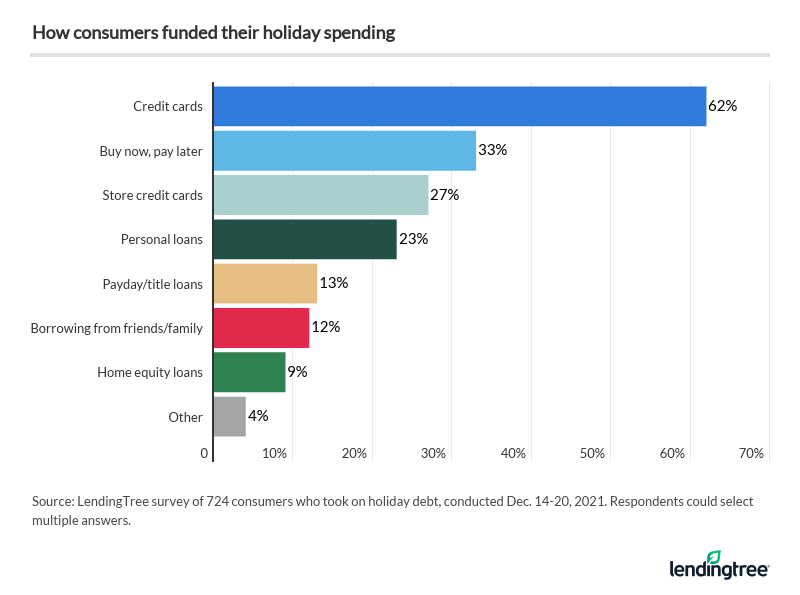 Unfortunately for 82% of borrowers, paying off holiday debt won't happen within one month. (The sweet spot for respondents was three months — 26%). Instead, nearly 45% will try to consolidate their debt or open a balance transfer credit card, including 77% of six-figure earners and 62% of parents with kids younger than 18.
These approaches can be good for the 35% of borrowers stuck paying above-average APRs. (The average APR offered with a new credit card is 19.55%.) The survey findings showed that 26% of respondents had an APR between 20% and 29%, while 9% had an APR higher than 30%.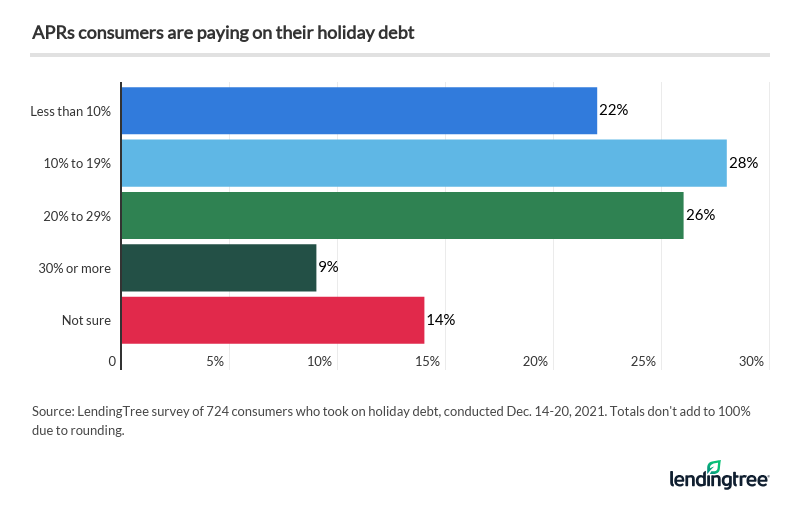 How to quickly pay off holiday debt
The holidays can be a special time to surprise your loved ones with gifts they might not have gotten for themselves due to the price tag. In fact, consumers reported that they spent the most money this holiday season on their spouse or significant other (34%). Others that received the most expensive gift included:
Children: 27%
Parents: 9%
Someone else: 7%
Friends: 7%
Grandchildren: 6%
Other family members: 6%
Siblings: 4%
While gifting your loved one with something can be emotionally satisfying, there's also the matter of paying off that present.
According to the survey, 45% of respondents said they wanted to consolidate their debt or shop around for a 0% balance transfer card. However, Schulz advises that paying off that holiday debt starts with a budget.
"You can't make a meaningful plan to tackle debt unless you know exactly how much money is coming in and going out of your household on a regular basis," he says. "Once you know that, you can take stock in your spending and shift things around to match your priorities, including freeing up money to pay down debt."
Here's what you need to know about 0% balance transfer credit cards and personal loans to pay off holiday debt:
0% balance transfer credit card: A 0% balance transfer credit card can be a huge help for folks managing holiday debt. These cards offer no-interest periods of up to 21 months — nearly two years — on transferred balances. That's a really big deal for some consumers. While there are fees, deadlines and other fine print to be aware of before applying, these cards can be helpful if used wisely.
Personal loan: A low-interest personal loan can be a great tool for debt consolidation and refinancing. You likely won't get 0% offers like you might with a credit card, but you could find rates that will be lower than those from a credit card if your credit is good. Plus, a personal loan allows you to consolidate multiple debts into a single payment, streamlining your finances.
Methodology
LendingTree commissioned Qualtrics to conduct an online survey of 2,037 U.S. consumers from Dec. 14-20, 2021. The survey was administered using a nonprobability-based sample, and quotas were used to ensure the sample base represented the overall population. All responses were reviewed by researchers for quality control.
We defined generations as the following ages in 2021:
Generation Z: 18 to 24
Millennial: 25 to 40
Generation X: 41 to 55
Baby boomer: 56 to 75
While the survey also included consumers from the silent generation (those 76 and older), the sample size was too small to include findings related to that group in the generational breakdowns.