How Does LendingTree Get Paid?
LendingTree is compensated by companies on this site and this compensation may impact how and where offers appear on this site (such as the order). LendingTree does not include all lenders, savings products, or loan options available in the marketplace.
Buy Now, Pay Later Statistics and Tracker: February 2023
Updated on: February 27th, 2023
Editorial Note: The content of this article is based on the author's opinions and recommendations alone. It may not have been reviewed, commissioned or otherwise endorsed by any of our network partners.
Buy now, pay later (BNPL) loans — also called point-of-sale loans — have gone from being largely unknown to a major retail force in a short period. But because of the relative newness of these installment loans, data about them can be difficult to come across.
This buy now, pay later loan statistics page is designed to track data — everything from how many Americans use them to how many merchants offer them.
The page also includes data from the monthly LendingTree BNPL Tracker in which we ask Americans if they plan to apply for a BNPL loan this month and how confident they feel about paying it off without missing a payment. We'll also ask how often consumers expect to apply for a BNPL loan in the next six months. The results will be posted every month. (See the tracker methodology below.)
We'll update this page as new data emerges.
On this page
How many Americans expect to use buy now, pay later loans this month?
Nearly 3 in 10 consumers (28%) said they were at least considering using a buy now, pay later (BNPL) loan this month, according to the February 2023 LendingTree BNPL Tracker. That's down 10 percentage points from January — the second biggest monthly decrease since we began tracking in December 2021 — and matches February 2022's 28% for the lowest total in BNPL Tracker history. This month's percentage includes 13% who said they would apply and 15% who said they might.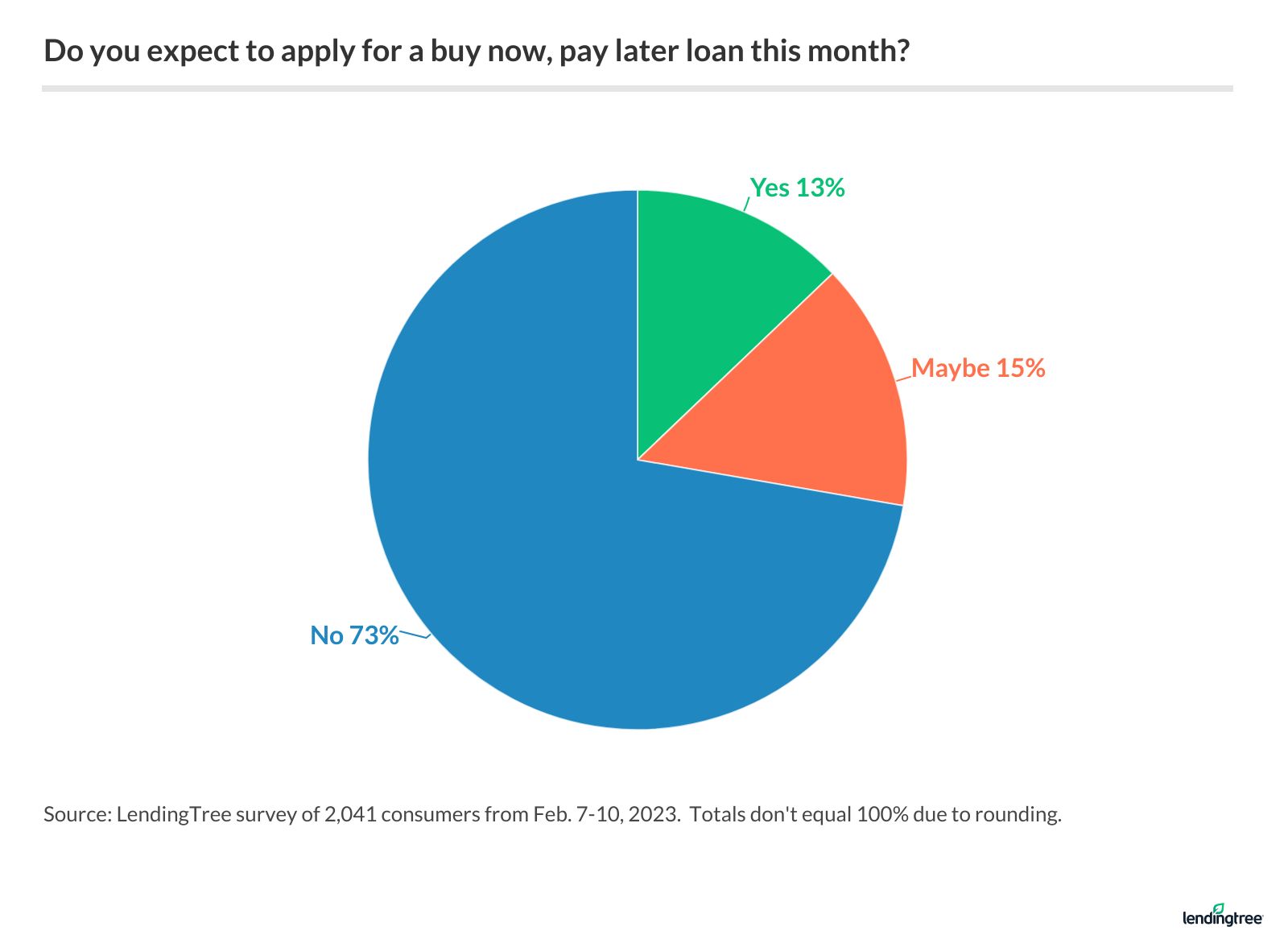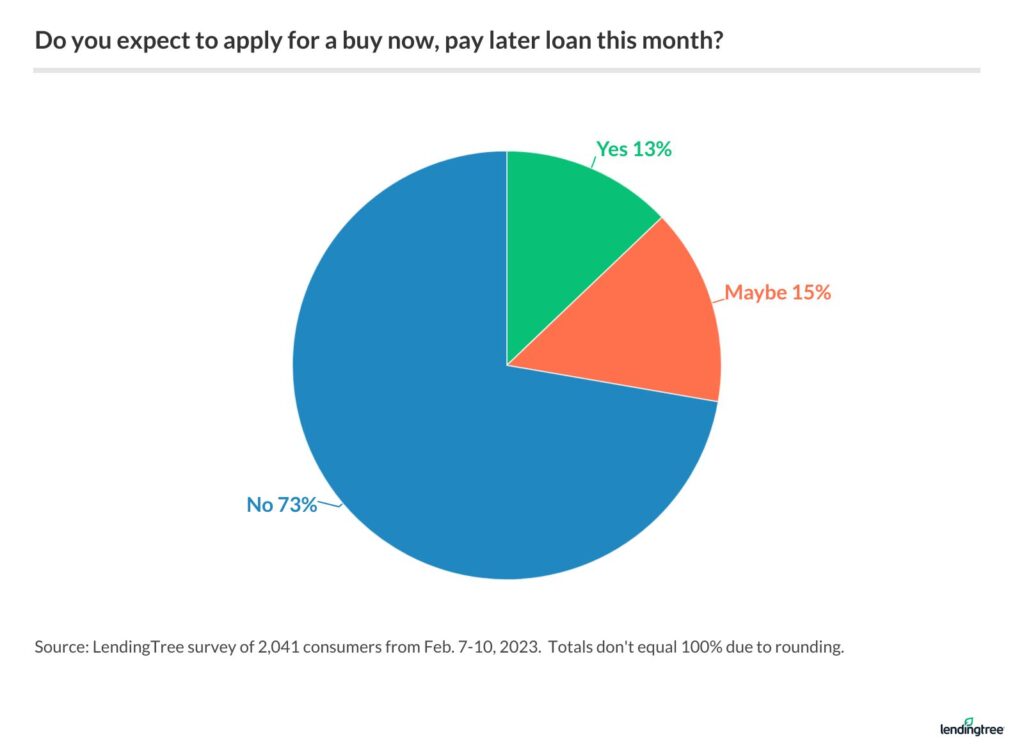 Additionally, 34% of Americans said they expect to apply for a BNPL loan at least once in the next six months — down 9 percentage points from January, the biggest monthly drop in tracker history. That 34% includes 9% who said they expect to do so at least three times in that period.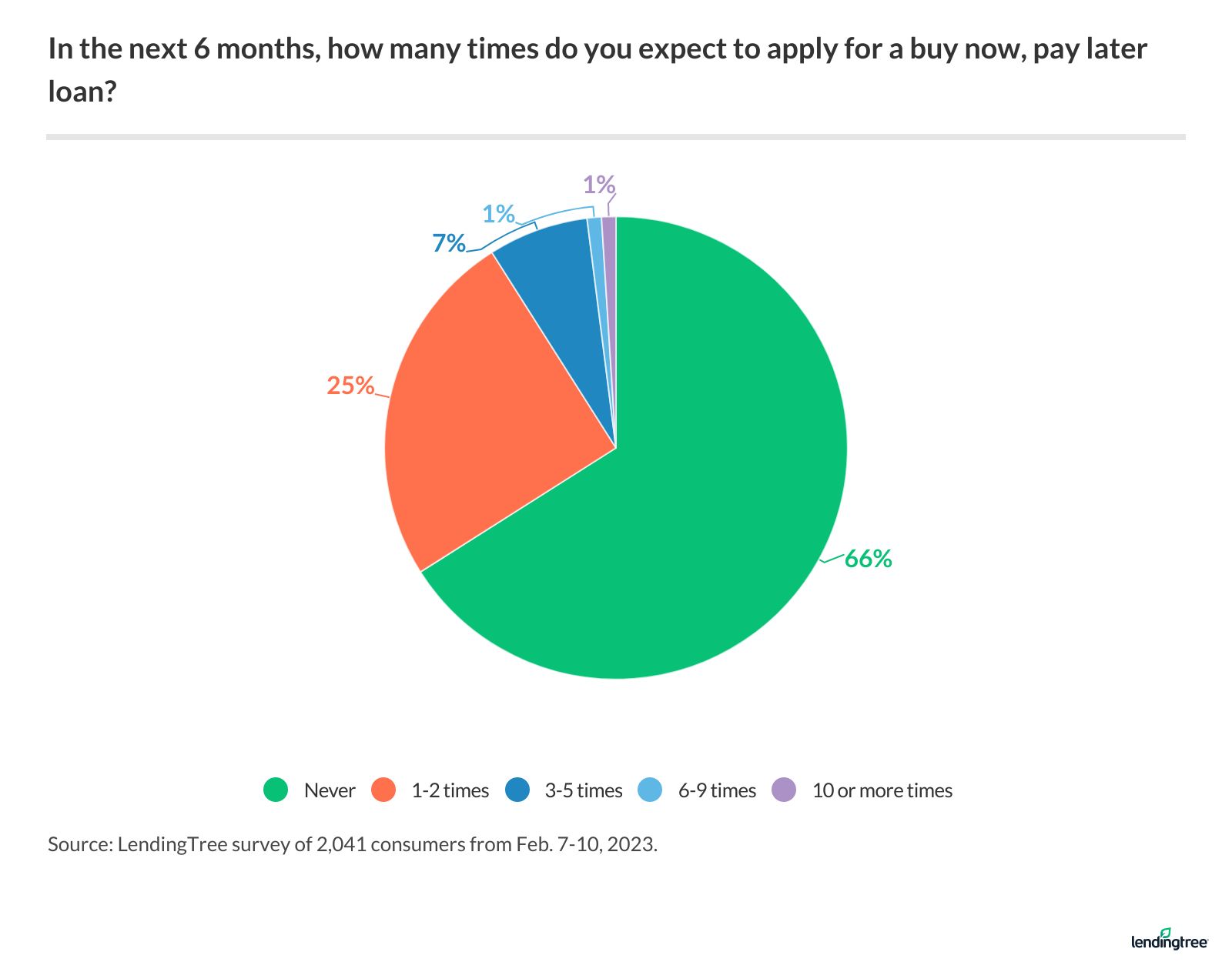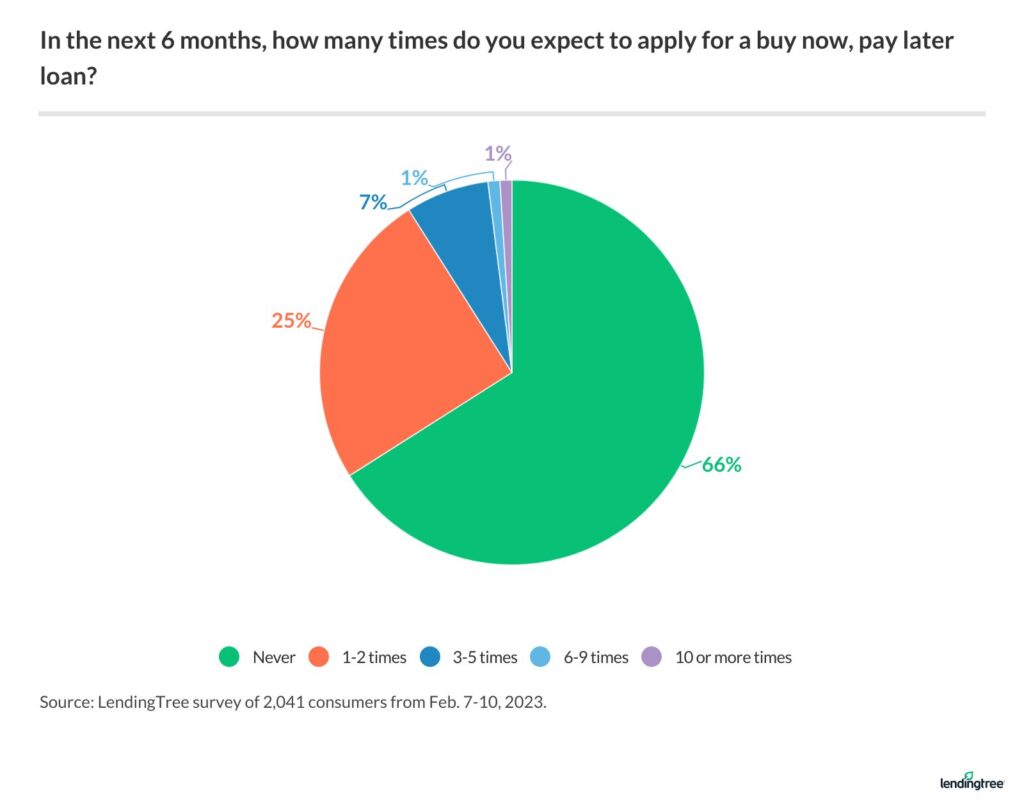 How many Americans have been late with a payment on a BNPL loan?
An April 2022 LendingTree survey on BNPL loan users found that more than 4 in 10 (42%) BNPL users made a late payment on one of those loans.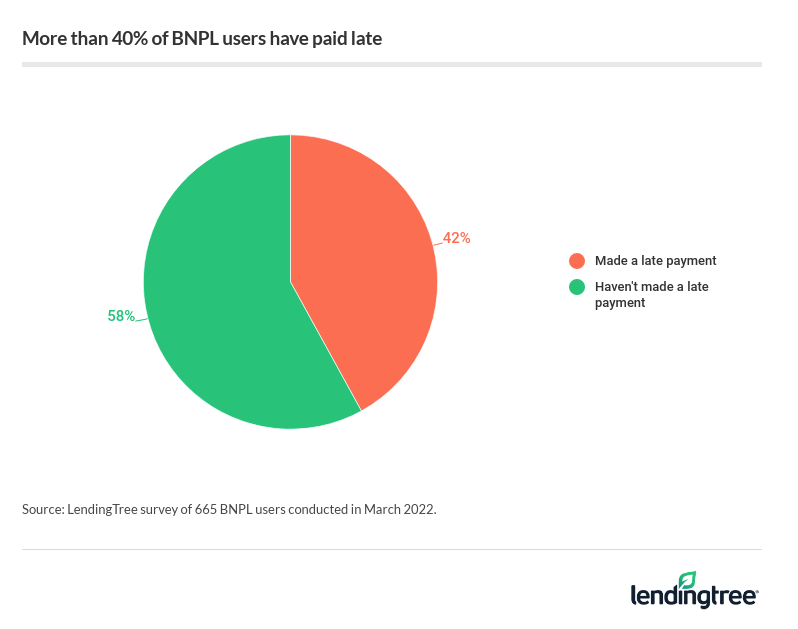 That's a big percentage. However, it makes sense based on consumer confidence levels in our monthly BNPL Tracker.
According to February's BNPL Tracker, 47% of respondents who were at least considering getting a BNPL loan this month said they were very confident they could pay off that loan without missing a payment. That's down 9 percentage points from January's 56%, which is the highest since we began tracking in December 2021.
Meanwhile, 34% said they were only somewhat confident, up 3 points from January.
While that adds up to 81% of people feeling at least some level of confidence about paying off BNPL loans on time, it still means a significant number of people take out these loans with some doubts on whether they'll be able to pay them back without incident. That's far from ideal.
Just 6% said they weren't confident (either somewhat or very), while 13% said they were neither confident nor unconfident.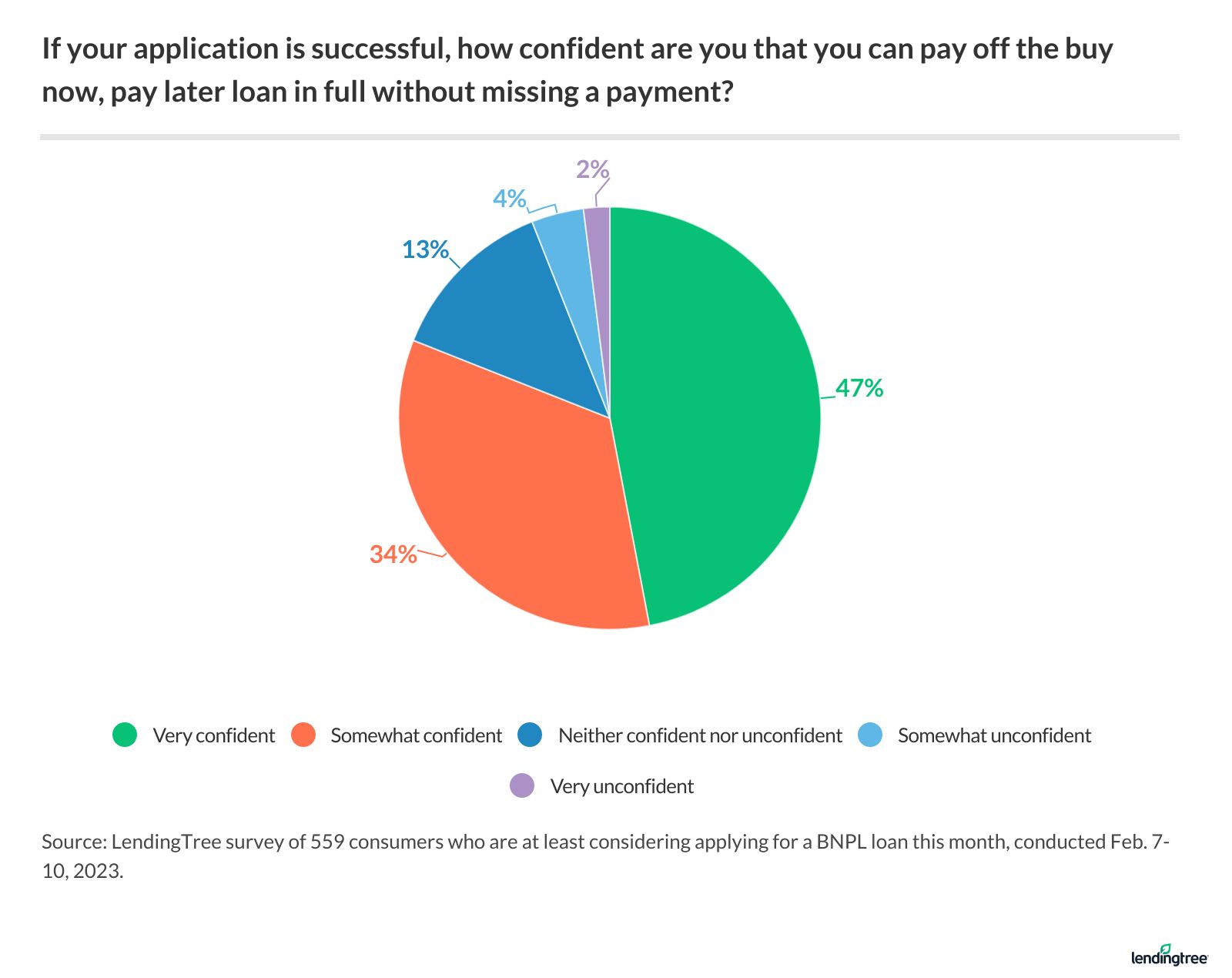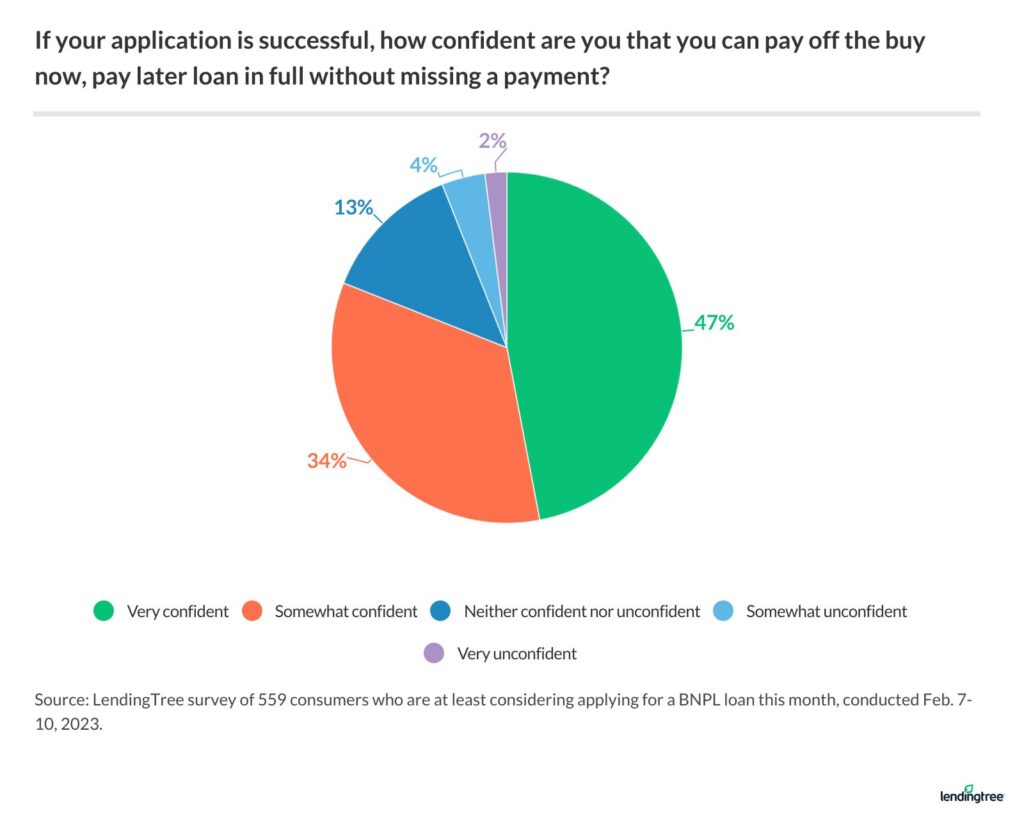 How many Americans have used buy now, pay later loans?
More than 4 in 10 (43%) Americans said they've used a BNPL service, according to the April 2022 survey from LendingTree.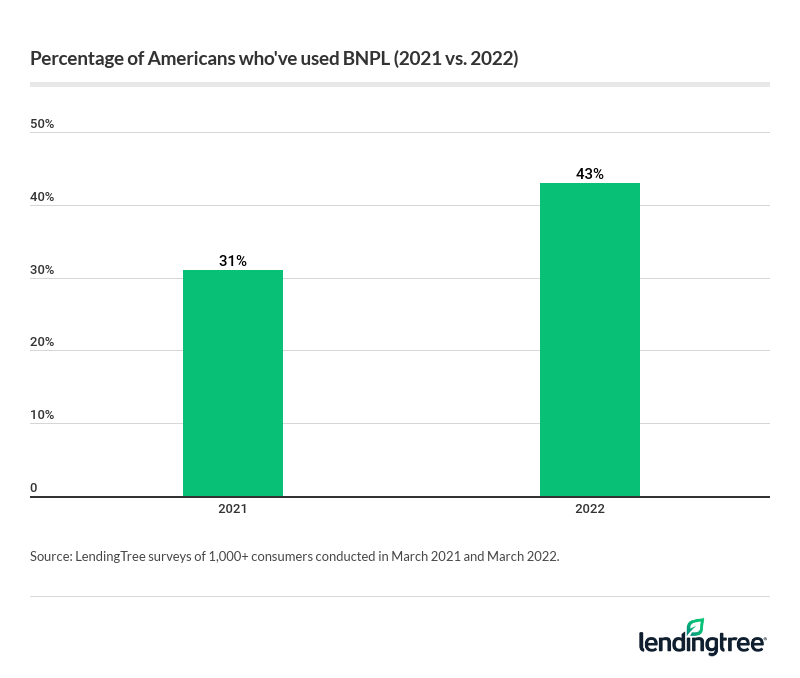 That's up from 31% just a year ago.
Meanwhile, the LendingTree BNPL Tracker shows that the monthly average of consumers who've expected to apply for a BNPL loan is 12%. Meanwhile, an average of 21% consider applying for one a month.
How often do people use buy now, pay later loans?
According to a LendingTree BNPL survey published in April 2021, 62% of those who've used BNPL loans have done so five or more times and 81% said they're likely to use it again.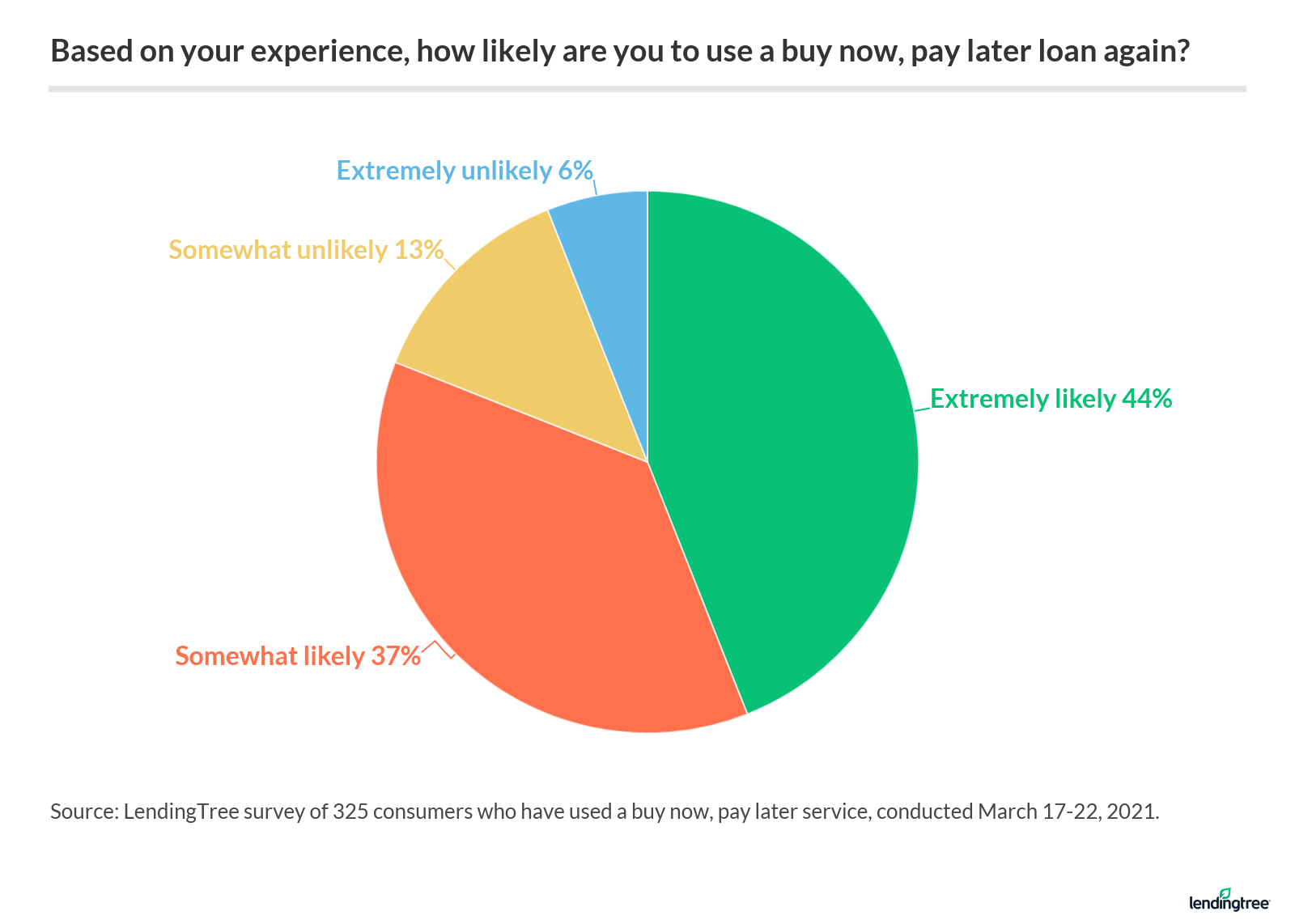 The COVID-19 pandemic did nothing to slow BNPL's growth, either: a December 2020 report from card-issuing platform Marqeta showed that 80% of those who've used BNPL loans before have increased their use of it since the pandemic began.
While veteran BNPL users continue to embrace these loans, other consumers are also interested in seeing what it's all about. According to a July 2021 McKinsey report, about 6 in 10 consumers said they're likely to use BNPL loans in the next six to 12 months.
Who is most likely to use buy now, pay later loans?
Women, Gen Zers (ages 18 to 25) and folks making between $50,000 and $74,999 a year were most likely to say they've used a BNPL loan.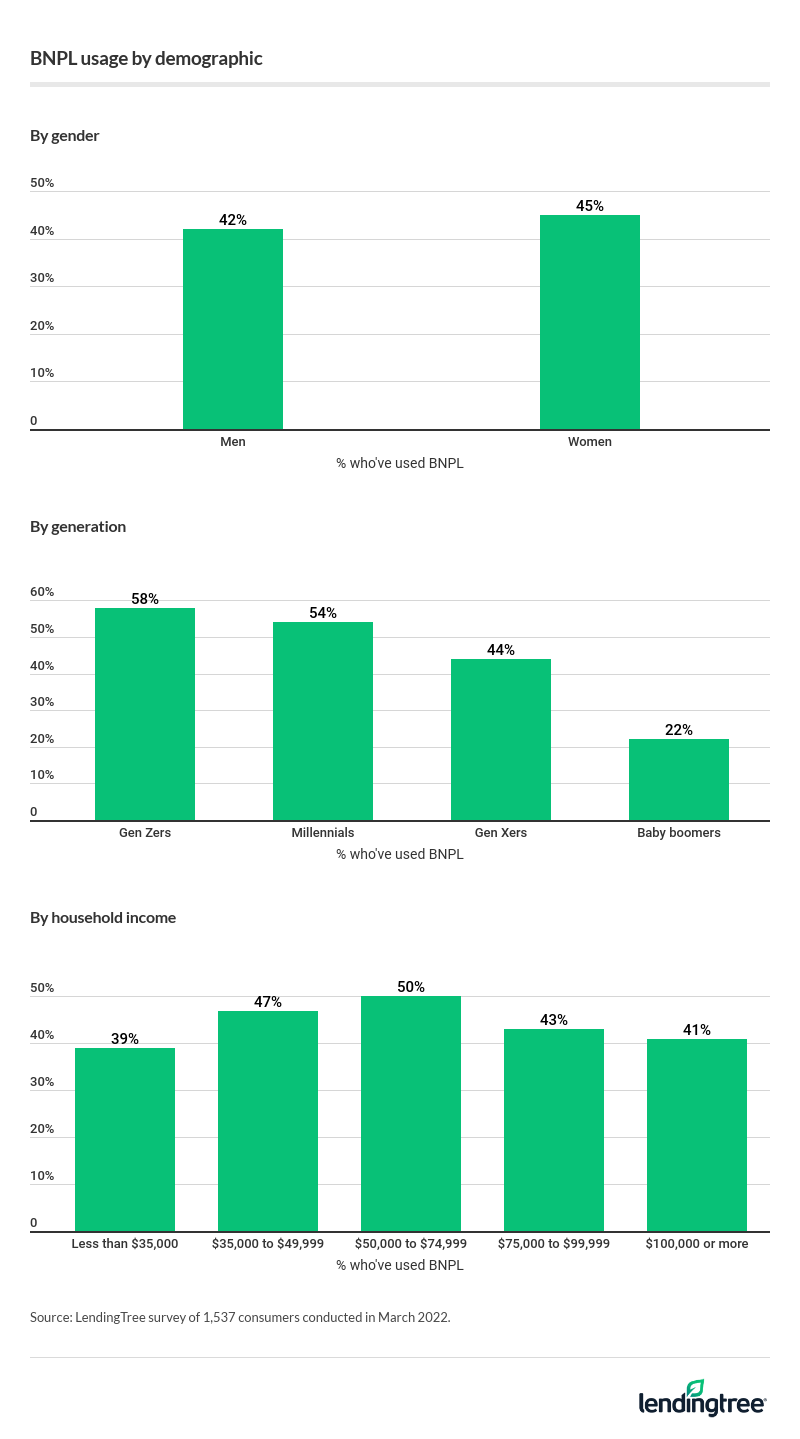 We've also seen major growth among other demographics. For example, more than 2 in 10 (22%) baby boomers (ages 57 to 76) said they'd used a BNPL loan, up from 9% the year before. In addition, about 4 in 10 people earning $35,000 or less a year have used one of these loans, up from just 19% last year.
When it comes to race, the monthly LendingTree BNPL Tracker has consistently shown since its debut in December 2021 that Black, Latino and Asian Americans are significantly more likely than white Americans to consider a BNPL loan.
From December 2021 through January 2023, an average of 30% of white Americans were at least considering applying for a BNPL loan per month, including 10% who said they definitely would apply. (Note: These averages don't include October 2022, when we didn't ask people to identify their ethnicity.)
Compare that to other groups:
Latino: 48% at least considering, including 17% who definitely will apply
Black: 48% at least considering, including 20% who definitely will apply
Asian: 45% at least considering, including 15% who definitely will apply
How much do people spend with buy now, pay later loans?
The average purchase amount of a BNPL loan is $149, according to Salesforce data reported by NBC News in November 2021. That's in line with data from Afterpay, which reveals that the average North American customer spends $150 per transaction.
However, there's no question that many folks borrow far more than that. In fact, according to the April 2021 LendingTree survey, just over 1 in 3 (34%) consumers who have used BNPL loans said they did so to buy things they otherwise wouldn't have been able to afford.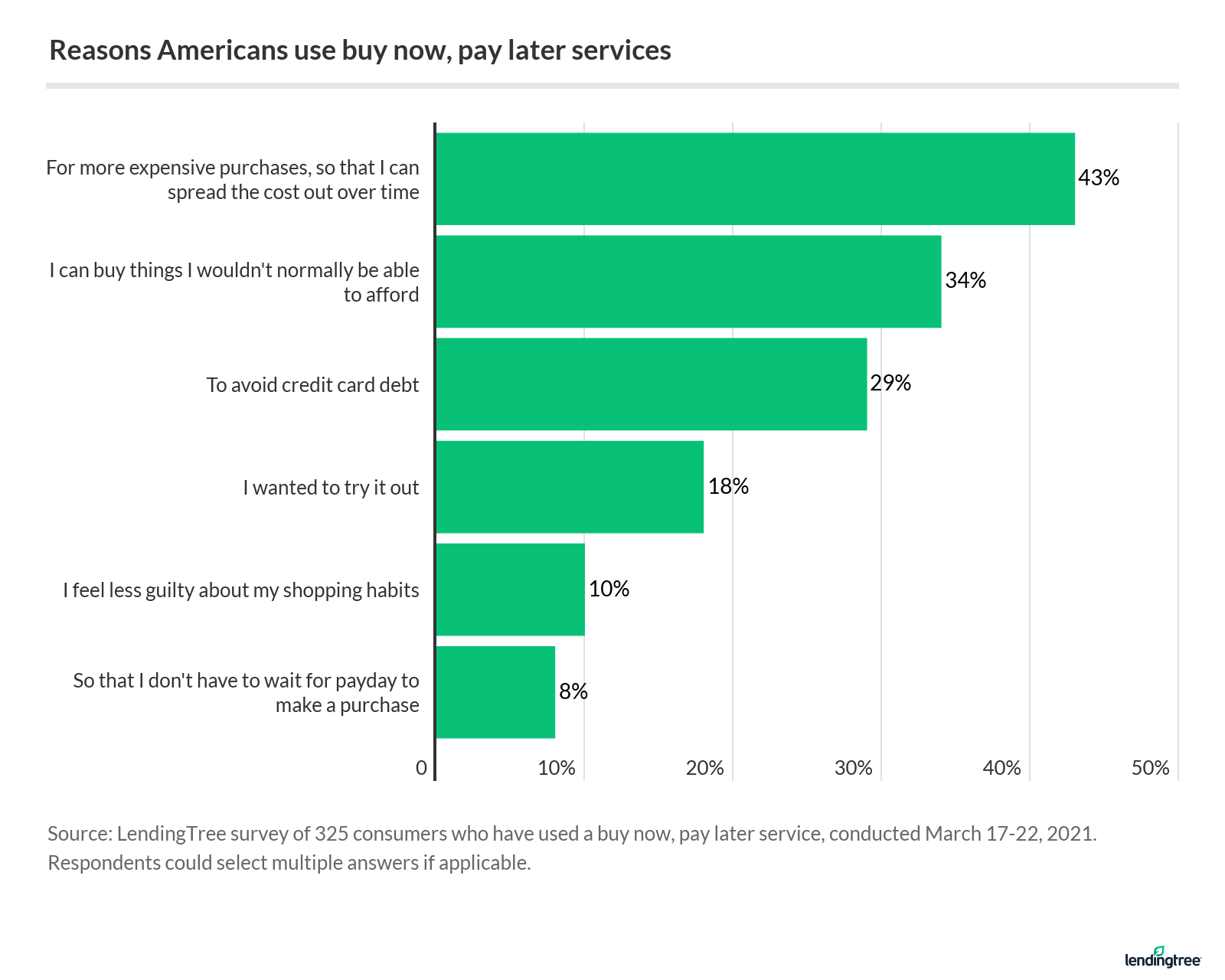 What are some of the most popular buy now, pay later apps?
PayPal, Afterpay,
Klarna
and Affirm are the most popular BNPL apps.
BNPL is a crowded field with many players, but these four were clearly among the most used, according to the April 2022 survey from LendingTree.
More than half of all BNPL users said they've used PayPal (55%), while 36% have used Afterpay, 30% have used Klarna and 27% have used Affirm. None of the other firms we asked about were used by more than 8% of respondents.
All four companies offer BNPL apps, but their services can also be used through web browsers — often through retailers' online checkout pages, thanks to partnerships with these retailers.
How many merchants in the U.S. accept buy now, pay later loans?
According to a report from BNPL service Zip, 25% of U.S. merchants accept BNPL loans. Among those that don't, nearly half (46%) said they're likely to start accepting BNPL payments in the next year.
As more and more customers learn about, use and embrace BNPL loans, companies will have no choice but to adapt to attract new customers and keep their existing ones.
What are the most common items people purchase with buy now, pay later loans?
Clothing and other fashion-related items are the most popular things to buy with BNPL loans, far outpacing technology (such as laptops and gaming systems) and home décor, furniture or appliances.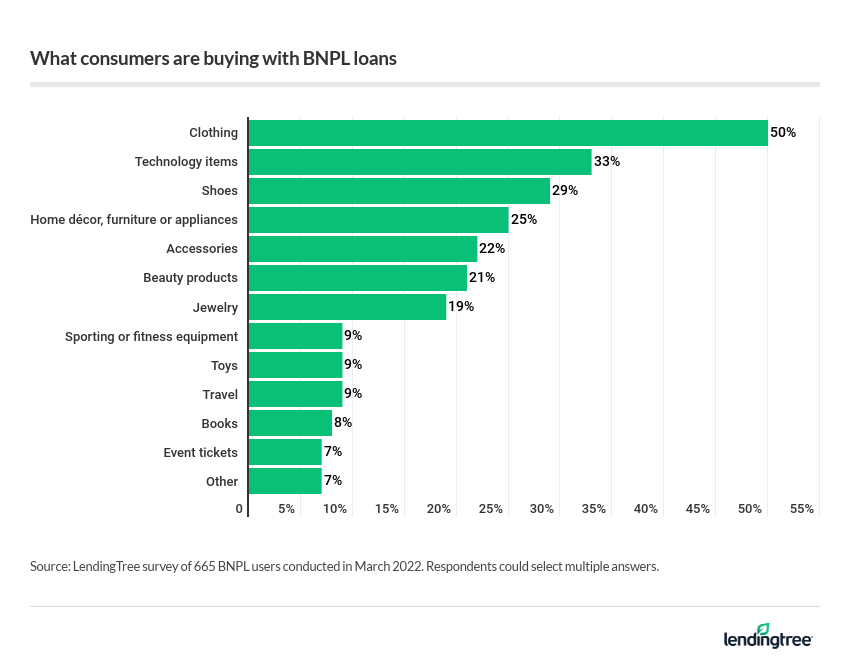 Half of all BNPL users said they'd used the loan to buy clothes, while 29% said they'd used one to buy shoes. An additional 22% had bought accessories and 19% had bought jewelry.
Given that, it's no surprise that BNPL has become a powerful force in the fashion space. BNPL loans make up an estimated 12% of all payments for online fashion retail in the U.S., according to a September 2021 Accenture study commissioned by Afterpay. It amounts to just 2% of online retail payments overall, but that's almost certain to climb soon.
The truth, however, is that almost anything can be bought with BNPL loans today.
How fast is buy now, pay later growing?
The number of BNPL users in the U.S. has shot up by more than 300% a year since 2018, according to the Accenture report.
That same report shows that U.S. spending on BNPL payments have jumped by 230% since the start of 2020 — what's more, it's expected to make up 10% of all e-commerce by 2024.
Additionally, slightly more than half (51%) of merchants that accept BNPL loans have signed up for the service in the past year, according to a Zip report.
That growth is being seen in all of BNPL's big players:
Klarna reported a 300% growth in users year to date through the first three quarters of 2021.
Affirm reported 124% in year-over-year growth in active customers in the third quarter of 2021.
PayPal reported that Black Friday 2021 buy now, pay later purchase volume was 400% higher than the previous year.
Sezzle's 2021 sales from Black Friday to Cyber Monday in the U.S. and Canada were up 53% year over year.
Afterpay saw 88% growth in active customers in North America in its 2021 fiscal year, which ended in June 2021.
This hockey-stick growth won't last forever. However, with more Americans discovering BNPL loans every day and many using them over and over again, it would be unwise to bet that interest in these types of loans will die down anytime soon.
What do you need to know before getting a buy now, pay later loan?
If you're one of the millions of Americans who tried BNPL loans for the first time in 2021 — or if you're among the millions more who were likely to try it in 2022 — here are some key things to keep in mind:
You may be asked to pay every two weeks. With most loans, consumers are required to pay monthly. However, with many BNPL loans — especially those of the "pay-in-four" variety — you'll be expected to pay every two weeks. Typically, BNPL lenders require you to connect a debit or credit card to your account when you first use it, so that payments can be pulled automatically when they're due. You'll need to make sure you have sufficient funds or available credit on the due date to ensure the automatic payment is successful.
Many (but not all) BNPL loans are interest-free. Pay-in-four BNPL loans are often interest-free if you pay them on time. However, longer-term buy now, pay later loans can have interest rates as high as 30%, rivaling the highest credit card rates. Make sure you understand the rates before you apply, because what you don't know can cost you.
Your credit may or may not be affected. Your mileage may vary greatly by lender when it comes to handling credit. That's true both in terms of approving folks for loans and reporting payment histories. Some require soft credit checks while others do nothing. Some will charge late fees and report missed payments to credit bureaus, while others won't — and it can sometimes be a challenge to find this information. BNPL loans aren't subject to specific disclosure requirements like credit cards, but it's worth your time to seek this information.
You have other options. Buy now, pay later loans can be great tools. They're often interest-free, with predictable payment schedules and no extras available that can draw people into debt — but they're not always the best option. Credit cards provide long-term available credit, typically more lucrative rewards and important consumer protections that BNPL doesn't. Zero-percent balance transfer cards and low-interest personal loans allow you to consolidate and refinance debts. Even store credit cards, when used wisely, can provide targeted rewards and discounts that can be a good deal for the right customer.
Don't rush into it. People make bad decisions when they're rushed and don't understand what they're getting into — and money is no exception. Before you apply for that BNPL loan, click the "learn more" or "more info" button on the retailer's checkout page. Make sure you understand the basics — interest rates, payment schedules, credit checks, fees — before you apply. You'll be glad you did.
LendingTree BNPL Tracker methodology
LendingTree commissioned Qualtrics to conduct an online survey of 2,041 consumers from Feb. 7-10, 2023. The survey was administered using a nonprobability-based sample, and quotas were used to ensure the sample base represented the overall population. All responses were reviewed by researchers for quality control.