How Does LendingTree Get Paid?
LendingTree is compensated by companies on this site and this compensation may impact how and where offers appear on this site (such as the order). LendingTree does not include all lenders, savings products, or loan options available in the marketplace.
|
Advertising Disclosure
LendingTree is an advertising-supported comparison service. The site features products from our partners as well as institutions which are not advertising partners. While we make an effort to include the best deals available to the general public, we make no warranty that such information represents all available products. We are compensated by companies on this site and this compensation may impact how and where offers appear on this site (such as the order).
Nearly Half of Americans Are Dreading The Holidays as Some Are Still Paying Off Last Year's Spending
Published on: November 2nd, 2021
Why use LendingTree?
We are committed to providing accurate content that helps you make informed money decisions. The content on this page has not been reviewed, approved or otherwise endorsed by any credit card issuer. We do maintain partnerships with some issuers, and our site may be compensated through those partnerships. Read our .
This year's upcoming holiday shopping season is filling nearly half of consumers with dread, according to a LendingTree survey of more than 2,000 Americans.
The main reasons why involve the anticipated costs of presents and festivities, as well as the pressure to purchase gifts. In fact, stress levels are so high that about a quarter of Americans say they're even losing sleep worrying about how they'll afford holiday spending this year.
See what else the survey revealed about 2021 holiday shopping sentiments, along with tips from our expert on how to avoid holiday debt this year.
Key findings
Nearly half (48%) of consumers are dreading the holidays due to the costs associated with them. Specifically, 40% are dreading Christmas and 13% are dreading Thanksgiving.
With this year's season looming, 13% of consumers are still paying off last year's holiday bills. The percentage is even higher among parents with young kids, with more than 1 in 5 still grappling with balances from last year's toy haul.
Debt expectations are up from last year, too, with 41% of Americans saying it's at least somewhat likely they'll incur holiday shopping debt this year, compared to 31% who said the same last year.
Gift-giving pressure is real, as per 40% of Americans who say they feel obligated to purchase gifts for at least one person, most commonly family (23%). Gen Zers and millennials are feeling pressure more than other age groups.
The stress level is so high that about a quarter (24%) of consumers say they are losing sleep worrying about how to pay for the holiday season. That jumps to 36% among parents with kids under 18.
On average, Americans plan to shell out $792 on gifts this holiday season. Parents with kids under 18 will expect to spend even more, up to $1,105 on average.
Nearly half are dreading the holidays
With this upcoming holiday season, 48% of Americans are feeling grinchy when it comes to holiday spending.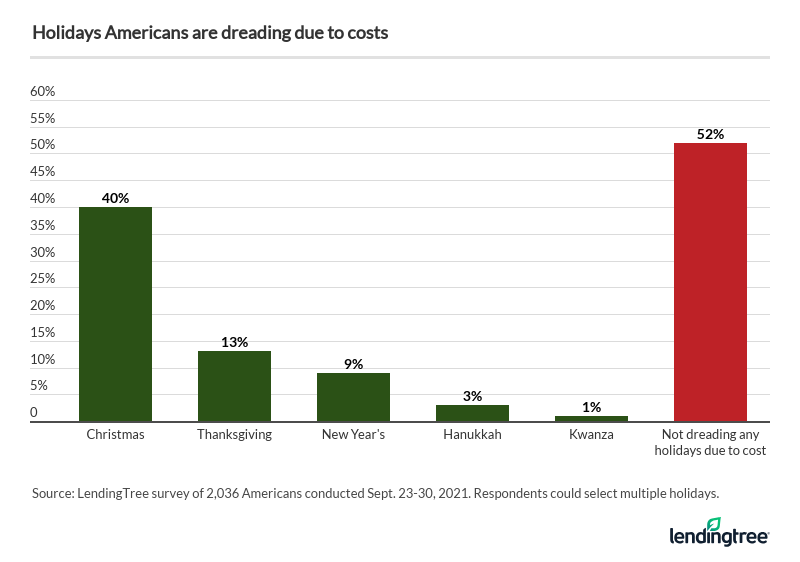 And it's not just your run-of-the-mill dread — nearly 1 in 4 consumers are losing sleep worrying about how to pay for the winter holiday season. This insomnia is worse among parents with kids under 18 (36%) and Gen Z (35%), and more pronounced in women versus men (27% versus 20%).
"It's definitely normal to dread the holidays because of how costly they are. However, there's no question that for some Americans, this holiday season will be even harder," says Matt Schulz, chief credit analyst at LendingTree.
Not only have millions had their financial lives flipped upside down by the pandemic, he explains, but this year has introduced a growth in inflation. "It's a really bad time to have everything cost more," he notes.
Not only that, but 13% of survey respondents say they're still paying off bills from last year's holiday spending.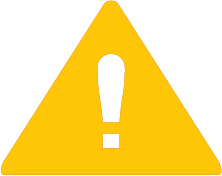 Tip: If you're still struggling to pay down last year's holiday debt, see if you can find a way to lower your interest rate, advises Schulz. "Zero-percent
balance transfer cards
are widely available for folks with good credit scores and come with offers of a year or longer without any interest on the transferred balance. That can be a godsend."
Or, just call your card issuer and ask for a lower rate: "It sounds far-fetched, but more than 80% of folks who asked for a lower interest rate last year got one, according to a LendingTree survey," says Schulz.
Even for those who don't have lingering bills from 2020, more people expect to rely on their plastic this year — debit cards and credit cards were the most popular methods of payment among survey respondents (47% and 39%, respectively).
More than 4 in 10 think they may incur holiday debt
The survey shows that 41% of Americans think it's at least somewhat likely they'll go into debt shopping for the holidays — this is up 10 percentage points from last year's survey.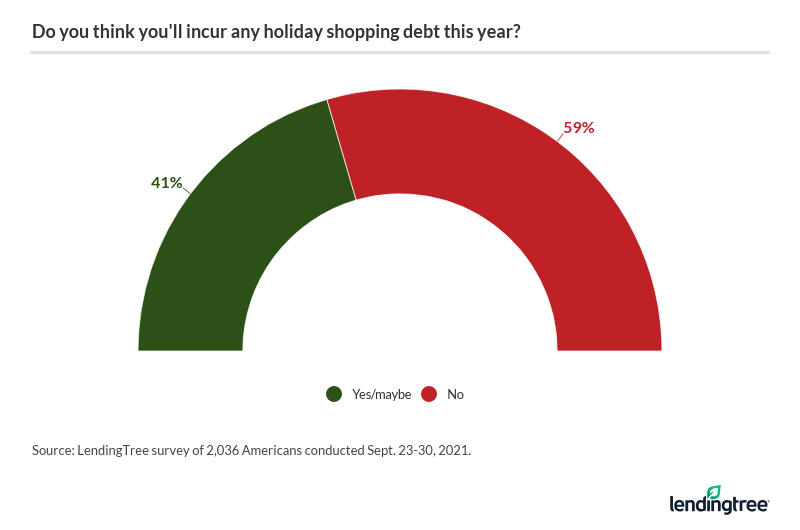 "I'm not surprised," says Schulz. "Millions of Americans have a razor-thin financial margin for error; inflation makes it even thinner."
So just how much do Americans plan to spend on holiday gifts? This year's average is $792, with some groups sharing higher spending expectations. For example, millennials anticipate spending $829 and boomers — possibly to spoil their grandkids — say they'll spend $803. There's also a big disparity between men who are prepared to shell out $895, compared to women who say they will spend $701.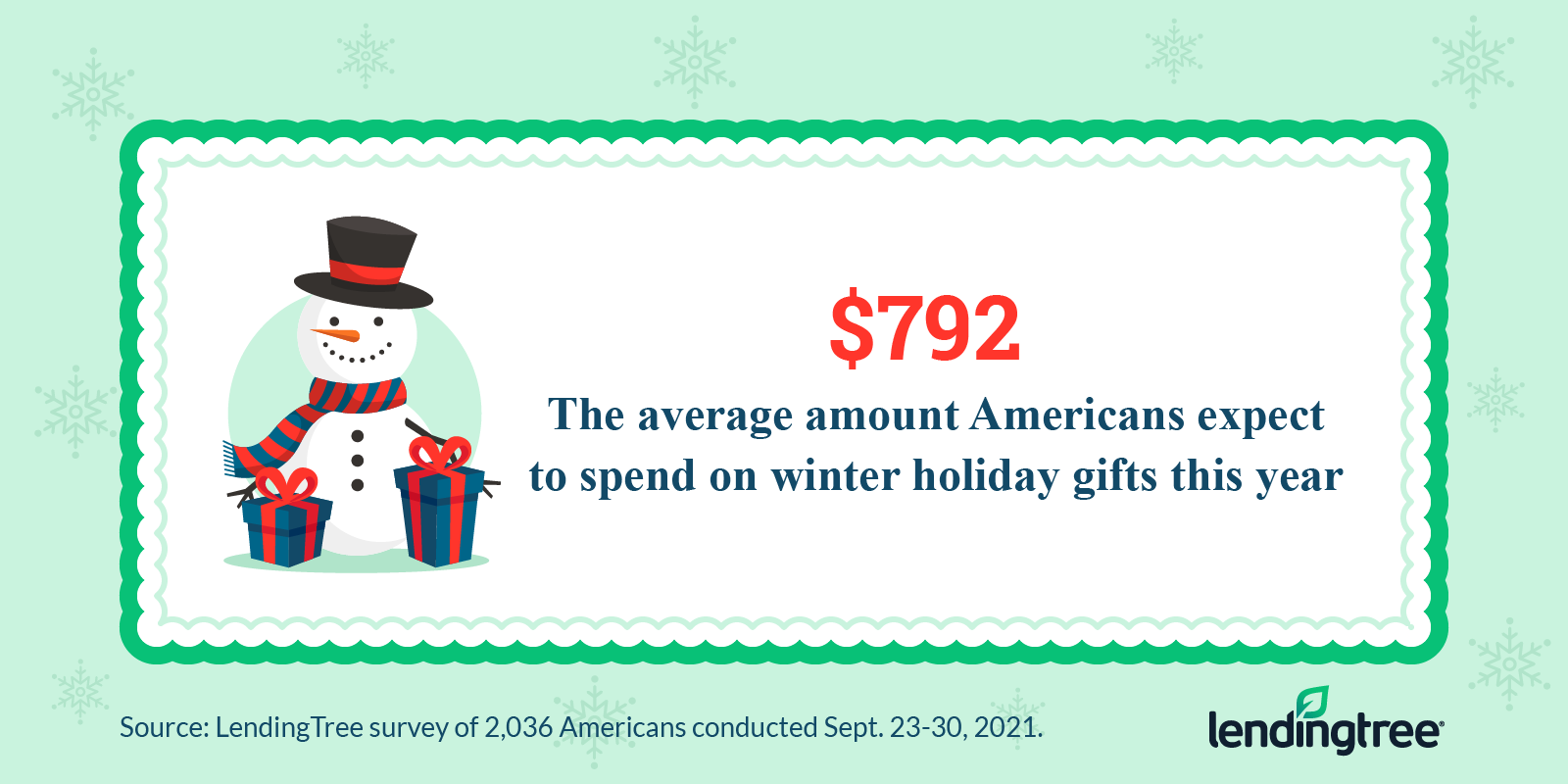 As for shoppers' preferred payment method, debit cards took the lead with 47%. (while just 39% will use a credit card). According to Schulz, this could mean potentially missing out on credit card rewards and other perks, though everyone would need to assess their personal situation.
"A credit card is usually the best choice for shopping, as rewards can help extend your budget. Purchase protection and other perks that come with the card can also prevent headaches if things go wrong," he says. However, anyone who doesn't feel comfortable using a credit card shouldn't use one, he added: "Credit cards are like knives. They're incredibly useful tools, but if you don't use them properly, you can really hurt yourself."
Consumers feel pressured to buy presents
Despite money worries, 40% of consumers say they feel pressured to buy gifts for someone. These include:
Family members: 23%
Romantic partner: 9%
Friends: 9%
Partner's family: 9%
In addition, some respondents listed their coworkers, bosses and childrens' teachers as other obligatory gift recipients on their list.
Gen Zers and millennials were the age groups most likely to feel gift-giving pressure (56% and 50%, respectively).
As for which gift recipients make the cut, here's who exactly is on Americans' shopping lists: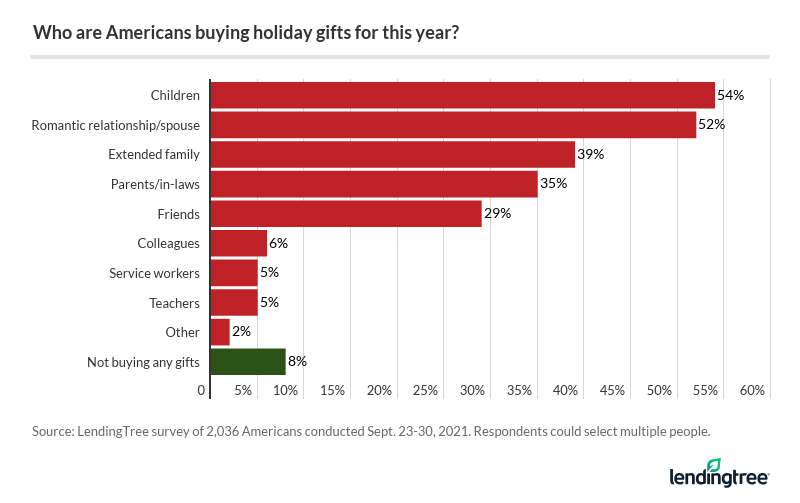 You'll notice that  millennials are most likely to buy for their romantic partners as compared to other groups, while Gen Zers splurge on their friends more than older generations. Baby boomers are most likely to share some holiday cheer with their mail carriers, hairdressers and other service providers, while Gen X is the group most likely to shop for kids.
Parents with young kids feel the most holiday pressure
It's not necessarily the "most wonderful time of the year" for parents with kids younger than 18 in the household.
For starters, they are the group with the highest percentage still paying off debt from 2020 (21% versus 13% of total respondents), and more than half (51%) expect to tack on more debt this year. More than a third of parents say they are losing sleep over affording the holidays (36%), while 59% expressed a sense of dread, much higher than any other cohort in the survey.
"The pressure on parents during the holidays is real," says Schulz, who is a parent himself. Besides getting bombarded with ads and social media posts about the hottest, must-have gifts and other parents bragging about what they got their kids, there's also the internal pressure.
"No parent wants to disappoint their kid, and many of us have thought of going overboard for the holiday to make up for the crummy past two years," he says. That all adds up to feeling compelled to spend more — even for those without the financial means.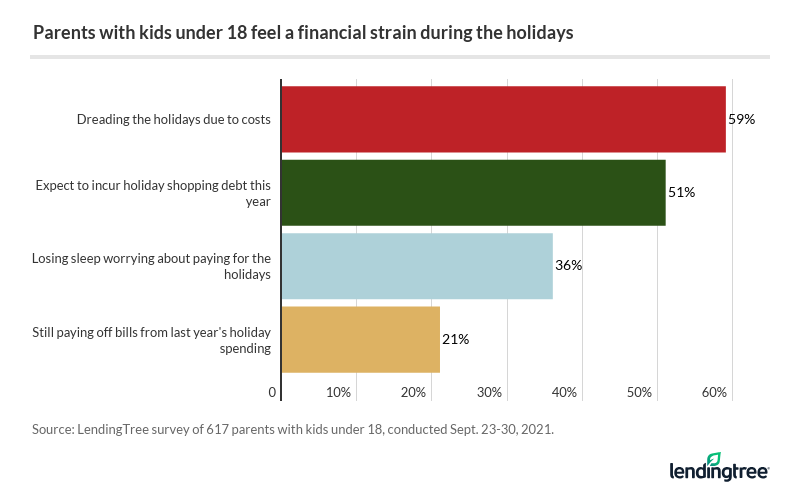 Most haven't started shopping yet
Perhaps part of the pressure that people are feeling is that nearly 70% of Americans haven't started their holiday shopping yet. This is a massive drop from last year, when only 48% hadn't started shopping around this time. (Note: Last year's survey was conducted one week later than this year's).
The other big shift is that consumers expect to do more in-store shopping this year. During the height of the pandemic in 2020, 54% of Americans planned to buy most of their gifts online. This year, that dropped to 42%.
5 ways to avoid holiday debt
Want to enter the holiday season with less dread and more joy? These shopping strategies can help relieve some of the financial pressure.
Maximize credit card rewards and points. If you're not using cashback credit card rewards or points to extend your holiday budget, you're doing yourself a disservice, says Schulz. For instance, you can shop with your cards, then redeem the points as statement credits against your purchases.
Consider a new card with a 0% introductory APR offer. If you have good credit, you could qualify for a card that lets you pay for new purchases with no interest for a year or more, says Schulz. Even better, if the card also has a good sign-up bonus, your holiday expenses can help you meet the spending requirements so you can earn a chunk of cash back or rewards.
Use plans that spread out your payment. Installment payment options are everywhere these days. "Whether they're the traditional special financing deals that promise 0% interest if paid off in three to six months or so-called buy now, pay later loans that are interest-free if paid off in about six weeks, lots of different options are out there," says Schulz. But proceed with caution: Make sure you understand the rates and fees associated with those offers and understand what can happen if you don't pay the balance before the promotional period ends.
Get creative. Handmade items, photo gifts or other low-cost sentimental ideas can be far more memorable than some generic store-bought thing, says Schulz. As for gatherings, do it pot-luck style, and try fun games like "Stealing Santa" or "Yankee Swap" that involve buying one gift instead of having a giant list to check off.
Communicate. "It's not exactly a secret that things have been incredibly difficult for many of us for the past two years, so don't be afraid to open up and tell folks that you had to dial things back a little this year," says Schulz. Just be open and upfront and chances are people will understand — even your kids.
Methodology
LendingTree commissioned Qualtrics to conduct an online survey of 2,036 U.S. consumers from Sept. 23 to Sept. 30, 2021. The survey was administered using a nonprobability-based sample, and quotas were used to ensure the sample base represented the overall population. All responses were reviewed by researchers for quality control.
We defined generations as the following ages in 2021:
Generation Z: 18 to 24
Millennial: 25 to 40
Generation X: 41 to 55
Baby boomer: 56 to 75
While the survey also included consumers from the silent generation (those 76 and older), the sample size was too small to include findings related to that group in the generational breakdowns.