How Does LendingTree Get Paid?
LendingTree is compensated by companies on this site and this compensation may impact how and where offers appear on this site (such as the order). LendingTree does not include all lenders, savings products, or loan options available in the marketplace.
61% of Americans Are Dreading the Holidays Due to Spending
Updated on:
Content was accurate at the time of publication.
It's the most wonderful time of the year, with holiday lights, festive food and drink, gifts and time spent with family. But the winter holidays are expensive, and that's putting a damper on things for most Americans.
A 2019 LendingTree survey found that 61% of Americans are dreading the holidays due to spending. Keep reading to learn more about how the holidays are affecting consumers financially and emotionally.
Key findings
61% of Americans are dreading the winter holidays due to spending, with 57% dreading Christmas specifically.
A typical consumer will spend an average of $602.65 on winter holiday gifts this year. That number skyrockets to $850.38 among parents with children under 18.
1 in 3 are losing sleep worrying about how they'll pay for the winter holidays, including about half of millennials and parents of kids under 18.
Millennials are experiencing more pressure than other generations, with 71% feeling obligated to purchase gifts this holiday season. Nearly 1 in 2 millennials said they want to give the "best" presents.
Parents are worried about disappointing their kids. Three in 4 parents of children under 18 feel pressured to spend on holiday gifts. While many indicated they're trying to spend less than last year, 69% say their kids won't be happy with that decision.
About a quarter of respondents expect to incur debt this holiday season, and nearly 1 in 5 are still paying off bills from last year's holidays. Millennials and parents of children under 18 are most likely to struggle repaying holiday debt one year later. Further, about 40% of them think they'll take on more debt this year.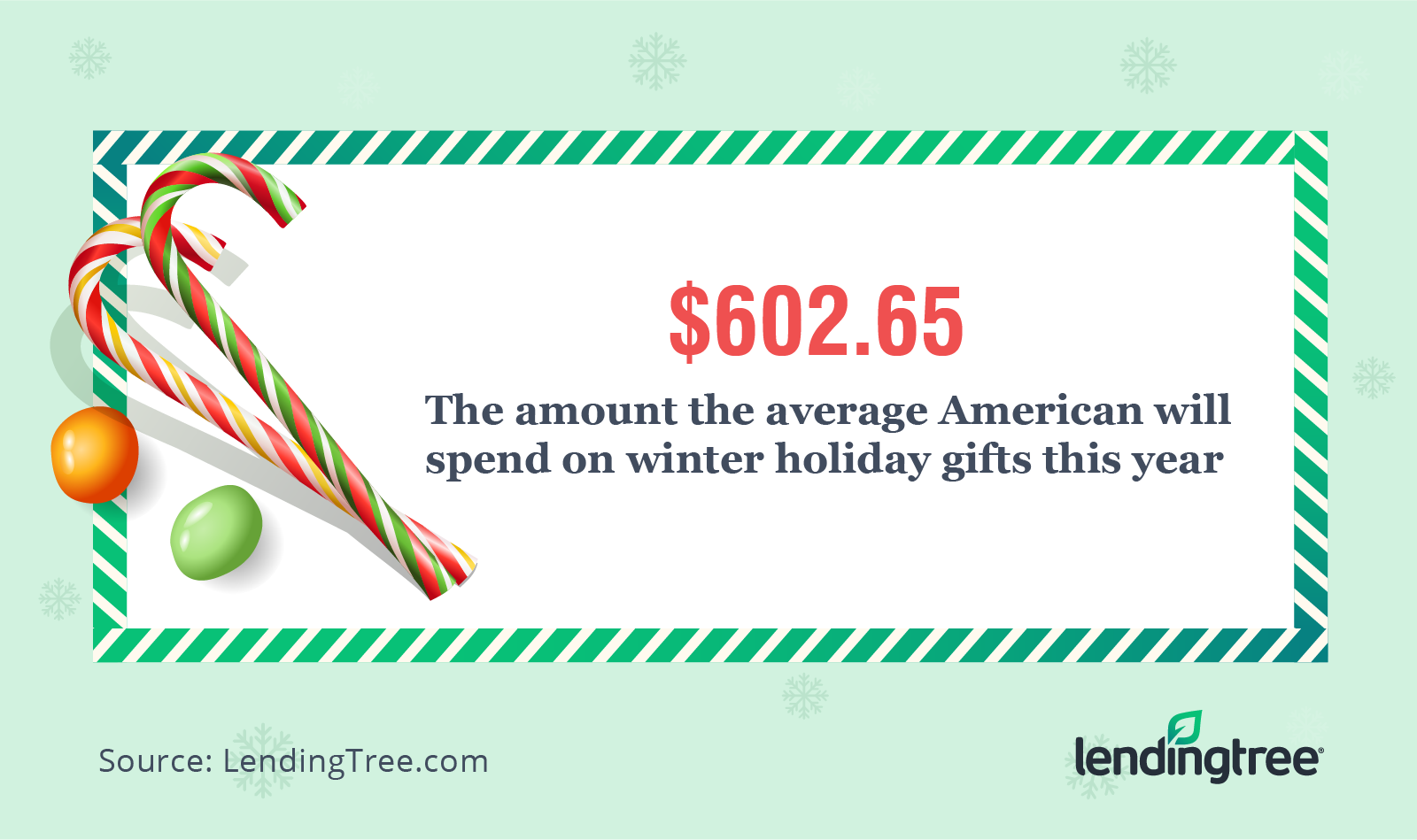 Americans feel pressured to buy gifts
The holiday guilt is arriving. Seventy-six percent of survey respondents said they felt pressure to buy gifts for their family. Unfortunately, these feelings could be leading to poor financial decisions: One in five reported that they're still paying off bills from last year's holiday season.
Overspending doesn't appear to be slowing down this year either. Twenty-five percent admitted they think they'll go into debt over upcoming holiday season spending.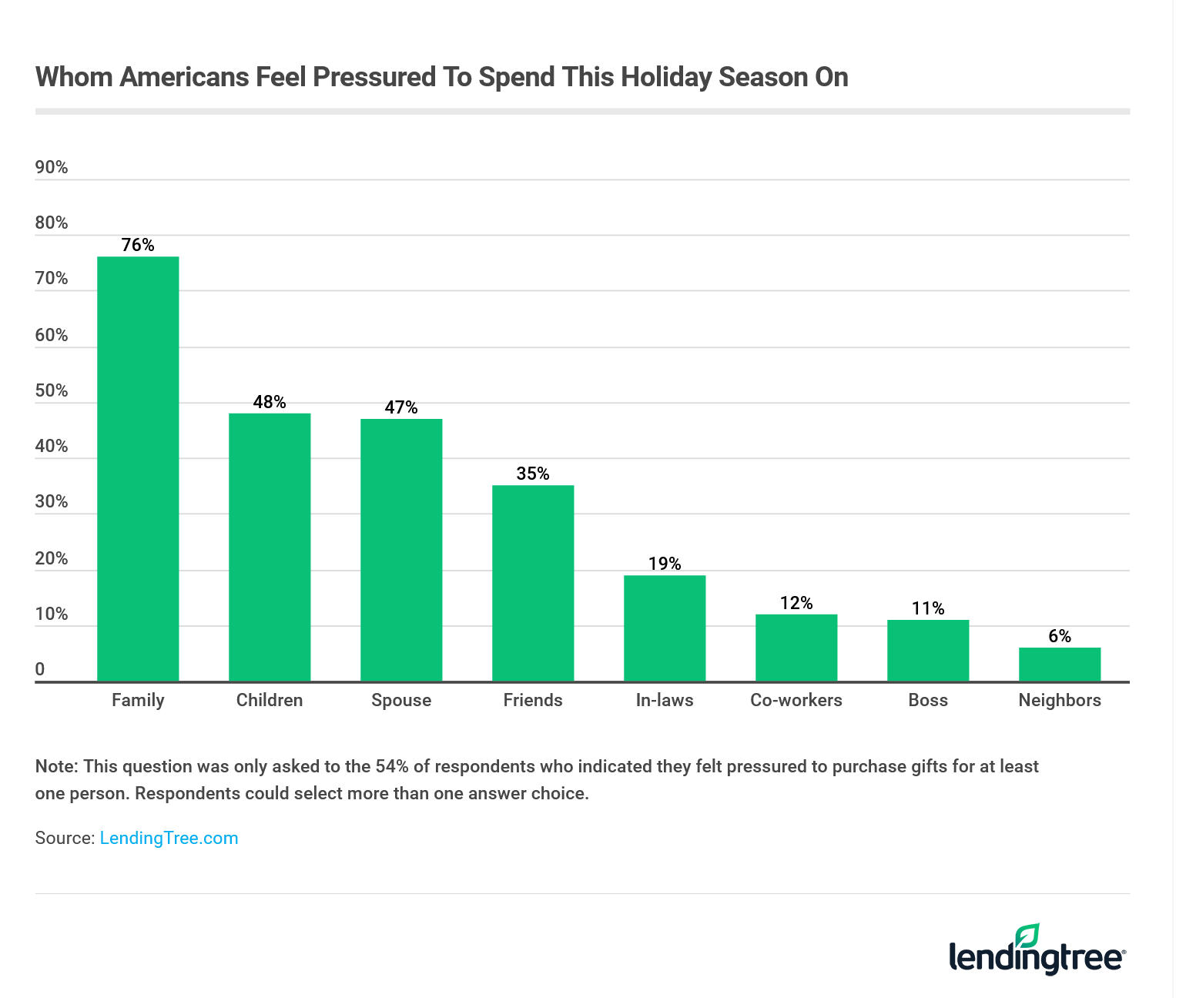 But pressure to buy gifts for friends, family and even co-workers isn't the only reason Americans will be spending big this year. A third of survey respondents said they feel competitive about gift giving and want to give the best presents.
Men, in particular, are more competitive over gift-giving, with 42% of them reporting wanting to give the best present compared with just 25% of women. Similarly, millennials are also intent on giving the best gifts. Almost half of millennials surveyed want to give the "best" presents.
Most parents don't want to disappoint their kids
The holiday season is a festive time to create memories with the kids, but parents are being hard on themselves. Sixty-nine percent of parents with children under the age of 18 are worried about disappointing them this holiday season, and a whopping 75% of parents reported feeling pressured to buy gifts.
The financial stress of the holidays may be taking a toll on parents, too. More than half reported losing sleep over holiday spending worries when surveyed in October. And 30% of parents with minors are still paying off debt from last winter.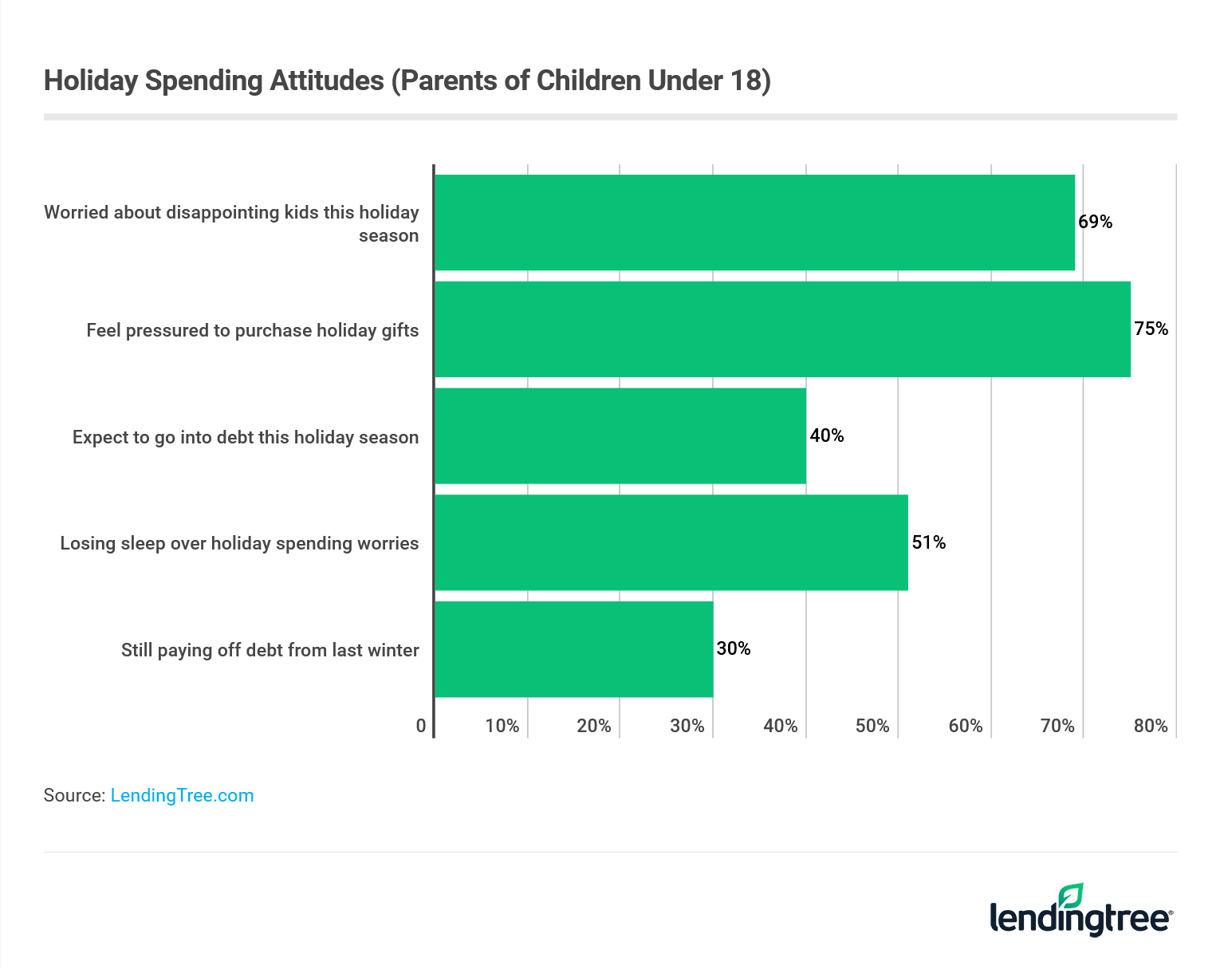 How each generation's spending habits vary
Young or old, the holidays are a magical time. But how much of a toll they take on you may depend on your generation.
Millennials in particular are feeling the winter holiday strain, especially when it comes to spending:
71% of millennials feel pressured to purchase gifts
36% expect to go into debt
50% are losing sleep over holiday spending worries
29% are still paying off debt from last holiday season
They topped each category, likely because they are now raising children and entering a time when they may buying a home, which can tighten their finances. On the flip side, financial stress surrounding holiday spending dipped significantly for Gen X — and even more so for baby boomers.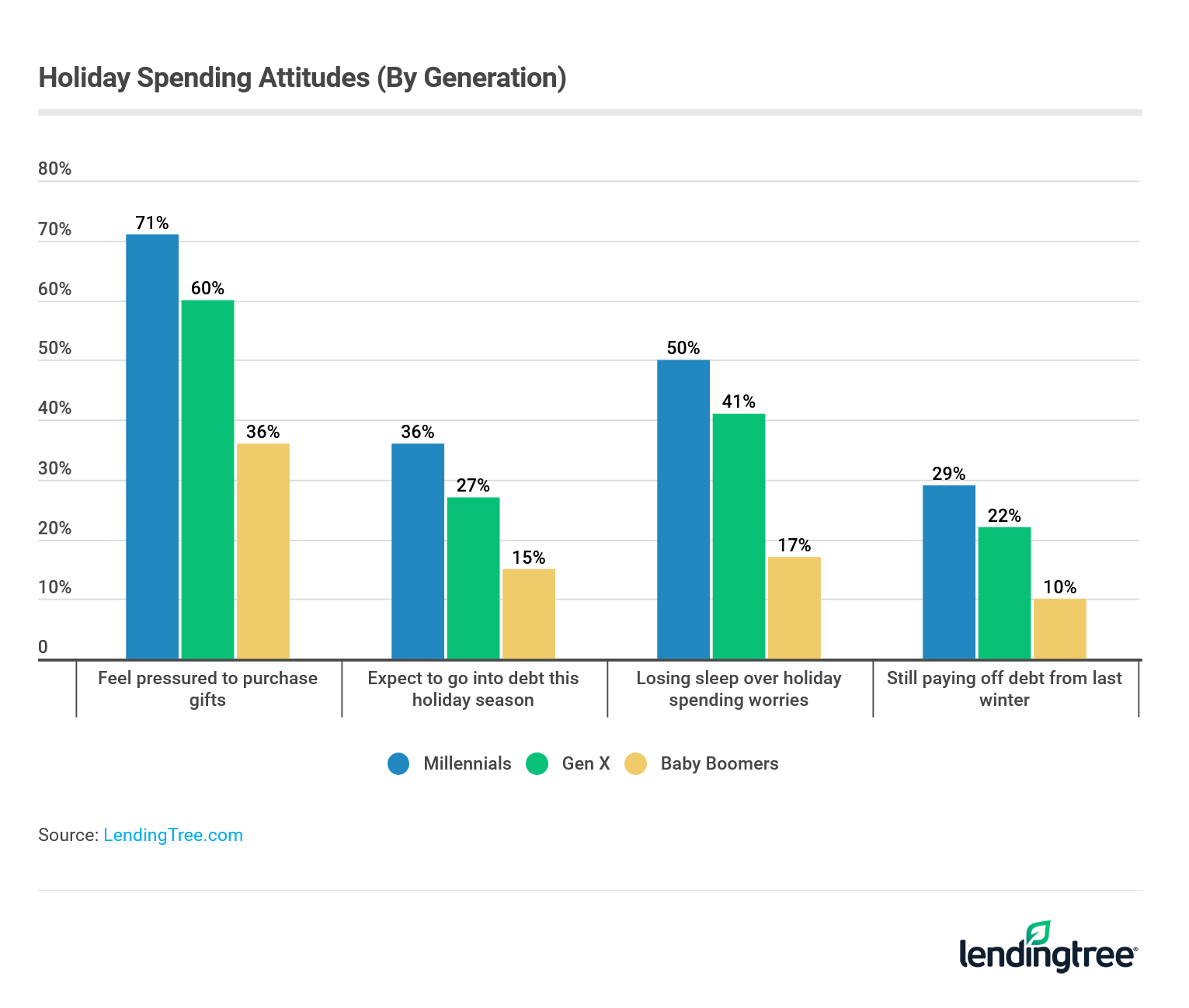 How to manage holiday spending
1. Cut back in other spending categories
Unless you budget for the holidays year-round (which is a great idea), chances are there isn't a giant hole in your monthly spending budget you can fill with extravagant gifts. You may need to cut back on your normal spending in order to accomodate the holiday season.
In order to avoid overspending during the holidays, many reported taking the following actions:
31% are giving up items for themselves
19% are saving less
15% are giving up a vacation
9% are ignoring debt obligations
9% are put off home repairs
8% are forgoing a major purchase
While cutting back on saving and ignoring debt obligations is never a good idea, some of these categories may inspire you to reduce your spending during the holiday season.
2. Set a holiday budget
It's easy to get swept up in winter holiday spending, but now's the time to set a budget and stick to it. The survey found that nearly three-quarters of Americans have some type of rule related to holiday spending:
26% reported spending specific amounts on each person
20% cut out spending entirely by having a "no present" rule with certain groups.
The desire to overspend is tempting, with 17% of respondents reporting spending more on those closest to them to show they care. But avoiding new debt over the holiday season is important. So take account of your regular income and spending, and figure out a reasonable amount of money you can accommodate for gifts, holiday travel and related spending.
3. Be honest with loved ones
Wanting to spend money on gifts for loved ones comes from a generous place. In an ideal world, you would shower your family and friends with lavish gifts during the holiday season. But if you can't keep up with holiday spending, it's worth having honest conversations with them about your budget. No one will begrudge you for not giving them expensive gifts.
Chances are, if you request to scale back, others will be happy to do the same. Consider setting a limit on how much you and your family can spend on gifts this year. Or request to not exchange gifts at all. Your time may be better spent with loved ones around the fire than at the mall anyway. Everyone will be happy to start the new year with a little extra money in their bank accounts.
4. Consider a holiday loan
A holiday loan is a personal loan that's issued by financial institutions such as banks, credit unions and online lenders that can be used to cover holiday expenses. For those with strong credit histories, personal loan interest rates will be lower than with a payday loan.
If you have bad credit, then you may find yourself looking at triple-digit interest rates. That being said, even with a higher interest rate, personal loans often have much longer repayment timelines than payday loans, which may cause you to fall into a cycle of debt.
Although a holiday loan can help cover the cost of travel, gifts and other holiday expenses, consider carefully whether taking out debt over the holidays is worth it. Keep in mind that this may be debt you carry well into next year's holiday season.
5. Get creative with gifting
Before you hit the mall, try finding creative solutions for spending less. Those surveyed had some creative solutions to curb holiday spending such as Secret Santa (18%), making presents instead of buying them (8%) and white elephant (8%). A white elephant gift exchange is a very affordable gifting option. Instead of purchasing a gift for everyone in the group, each individual only purchases one gift which is then entered into a gift exchange amongst the larger group.
Chat with your family, friends or co-workers about fun ways to spend less, spending limits or potentially not giving gifts at all.
6. Shop holiday sales smartly
You've seen how hectic holiday sales can get and you've probably shopped them before. Shopping sales can save a lot of money, but that doesn't mean you should go overboard. Don't get lured in by flashy sales during the holiday season. Write a shopping list and stick to it. Whatever strategy you take, don't buy something just because it seems like too good of a deal to resist.
7. Remember, choose quality not quantity
When it comes to picking out gifts, half of those surveyed said that quality is more important than quantity. Buying less will save you money, time and stress. A great bottle of wine, tickets to a local production or a book about a topic the gift receiver is passionate about will be just as appreciated as a pricey gift. A pair of cashmere gloves won't cost nearly as much as a cashmere sweater but still makes for a lovely gift — one that will surely be appreciated on chilly winter mornings.
Methodology
LendingTree commissioned Qualtrics to conduct an online survey of 1,248 Americans, with the sample base proportioned to represent the overall population. The survey was fielded Oct. 15-17, 2019.