How Does LendingTree Get Paid?
LendingTree is compensated by companies on this site and this compensation may impact how and where offers appear on this site (such as the order). LendingTree does not include all lenders, savings products, or loan options available in the marketplace.
Despite COVID-19 Crisis, 2020 Was Biggest Year for New Entrepreneurs
Updated on: April 5th, 2021
Why use LendingTree?
We are committed to providing accurate content that helps you make informed money decisions. Our partners have not commissioned or endorsed this content. Read our .
While many small businesses had to get creative to survive amid the coronavirus pandemic, others were being started in record numbers.
In fact, there were more business applications filed in 2020 than any year on record, according to U.S. Census Bureau data. New small businesses will have to lean on that creativity, too, as 20% of small businesses fail within the first year — and roughly 50% by the end of the fifth year.
Still, entrepreneurs across the U.S. saw something appealing about starting a business in 2020, despite the economic conditions. We'll break that down at the national, industry and statewide levels.
Key findings
More business applications were filed in 2020 than any year on record. More than 4.3 million business applications were filed in 2020, at least 843,000 more than the previous high of nearly 3.5 million in 2019.
July 2020 saw the largest number of business applications on record. More than 582,000 business applications were filed that month. The next highest months both came in 2020, too — September (more than 463,000) and August (more than 430,000).
Retail was the fastest-growing industry for small business applications between 2019 and 2020. The next fastest-growing industry was transporting and warehousing.
Entrepreneurs in the South seemed to be more bullish in 2020. Six of the 10 states with the biggest year-over-year growth in business applications in 2020 were in the South, led by Mississippi (60.7%), Georgia (56.7%) and Louisiana (54.9%).
Only three states — North Dakota, South Dakota and Alaska — saw a smaller percentage of business applications in 2020 than in the year before. The changes within the three states were -4.3%, -1.5% and -1.4%, respectively.
Entrepreneurs have persisted, even in the face of bad economic conditions
When the last recession hit at the end of 2007, the number of business applications took a hit for the first time on record (the data became available starting in July 2004).
In 2008, over 76,000 fewer business applications were filed than in the previous year. It wasn't until 2014 that the total number — nearly 2.7 million — surpassed the 2007 total.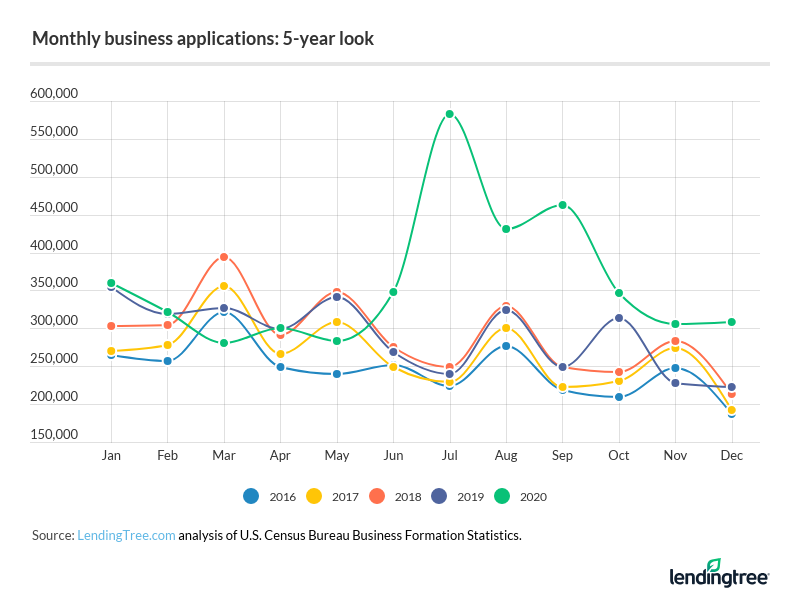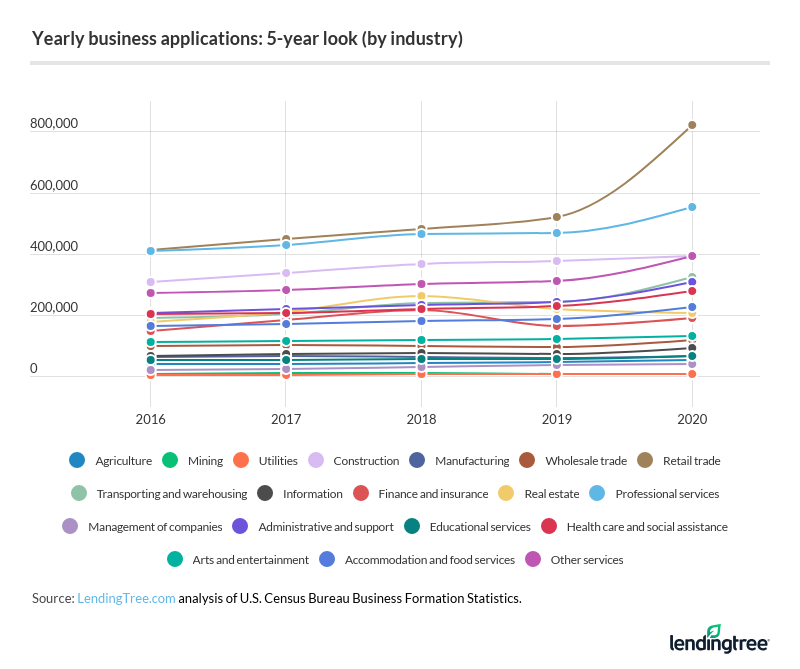 Since 2012, the number of business applications has risen yearly. After late 2016, when unemployment rates dropped — and stayed — below 5%, the number of business applications continued to rise:
2016: More than 2.9 million
2017: Nearly 3.2 million
2018: Nearly 3.5 million
Given that there seemed to be a connection between economic conditions and business applications, one might have expected an unemployment rate of 14.8% in April 2020 would have hampered business applications for a while.
But the opposite happened. In fact, just three months after the highest unemployment rate the country has seen since the Great Depression, entrepreneurs filed the most business applications on record. In July 2020, entrepreneurs filed more than 582,000 business applications.
This increase came amid unprecedented support from the government in the face of challenging economic conditions. With enhanced unemployment benefits and economic impact payments supporting Americans, the personal savings rate shot up. You'd have to go back to 1981 to find a time when Americans had a higher savings rate than they did in March 2020.
All the time spent inside — perhaps with more money saved — could have encouraged people with dreams of becoming an entrepreneur to go for it.
Note: While our research covered the period through December 2020, January 2021 (more than 497,500 business applications) would have been the second biggest month behind July 2020.
Retail was the business of choice for entrepreneurs in 2020
Entrepreneurs had strong preferences when it came to what type of business they were looking to start.
In 2019, there were about 520,000 applications filed to start retail businesses, but in 2020 that figure reached more than 822,000 — an increase of 58.2%.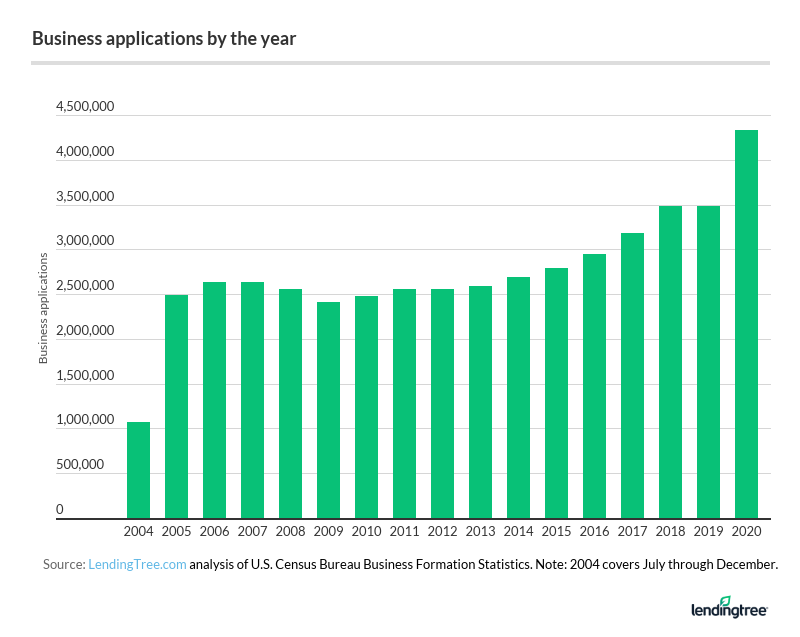 With businesses — especially retail businesses — being asked to respond to constantly changing rules around health and safety, it might be a little surprising that retail was the fastest-growing sector. But most of the industry growth came with nonstore retail, which includes retail businesses that people start from home.
Other industries that did well between 2019 and 2020 included:
Transporting and warehousing: 35% year-over-year growth, perhaps on the backs of people being home more and potentially getting more items delivered
Administrative and support businesses: 27% year-over-year growth
On the other hand, some industries have struggled for business growth. The number of applications for businesses in the mining sector was down 17% year over year, while the real estate sector was down 6%.
Study:
In December, LendingTree examined
high-propensity business applications
, meaning a higher likelihood of the businesses having employees. We found that only 35% of 2020 business applications through mid-October were from high-propensity businesses. It'll be interesting to watch the impact of these new businesses on America's entrepreneurship boom.
The South dominates the list of states with the largest year-over-year increases in business applications
While the early summer saw the biggest boom, the business application rush continued through the end of the year. Overall, 2020 saw 24% more business applications than 2019. But when looking at just November and December in both those years, the increase was 36%.
We also took a look at the states that saw the biggest year-over-year increases — or decreases — between 2020 and 2019. Here's what we found:
In Mississippi, prospective business owners filed more than 31,500 applications in 2019, but that number spiked to nearly 50,700 in 2020 — a jump of 60.7% (largest among the states).
Along with Mississippi, five other Southern states took spots in the top 10: Georgia (56.7%), Louisiana (54.9%), Alabama (40.5%), South Carolina (37.8%) and North Carolina (28.9%). Illinois (45%) was the only non-Southern state to crack the top five.
Meanwhile, North Dakota fared worst in our analysis. Overall, business applications dropped -4.3% in the state in 2020 compared to 2019.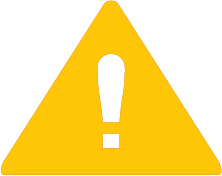 Tip:
A
business loan
can help new entrepreneurs get their idea off the ground if they're finding it difficult to raise or save money to start a business.
Methodology
LendingTree researchers analyzed U.S. Census Bureau Business Formation Statistics data to look at the total number of business applications that have been filed each year since 2004 — when the data first became available.
We also used the data to calculate year-over-year percentage changes in business applications by industry, and to find the states with the biggest shifts in business applications in 2020 relative to 2019.