How Does LendingTree Get Paid?
LendingTree is compensated by companies on this site and this compensation may impact how and where offers appear on this site (such as the order). LendingTree does not include all lenders, savings products, or loan options available in the marketplace.
Bad Credit Business Loans for 2021
Updated on: January 31st, 2021
Editorial Note: The content of this article is based on the author's opinions and recommendations alone. It may not have been previewed, commissioned or otherwise endorsed by any of our network partners.
Getting a business loan with impaired credit can feel nearly impossible — fortunately, there are bad credit business loans available to those with credit scores as low as 500.
Lenders use your score as a measure of creditworthiness — the higher the score, the more likely you are to pay back your loan, which means less risk for the lender. However, a personal credit score of 600 or lower is generally less desirable in the eyes of a lender. If you fall in that category, check out the following types of business financing that cater to bad-credit applicants.
Types of bad credit business loans to consider
Bad credit business loans can come in many forms, from traditional term loans to specialized equipment or invoice financing. These types of funding may have low credit requirements or options to offer collateral to reduce risk for the lender.
Your choices for bad credit business loans could include:
Term loans from alternative lenders: Online lenders are often more lenient in their business loan requirements than banks and may look at factors beyond credit score when evaluating applicants. In addition, the application and funding processes are typically quicker and simpler with alternative lenders than with their traditional counterparts. However, online lenders are known to charge high rates.
Secured loans: Business owners usually need to offer up valuable assets as collateral to obtain a secured business loan. This often makes it possible to get a secured loan with poor credit, as the lender can take the collateral to recoup some costs if the business defaults.
Cosigned loans: Businesses with bad credit may be able bring on a partner with good credit to cosign for a loan. The cosigner becomes responsible for the debt if the business defaults. It's a gamble for the cosigner, but can help a bad-credit business access cash.
Working capital loans: These short-term business loans are used to fund day-to-day operations. Working capital loans are quick to fund, and businesses don't typically need to meet many requirements — which may be ideal for bad-credit applicants.
Equipment financing: Equipment financing lets businesses buy expensive equipment like commercial machinery, vehicles or manufacturing tools by paying little by little over time (plus interest). Businesses with bad credit may be able to finance equipment because the equipment itself is used as collateral.
Invoice factoring: Invoice factoring, or accounts receivable financing, lets a business get cash immediately by selling its unpaid invoices to a factoring company. The business gets money up front (minus fees) and the factoring company collects on the invoices. Invoice factoring involves low risk for the lender because it's secured by your company's invoices.
Merchant cash advance: Businesses with bad credit may consider a merchant cash advance, as merchant cash advance providers are more interested in a company's sales figures than credit score. A merchant cash advance provides a lump sum of funding that is typically paid back daily through automatic deductions from the business's credit card and debit card sales. Since the payback is automatic, cash advance providers are guaranteed that money goes directly to them.
The drawback: No matter which bad credit business loan option you choose, prepare yourself to receive a high interest rate from your lender. Borrowers with credit scores below 600 typically don't receive the lowest rates. You may want to reevaluate an offer if the proposed interest rate makes the financing unaffordable.
Bad credit business loans: 5 top options
We've put together a list of some online lenders that approve business owners with low credit scores. To be included, lenders needed to meet the following criteria:
Minimum credit score no higher than 600.
Funding available in one to three days.
Loan amounts and requirements available online.
Small Business Loans for Bad Credit
Lender
Min. Credit Score
Loan Amount
Time to Funding After Approval
Credibly
500
Up to $400,000
1 business day
Fora Financial
500
$5,000 to $500,000
72 hours
BlueVine
530
85% to 90% of unpaid invoices, up to $5,000,000
1 business day
QuickBridge
525
$5,000 to $500,000
1 to 3 business days
Fundbox
600
Up to $150,000
2 business days
Credibly

Credibly offers working capital loans up to $400,000 for business owners with credit scores as low as 500. Additionally, you'd need:
At least six months in business
$15,000 in average monthly bank deposits
Credibly's working capital loans come with repayment terms between 6 and 18 months with automatic daily or weekly payments. Credibly uses factor rates to express interest, which are decimal figures rather than percentages; its factor rates start at 1.15. To find the cost of your loan, you would multiply your factor rate by your loan amount to calculate the total amount that you'd owe.
Credibly also charges a one-time loan origination fee of 2.50% of your total loan amount, which would be deducted from your funding. After you apply, you could be approved in as few as 24 hours and receive your loan as soon as the same day.
Fora Financial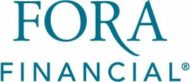 Fora Financial provides working capital loans between $5,000 and $500,000 and requires a minimum credit score of 500. Additional eligibility requirements include:
At least six months in business
$12,000 in gross monthly sales
No open bankruptcies
Repayment terms are from 4 to 15 months with daily or weekly payments. Similar to Credibly, Fora Financial uses factor rates to calculate interest, with its factor rates range from 1.10 to 1.40. This lender also charges a 2.50% loan origination fee.
After receiving your application, Fora Financial could approve you for funding in as few as 24 hours. From there, you could see loan funds in your account in at least 72 hours.
BlueVine

Invoice factoring from BlueVine is available up to $5,000,000 to B2B business owners with a credit score of 530 or higher. BlueVine also requires:
At least three months in business
$10,000 in monthly revenue
Eligible businesses could receive 80% to 95% of the value of unpaid invoices. Your customers would pay their invoices to BlueVine, then BlueVine would collect a fee and deposit the remaining amount in your account. BlueVine's weekly fee rates start at 0.25%.
When reviewing your application, BlueVine would consider the financial strength of your clients, since it would be collecting payments from those customers. You may be approved for funding based on your customers' payment history rather than your credit profile. BlueVine could approve your application for invoice factoring in as few as 24 hours and you could receive funds as quickly as one business day after approval.
QuickBridge
QuickBridge offers working capital loans, bridge loans and equipment financing between $5,000 and $500,000 to business owners with credit scores as low as 525. QuickBridge's additional eligibility requirements include:
At least one year in business
$150,000 in annual gross revenue
Loan repayment terms span a minimum of 4 to 18 months and a maximum of three to five years, depending on your loan details. QuickBridge does not publicly disclose interest rates, and while it  charges an origination fee, that amount is also not publicly available. If QuickBridge approves your application, you could receive your funds in one to three business days.
Fundbox

Business lines of credit are available from Fundbox up to $150,000 and require a minimum credit score of 600. Business owners must also meet the following eligibility requirements:
At least two to three months of transactions in a business bank account or financial activity in an accounting software
$100,000 in annual revenue, or, in some cases, projected annual revenue
After you make a withdrawal from your line of credit, Fundbox would collect payments on a 12- or 24-week schedule. As you repay your debt, your full credit limit would become available again. Fundbox would only apply interest to the amount you actually borrow, not your credit line as a whole. Rates start at 4.66% for 12-week payment terms and 8.99% for 24-week terms.
If approved, Fundbox should fund your line of credit within two business days. However, you could request next-day funding, as long as you do so before noon PST. Funding could take longer if you miss this cutoff, or if you make your request on a weekend or near a banking holiday.
How to get a business loan with bad credit
Getting a business loan with bad credit is a matter of finding financing with low eligibility requirements. Once you identify a lender that may accept your credit score, there are a few other steps to take to help you secure funding.
Calculate how much you could borrow
Consider using a business loan calculator to estimate how much you may be able to borrow based on your credit score, revenue and time in business. The amount you ultimately borrow would depend on a number of factors, such as the size of your payments. These payments — which could follow a daily, weekly or monthly schedule — would be based on your loan amount, interest rate and any additional fees a lender charges.
Business owners with low credit scores typically receive steep interest rates, so keep this in mind when deciding how much funding to request. Taking on debt that you can't afford to repay would only hurt your credit score further. Securing longer repayment terms could make your payments more affordable, but be careful not to end up paying an excessive amount of interest through the life of the loan. Short-term loans typically require high payments, but you may pay less in total interest.
Prepare your application documents
Even if a lender has a low minimum credit score requirement, they may still dig into financial documents like your business bank account statements and tax returns. Be prepared for a lender to ask for one or more of these documents:
Business and/or personal bank account statements
Business and/or personal tax returns
Business registration and licenses
Employer identification number (EIN)
Financial statements, including profit and loss, cash flow and balance sheet
A listing of business assets and liabilities
Information in these documents could offset your poor credit and help you appear trustworthy as a borrower. Plus, organizing your paperwork ahead of time could speed up the application and approval process.
Offer collateral to secure funding
Offering business assets as collateral could improve your chances of being approved for financing. Lenders can seize collateral to recoup losses if a borrower defaults, which reduces risk for the lender and gives the borrower a better shot at approval.
Acceptable forms of collateral could include hard assets such as equipment, fixtures, inventory or commercial property. Future earnings, such as accounts receivable and unpaid invoices, may also be used as collateral. Watch out for loans that may require you to pledge personal assets, such as your personal car or home, in addition to business assets as collateral to secure financing.
Understand your loan agreement
As mentioned earlier, business loans for bad credit applicants may come with high interest rates that can make the financing expensive. Make sure you understand other aspects of your business loan agreement to avoid surprises or penalties down the line. Review these key components of your loan agreement:
How much you'll be borrowing and repaying
The terms that determine your repayment schedule
Penalties for early or late payments
Whether a personal guaranty is required, which would make you personally responsible for the debt
If you're comfortable with the details in your business loan agreement, you're ready to move forward with your bad credit business loan.
Improve bad credit to get better business loans
There are many things you can do to build your score back up so that you can have your pick of business loans.
Pay your bills on time: Paying promptly (and early, if possible) will do wonders for your credit score. You don't need to pay the whole balance if you can't — just be sure you're meeting the minimum.
Reduce debt: Though paying the monthly minimum is good, getting all your debt paid down is better. And you don't have to do it in one fell swoop — watch your overall spending, and start putting any extra money towards the debt with the highest interest rate. Slowly, you'll bring your debt-to-credit ratio down, which will improve your score.
Renegotiate interest rates: Consider contacting your creditors to see if they'd be willing to negotiate the interest rate. You can also consider consolidating business debts for better interest rates.
Monitor your credit: Occasionally, a credit bureau will make an error on your credit report, so it's important that you check it to ensure a mistake is not pulling your score down. You can request a copy of your credit report directly from one of the credit bureaus, or you can subscribe to a credit monitoring service that will watch your score for you.
Watch your business credit. Your business also has business credit, which lenders could look at as well. Keep an eye on your business credit report to make sure similar mistakes have not been made. You can request a report from business credit bureaus, such as Dun & Bradstreet.
Get a business credit card. A business credit card may be easier to obtain than a business loan, as some cards don't have high credit requirements. Making successful, on-time credit card payments could also help you improve your personal credit score.
Whether you decide to get a business loan with bad credit or wait it out until you can improve your score, make sure you stay on top of your payments and keep your eye on your goals. Successfully managing any business loan, bad credit or not, will show lenders that you can handle debt. This will put you in a better position to access more options, and score your best rates and terms for any future financing needs.
Bad credit business loans FAQs
Can you get a business loan with bad credit?
Yes, you may be able to get a business loan if you have bad credit. Several alternative business lenders approve applicants with personal credit scores as low as 500. Make sure you meet a lender's additional requirements, which may include minimum time in business or annual revenue.
What credit score do I need to get a business loan?
Business lenders typically prefer to work with business owners who have a score of at least 600. However, some lenders may accept a score as low as 500. The lower a lender's credit score requirements, the higher interest rates may be for bad-credit borrowers. Watch out for high interest rates or fees when applying for bad credit business loans.
What types of business loans are best for bad credit?
Certain types of business financing are better suited for business owners with low credit, such as working capital loans, invoice factoring and merchant cash advances. Financing that requires collateral, like equipment or inventory, may also be easier to obtain because collateral reduces risk for lenders.