How Does LendingTree Get Paid?
LendingTree is compensated by companies on this site and this compensation may impact how and where offers appear on this site (such as the order). LendingTree does not include all lenders, savings products, or loan options available in the marketplace.
Credit Card Confidence Index
Updated on: November 28th, 2022
Editorial Note: The content of this article is based on the author's opinions and recommendations alone. It may not have been reviewed, commissioned or otherwise endorsed by any of our network partners. This site may be compensated through a credit card partnership.
How are Americans feeling about their ability to pay off their credit card bills?
That's what we track every month with the LendingTree Credit Card Confidence Index — our exclusive monthly look at the mindset and payment habits of American credit cardholders.
How the Credit Card Confidence Index works
Each month, we ask cardholders the following:
On a scale of 1 (not at all confident) to 5 (very confident), how confident are you that you can pay the monthly statement balance on all your credit cards in full this month?
How many times have you paid all your monthly statement balances in full in the past six months?
How often do you expect to do it in the next six months?
On that first question, those who rate their confidence a 4 or 5 are deemed confident, while those who say 1 or 2 are deemed not confident. That's how we get the short-term confidence percentage. (Example: If we say short-term confidence is at 63%, it means that 63% of cardholders surveyed rated their confidence as a 4 or 5 on that question.)
On the third question, we consider you confident if you say you expect to pay your monthly statement balances in full in at least five of the next six months. That's how we get our long-term confidence percentage. (Example: If we say that long-term confidence is at 52%, it means that 52% of cardholders surveyed said they expect to pay their monthly statement in full either five or six times in the next six months.)
We also ask those who say they're not confident in the long term why they feel that way. We present our findings, along with analysis on trends and how they fit in the general context of the economy as a whole, each month in this Credit Card Confidence Index.
The latest: Cardholder confidence falls to lowest level since June
Credit cardholder confidence plunges for the third straight November, falling to its lowest level since June.
Key findings
Short-term confidence falls: 55% of cardholders say they're confident in their ability to pay their credit cards' monthly statement in full this month. That's a 9 percentage point decrease from October and is the lowest rate since just 53% were confident in June 2022.
Nasty November strikes again: Short-term confidence has fallen by at least 9 percentage points in each of the past three Novembers. In the four-plus-year history of the index, there have only been two other declines of that size — down 10 points in June 2022 and down 9 points in February 2019.
Inflation plays a major role in decline: 46% of those who say they aren't confident blamed inflation for making it harder to pay their bills. That's up 6 percentage points from October.
Longer-term confidence plunges, too: Just 43% of cardholders say they expect to pay their credit cards' monthly statement balances in full in at least five of the next six months — our measuring stick for long-term cardholder confidence. That's down 8 percentage points from October and is also the lowest percentage since June.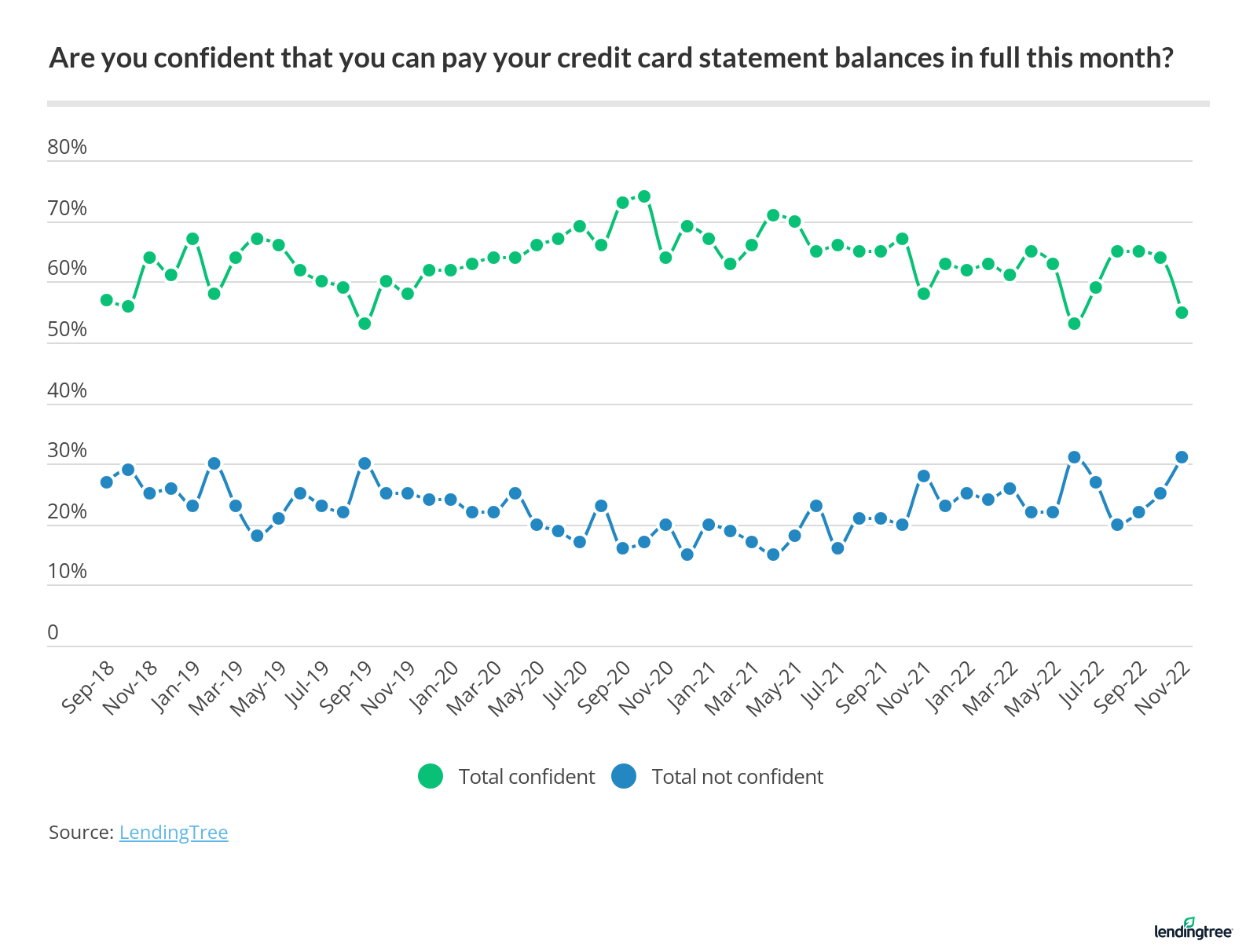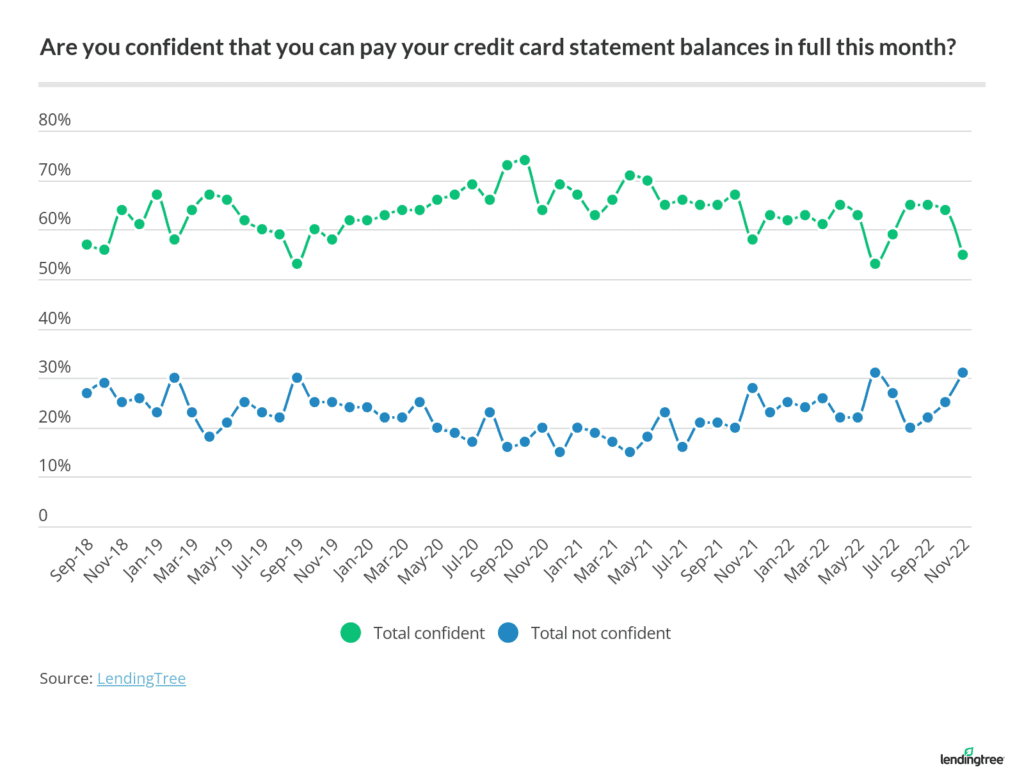 Short-term confidence plunges for third straight November
There's something about November for credit cardholders, and this month was no exception. Short-term confidence fell 9 percentage points to its lowest level since June. It's one of the biggest decreases in the index's history, but it also may have been predictable. Including 2022, the past three Novembers have seen short-term confidence fall by 9 (2022), 9 (2021) and 10 (2020) points.
It's easy to see why confidence may fall that month. Holiday shopping is super-expensive and takes a big toll on people's budgets. Plus, there's travel, higher utility bills as temperatures drop, elaborate Thanksgiving dinners and myriad other reasons.
The emotions surrounding elections may play a role, too. The biggest monthly short-term-confidence drop in index history (matched only by one seen in June 2022, when gas prices hit their peak) was in November 2020, in the wake of one of the most contentious elections in American history. This month's survey was done just before Election Day, and it's possible that worries over the coming results could have impacted people's confidence.
None of that adds up to the full story, though. To no one's surprise, inflation also played a major role in this November's numbers. Nearly half (46%) of those who didn't express short-term confidence blamed the inflation for making it harder to pay their bills. Last month, that percentage was 40%.
Things don't look much better in the long term. Longer-term confidence fell by 8 percentage points to 43%, the lowest since June. We've also typically seen long-term numbers decrease in November — down 8 in 2021, 4 in 2020 and 6 in 2019.
Add this up, and it shouldn't be shocking that confidence nosedived in November. However, it would be a major surprise if it did again in December.
The bottom line: Expect a rebound
While we've seen short-term and long-term confidence consistently fall in November, we've seen the opposite in December. Short- and long-term confidence rose from anywhere between 3 and 7 percentage points in December 2019, 2020 and 2021. I suspect that trend will continue in 2022. There are plenty of reasons it might not — primarily, inflation and rising interest rates — but I believe we'll see at least a small rebound next month.
Meanwhile, consumers' best move is to knock down credit card debt as much as possible. Whether that involves a 0% balance transfer card, a low-interest personal loan, a call to your card issuer to ask for a reduced APR or some other tactic, it's important to take some sort of action. As interest rates rise, that debt will be more costly if you do nothing.
Prior months
Methodology
LendingTree commissioned Qualtrics to conduct an online survey of 1,653 credit cardholders from Nov. 1-3, 2022. The survey was administered using a nonprobability-based sample, and quotas were used to ensure the sample base represented the overall population. All responses were reviewed by researchers for quality control.
Media inquiries about the Credit Card Confidence Index
Want to talk to Matt about the latest Confidence Index numbers? Email him at [email protected]. You can also reach out via Twitter at @matthewschulz or Instagram at @matt.schulz.