How Does LendingTree Get Paid?
LendingTree is compensated by companies on this site and this compensation may impact how and where offers appear on this site (such as the order). LendingTree does not include all lenders, savings products, or loan options available in the marketplace.
Just 33% of Americans Checked Their Credit Reports in the Past Year, Down From Last Two Years
Published on: September 9th, 2020
Why use LendingTree?
We are committed to providing accurate content that helps you make informed money decisions. The content on this page has not been reviewed, approved or otherwise endorsed by any credit card issuer. We do maintain partnerships with some issuers, and our site may be compensated through those partnerships. Read our .
Despite an increase in credit card fraud attempts during the pandemic, only 33% of Americans checked their credit reports in the past year. This represents a drop from 2019, when 39% checked their credit reports, and 37% in 2018. Yet, checking your credit reports has never been easier: For the past four months, consumers have had the option of checking their credit reports for free once a week, instead of just once a year, through AnnualCreditReport.com.
This is the third year LendingTree has conducted this survey, following the massive Equifax data breach that occurred four years ago. This year, over 1,000 consumers who have at least one credit or debit card were surveyed to shed some light on American credit report research and identity theft prevention habits.
Key findings
Just 33% of Americans checked their credit reports in the past year, down from 39% a year ago and 37% the year before. Most troubling, just 20% of those aged 75 and older reviewed their credit report in the last year, placing them at an increased risk of fraud.
Cardholders are taking fewer actions to prevent identity theft than they were a year ago — though most claim to be more diligent about looking for signs of identity theft. Fewer consumers are checking their credit reports, reviewing bank statements, changing banking passwords and checking their credit score in 2020, compared to 2019.
Nearly 1 in 2 people (47%) with a credit or debit card have provided their entire Social Security number in an online form in the past month. When we conducted this survey in August 2019, just 40% had done so.
47% of cardholders have been notified that their personal information was exposed in a data breach over the past year. Of that group, 14% said it happened more than once.
Cardholders taking less action to prevent identity theft than previous years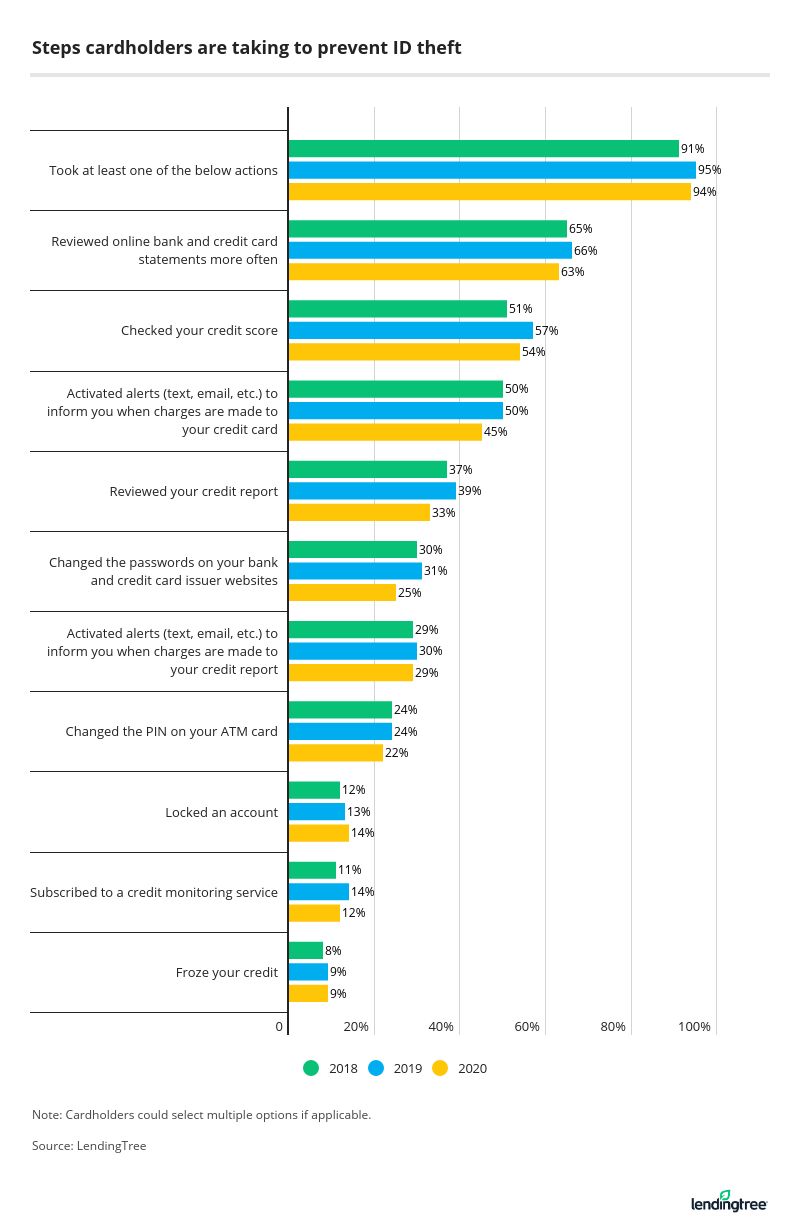 Despite having the ability to check their credit reports for free once a week since April, just a little over a third of consumers did so at any time over the past year. To be fair, 41% of cardholders weren't aware they are currently able to check their credit report for free weekly due to the pandemic. However, when informed of this opportunity, 28% of consumers admitted to not planning to take advantage of this added allowance.
According to Matt Schulz, chief credit analyst at LendingTree, checking your credit report once a week isn't necessary, but checking it more often than once a year during this difficult time period is a good idea.
"If you normally check it once a year and decide that you're going to check it once a month until this pandemic is over, it's a good idea. It certainly doesn't hurt anything," Schulz said, adding: "And also, once you have checked your credit report once and have a good feel for what it looks like, and what's on there, it gets easier and easier to look for mistakes and errors."
He explained that in general, it can be helpful to do a weekly check-in on your finances, by reviewing your bank statements and online credit card statements for fraud. Schulz believes these reviews can be done quickly if they occur regularly, as noticing mistakes will be easier that way.
For debit card holders, Schulz expressed concern that if they don't have a credit card or other sort of loan, they may not realize they need to check their credit report regularly.
"It's important for everybody to check their credit report as often as they can," he said. "There's so much fraud out there and there are so many bad actors looking to get a hold of your data." He explained that, oftentimes, one of the best ways to find out if somebody opens an account in your name is to review your credit report.
When it comes to keeping on top of their credit scores, only half of credit or debit cardholders check their credit score every single month, and a third admit that they don't always review their card or bank statements each month to ensure their accuracy.
Women in particular are dropping the ball when it comes to checking their credit score: Just 41% of women do so monthly, whereas 59% of men do. When it comes to different generations' credit score habits, Gen Xers are the best about checking their credit score monthly, followed by millennials.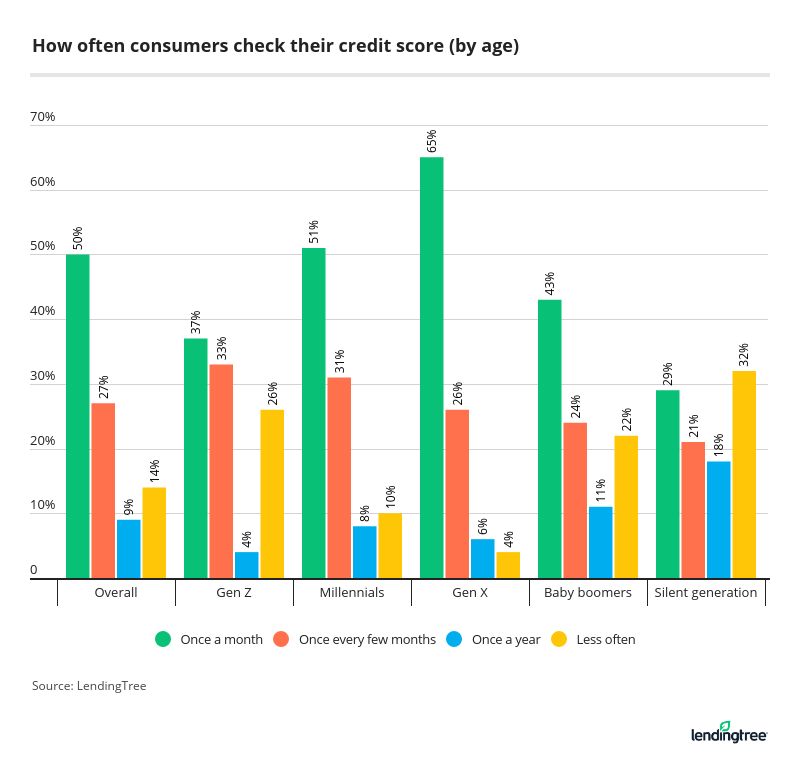 Pandemic fatigue may be distracting focus from identity theft
There is a lot to worry about in 2020, between the global pandemic, economic downturn and rampant job loss. It's understandable why some consumers may be more focused on other areas of their personal and professional lives than they are on identity theft.
Half of cardholders reported feeling more worried about their personal information being stolen than they were last year, but in 2019, more consumers (58%) were worried about this theft than the year prior. Similarly in 2020, 84% agreed that data breaches are becoming more common, which dropped from 91% in 2019 (and they may be right, according to this report).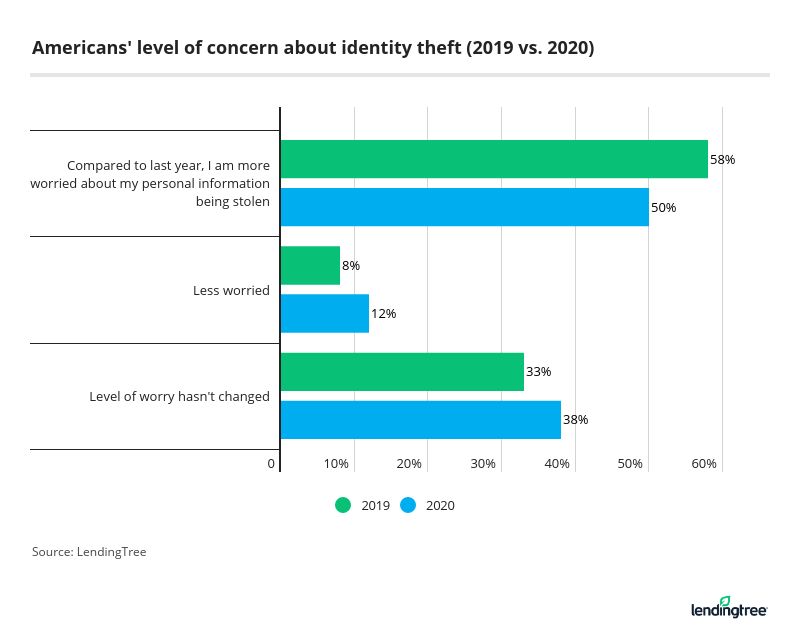 Even though it might not be quite as fun as zoning out in front of a major Netflix marathon after a stressful day, Schulz advised using the spare time many of us now have while staying home more to keep on top of identity theft.
"Checking your credit report should be part of a regular financial routine," he said. "A lot of people have a lot more spare time these days; they're not traveling, they're not dining out. And one good way to put that extra spare time to use is to check your credit report and to start working on that financial routine."
Consumers hesitant about providing personal information online, but most do it anyway
Nearly 1 in 2 people (47%) with a credit or debit card provided their entire Social Security number in an online form in the past month.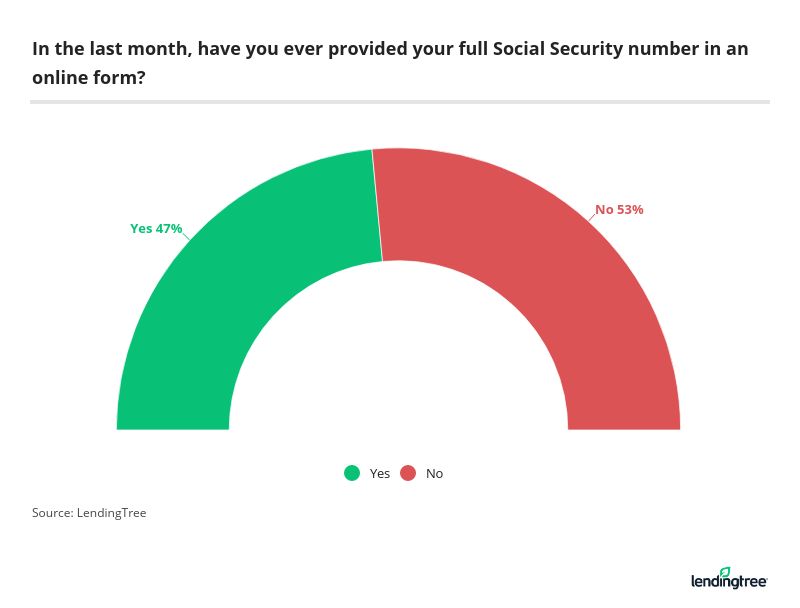 When we conducted this survey in August 2019, just 40% had done so. This increase may have occurred because of fluctuations in the job market — applying for unemployment and onboarding at new jobs (while working remotely) may require submitting a Social Security number in a digital form.
Even so, many consumers (74%) are hesitant to provide their full Social Security number. Even partially providing a SSN causes concern; 49% of people are hesitant to provide the last four digits of their SSN. This concern about providing personal information extends to addresses (43%), dates of birth (41%), and first and last names (37%).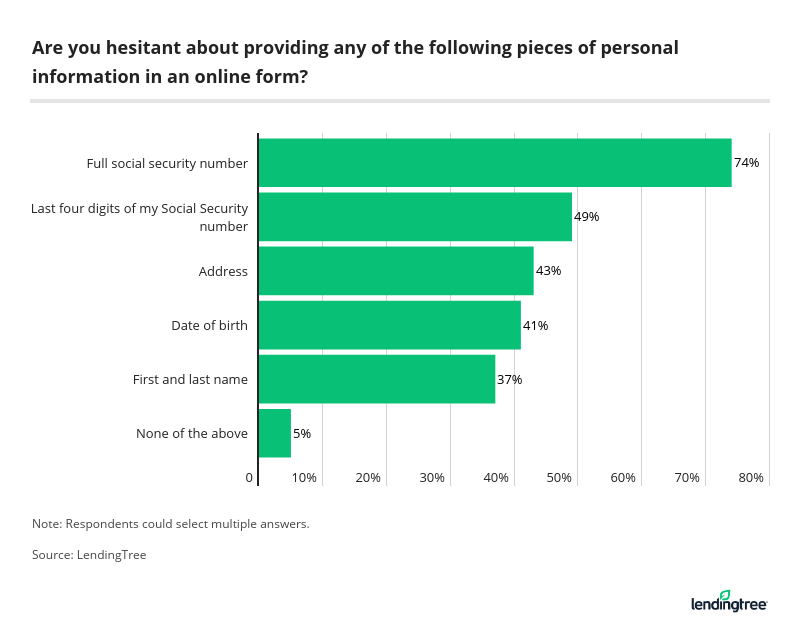 When it comes to sharing personal information online, one area for concern is Facebook.
Seventy percent of cardholders with a Facebook account reported opting to "sign in with Facebook" if given the option rather than creating a new account on a website, at least some of the time. While this is a convenient system, using your Facebook account to log into multiple accounts can be problematic, given security concerns about Facebook's ability to protect data.
This concern goes both ways, as the site which a consumer may grant access to their Facebook account may also become exposed, which might compromise your Facebook data.
"Facebook already has a ton of your information," according to Schulz. "They're obviously a big target for hackers and the more information any signal site has about you, the more you're putting your trust in them to protect it."
Unfortunately, companies like Facebook have not always kept this data safe in the past, so it's smart to proceed with caution when utilizing Facebook to login to multiple accounts.
Nearly half of cardholders were victims of a data breach within the last year — here's how to protect yourself
Considering that 47% of cardholders reported that their personal information was exposed in a data breach over the past year (with 14% experiencing this more than once), consumers may want to take stronger steps to protect their identity.
Freeze your credit. One of the best things you can do to be proactive is to freeze your credit. With a credit freeze, or security freeze, you can restrict access to your credit reports and prevent others from opening new credit-related accounts with your information. While you'll maintain access to your credit reports during a freeze, your credit score won't be affected.
Sign up for identity theft alerts. There are a handful of companies on the market that can provide services for monitoring identity theft, as well as keeping an eye out for Social Security number scanning. These services can prove to be a worthwhile investment and provide some peace of mind.
Create safe digital habits. Set calendar reminders to change important passwords often and learn to recognize the signs of phishing emails and other online scams. Be cautious when providing personal and financial information online, and consider investing in security software for your electronic devices.
At the end of the day, it's important for consumers to take their financial health and security into their own hands.
"People need to remember that nobody cares as much about their credit and their money as they do," Schulz noted. "So it's really important that you take the time to protect your credit, to protect your vital information and to protect your finances. Because nobody's going to do it for you."
Methodology
LendingTree commissioned Qualtrics to conduct an online survey of 1,006 consumers who have at least one credit or debit card, with the sample base proportioned to represent the overall U.S. population. The survey was fielded Aug. 14-18, 2020.