How Does LendingTree Get Paid?
LendingTree is compensated by companies on this site and this compensation may impact how and where offers appear on this site (such as the order). LendingTree does not include all lenders, savings products, or loan options available in the marketplace.
About 7 in 10 Americans Have Cried About Money: Survey
Updated on: October 21st, 2019
Why use LendingTree?
We are committed to providing accurate content that helps you make informed money decisions. The content on this page has not been reviewed, approved or otherwise endorsed by any credit card issuer. We do maintain partnerships with some issuers, and our site may be compensated through those partnerships. Read our .
If you've ever felt so moved by your financial situation that you cried over it, you're far from alone. According to a recent survey by LendingTree, nearly 70% of Americans admit to becoming emotional over their finances.
While some say they've been moved to tears by joyful events, such as a financial windfall or treasured gift, many more Americans say that financially stressful experiences, such as a lost job, mounting debt or a pinched budget, were responsible for their weeping.
Click below to learn more:
Key findings
The survey's findings underscore just how universal the experience of crying over money is for people — many of whom struggle with debt and limited budgets. "So many people's financial margin for error is so slim that an unexpected car repair can be a real hardship," said Matt Schulz, LendingTree's chief credit analyst. "Then, if you factor in things like job loss or a medical emergency, that can make things even worse."
Household debt has also soared in recent years, adding to the stress. According to the New York Federal Reserve, Americans collectively owe nearly $14 trillion to creditors.
Here are some of the most notable revelations from the LendingTree survey.
Crying about money is common. Around 7 in 10 Americans say they have cried over something related to their finances.
It's been a tough year for many. 57% of Americans said they teared up sometime this year — usually because they were upset.
Young people are especially likely to say they've cried recently. Nearly 48% of millennials between the ages of 23 and 38 said they've cried over money at least once in the past month. A similar proportion of Generation Z members between the ages of 18 and 22 said the same.
Money is a chief stressor for a major portion of the population. At least 4 in 10 Americans agree with the statement, "Nothing makes me cry more than money."

Men are more likely than women to agree with that statement. For example, 47% of men agree that money makes them more emotional than anything else, compared to 34% of women.
Millennials ⁠— many of whom are saddled with student loan debt, building their careers or raising young families ⁠— are also twice as likely as baby boomers to agree.

Debt is by far the biggest stressor driving people to tears. Employment stress and living expenses also weigh heavily. The top stressors causing people to cry, for example, include:

Household debt: 31% of people say their overall debt situations have made them emotional.
High-interest credit card balances: 20% of respondents said credit card debt in particular had made them cry.
Unemployment: 15% of people said they cried over a lost job.
Cost of living problems: 14% of respondents said that rent or mortgage issues made them tearful.
A cramped budget: 14% of people said that drafting or attempting to stick to a budget led them to tears.

Political divisions even extend to debt. Democrats were twice as likely as Republicans to say they cried because of student debt.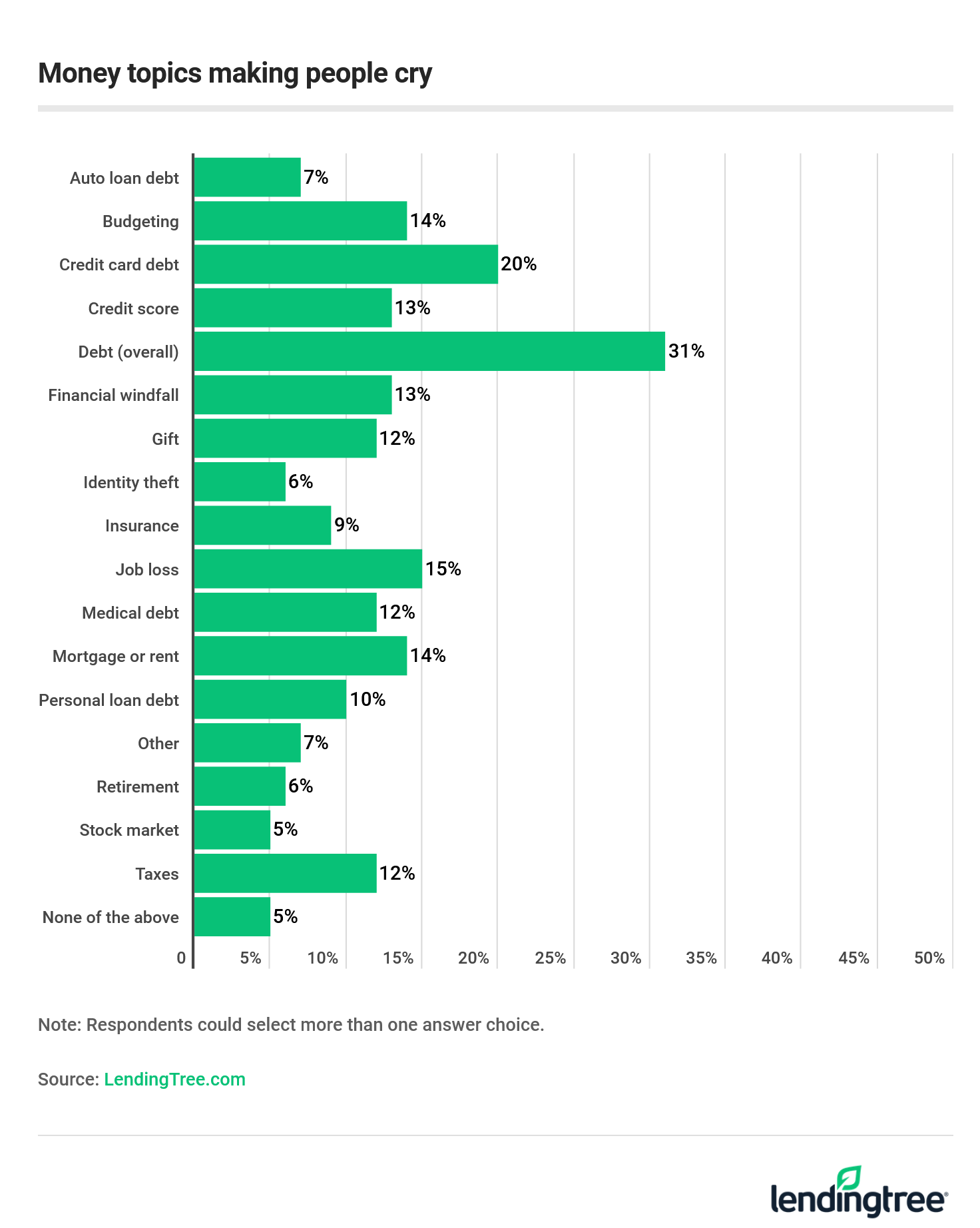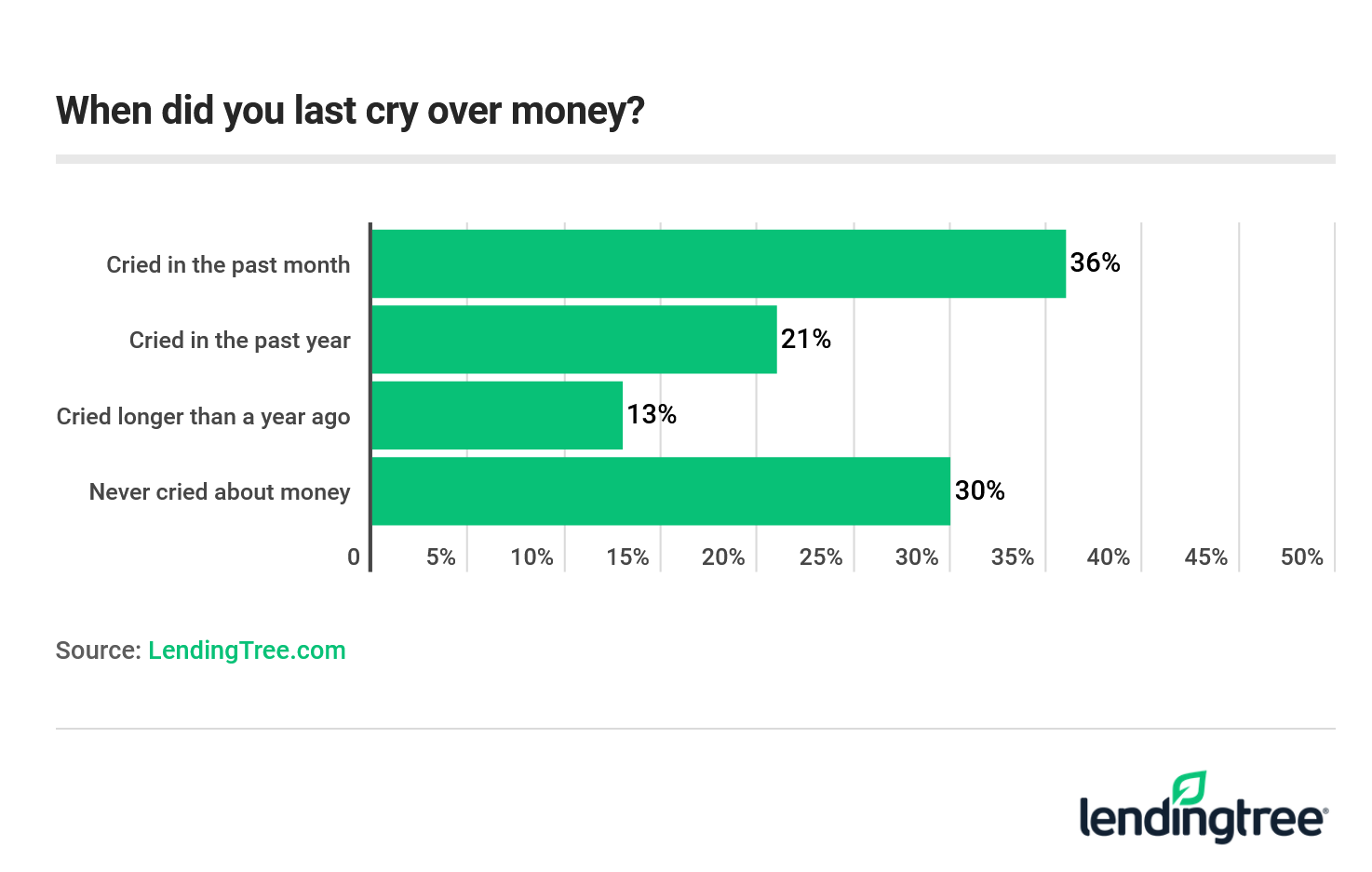 Millennials crying more tears
Young people in their 20s and 30s are much more likely than older generations to become emotional over money, the survey found ⁠— perhaps because many are dealing with more acute financial stressors, says Schulz.
Members of both Generation Y and Generation Z, for example, are more than twice as likely as baby boomers to have recently cried about their finances. They are also more likely to say that student loans, personal loan debt, auto loans or credit card debt have, at times, brought them to tears. In addition, millennials are significantly more likely than their baby boomer parents to say they've cried over their mortgage or rent payments.
"For Generation Z and millennials, it's really a bit of a perfect storm," said Schulz. Often, "they've got a lot of debt, don't make a ton of money and don't have a ton of experience with money. When you throw those things together, that's a pretty scary combination."
Many 20- and 30-somethings are also first-time parents and are raising kids on a limited budget, which may also be contributing to their stress. According to the LendingTree survey, for example, parents of minors are substantially more likely than other Americans to say they've recently cried over their finances.
Financial therapist Lindsay Bryan-Podvin says that parents are often more susceptible to financial stress because of the pressures they are feeling. Parents are not only responsible for raising and educating their kids; they also have to financially provide for them. It can also be hard to avoid scary-sounding headlines about the state of the economy, rising college costs and other financial stressors, she added.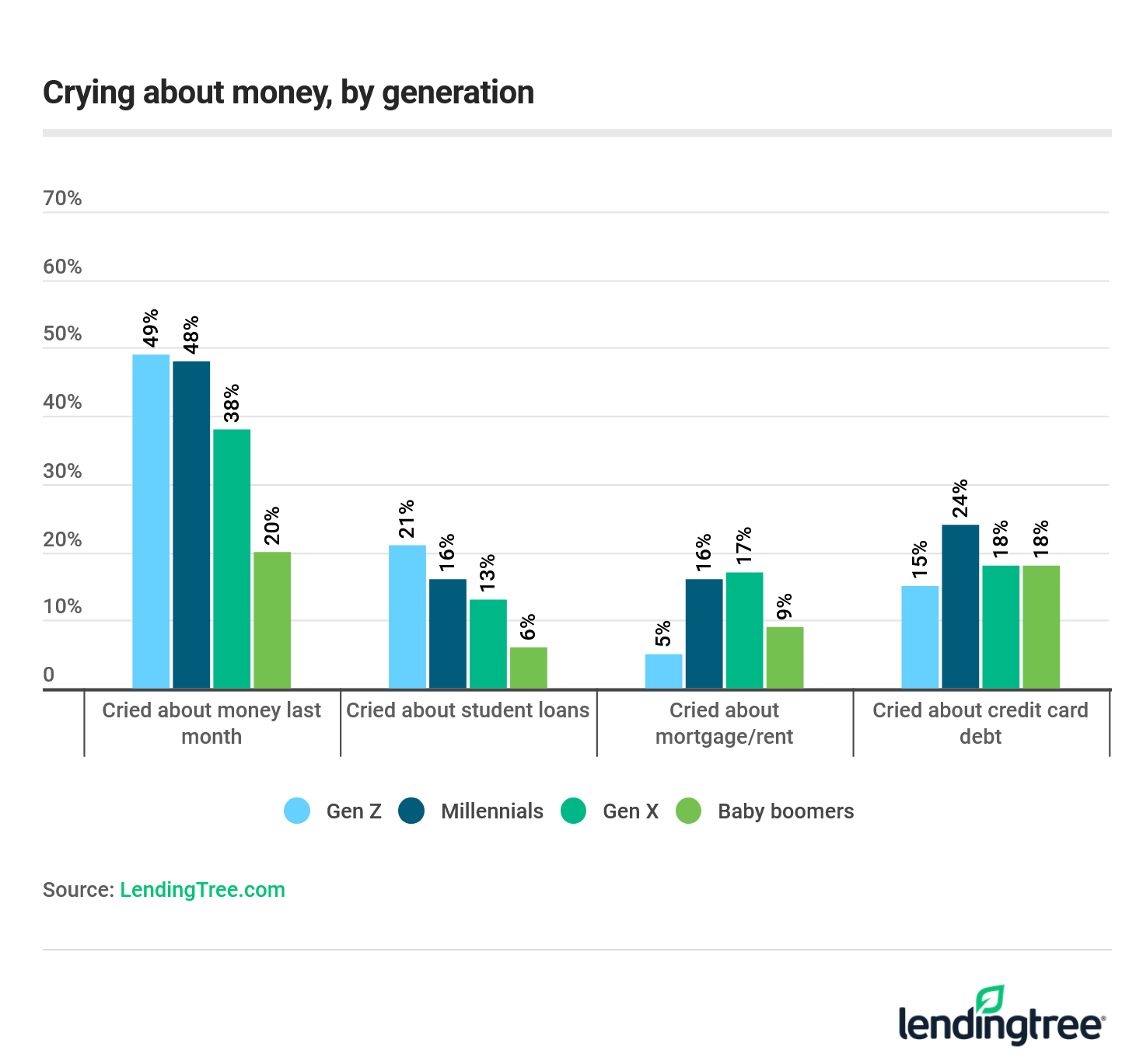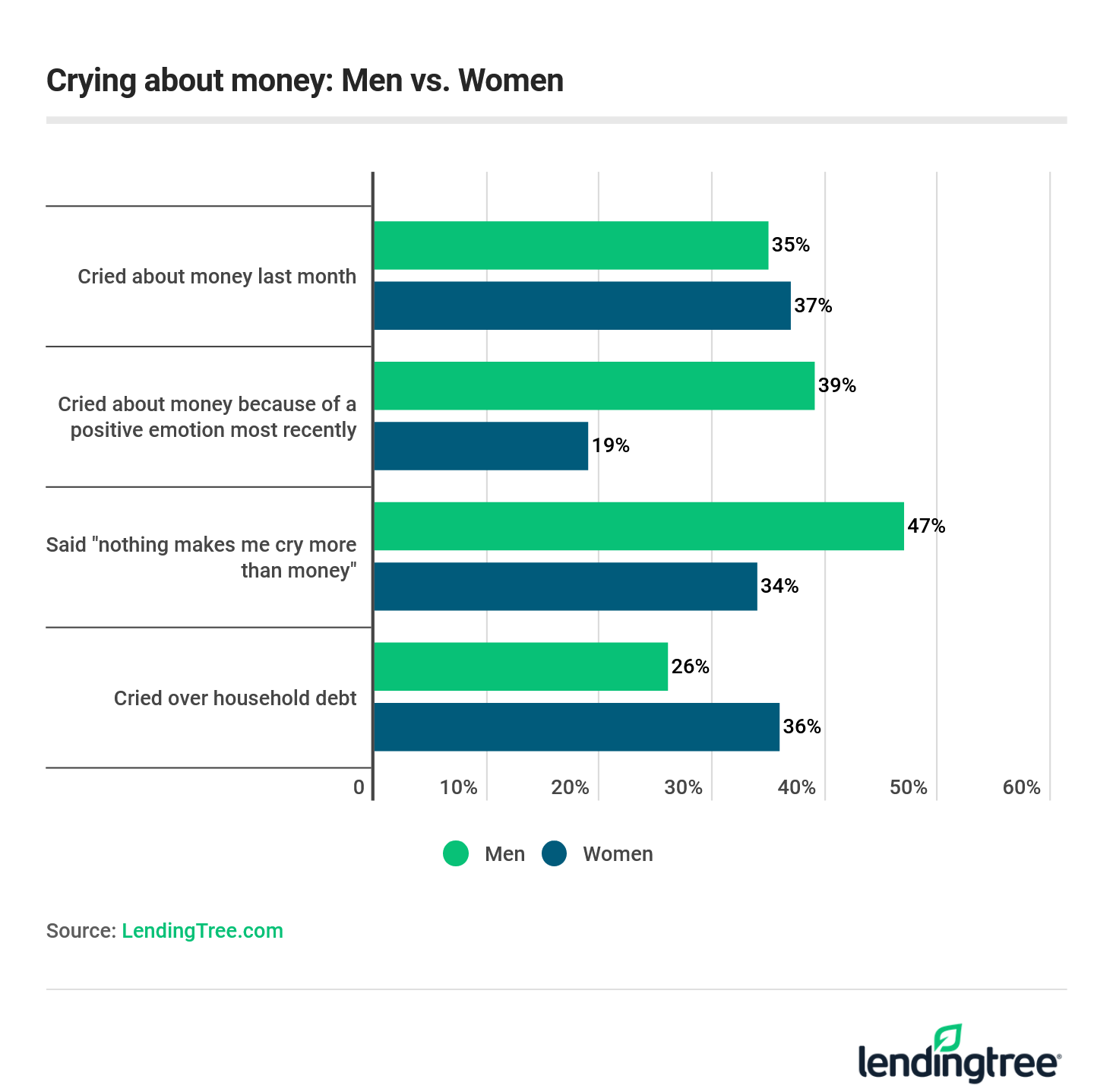 All kinds of debt lead to shedding tears
Americans are stressed out by a wide variety of loans, LendingTree's survey found. Besides credit card debt and housing debt, a number of Americans say they're stressed out by:
Student loan debt: 13%
Medical debt: 12%
Personal loan debt: 10%
Debt worries also tend to differ somewhat by gender. For example, men are slightly more likely than women to have become emotional over student loan, car and credit card debt. Meanwhile, women are more likely to have cried over personal loans and mortgage or rent payments.
Several other financial stressors have also pushed people to tears, such as:
Credit scores: 13%
Taxes: 12%
Identity theft: 6%
Retirement: 6%
The stock market: 5%
Meanwhile, 7% said they had other reasons for feeling emotional. Another 5% said that none of the common stressors listed had ever brought them to tears.
According to Schulz, many people feel unmoored by forces outside their control and, as a result, tend to become emotional about their finances. For example, they may feel as if they are working as hard as they can and yet, "they can't get a break," said Schulz. "They can't make ends meet and they can't get ahead." When things feel out of control, it's natural to feel emotional about it.
Among those who have cried because of money, most say they were brought to tears fairly recently. For example:
36% of respondents said they cried sometime in the past month.
21% said they cried sometime in the past year.
Just 13% of people who said they've cried over money said it's been more than a year since the last time money brought them to tears.
Not every respondent cried because they were feeling upset, though. A number of respondents said they were moved to tears by happy events that made their lives richer or less financially stressful. For example:
Almost three-fourths of respondents said they cried because of negative emotions. However, 29% said they cried because they were happy.
13% cried because of a financial windfall.
12% were moved to tears by a gift.
Men were twice as likely as women to say they were moved to tears by a positive event related to their finances.
People with larger incomes are more likely to say they were moved to tears by something positive.
Take control of your debt rather than it controlling you
If your finances are continuing to cause you financial stress, there are a number of techniques you can use to help cope with your emotions and deal proactively with your money troubles.
For example, financial therapist Bryan-Podvin suggests asking yourself how true some of your worries are. Some of the worst-case scenarios you are imagining may be unlikely to come to pass.
If your worries have some validity, Bryan-Podvin suggests going deeper and asking yourself what you are doing to help combat or prevent them. For example, if you're worried you'll never get a raise, ask yourself how true that is and whether you're doing anything to deserve a higher income.
It's also helpful to acknowledge what you can and cannot change, says Bryan-Podvin, so that you can emotionally release the things outside your control. You can't change the economy, for example. However, "you can make yourself a more desirable employee by getting additional training, asking for more responsibilities or asking your manager where they need more help," she said.
Similarly, you can help yourself feel more in control of your debt by taking small steps to knock it out, adds Schulz. For example, you can call your credit card issuer to see if they'd be willing to lower your APR.
Or, depending on your credit score, you can transfer your balance to a card with an introductory 0% APR, refinance your mortgage or consolidate your debt onto a lower rate personal loan.
Talking with a credit counselor or financial therapist may also help you see your situation more clearly and come up with an action plan.
"Newton's first law is critical here," said Bryan-Prodvin. "An action in motion stays in motion. An object at rest stays at rest. If you are ruminating and worrying about things but not taking action, nothing will change."
Bottom line
Don't feel embarrassed if you're occasionally brought to tears by your finances. Most people have cried over money at some point in their lives. However, if talking with loved ones and taking action to combat your money troubles isn't making you feel better, you may want to seek professional help.
Methodology
LendingTree commissioned Qualtrics to conduct an online survey of 1,004 Americans. The survey was fielded Sept. 5-9, 2019, with the sample base proportioned to represent the overall population.
For the purposes of our survey, we defined generations as:
Generation Zers are ages 18-22
Millennials are ages 23-38
Generation Xers are ages 39-54
Baby boomers are ages 55-73