How Does LendingTree Get Paid?
LendingTree is compensated by companies on this site and this compensation may impact how and where offers appear on this site (such as the order). LendingTree does not include all lenders, savings products, or loan options available in the marketplace.
Nearly 4 in 10 Americans say they 'have no idea' how credit scores work
Updated on: January 2nd, 2019
Why use LendingTree?
We are committed to providing accurate content that helps you make informed money decisions. The content on this page has not been reviewed, approved or otherwise endorsed by any credit card issuer. We do maintain partnerships with some issuers, and our site may be compensated through those partnerships. Read our .
Nearly 4 in 10 American adults claim to be completely clueless as to how credit scores work, according to a new survey from LendingTree.
LendingTree asked consumers to judge their own knowledge of credit scoring and found that even though many claim ignorance as to the inner workings of credit scoring, a significant portion might be underestimating how much they know. We also found that most consumers aren't eager to give lenders access to their checking and savings accounts in hopes of improving their odds of being approved for a loan. That's despite recent announcements from credit scoring behemoth FICO that its new UltraFICO score will do just that, and as early as 2019.
Key findings
37% of Americans agree with this statement: "I have no idea how my credit score is determined"
The good news is that more consumers disagreed with this statement than agreed with it (49% disagreed vs. 37% who agreed). However, it still means that there are millions who feel completely clueless about how credit scores are calculated.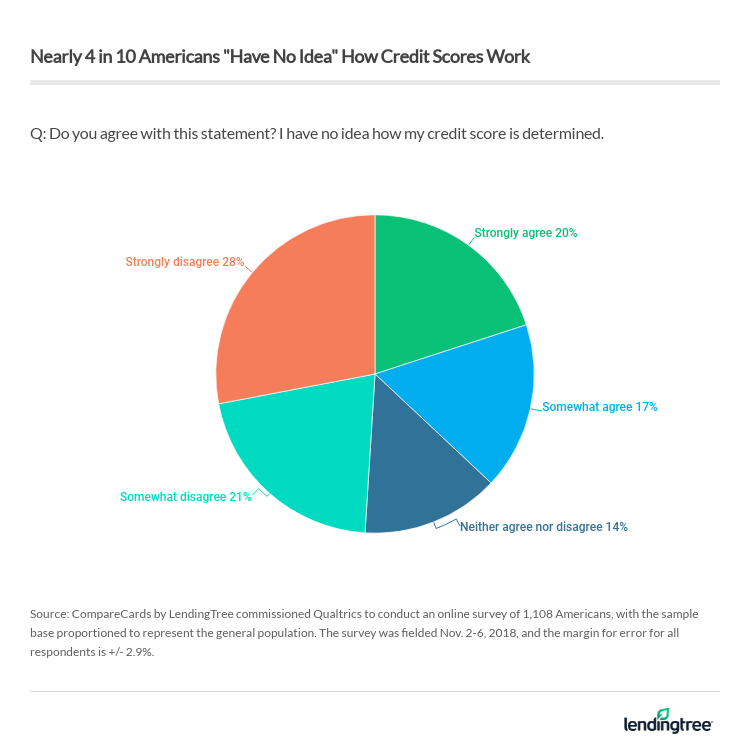 Men are nearly twice as likely as women – 49% to 27% – to claim ignorance. Among all age groups, Generation X was the most likely to agree. More than half of Gen Xers (55%) agreed with the above statement. No other age group was above 40%.
Surprisingly, the wealthiest Americans were the most likely to agree with the statement. Nearly 6 in 10 of those making $100,000 or more (58%) said they had no idea how their credit score was determined. Meanwhile, the poorest consumers – those making less than $25,000 per year – were the next most likely to agree, at 37%. Just 27% of those in other income groups agreed.
When asked about the biggest factor determining your credit score, nearly 8 in 10 Americans chose one of the two best answers.
Two factors rise above the rest when it comes to your credit score: how often you pay your bills on time and how much debt you have compared to your available credit. Those two factors make up nearly two-thirds of the credit scoring formula, with the former comprising 35% of your score and the latter making up 30% of your score.
Nearly half of Americans (47%) said how often you pay your bills on time was the biggest factor in determining your credit score – the right answer. Nearly one-third (31%) said how much debt you have compared to your available credit, also called your utilization rate, was the most important. That means that nearly 80 percent of consumers chose one of the two best answers to this question. It also means that many Americans might just know a bit more about credit scoring than they think.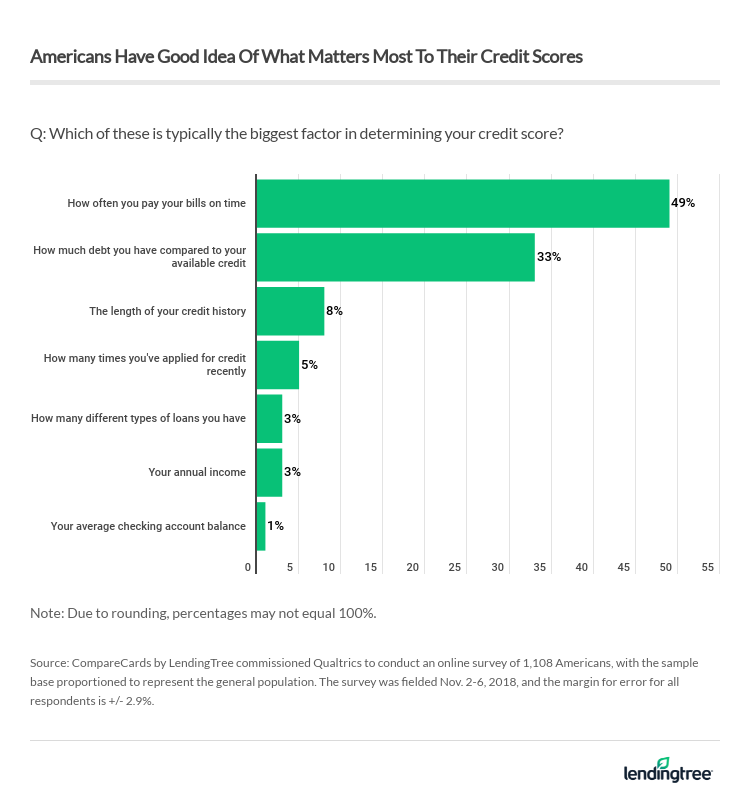 35% of Americans said they'd be willing to give a lender access to their checking or savings account information if it improved their odds of getting a loan. Men were far more likely than women to agree.
In October 2018, FICO announced the creation of the UltraFICO score. With this score, consumers are able to grant a lender access to their checking or savings accounts in hopes that the extra data will improve their chances of being approved for a loan. Along with the standard credit scoring factors, the UltraFICO score can take into account, for example, how long accounts have been open, how frequently accounts are used and what the accounts' typical balance is. The idea is that by providing lenders with more data points to use in their assessments, consumers with thin or imperfect credit might be able to convince lenders they are not as a risky a borrower as the standard FICO scoring formula might make them appear.
Shortly after the announcement, LendingTree asked Americans the following: "Would you be willing to give a lender access to your checking or savings account information if you thought it would give you a better chance of being approved for a loan from that lender?" What we found is that only about a third of Americans (35%) would be willing to do so.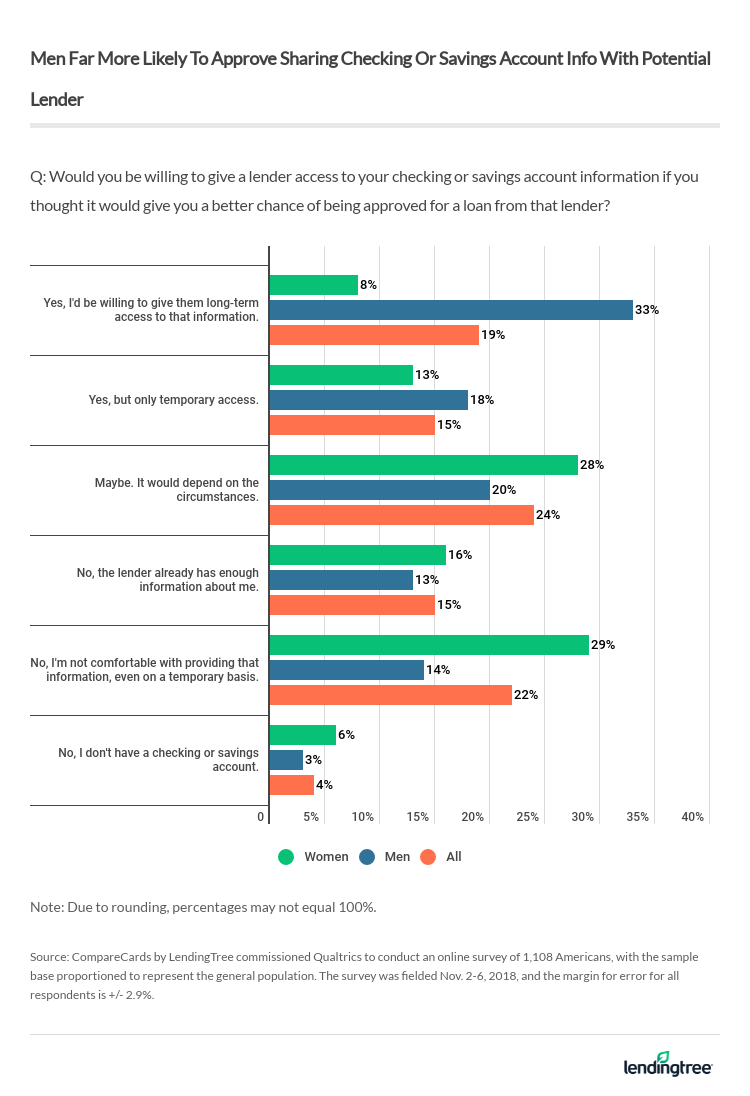 About 1 in 4 Americans (24%) said they might be willing to grant that access, but it would "depend on the circumstances." Meanwhile, 22% said they weren't comfortable with giving that type of access, even temporarily, and 15% said they wouldn't grant that access because the lender "already has enough information about me."
There was a huge difference between men and women in their willingness to share their checking or savings account information. One in 3 men (33%) were willing to give long-term access to that information vs. just 8% of women, while 18% of men were willing to give temporary access, compared to just 13% of women.
The bottom line: Stop overthinking credit.
People tend to see credit as this mysterious, unknowable beast. The truth is, it's not. While there are plenty of nuances and quirks in credit scoring formulas, building a strong credit score is really all about three things:
Paying your bills on time every time
Keeping your balances low
And not applying for too much credit too often.
If you do these three things – lather, rinse, repeat – throughout your life, your credit score is going to be just fine. Sure, those things can often be easier said than done, but at a basic level, they're what credit scoring formulas are all about. Our survey seems to show that most Americans get that, even if they don't think they do.
Methodology
LendingTree commissioned Qualtrics to conduct an online survey of 1,108 Americans, with the sample base proportioned to represent the general population. The survey was fielded Nov. 2-6, 2018, and the margin for error for all respondents is +/- 2.9%.