How Does LendingTree Get Paid?
LendingTree is compensated by companies on this site and this compensation may impact how and where offers appear on this site (such as the order). LendingTree does not include all lenders, savings products, or loan options available in the marketplace.
Survey Finds Bridal Parties Feel Pressure to Spend — and it Hurts Friendship with Bride
Updated on: June 11th, 2021
Why use LendingTree?
We are committed to providing accurate content that helps you make informed money decisions. The content on this page has not been reviewed, approved or otherwise endorsed by any credit card issuer. We do maintain partnerships with some issuers, and our site may be compensated through those partnerships. Read our .
Does the sight of yet another wedding invitation make you sweat? Wedded bliss can come at a cost if you're looking to celebrate a close friend or family member's day in a big way. And the lovely couple aren't the only ones who are looking at a hefty bill. Bridal party members can be hit hard financially, too, and in a major way.
A recent LendingTree survey found that the wedding party spending pressure is real. And it can take a toll on friendships.
Being asked to be a bridesmaid or a groomsmen can be an honor. Not to mention, it can be fun to help plan the bachelor and bachelorette getaways. But there is a downside. Formal wear, gifts, showers, and weekend trips to Sin City can add up fast. As a result, your financial health can be majorly affected when it comes time to celebrate a loved one's marriage.
In this survey:
Key findings
According to the LendingTree survey:
58% of bridesmaids and 61% of maids of honor felt pressured to spend money on bridal party-related expenses – and many say the financial pressure strained their relationship with the bride (32% of bridesmaids and 42% of maids of honor).

Men felt the pressure too – 43% of groomsmen and 50% who were the best man said the same.
Overall, 51% of all wedding party members felt pressured to spend.

The bride is the main source of financial pressure, according to 48% of bridal party members who felt pushed toward spending. 35% said it was other members of the bridal party encouraging spending, and 32% say their own desires to be a great bridal party member caused them to spend more. 21% said the groom pressured them to spend.
A third of bridal party members incurred debt for their friend's wedding, including a whopping 43% of maids of honor and 38% of best men. 35% of bridesmaids went into debt, and so did 30% of groomsmen.
Overall, a third of people who have been in a wedding in the last two years say they regret the money they spent on doing so. Maids of honors were most likely to regret bridal party-related expenses (44%).
68% used a credit card for bridal party expenses, and 37% charged more than $1,000 on their card. Just 20% limited their spending to under $500. Maids of honor (78%) and bridesmaids (73%) were most likely to pay with plastic.
Attire was the most expensive purchase for about a third (32%) of recent bridal party members, followed by the bachelor or bachelorette party (29%), which is no surprise given recent trends to turn what used to be one night on the town into a lavish weekend getaway. A quarter said traveling to and from the wedding was the biggest expense.
37% have declined an invitation to be in a wedding because of costs.
The costs associated with attending a wedding add up
It's time to face the cold hard facts. Why does participating in a bridal party end up costing so much? Let's look at bridesmaids first. According to a 2017 WeddingWire study, bridesmaids can expect to spend about $1,200, with costs rising as high as $1,800. More specifically, these are the potential costs a bridesmaid may incur:
Bridesmaid dress: $208
Shoes and accessories like jewelry: $120
Professional hair and makeup: $132
Travel to wedding: $115
Accommodations: $205
Hosting responsibilities, travel, and gifts for all wedding-related events: $800
Destination bachelorette party: $400
Groomsmen aren't off the hook either, with costs ranging anywhere from about $1,025 to $2,770, according to a Canadian study from Gotstyle, a Canadian menswear brand. Similar to bridesmaids, groomsmen can expect to invest in formal wear, travel, gifts, and bachelor party activities.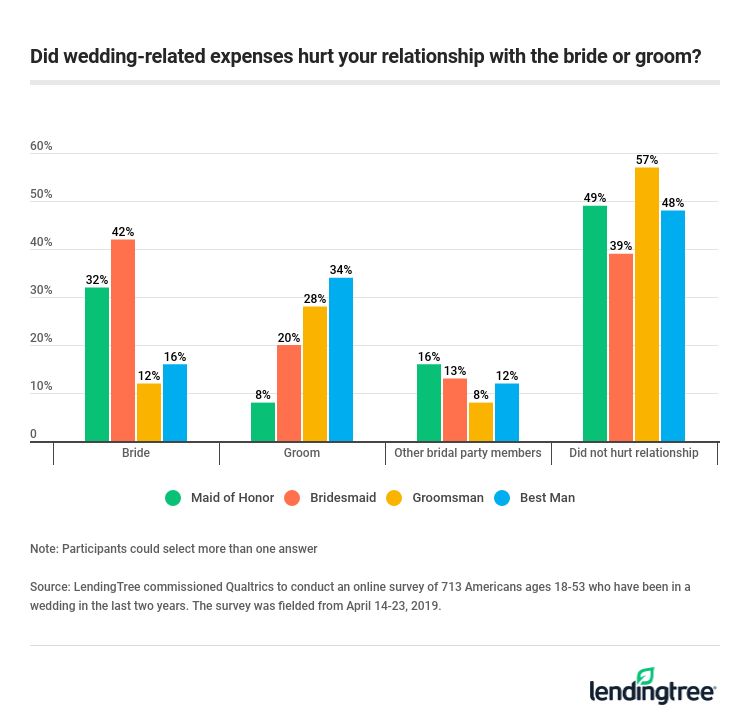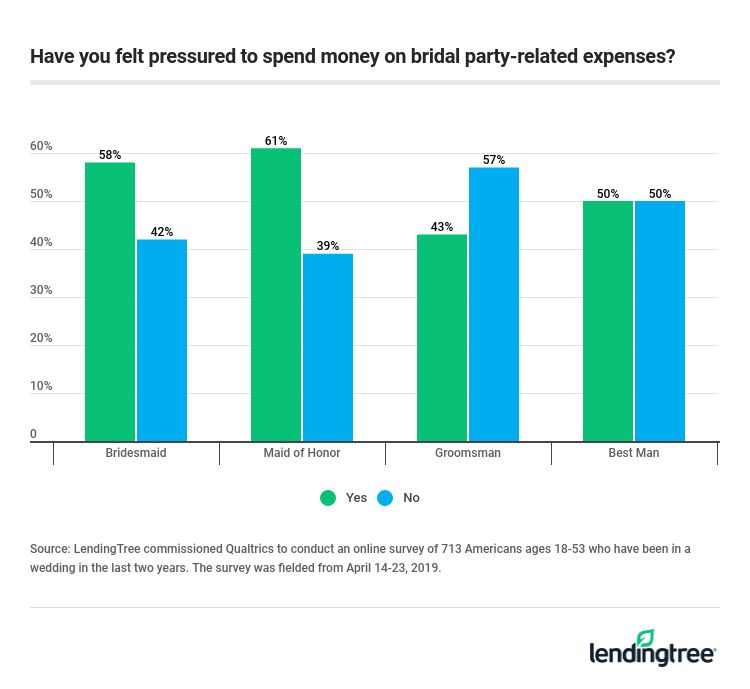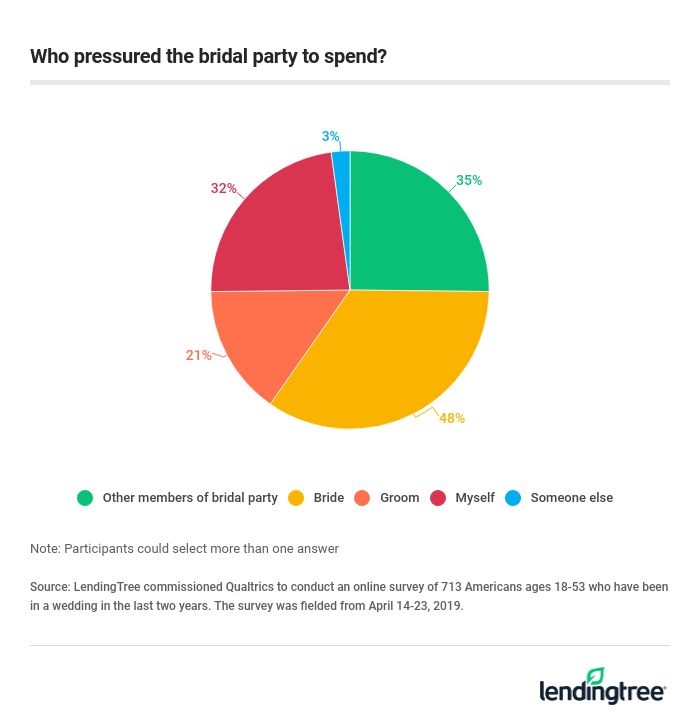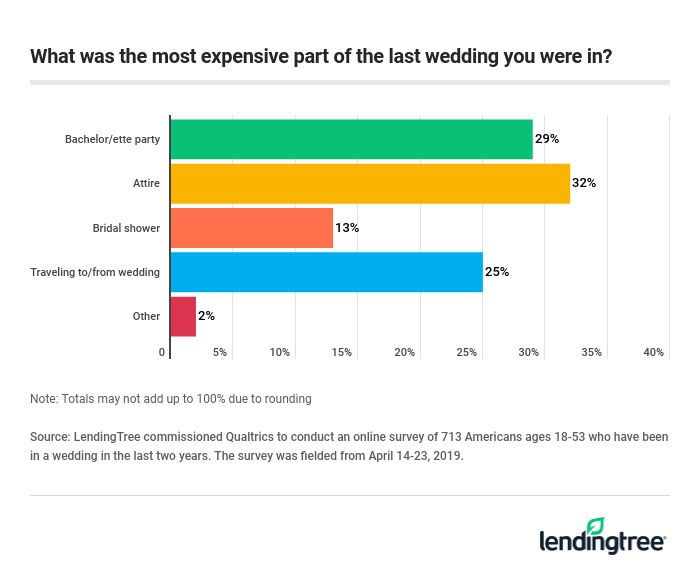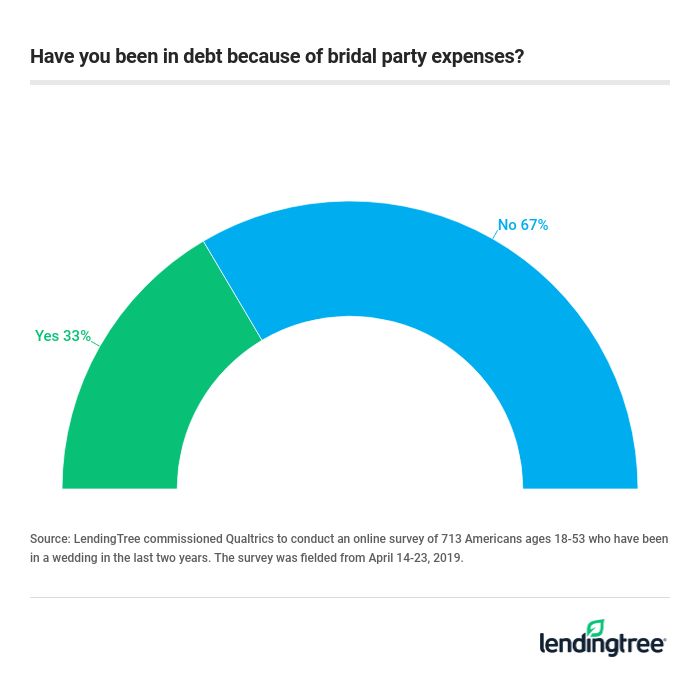 Note: Totals have been rounded up and may therefore reflect more than 100%.
Address financial concerns before you get in too deep
Heather Z. Lyons, a licensed psychologist, frequently hears about the financial toll of being in a wedding party during therapy sessions.
"This is so tricky because drawing a financial boundary can be interpreted as a lack of support for the union or can draw unwarranted scrutiny on spending habits," Lyons said. Her advice for broaching the subject of wedding expenses is simple but fair, "When preparing to have the conversation, the three most important strategies are to do it early, do it directly, and do it kindly. Those getting married are so overwhelmed with planning and are also taking a financial hit, so it might be difficult for them to put themselves in your shoes," Lyons advises.
If a bride's vision is a bit out of your budget, Lyons also recommends asking the couple where they would like you to focus financially, such as formal wear, gifts, travel, etc. You can also offer non-financial support in the form of lending a helping hand during wedding planning.
Alongside letting them know you are honored to be in their bridal party and that you want to be supportive, inform them that you understand if they need to invite someone else to take your place. When you're gearing up to have this conversation, remember to think of this talk as a relationship-maintaining conversation, "The regret that you feel down the road, and are reminded of with each credit card statement, can lead to some real resentment in the relationship," Lyons warns.
How to curb your bridal party expenses
Brace yourself for some scary numbers. The LendingTree survey found that a third of bridal party members incurred debt for a friend's wedding. As much as you want to celebrate the start of a friend's married life, your life should not be negatively impacted by their big day. Consider these options for avoiding going into debt as a result of being a member of a bridal party.
Start saving early
Typically weddings are planned anywhere from six to 24 months in advance. And usually members of the bridal party are the first to be alerted of the wedding date. Take advantage of this lead time to start financially planning for the wedding early. Ask the bride or groom what costs they will be handling and what will be expected of you financially. Make a game plan for what events you'll be participating in and how you'll be able to afford them.
Book early
Don't let a last minute planning panic derail your budget. Make bachelorette week plans and book travel for destination weddings early. Coordinate with other bridal party members regarding sharing hotel rooms or going in on a gift together. Getting a jumpstart on your responsibilities will help you save money and feel more in control.
Be honest
If you're not comfortable speaking with the bride or groom about wedding costs, try the maid of honor or best man. Before they start planning weekend getaways or ordering matching t-shirts, let them know you're on a tight budget and that you may have to excuse yourself from certain aspects of the celebrations to able to afford being a part of the bridal party. Your priority should be supporting the bride or groom on their big day. If you need to step away a bit during brunches and bar crawls, then that's OK.
Get creative
Amy McCord Jones, a wedding planner in Oklahoma City, recommends bridesmaids try to either rent their bridesmaid dress or buy it used, "Rent The Runway or Poshmark is an excellent resource for finding higher-end dresses for less. And asking the bride to let everyone select their shoes is another opportunity to save," said McCord.
If debt happened anyway…
If you've already incurred debt from celebrating a friend's wedding, you may have turned to your credit card for help financing the festivities. 68% of survey respondents used a credit card for bridal party expenses, and 37% charged more than $1,000 on their card. Just 20% of bridal party members limited their spending to under $500. Who gets hit the hardest? Maids of honor and bridesmaids were most likely to pay with plastic.
If you have remaining debt on a credit card post-wedding, you may want to consider a balance transfer card. Typically, this type of debt management solution is good for those who have a high credit score. So if you don't normally struggle with debt, this may be an option for you.
If you paid for bridal party expenses with a high interest credit card, you may want to roll your debt(s) from one or more credit cards onto a single card with a low or 0% interest rate for anywhere from 12 to 21 months. That way, more of your monthly payments go to the principal rather than interest.
The bottom line
At the end of the day, you can find a balance between supporting your loved ones and keeping your financial health in check. And in the worst case scenario, you can opt out of being in a bridal party. 37% of those LendingTree surveyed have declined an invitation to be in a wedding because of the associated costs. If you decide being in a bridal party is not something you can afford right now, that is understandable. Honesty is always the best policy, so being upfront with the bride or groom about what you can and cannot afford is the best place to start.
Methodology: LendingTree commissioned Qualtrics to conduct an online survey of 713 Americans ages 18-53 who have been in a wedding in the last two years. The survey was fielded from April 14-23, 2019.