How Does LendingTree Get Paid?
LendingTree is compensated by companies on this site and this compensation may impact how and where offers appear on this site (such as the order). LendingTree does not include all lenders, savings products, or loan options available in the marketplace.
56% of Bridal Party Members Feel Pressured to Overspend, Leading to Debt and Regret
Updated on: May 3rd, 2022
Why use LendingTree?
We are committed to providing accurate content that helps you make informed money decisions. The content on this page has not been reviewed, approved or otherwise endorsed by any credit card issuer. We do maintain partnerships with some issuers, and our site may be compensated through those partnerships. Read our .
More than half of Americans who've participated in a bridal party say they've felt pressure to spend above what they could afford, according to the latest LendingTree survey of more than 2,100 consumers.
"Weddings cost a fortune, even when you're not the one getting married," says Matt Schulz, LendingTree chief credit analyst. That can explain why half of bridal party members say they've wracked up credit card debt to afford their wedding obligations.
Learn more about the most costly wedding-related expenses and how much people are spending, as well as tips on how to manage bridal party costs.
Key findings
50% of Americans who've been part of a wedding bridal party incurred debt as a result. On average, bridal party members spend about $825 on attire, pre-wedding events and the wedding itself — a significant financial commitment.
56% of bridal party members have felt pressure to spend more than they could afford, especially on pre-wedding activities like bachelor and bachelorette parties. While 42% say the pressure came from the bride, about the same percentage (43%) say it was self-imposed.
Nearly 40% of bridesmaids, groomsmen and other bridal party members regret spending some of the money they did. As a side note, about 1 in 10 are no longer friends with the bride or groom from the wedding in which they were involved. This is most common among those in a wedding over two years ago.
Travel is one reason bridal party members are shelling out so much money. More than half (55%) say they traveled by plane to attend pre-wedding events or the wedding itself. That includes nearly 30% who flew to a bachelor or bachelorette party destination, which was the most common reason given for travel.
62% of Americans think bridal party costs are getting out of hand. About 1 in 5 consumers have turned down an invitation to be in a wedding due to expenses, and the vast majority (69%) say there was no harm to their relationship with the bride or groom as a result.
Weddings lead to debt for bridal party members
Half of bridal party members say they've had to turn to credit cards to pay for wedding obligations, citing reasons from high expectations to travel to hefty price tags.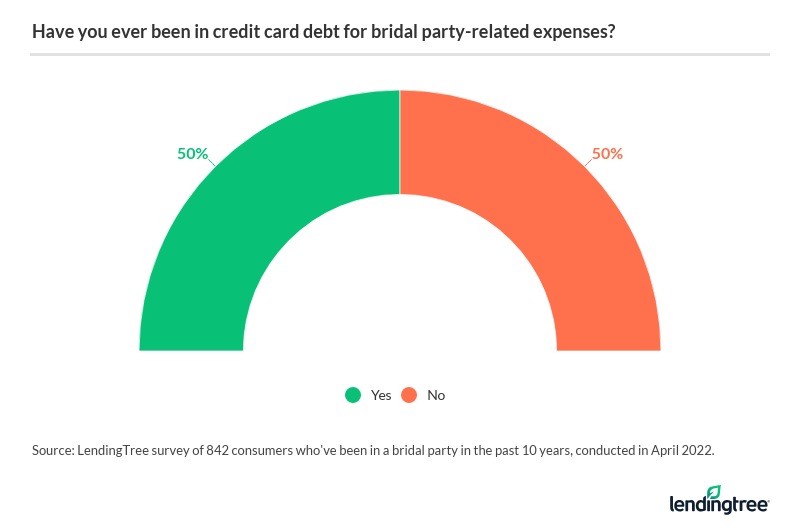 This is highest among millennials (ages 26 to 41) at 54%, followed by:
Gen Xers (ages 42 to 56): 49%
Gen Zers (ages 18 to 25): 47%
Baby boomers (ages 57 to 76): 27%
Also, a higher percentage of men have incurred credit card debt than women — 53% versus 47%.
Related, the average spent by bridal party members is $824, which includes attire, pre-wedding events and the wedding itself. In total, bridal party members reveal they've shelled out an average of $2,142 across 2.6 weddings over the past 10 years.
Many people accept going into credit card debt for these events, with the pressure on them to do their part to make the day special.
More than half have felt pressure to spend above their means
In fact, more than half (56%) of bridal party members admit they've felt obligated to spend above what they could afford. For 39%, the overspending involved pre-wedding activities.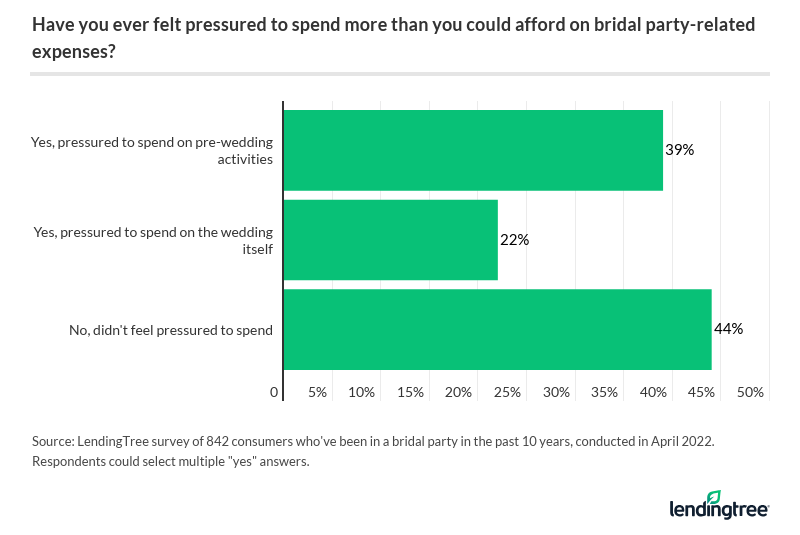 "People feel pressured to spend, in part, because they don't want to be a killjoy or they just don't feel like it is their place to say anything," Schulz says. "That can make a potential bridesmaid or groomsman reluctant to speak up, even if the price of staying quiet is a fair amount of debt."
Many people also understand how complex planning a wedding can be, so they don't want to haggle about money and make things even more stressful for the bride or groom.
Of interest, this pressure is more common in recent years. In fact, 63% of Americans whose most recent bridal party experience was within the past two years say they've felt this pressure, versus 58% whose most recent was three to five years ago and 41% whose was six to 10 years ago.
When asked about the source of the pressure, a slightly higher percentage of people chose themselves than the bride:
Myself (43%)
The bride (42%)
Other members of the wedding party (29%)
The groom (22%)
Gen Zers and Gen Xers highlighted greater pressure from themselves, while millennials cited the bride. Baby boomers cited themselves and the brides evenly.
Unfortunately, 41% also said wedding expenses ultimately hurt their relationship with another bridal party member — most commonly the bride.
Big spending leads to regret for some bridal party members
Nearly 4 in 10 bridal party members say they regretted how much they spent. There could be many reasons for regretting money spent while part of a bridal party, including if the costs ended up being far higher than they initially expected or if the person had a job loss or a medical emergency not long after the wedding and wished they hadn't spent so much.
"If the marriage itself doesn't last long, it is understandable that folks would wish they could have some of that money back that they'd spent," Schulz says.
Another possible reason for all the regret? For those who've been in bridal parties over the past decade, about 1 in 10 reported that they're no longer friends with the bride or groom. This rises a few percentage points to 11% among Gen Xers.
Travel, attire are top expenses for bridesmaids, groomsmen
More than half of bridal party members (55%) have paid for a flight for some part of the wedding festivities, with the most popular reason being the bachelor/bachelorette party (27%). Expensive airfare is likely why these pre-wedding parties are the second biggest bridal party expense behind attire.
The bachelor/bachelorette party can be super-pricey, and, often, that's the hardest thing to say no to, Schulz says.
"The problem is that everyone's financial situations are different," he says. "And if the bride or groom has champagne plans while some of the bridal party has a cheap-beer budget, it can cause real tension."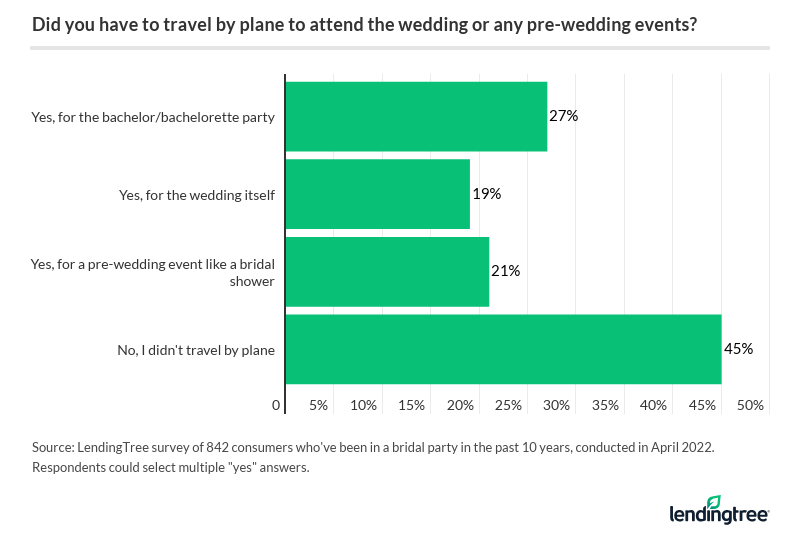 Getting dressed up for the big day is the biggest chunk of the bridal party budget, however. For reference, The Knot reports that bridesmaid dresses average $130 a person, while groomsmen attire averages $170 — and alterations can be just as much. Here's what bridal party members say cost them the most:
Attire (32%)
Bachelor/bachelorette party (29%)
Travel to/from the wedding (21%)
Bridal shower (15%)
Men differ from the overall trend, with 35% citing the bachelor party as the most expensive, ahead of attire (32%).
Can you turn down an invitation to be in a bridal party?
Overall, 62% of respondents think wedding costs for bridal party members are getting out of hand — and inflation is only going to make things worse, Schulz says. As such, some folks may decide it's best to politely decline being a bridesmaid or usher rather than get in over their heads, as 19% of respondents did.
"[High costs] lead to hurt feelings, ruined friendships, and a ton of stress and drama that could probably be avoided if those involved simply communicated better and showed a little more understanding of each other's individual circumstances," Schulz says.
On a positive note, among those who declined an invite to be a bridal party member, more than two-thirds say the bride or groom understood and it didn't impact their relationship.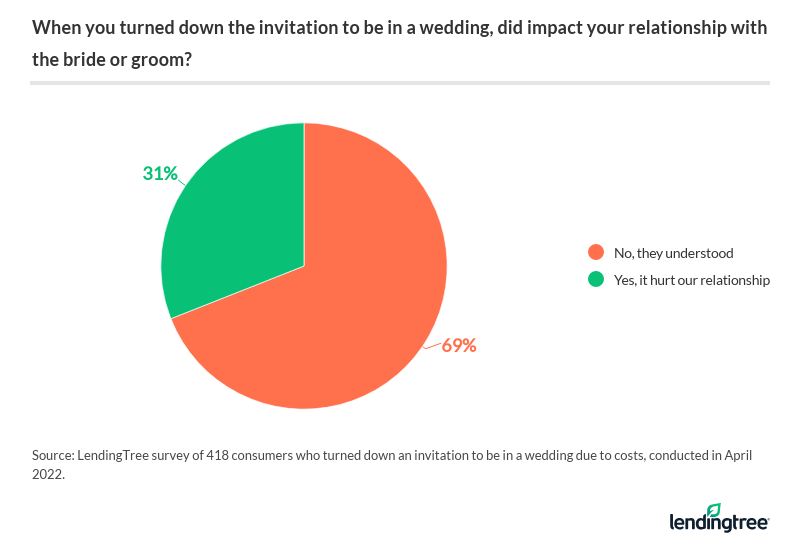 If you decide to stick it out, however, there are ways to make the costs more manageable.
5 tips to manage bridal party expenses
Discuss your budget with the bride or groom. It may feel awkward, but 45% of bridal party members surveyed did just that — and it could help. "Like your mom and dad used to tell you, if they're really your friends, they'll understand where you're coming from," Schulz says.
Use travel rewards credit cards for flights/hotels. Credit card rewards can be a bridesmaid or groomsman's best friend, Schulz says. "A sign-up bonus on a new credit card can really extend your budget, and it might even get you a free airfare or hotel night," he adds.
If you incur debt, use a 0% balance transfer card to pay it off. As long as your credit is solid, these cards are worth considering. "It'll dramatically lower the amount of interest you'll pay and, in doing so, shorten the amount of time it takes to pay the debt off," Schulz says.
Work as a bridal party team to keep expenses in check. "Even if the bride or groom won't work with you on costs, some of your fellow bridal party members might," Schulz says. For example, you might be able to save by sharing a room, splitting the cost of a rental car or dividing other expenses.
Start saving ASAP. Most people don't get married too soon after their engagement, so you'll likely have some time to put some money away to prepare for the costs of these weddings, Schulz says. Even better, try to get a jump on saving for big events even before you're asked to take part. "If you suspect that some of your friends are likely to get married in the near future, it can make sense to set a little money aside in anticipation of these big events," he says. "If those weddings never materialize, or if you're not invited to the ones that do, you can take that money that you've set aside and use it toward something else."
Methodology
LendingTree commissioned Qualtrics to conduct an online survey of 2,168 U.S. consumers, including 842 respondents who've been bridal party members in the past 10 years. The survey was administered April 4-8, 2022, using a non-probability-based sample, and quotas were used to ensure the sample base represented the overall population. All responses were reviewed by researchers for quality control.
We defined generations as the following ages in 2022:
Generation Z: 18 to 25
Millennial: 26 to 41
Generation X: 42 to 56
Baby boomer: 57 to 76
While the survey also included consumers from the silent generation (those 77 and older), the sample size was too small to include findings related to that group in the generational breakdowns.