How Does LendingTree Get Paid?
LendingTree is compensated by companies on this site and this compensation may impact how and where offers appear on this site (such as the order). LendingTree does not include all lenders, savings products, or loan options available in the marketplace.
What Is the Average Wedding Cost?
Published on: July 18th, 2019
Editorial Note: The content of this article is based on the author's opinions and recommendations alone. It may not have been reviewed, commissioned or otherwise endorsed by any of our network partners.
According to a survey of 14,000 couples by The Knot, the average wedding in 2018 cost $33,931. Our study of newlyweds found 45% of them went into debt for their wedding — and it's causing issues. Knowing this might help you put some initial limits on your spending, but your preferences and choices along the way can push the budget to deviate substantially from the average.
In this article, we break down spending by different categories so you can get a better sense of what your personal nuptials might cost, and provide ways you can curb costs and pay for your wedding.
Average wedding costs
Weddings are no small expense. But your wedding will be tailored to your preferences and priorities, giving you the flexibility as a couple to splurge on wedding costs that are important to you and to be frugal elsewhere. You may, for example, choose to have a destination wedding, a photo booth at the reception or a donut tower in place of a traditional cake.
When trying to get a sense of what you might need to budget for your wedding, start by looking at typical wedding prices, such as for the venue, food and drink, and attire. Here's a breakdown using data from The Knot, a wedding planning website.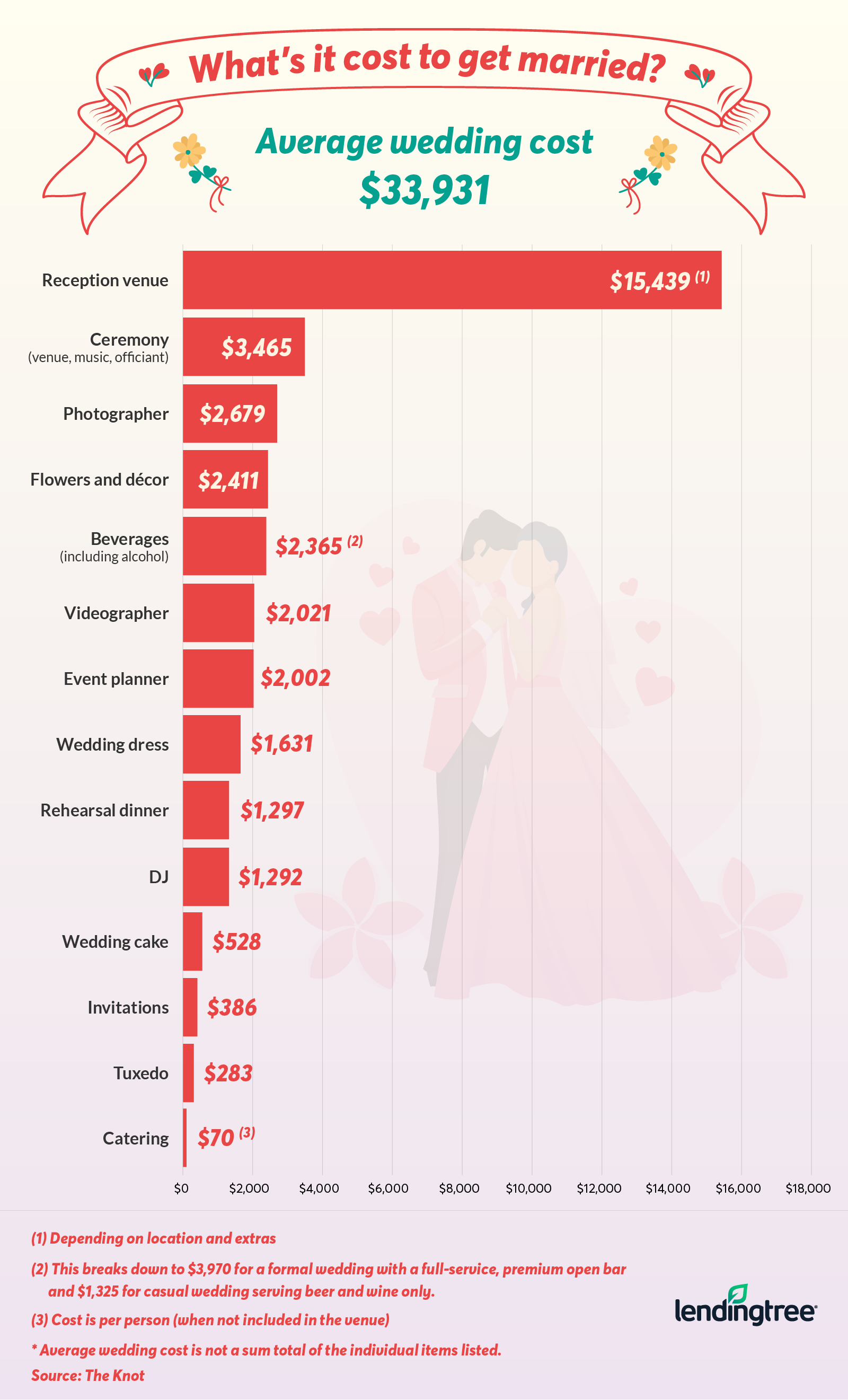 Reception venue
For most couples, the reception makes up almost 50% of their total wedding spending, at an average cost of $15,439. This includes an average of $30 per plate of food supplied by the reception venue and $1,700 for rental of equipment and furniture. According to ValuePenguin, a LendingTree-owned site, the average spent on renting the venue by itself was $3,100. Bar service at the venue can vary widely, with averages between $1,325 for a bar serving only beer and wine to $3,970 for a full-service open bar.
"Across the board, venue eats up a lot of your budget and ancillary costs," said Jessica Bishop, author of "The Budget-Savvy Wedding Planner & Organizer" and founder of TheBudgetSavvyBride.com. She said to think about the cost in relation to the services you get from the venue. "[When you choose] an all-inclusive [venue] with tables and chairs and caterers,  you don't have to worry about bringing those things yourself." This, she said, is very different from a venue that's just an empty space where you have to bring in all the furniture.
Ceremony
Couples found the average price for the ceremony venue to be $2,382, the music to cost $797 and the officiant to cost $286. You may gloss over the cost of an officiant, expecting to have a friend or family member take up the honor, but you may want to reconsider.
"[The officiant] is always a second thought," said Amy McCord Jones, a wedding planner and owner of Flower Moxie, which sells wedding flowers. She said she cringes when she hears that couples have a friend who will be officiating the wedding. "I've seen so much flaking out because of that. I've seen [the officiating friend] totally bomb or get up there and struggle, and then it's really awkward."
Flowers and decorations
Decor and flowers for a wedding are no small cost, sitting at an average $2,411. The kind of decorations and flowers used, however, will have a strong influence on this cost, as will the venue space and guest list.
If you're opting for an empty rental space to save money on the venue, you'll may need to account for the cost of renting furniture from an outside vendor. That could put you well over the average cost.
Food
Couples who opt for a catered wedding as opposed to getting food through the venue should expect an average cost of $70 per person. But your costs will vary based on the types of food you serve. ValuePenguin, for example, estimated that for a wedding with 140 guests, the average cost per plate was $30.
But don't forget the wedding cake: It adds another $528, on average, reported The Knot.
Live DJ or band
Average costs for entertainment will depend on whether you want a DJ or a band. DJs tend to cost less, averaging $1,292 whereas bands average $4,247. The fewer the band members, the lower the cost might get.
Wedding dress and tuxedo
Attire costs are impacted by how formal couples want their event to be. When it comes to getting dressed, grooms come in cheaper with an average attire cost of $283. Brides average $1,631 for the wedding dress. Many brides don't quite feel complete without hair and makeup, adding an average of $123 and $102, respectively.
Add-on costs
There are a lot of extra charges you may have for your wedding. Consider these additional wedding costs many couples opt for:
Event planner: $2,002
Photo booth: $325
Videographer: $2,021
Rehearsal dinner: $1,297
Transportation (from the ceremony to the reception): $856
Wedding favors: $245
Budgeting for your wedding
When most people think of budgeting, they likely think of a fixed list of expenses, but budgeting for a wedding is a bit different. "Budget around your priorities instead of categories," said Bishop. "Define what your priorities and your vision for the day are and get clear on them to guide you through the process…every couple is unique and that's usually reflected in the choices that they make with their budget and wedding plans," she said.
To help give you a starting point as you get to know your priorities as a couple, you can break down spending as follows:
Ceremony: Up to 3%
Reception: Up to 50%
Attire: Up to 10%
Entertainment: Up to 10%
Decor and flowers: Up to 10%
Photography and videography: Up to 12%
Stationery: Up to 3%
Rings: Up to 3%
Gifts (including favors): Up to 3%
Transportation: Up to 3%
"Wedding planning is the very first test of your team-working capabilities," said Bishop. "[Stick] to a budget for an event that feels authentic to you but also [be] vigilant," she said, suggesting that couples read every word of all their vendor contracts. No matter how careful you are, there are bound to be unexpected expenses. Pad for those in your budget, remembering often-overlooked costs like:
Tips: You may want to account for the cost of tipping the DJ or band members, waitstaff, bartenders, photographer, stylist and makeup artist.
Service fees: Among the added service costs, Bishop mentioned clean-up after the reception and wedding, delivery fees, set-up fees, cake-cutting fees, and corkage fees. "Even if you supply your own bottles of wine, some venues charge a corkage fee."
The honeymoon. "Consider the honeymoon as important as the wedding," said McCord Jones. "A wedding day is only 5 hours, the honeymoon lasts a week," she said. You may consider a staycation, opting for fancy dinners and activities around town rather than flying elsewhere. You could shorten the length of your trip, saving money on hotel costs, or stay stateside.
Which family covers which wedding costs?
Wedding costs are usually divided between the couple and their families. In a more traditional setting, the bride and their family generally cover costs for:
The ceremony
Bride's attire and accessories
Decor
Floral arrangements
Invitations
Transportation
Most reception expenses
Groom's ring
The groom and their family traditionally cover:
The honeymoon
Bouquet
Bride's ring
Rehearsal dinner
Entertainment
Liquor at the reception
Marriage license
Groom's attire
Regardless of traditions, more couples are paying for the bulk of their own wedding expenses, with the average couple paying 45% of the day's costs. If reading that strikes fear in your heart, don't give up yet. According to Bishop, a smaller budget doesn't have to mean a lesser experience. "With harder work and creativity, [a small-budget wedding] can be just as beautiful and meaningful," she said.
How to cut your wedding cost

From banquet halls to castles, country clubs to mansions, there are many different options for a reception venue. Choosing a free location is a no-brainer if you have that option. "The venue takes a sizable amount of your budget," said Bishop, "unless you are lucky enough to have a family member with beautiful backyard."
Bishop also recommends looking for venues outside of major metropolitan areas. "It costs more in major metropolitan areas, [because the venues] have higher rent costs," she said. "You are going to save money if you leave [for] a more rural area. You can then do a lot more with your budget." This is a move Bishop refers to as the Reverse Destination wedding.

Picking alternative options for reception dining can save big money on overall costs.
Bishop said that couples are personalizing their food choices with alternatives like food trucks and taco bars and saving money as a result. "One of my favorite things is a brunch wedding. Breakfast food is super affordable," she said. She also added that a brunch wedding could result in a lower overall bar tab.
McCord Jones suggests looking at local restaurants instead of caterers to save money. "Hiring a restaurant is typically less expensive than a traditional catering company," she said. She also advises couples to avoid bite-sized appetizers and instead choose substantial dishes of pasta.
"Most couples think hors d'oeuvres will be less expensive than the main dish, but often that is not the case because the labor to make many small items is more than making a pan of chicken and potatoes," she said.

McCord Jones advises couples to resist the urge to hire a photographer to hang around for the entire day. "As tempting as it may seem to have your photographer with you while you're getting ready [until] the bitter end of the night, those pictures are not necessarily [the] 'frame-ers,'" she said. Instead, think about the pictures you'll want to frame — the big moments like cutting the cake and exchanging vows — and let the photographer leave once those are taken.

Do-it-yourself projects may not be your thing, but Bishop says they may be easier than you think. "A lot of couples assume they aren't creative, but there are so many free tools out there that can be customized," she said. There is, however, a caveat. "You have to know your time availability and skill level and whether you can trust yourself…do a gut check and see if you think you can realistically handle [a task like] arranging all your own flowers the night before."
Don't be afraid to tap family and friends, either, especially if they have a special skill. For example, you may ask a close photographer friend to snap shots at your wedding. Just don't sacrifice your wedding or your relationship if you aren't sure the person can meet your expectations. "Think about what could happen and how it could affect that relationship if [something] goes wrong," said Bishop.

"Everybody has a price on their head at a wedding," said McCord Jones. McCord Jones suggests cutting coworkers from your guest list and focusing instead on inviting people you will continue to have a relationship with long after you've changed jobs.

While you're planning your spending for just a single day, think about the long-term impact each of your expenses will have in terms of presence in pictures and memories. This can help give you some perspective on where you really want to put your money.
"A wedding day is only five hours, and you won't even see all the details that you pored over on the wedding day," said McCord Jones. "Think in terms of louder moments and quieter moments," she said. McCord Jones advises making the sweetheart table a "louder moment" or focal point and having less expensive centerpieces or greenery at the guest tables.

It's easy to look at pictures on blogs and websites and think that your wedding should have all the same elements to fulfill your vision, but according to McCord Jones, what you see online and on social media is only a small portion of a full event. "On Pinterest [and blogs] you're seeing a lot of style shoots and nothing is to scale."
Ideally, your wedding should be personalized to your preferences, your priorities and your budget. In many cases, embracing your personal quirks and identities could be a vital tool in reducing costs and creating memories you truly treasure.
3 ways to fund your wedding
You might have your budget established, but that doesn't mean you know where you're going to get the funds to pay for all your wedding expenses. Consider the following options.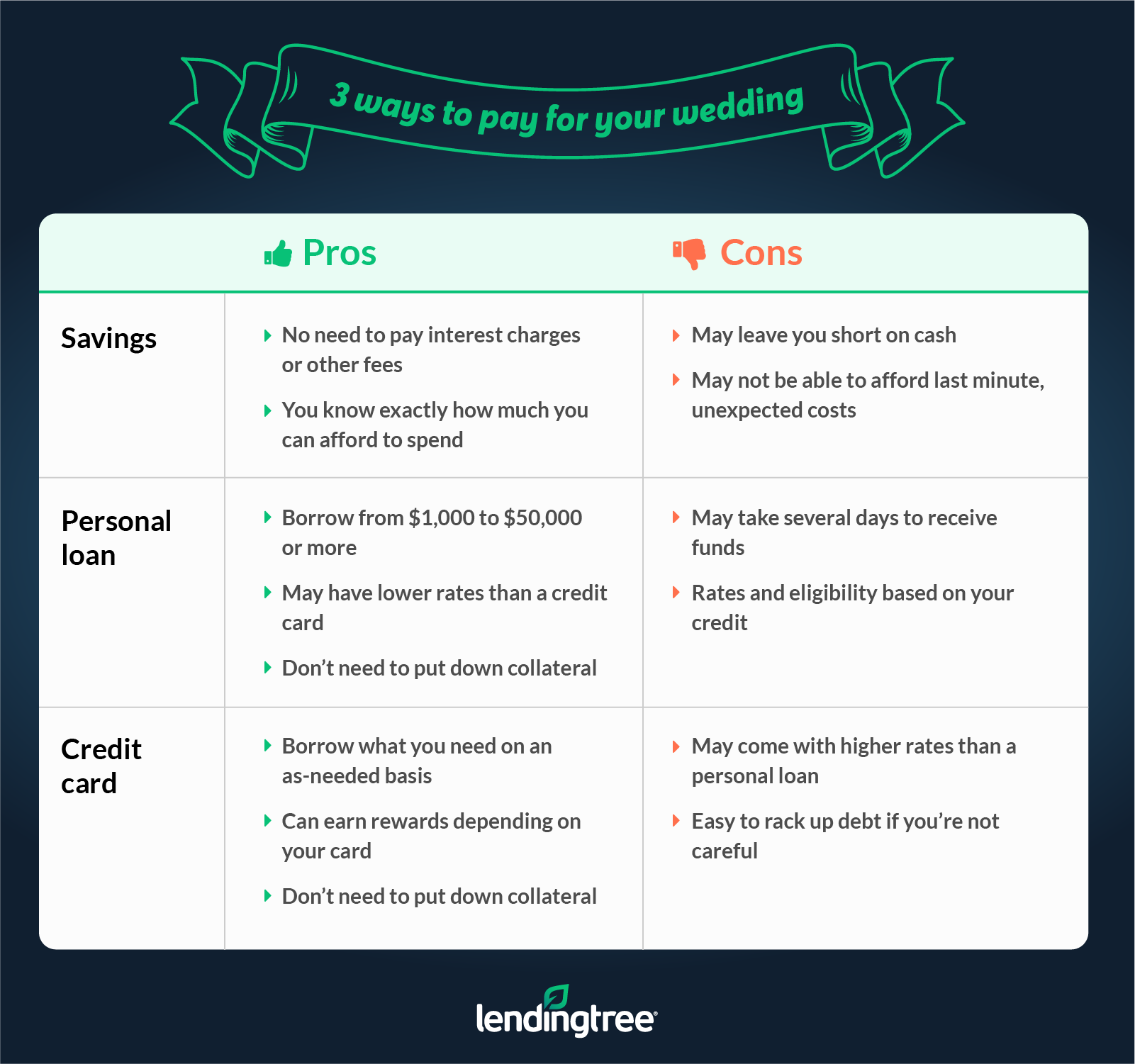 Savings: Bishop advises couples to use their savings when they start wedding planning, making sure they also save more along the way and see what family members want to contribute.
"If what you have isn't going to get what you want, maybe extend your engagement to save more money," Bishop said. If you decide to extend your engagement to give yourself more time to save, McCord Jones said to be careful not to let that added time drive up costs even more. "The longer [couples have to plan], the more ideas they will get," she said.
Personal loan: A wedding loan — also known as a personal loan — is an unsecured loan that generally has a fixed interest rate and payment. Often, for those with good credit, personal loans offer better interest rates than credit cards.
No matter how tempting that might sound, however, going into debt for your wedding isn't necessarily a good way to start your life together. "It's putting an extra amount of stress on your marriage at the beginning," said Bishop. "Couples should start out on the best financial footing possible, so I recommend [they] … plan something beautiful that [they] can afford," she said.
Credit card: Credit cards seem like an easy way to supplement savings when dealing with both expected and unexpected wedding costs, which may be why as many as 61% of surveyed couples on Student Loan Hero, another LendingTree-owned site, planned to use credit cards to help pay for their wedding expenses.
If a couple has no choice but to rely on some debt to help with wedding expenses, McCord Jones advises that a planned-out personal loan might be a better choice than credit cards. She said to begin the budgeting process by establishing how much the wedding will cost and how much the couple and their contributing family members can pay, then getting a loan for the difference as long as you have a realistic plan for paying it off. "Then you're making more intentional decisions than you would if you use credit cards," she said.
This article contains links to StudentLoanHero and ValuePenguin, which are owned by LendingTree.