Ways to Save Money on Your Wedding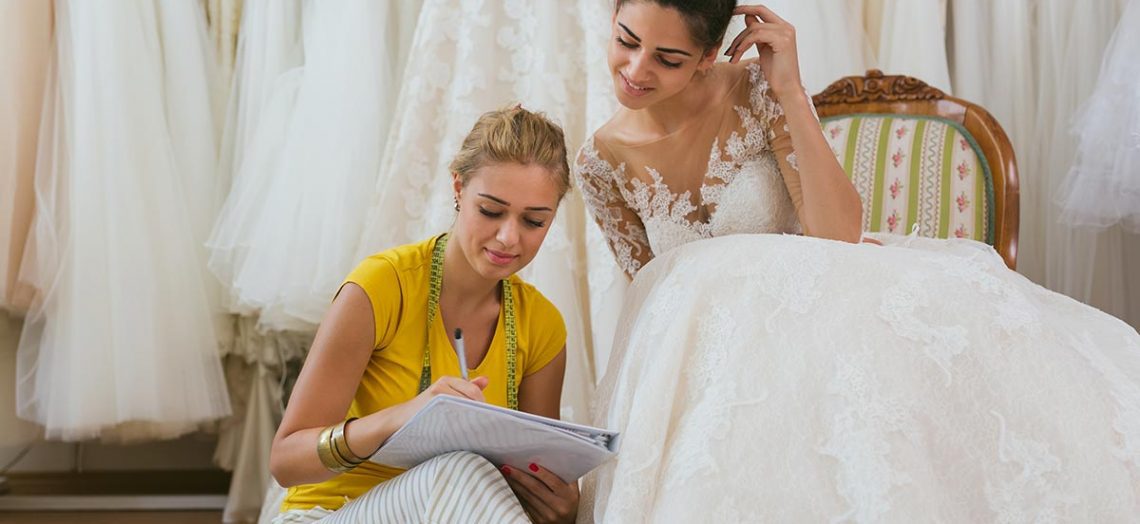 You're basking in the glow of a recent engagement … and now you have to plan a wedding! But how much does a wedding cost? The Knot's Real Weddings study (released in early 2018) found that the average cost of a wedding in the U.S. was $33,391, down $1,938 from $35,329 in 2016. Before you seriously consider a multi-city extravaganza for 500 of your closest friends, which is well above average, you need to set a realistic budget to determine what you can truly afford.
Start by finding out what financial assistance you will receive from your family, if any, and combine those numbers with funds you have put aside for the occasion.
When building your budget, you and your betrothed need to mull over what you want.
Prioritize what is most important to you as a couple, like decor, food and drinks, location or music and set your budget accordingly, says Diane Forden, editor-in-chief of Bridal Guide magazine. And don't forget to prepare for the unexpected.
"Be sure to stay on top of your expenses and always factor in an extra 10% for unexpected costs that may arise," Forden added.
Should I take out a wedding loan?
If you've tallied up all your savings, plus any extra funds from family, and the numbers still don't quite match your aspirations, you might consider a loan to cover the difference.
Our advice? Proceed with caution. A wedding loan is simply a personal loan that you are using for expenses that come with planning a wedding. Personal loans are typically doled out in a lump sum and carry a fixed interest rate. You'll repay the loan over a fixed period of time. The benefit with a personal loan is that unlike a credit card, you'll know exactly how long it will take you to repay your debt because the loan will be given a set term limit — such as three, five or seven years.  And, if you've got good credit, you might be able to find a personal loan with a much lower rate than you would using a typical credit card.
And that brings us to the next financing option: charging expenses on a credit card. This is an option we'd highly encourage you to avoid if you can. Credit cards carry double-digit interest rates, and if you're financing the bulk of your wedding costs on plastic, you could easily add hundreds if not thousands of dollars in interest charges to your balance if you don't pay it off quickly.
That all changes, of course, if you can score a good deal on a card with a 0% intro APR deal that covers new purchases. And that's key — be sure to read the fine print to see whether the 0% APR deal applies to new purchases. If not, you won't be saving on interest fees at all.
Also, those deals never last forever. If you've got a 12-month 0% intro APR, you should really believe you can pay off that card within that time frame. Otherwise, interest will begin accruing. And, in some cases, you might even be hit with deferred interest charges going back to when you first opened your card if the entire balance isn't paid off by the time the intro period ends. Ouch.
What about a card with a juicy rewards rate or a killer sign-on bonus? It may be tempting to put all your wedding purchases on a cashback credit card, but, again, be careful. Your wedding vendors might add a credit card processing fee if you use plastic, and that can easily eat up any potential rewards you might have earned. If you've got a 2% cashback card, for example, but your caterer charges you 3% to use your card, there's no benefit to you.
Remember: be responsible with debt. Pay on time every month, and pay more than the minimum.
How to save on the biggest wedding expenses
The timing
When determining when your wedding will be, timing is everything. The Knot's Real Weddings study found that 37% of couples marry in summer or fall, and the majority of those weddings are on Saturdays. You can save money by marrying outside of those months or on a day other than Saturday.
"Most facilities will offer a reduced cost on rental fees during their off-season and on Sunday through Thursday," said Heather Jones of Wente Vineyards in Livermore, Calif. "Your friends and family will attend your wedding no matter what day you choose to get married and, if they're traveling to attend your wedding, you may be saving them money on flights and accommodations by picking non-peak times."
Time of day can affect cost as well. If you've fallen in love with a venue but it's outside of your budget, ask about a reduced rate for a brunch wedding rather than the traditional evening wedding. Brunch weddings are becoming increasingly popular, according to Paula Ramirez of event venue Historic Mankin Mansion in Richmond, Va.
"You can still be quite inventive with the menu and then give guests ideas as to evening activities if they'd like to continue the celebration," Ramirez said. You'll probably save on bar fees, too because people will be less likely to tie one on during the day.
Food and drinks
Typical cost: $70 per person
You'd think that a buffet will cost you less than a sit-down dinner, but Danielle Rothweiler of Rothweiler Event Design in Verona, N.J., said that's often not the case. The stations have to be stocked at all times to look great, which can create extra cost and waste.
"Opt for a sit-down dinner and have guests order in advance on their RSVP card," she said. "This will allow the caterer to know exactly how much is needed and will keep your cost down."
For drinks, Rothweiler recommends asking your venue about BYOB options. When you bring your own, you control which alcohol you bring in and how much.
When it comes to the cake,  no need to order fancy for everyone. Order a cake that will look stunning in your photos and feed you, your spouse and the bridal party, then order a (high quality) sheet cake to feed everyone else. Keeping the design of your special cake simple can also reduce the cost. And ask the caterer to serve thin slices so you won't need as many sheet cakes. Many guests will be full from dinner and not want a lot. If they do, they can request more.
The photographer
Typical cost: $2,630
If you're not sold on hiring a photographer, ask your guests to take photos. They'll have their smartphones on hand anyway, and you can set up a Dropbox or Google Drive folder where everyone can share their best pics. Another option: Enlist the help of a guest or two with a nice camera and a good eye. They might enjoy serving such an important purpose on your special day, and the photos can be their wedding gift to you.
If you decide to go professional, Keith Phillips of Classic Photographers in Londonderry, N.H., suggests looking at national photography companies, which he says often have the most competitive pricing and sometimes can offer monthly payment plans. Phillips also suggests that the length of time that they stay with you will greatly impact the price.
"Do you really have to have, for example, ample coverage while you're getting ready? Does the photographer have to stay until the bitter end?" Phillips said. And rather than ordering the full photography package, including the album, Phillips suggests designing your own with an online photography service like Artifact Uprising or Blurb.
Music
Typical cost:  Band – $4,019, DJ – $1,231
You might have envisioned a 15-piece swing band, but a wedding band, especially a big one, can be pricey. You are often paying for not just the performance but also food, travel and tips. For her budget-conscious clients, Rothweiler suggests a smaller band.
"The first is to use a smaller band — six to eight people — to keep the costs down, and then to use people from that band to handle the ceremony and cocktail hour music as well," she said. "If that's still outside of the budget, consider hiring a DJ and adding in 1-2 instruments to enhance the music for the reception."
The dress and the suit
Typical costs: $1795
The Knot study found that the average price of a suit for the groom is $286, which isn't too bad. If your wedding is black tie and he doesn't own a tux, you can easily rent at a local shop. The price for the wedding dress, however: $1500+. Add shoes, jewelry, tiara, veil, etc., and you've got a hefty line item on your budget.
Brittany Finkle of Happily Ever Borrowed, an accessories rental service in Brooklyn, N.Y., suggests renting your dress and accessories or buying them pre-owned. "Generally, you can save from 60-80% off the retail price, and with those savings you can add more guests to your wedding, add an extra instrument to your band, or save that money for your honeymoon or home," she said. In addition to her own service, she recommends Borrowing Magnolia or Vow to Be Chic for renting. For pre-owned dresses and accessories, she suggests Nearly Newlywed, Pre-Owned Wedding Dresses or Still White.
Décor
Typical cost:
Your contact at the venue may try to talk you into all sorts of things you don't need. Bobbi Rebell, a certified financial planner and host of the Financial Grownup podcast, has been married twice and suggests asking for the basic items that venues and vendors have on hand and do not cost extra. "Ask the florist for extra flower petals that can be scattered on the table to dress it up," she said. Rebell also suggested fewer "extra touches," like favors for guests, printed customized menus or decorative ribbons tied across the backs of chairs.
If you are handy and willing to put in some time, ask your venue if they will allow you to provide the décor. Look to Pinterest for inspiration, then purchase supplies like tea lights, string lights and vases in bulk from an event supply site like 100 Candles, or even Costco or Sam's Club. What's good about owning these items is that you can repurpose them for your post-wedding brunch or in your home around the holidays.
Flowers
Typical cost: $2,379
If you love expensive flowers like peonies or garden roses, you don't have to forgo them altogether to save money.
"Use expensive flowers sparingly," said Joan Wyndrum of BloomsByTheBox in Watchung, N.J. "Instead of having an all-peony bouquet, use a few stems as the focal point of your bouquet and supplement the rest with something more budget friendly like spray roses, fillers and greens."
Wyndrum also suggested getting more bang for your buck by separating flowers across many small vases rather than a few big ones, and using greenery and flowers with multiple blooms per stem, which can be broken down into smaller stems. "Inexpensive containers like bud vases, milk bottles or vintage glasses are all great options, and can be filled with only a few stems," she said. Also, bridesmaid bouquets can contain more greenery than pricey flowers, whereas the bridal bouquet can contain more of the pricey blooms.
Rebell also suggested choosing flowers that are in season. "The biggest waste of money is elaborate flowers.Talk about a depreciating asset!" she said. At her first wedding, Rebell made the mistake of choosing a flower that was out of season, and she paid dearly for it. "The second time around, I asked the florist which flowers would be in season and easiest/least expensive to source, and I picked from there."
Cut the guest list
It's hard to think of guests with dollar signs on their heads, but you must if you're going to manage your budget. If you're paying $268 per guest — the average according to The Knot survey — the difference between 100 guests and 120 is over $5,000. This can be very tricky, especially with family, but if you apply set rules to everyone — all first cousins but no second or third cousins, or no kids — you'll at least be consistent should anyone challenge your decision.
Negotiating
Be prepared to negotiate with vendors. It might feel weird, but this is your wedding and your money. "Don't be afraid to let a vendor know how much you've allocated for their particular service. They will let you know what they can do on your budget and work with you the best they can," said Forden. If you can't arrive at a compromise on price, consider pivoting to a less expensive option, like a smaller venue or limiting your alcoholic beverages to a signature cocktail, wine and beer instead of a full bar.  
Hire a wedding planner
Typical cost: $1,988
If you're on a budget, you might be thinking about forgoing the wedding planner and doing it yourself. But hiring the right planner can save you from countless headaches and end up saving — versus costing — you money.
"Hiring a planner is an initial investment, but you will always see a return on that investment, as we can access or negotiate discounted pricing from venue and vendors," said Russell Pinto Jr., of event agency Little Red Bean Productions in Brooklyn, N.Y. "We, as planners, are always looking out for your bottom line."
Wedding insurance
Wedding insurance?  Yes. You might not have heard of it, but it's something to consider.  Because, well, you never know. Wedding policies can cover calamities from property damage caused by your guests and lost wedding attire or jewelry, to rescheduling due to illness or weather to a no-show vendor. Policies can range from less than $100 to several hundred, depending on your wedding costs and what you want to cover. You can obtain an online quote from providers like Progressive, Wedsure and Wedsafe.
Before you investigate policies, however, check with your homeowner or home-rental insurance provider to find out if your policy covers anything related to your wedding. And ask your vendors, like the venue or photographer, if they have their own policies.
We hope that you can apply some of these savings tactics to your own wedding planning process. Consider tallying up your savings along the way and putting that money toward something you really want, like an epic honeymoon, a down payment for a home, or that elusive kitchen renovation.