How Does LendingTree Get Paid?
LendingTree is compensated by companies on this site and this compensation may impact how and where offers appear on this site (such as the order). LendingTree does not include all lenders, savings products, or loan options available in the marketplace.
20 Ways to Save Money on Your Wedding
Published on: May 1st, 2020
Editorial Note: The content of this article is based on the author's opinions and recommendations alone. It may not have been reviewed, commissioned or otherwise endorsed by any of our network partners.
If you're planning a wedding, you could be in for serious sticker shock. The average cost of a wedding in the United States was a whopping $24,723, reported ValuePenguin in February 2020. But there are plenty of pain-free ways to save money on your wedding without compromising the things that matter most to you and your life partner.
What does a wedding cost?
How to save money on a wedding: 20 tips and tricks
The best ways to pay for a wedding: 3 options to consider
What does a wedding cost?
Whether or not you've established a wedding budget, it's important to know general costs you can expect for the event. You can then start considering which expenses may not be worthwhile, or find opportunities to cut costs.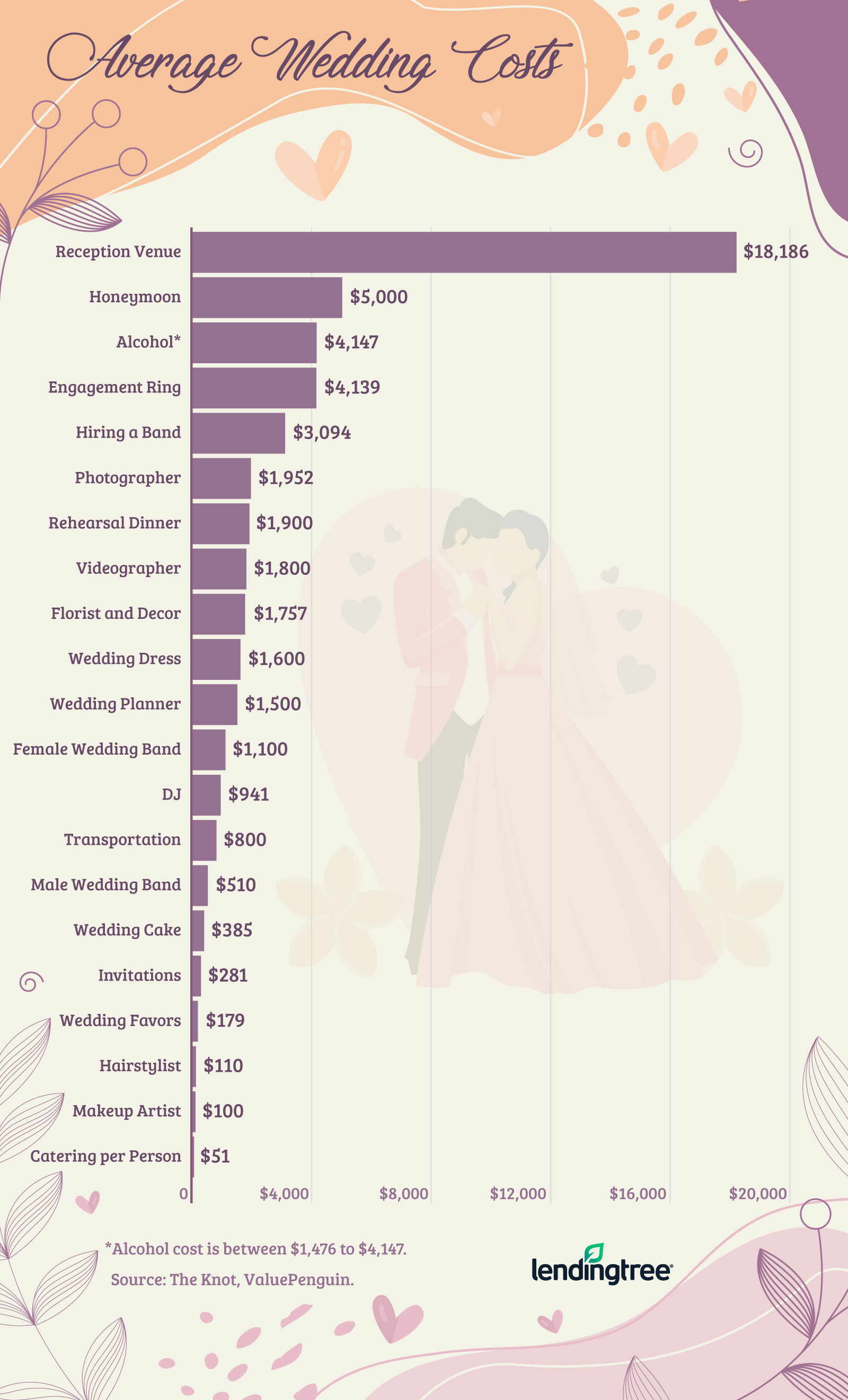 How to save money on a wedding: 20 tips and tricks
1. Know what you can spend
Once you have a general idea of costs, your first plan of action should be to establish a reasonable budget. Take your finances into account, as well as any help you may receive from others. With an estimate of what you can afford to spend on your wedding, throw together a preliminary budget that outlines different wedding costs.
Although your budget will evolve as you research vendors, venues and more, having something in writing can help you and your spouse decide later on whether you'd be OK trimming a certain expense or reducing your spending on it. That said, you two can decide on a few non-negotiable wedding purchases. For example, you may be dead set on having a chocolate fountain for the dessert table or a live band.
"Ask yourself what things you do not want to spend money on, and what number would totally make you sick to your stomach if you ended up spending this in your budget," says Jill Emanuel, a financial coach based in the Phoenix metro area. "Decide to whom you can delegate tasks to hold you budget-conscious — perhaps you could have your mom, maid of honor or someone else make orders and purchases for you."
2. Set up a dedicated savings accounts for wedding expenses
Jason Hull, a certified financial planner, recommends couples establish a side account to put money aside for their wedding.
"Once you have a good idea how much you're going to spend, take that number and divide it by the number of paychecks left until your wedding," says  Hull. "Then, set up an automatic transfer into your side account for that amount." By the time your wedding rolls around, you'll have saved enough cash to pay for your wedding.
Even if you don't save up the full amount of your wedding, this strategy can help mitigate your costs. It's also a great way to kickstart a healthy financial habit together — for example, you may want to save for a down payment on a house later on.
3. Consider not having your wedding during top wedding months
Weddings held during the most popular days and months could come with a premium price tag. Instead, consider off-season times of the year such as January through March, or even a weekday event instead of one held during the weekend. The time of day may also impact price.
4. Consider selecting non-traditional wedding venues
Keeping wedding costs down may sometimes mean getting creative and thinking outside of regular wedding venues. Expand your thinking to less traditional public or private spaces you can rent, such as a family member's home, a restaurant with a view, a museum, vineyard or even a campground or local park.
5. Shop at sample sales for low cost wedding dresses
A traditional wedding dress can cost well over $1,000 — that's a lot of money to spend on a dress you're not likely to wear again. Instead, consider looking for a gown that's second-hand or vintage. Even if it's not exactly what you had in mind, hiring a seamstress to add some personal touches could still save you hundreds of dollars.
Another option is to broaden your search to include formal wear, suggests Trae Bodge, a smart shopping expert at TrueTrae.com. "Once you take 'bridal gown' out of the equation, the price decreases," she says. Bodge also suggests brides consider selling their dress after the big day.
6. Get a talented friend to help you with your hair and makeup
One way to save money on hair and makeup is to ask a friend who's a pro at it to help you on your big day. If you're already friends with your hairstylist, they may be willing to give you a cost break on your big day or even do it for free as their wedding gift to you.
7. For inexpensive save-the-dates, go online
The best wedding invitations to send when you're on a budget are the virtual ones — this helps you save money on fancy stationary that could just end up in the trash, as well as the costs of postage. Bonus: it's also better for the environment.
"If you're looking to save a few bucks, Paperless Post has plenty of on-theme, digital options, but if you really like the formality of a paper invite and reply card, consider going digital for the Save-the-Date," says Kaleigh Northrup, who runs Kay Northrup Events.
8. DIY wedding decorations on a budget
Low-budget wedding decorations can still do the trick when it comes to personalizing and beautifying your wedding reception. Look for items you can buy in bulk or reuse at home afterwards, like patterned pillows, table runners and colored glassware, and consider sourcing items at antique shops and flea markets to save money.
Stick to the decor already provided by the venue like tables, chairs, basic linens, china, glassware and silverware. "Upgrading your rentals through rental companies gets very costly, very quickly," says Northrup.
9. Stick to in-season blooms to save money on wedding flowers
The average cost of wedding flowers and decor is over $1,700, on average, but asking your florist for local, seasonal blooms can help you trim your costs significantly.
"When flowers are out of season in your area, they will need to be imported, which greatly impacts the price," explains Bodge. "If you order your flowers online, search a coupon site like Slickdeals.net to look for promotions that you can apply to your order."
If you're OK with keeping your bouquets and centerpieces simple, you could also try a DIY-approach with the help of free tutorials you can find online.
10. Hire a local family-owned restaurant to do the catering
The average wedding meal cost is $51 per plate. If you hire a local family-owned restaurant instead, you may be able to not only work out a menu that fits within your budget, but also negotiate better perks, such as discounts on kids' meals.
Another way to drastically reduce food costs is to consider serving just hors d'oeuvres in the mid-afternoon instead of an entire meal, or conversely, to skip appetizers that can add up in costs in favor of a filling entree.
11. Skip the bartender and buy your own alcohol
The average cost of a bartender and alcohol at a wedding can range from $1,476 to $4,147, on average. If you can find a venue that allows you to bring your own, you can trim this expense significantly, especially if you can find a friend who is interested in helping you out.
If you do choose to have an open bar for your guests, consider only holding it for an hour and limiting choices to beer and wine for the rest of the evening.
12. Hire a DJ instead of a band
The average cost of wedding music can vary greatly depending on whether you hire a DJ or rent the services of an entire band for the evening. A DJ might cost you around $941 on average, while a band may cost you more than three times as much. Consider getting a DJ, or only incorporating live musicians for the ceremony and cocktail hour.
13. Book an up-and-coming photographer
A good way to keep wedding expenses down is to seek out an emerging photographer.
"If you're willing to take a gamble, try looking for photographers who are still building their business — just be sure to ask for full wedding galleries to get an accurate idea of their style and consistency," says New York-based wedding photographer Jocelyn Voo. "Oftentimes you can find them online, such as in local wedding photography-oriented Facebook groups."
Some photographers may be more flexible with their pricing if you ask. Alternatively, Voo suggests asking for partial-day coverage, as fewer hours of photography often translates into a lower price tag.
14. Get your wedding cake made by a supermarket bakery
Instead of opting for a pricey wedding cake, speak to the baker at your local supermarket to see what they can whip up for you — but make sure to bring some photos so your vision is on the same page as theirs. Other ways to cut wedding cake costs include choosing less costly decorations, reducing the number of tiers and ordering an extra sheet cake.
15. Save money on the wedding videography
A professional wedding videographer could cost you up to $1,800 on your big day. To trim this expense back, consider contacting a film school for the contact information of a new grad who might want to use your wedding as a demo video for future work, suggests Hull. They may be willing to offer their services for less.
You could also recruit a family member or friend who could use the money. "Pay that person a hundred bucks to be your memory maker," says Hull. Although the quality won't be nearly as good as with a professional, you can still come out with plenty of memories on tape.
16. Downgrade or skip wedding favors
Wedding favors have been slowly fading in popularity, as they typically get left behind or thrown into a junk drawer at home for years to come, says Karen Norian, a wedding planner based in Savannah, Ga.
Rather than shelling out hundreds of dollars for something your guests won't likely use, Norian suggests making a small donation to a charity that speaks to you as a couple on your guests' behalf. Alternatively, you could offer something edible like a box of sweets that can be purchased in large quantities.
"Chances are your guests will be happy that they didn't have to bring home yet another trinket," says Norian.
17. Limit the guest list
You saw this one coming. Still, one of the easiest ways to cut costs for your wedding is by trimming the guest list, since your food costs and size of the venue are determined by your number of attendees. You can do this by setting rules for who gets on — and who gets kicked off, such as coworkers or people you have never met in person before.
18. Don't tell vendors that you're booking for a wedding
The wedding markup is a hidden tax many vendors can tack on to the bill if they know the supplies, flowers or services you're booking are for a wedding. If it's not in violation of any contracts you have to sign, consider not revealing the nature of the occasion when making your bookings.
19. Skip the photo booth (and the donut wall and the fireworks)
Even the most basic wedding can get expensive after adding up all the costs of booking a venue, hiring vendors you trust and feeding dozens of guests. Rather than spend hundreds on additional items or services like a photo booth or fireworks, Norian suggests looking at inexpensive alternatives that still feel authentic to who you are as a couple.
"Whether that's leaving a point-and-shoot camera on each reception table or opting for a fun sparkler exit, you can still find ways to take your wedding to the next level without going for broke," she says.
20. Forgo the traditional limo
Instead of hiring expensive full-day or chartered transportation services, which could run an up to $800 bill, suggest your guests take Uber or public transportation instead.
The best ways to pay for a wedding: 3 options to consider
Your savings
If you decide to fund your wedding solely with cash, you can curb temptations to stray from your budget as you might with credit, since you'll know exactly how much you can afford. Another benefit is that you won't pay any interest fees, saving you money in the long run.
A wedding loan
If you have good credit, you may be able to borrow up to $50,000 or more in a wedding loan, which is an unsecured personal loan. Depending on your credit profile and financial situation, a wedding loan may offer you lower interest rates than if you were to charge your expenses on a credit card. However, you may end up being tempted to spend more than you need, simply because you have access to those funds.
The cost of taking out a wedding loan may include extra charges such as origination fees that could be deducted from your funds before you even receive them. Like other fixed-term loans, wedding loans must also be paid off within a set time frame. If something happens within that period of time where you find yourself unable to make your monthly payment in full and on time every month, it could hurt your credit rating.
A low-interest credit card
A low-interest or 0% interest credit card could be an easy way to supplement your savings on an as-needed basis, if you have a high enough credit score to qualify for it. However, you could also end up racking more debt than you anticipated. If you're unable to pay the balance off before the promotional period expires, you could be stuck with a much higher interest rate than what you could have obtained for the entire duration of a wedding loan, as well as being charged deferred interest.
Depending on your credit rating and financial history, you may achieve more favorable terms with a wedding loan than with a credit card. Both products are unsecured, meaning you don't have to put up any assets to guarantee them. The benefit of using a credit card in some cases may be the ability to collect reward points that you can then redeem towards your honeymoon or wedding-related purchases.