Engagement Ring Financing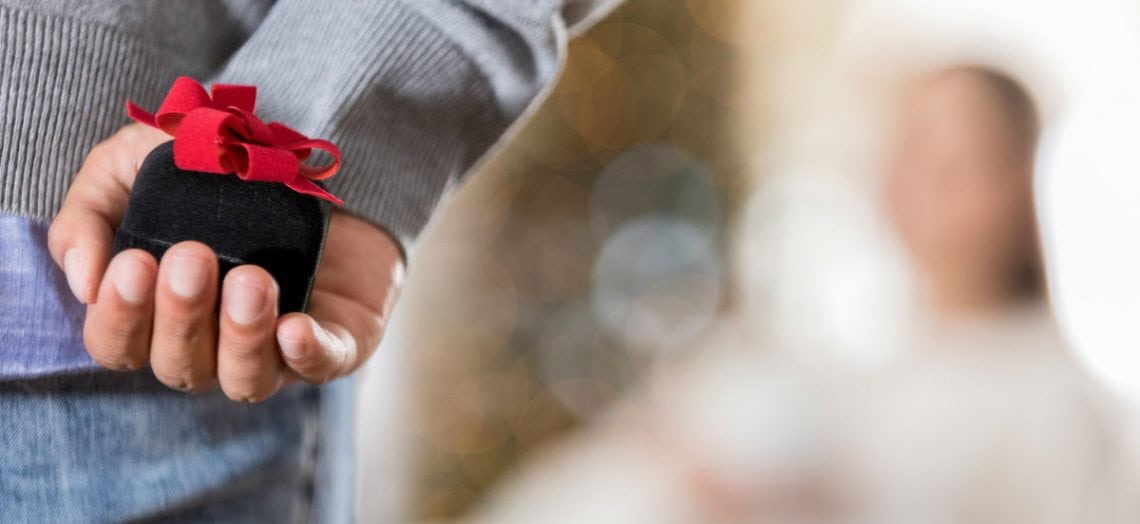 The thrill of engagement ring shopping can quickly be stamped out by sticker shock. According to The Knot, the average engagement ring spend was $6,351 in 2017, up 25% since 2011. If you don't have enough cash saved up for the perfect ring, financing may be an option you're considering.
Before you finance any purchase, especially one that easily gets into the thousands of dollars, take a step back and consider all your options. In this post, we'll help you weigh the pros and cons.
Should you finance an engagement ring?
Whether or not you should finance a ring depends on your current finances and goals. Financing a ring adds another monthly payment to your budget and should be considered carefully if you have other debt.
Couples should make purchases that align with their long-term values especially when it's for a major purchase like an engagement ring, says Lauryn Williams, a CFP based in Dallas. If buying a home falls higher on the priority list, borrowing money for a ring may not be the best choice for you as a couple, she said.
Don't spend more than you can afford to keep up with the status quo either. Rules like spending a certain amount of your salary on a ring aren't set in stone — pun intended.
"When you think about it, the traditional three times your monthly income is a quarter of your annual salary," said Williams. "Can you afford to spend that much on a ring?"
Sometimes the answer isn't black and white. In fact, financing may make sense if you're someone who has higher priority bills to tend to, as it can give you the room you need by allowing you to break up the purchase into small monthly payments. That gives you space in your budget for other essentials. So long as you're sure you can pay off the loan in due time — and do all you can to avoid costly finance charges in the process — it may not be the worst choice to finance.
The best candidate for ring financing is someone who can qualify for a 0% or low-interest financing option or someone who has a steady income and is sure they can afford their monthly payments and pay off the loan quickly.
If you're considering taking out a loan because you can't afford a ring now and you think you'll need longer than a year to repay the loan, you might be better off adjusting your budget for a ring.
If you do decide to finance some or all of the engagement ring, here's a rundown of a few options along with their pros and cons:
Option 1: Using a 0% or low APR credit card to finance an engagement ring
You may already have a few credit cards in your wallet, but signing up for one or two new ones that have introductory deals could help you finance a ring at a low-interest rate.
Low-interest introductory credit card deals give you 0% APR (or a very low APR) on purchases for a set period. Typically, intro purchase APRs last from 12 to 21 months.
"Say the ring is $6,000, you can break it in half to maybe $3,000 bucks on one card and $3,000 on another," said Helen Ngo, a CFP and founder of Capital Benchmark Partners, LLC based in Atlanta. "The 0% APR gives you a nice amount of time to pay it off."
On top of the interest rate savings, some rewards cards give you an incentive for spending a certain amount on the card within the first few months. Review some low-interest credit cards and rewards cards here.
Deferred interest: Read your credit card promotion terms carefully. If it mentions deferred interest, pay close attention. This means if you don't pay off the balance in full by the end of your promo period, they may go back and charge you interest for the entire balance.
The Pros
The interest savings. A no-interest or low-interest credit card promotion can be used like an installment loan. This can end up being a zero-interest loan if you're able to pay it off before the 18 months are up.
You can earn rewards on the spending. If you're able to snag a card with a 0% intro purchase APR that also gives you cash back or rewards on spending, you can get an extra boost. You could use rewards for honeymoon costs or other wedding-related expenses.
The Cons
The fine print. There are usually conditions for keeping the deal, like making minimum payments on time or paying off the full balance before the promo period ends. If you don't, you could lose the deal and get hit with penalty interest. Introductory rates on new cards also expire, so you should be planning to pay off the debt before the special ends.
The standard interest rates. Be careful when buying an engagement ring on a credit card that doesn't currently have a low-interest special. Revolving a balance on a credit card with a sky-high interest rate can be costly.
Option 2: Using a personal loan to finance an engagement ring
Personal loans are fixed-rate installment loans that are repaid over a fixed number of months or years. Thanks to the online lending marketplace, there are multiple places that can offer personal loans for your engagement ring purchase. Check out some personal loan products here.
How it works
The personal loan application process for online lenders is pretty similar across the board. Some online lenders provide a preapproval tool you can use to see if you qualify for offers. After choosing a loan product, you go through a verification process where the lender pulls your credit and checks necessary supporting documents, like pay stubs, to make sure you're eligible for the loan. If approved, funds are deposited into your bank account, and you can then use the funds to make your purchase. Learn more about using loans for wedding-related expenses here.
The Pros
The extended payoff period. Personal loans can offer a fixed rate for long term. Introductory 0% APR credit card specials usually don't extend beyond two years, and they have a variable interest rate after the deal expires. A personal loan with fixed costs may be the way to go if you need longer than two years to pay the ring off.
Fixed rates. You don't have to worry about your rate or your monthly payments fluctuating.
The Cons
The interest kicks in right away. Personal loans don't give you an interest-free vacation like 0% APR introductory credit cards do.
The fees. Personal loans may also have fees that add up. Origination fees for personal loans can range from 1% to 8% or more, depending on the product.
Option 3: Using in-store financing for an engagement ring
You've probably been in a store or two that offers in-store financing for high-ticket items. Here's what you need to know if you're considering this form of financing for your engagement ring.
How it works
In-store jewelry financing is typically done through a credit card. The store gives you the terms of the financing at checkout (or online) and runs your application on the spot. If approved, you make the purchase on the card and pay the ring off according to the terms.
The Pros
The convenience and store perks. A benefit of in-store financing is speed. You can buy and secure financing all at the same spot. Some stores also add in extra benefits and promotions for being a store cardholder like future discounts and coupons.
The special financing. You may be able to qualify for "special" financing which is often deferred interest for a certain time frame. The no-interest period may last for as little as six months or several years.
The Cons
The deferred interest can come back to bite you. If you don't pay it off before the promo period ends, you'll have to pay all of the interest incurred from the original purchase date. Not all jewelry store credit cards that have promotions defer interest, like Tiffany's, but a number of them do.
Con: The high-interest rate and possible fees. Standard interest for in-store financing may not be competitive. As mentioned, the average credit card interest rate is 14.14% APR. In comparison, rates for retail financing can be around the 21% to 29% APR range. Some credit cards also have various transaction fees. Be careful of retail cards in general; they can turn into a debt trap.
Alternative ways to buy an engagement ring
Friends and family loan. Financing in the traditional sense isn't the only way to purchase a ring. Borrowing from friends and family could be a solution. There should always be a formal agreement when borrowing from people you know to avoid disputes. You can also find ways to bring in extra income through side hustling or a part-time job to avoid borrowing altogether. Selling items you don't need can give your engagement ring savings a boost as well.
Go for a lower cost ring. Lowering the cost of your engagement ring through savings hacks can reduce the amount you need to save or borrow. Look at engagement rings with cheaper stones that are currently on trend like emeralds or sapphires. These rings could be a fraction of the cost of a diamond ring. Independent jewelers are also a place where you can find a deal.
How much ring can you afford?
Figuring out how much you can afford starts with a conversation about the budget with your partner. According to Ngo, couples these days often go ring shopping together. In fact, only one in three engagements is a surprise, according to The Knot. Come up with an expectation of what you want the ring to be and how much you're willing to spend.
Saving up for the ring, or at least a portion of it, is ideal. Begin to prioritize saving several months to a year before popping the question to limit the amount of money you have to borrow. Dan Andrews, a CFP® and founder of Well-Rounded Success, recommends the "lazy approach" to saving. First, figure out a dollar amount you need to save weekly or monthly to buy the ring. Then schedule a transfer from your checking to a separate savings account. According to Andrews based in Ft. Collins, Colorado, a system that's working for you in the background makes saving easier because you can set it once and forget about it.
Whether you decide to finance or save for a ring, insurance is another aspect to consider since it can be such a large purchase. Some insurance companies offer protection specifically for jewelry. Ngo recommends checking your renters or homeowners insurance policy. If you spend close to a house down payment on a ring, it may be a good idea to look into protections for theft or loss.