How Does LendingTree Get Paid?
LendingTree is compensated by companies on this site and this compensation may impact how and where offers appear on this site (such as the order). LendingTree does not include all lenders, savings products, or loan options available in the marketplace.
1 in 3 Cardholders Are in Credit Card Debt Due to Medical Bills
Updated on:
Content was accurate at the time of publication.
Why use LendingTree?
We are committed to providing accurate content that helps you make informed money decisions. The content on this page has not been reviewed, approved or otherwise endorsed by any credit card issuer. We do maintain partnerships with some issuers, and our site may be compensated through those partnerships. Read our .
Credit card debt is not something that anyone would aspire to, but it can be a far more complicated story than simple overspending. As Matt Schulz, LendingTree chief credit analyst, put it, "There are almost as many causes of credit card debt as people who have it."
But disquieting new data suggests one cause that's unfortunately overrepresented: medical costs.
Click below to learn more:
According to a 2019 LendingTree survey, one in three cardholders are in credit card debt due to medical bills. And of those who paid a medical bill with their credit card, almost 10% owe at least $10,000.
And with average credit card APRs for current card accounts hovering around the 15% mark (and far higher for new card offers at more than 20%), those figures can spell serious financial trouble for those who find themselves struggling to pay off their revolving balance — or simply keeping up with the accrual of compounding interest.
Key findings
In early October, LendingTree conducted an opt-in online survey of 764 credit cardholders, with the sample base proportioned to be representative of the general population. Here are some of the most compelling findings:
A third of cardholders are in credit card debt due to medical bills. Of those who paid a medical bill with a credit card, nearly one in 10 owe at least $10,000.
56% of credit cardholders have paid a medical bill with a credit card at some point in the past, and more than half are still in debt because of that decision.

Men (60%) were more likely to have paid a medical bill with a credit card than women (52%).
Low-income cardholders are more likely to have done so than higher earners.

Almost 60% of those who used a credit card for a medical bill said they would not have been able to afford the bill otherwise. However, about the same percentage said they used plastic to earn credit card rewards.

Millennials (76%) were more than twice as likely as baby boomers to say they turned to a credit card because they could not otherwise afford their bill.
Low-income cardholders said they used their credit card because they couldn't pay their medical bill otherwise, while higher earners did so to earn rewards.

About 30% of respondents say they regret using their credit card to pay medical bills.
The data suggests about 18% of cardholders have a medical credit card, including more than a quarter of millennials.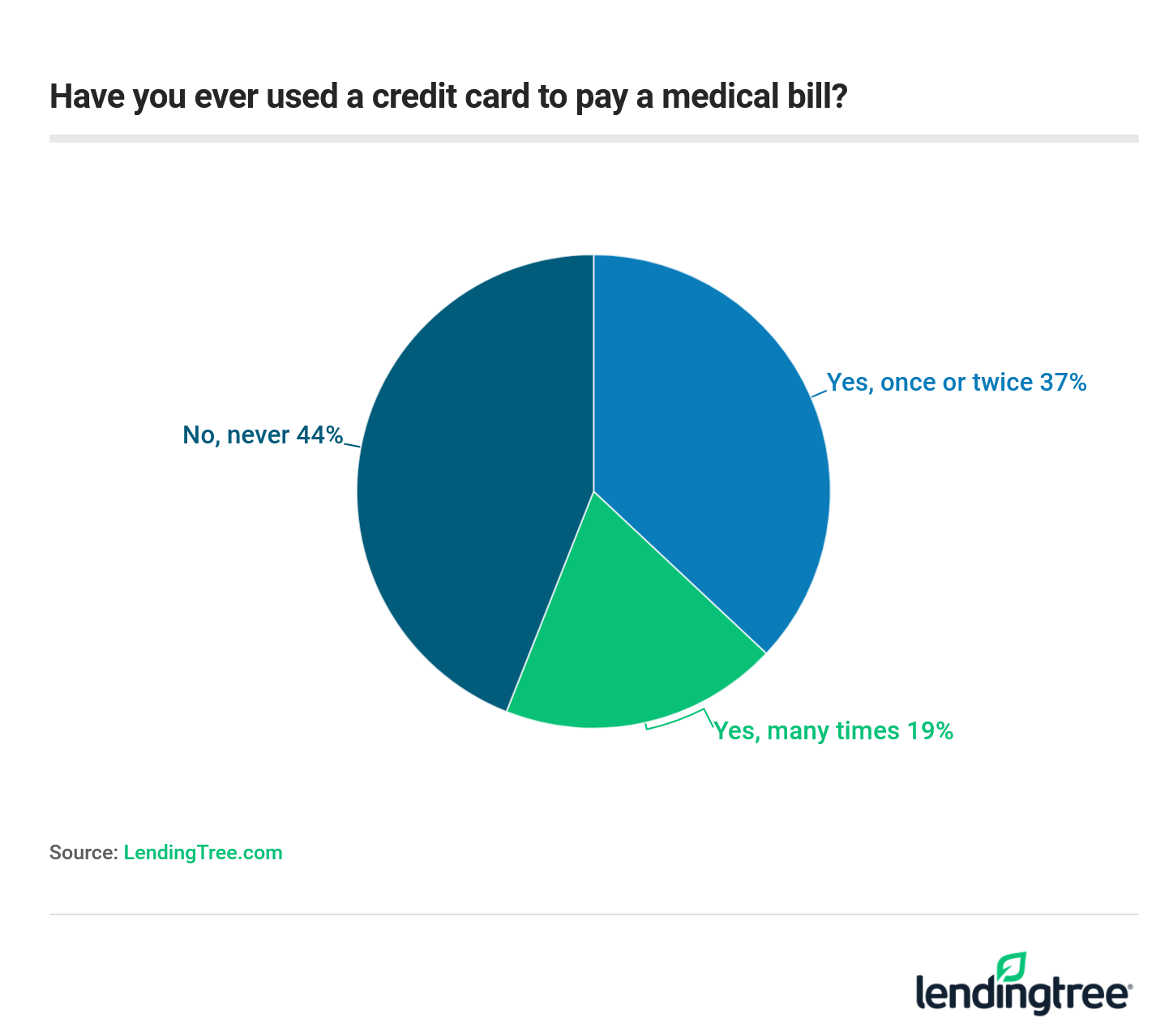 Paying medical bills with plastic spurs debt and regrets
Given the high cost of medical care in America and the unpredictable nature of medical emergencies, it's perhaps unsurprising that so many of the survey respondents said they'd paid a medical bill with a credit card at some point during their lives. But more troubling, a majority of those cardholders say they're still feeling the repercussions of this choice — which many of them felt was not a choice at all.
Of the 56% of surveyed cardholders who had put a medical bill on plastic, more than half are still in debt because of that decision. What's more, about a third of respondents admitted they regretted paying their medical bills with a credit card.
So why did they swipe in the first place? For most, it seemed their only recourse.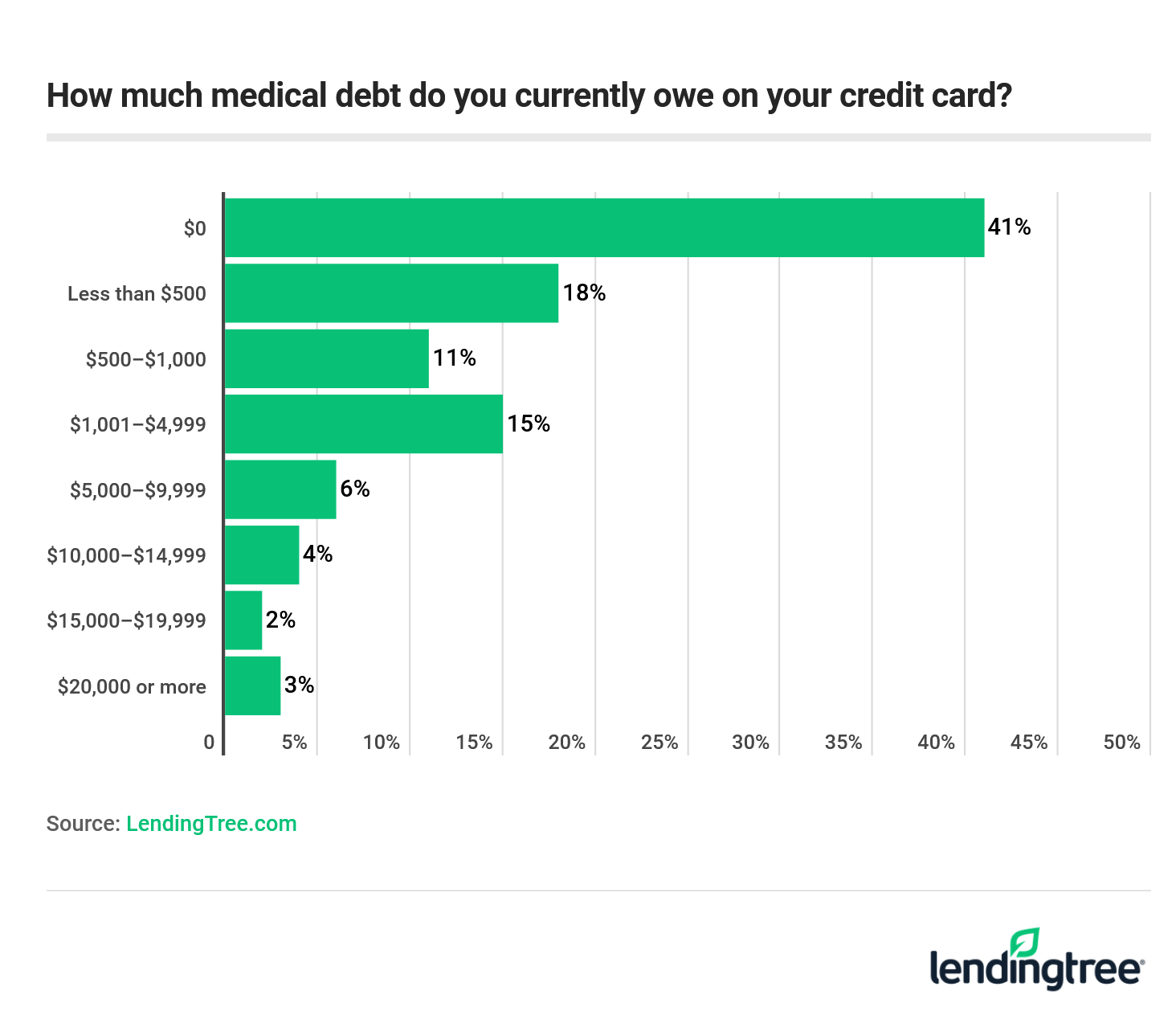 Nearly 6 in 10 thought they had no other option
Almost 60% of the surveyed respondents felt they wouldn't have been able to afford their medical expenses without turning to credit cards. This was especially true for lower-income respondents, as well as millennials, of whom 76% said they had no other way to foot the bill.
In a world where diagnosis and treatment of a relatively minor injury, like a broken arm, can quickly add up to more than $2,000 (without insurance), it's not hard to sympathize with this view.
But recipients of medical care may have more options than they think — and given how costly those bills can be over time, especially when accruing interest, it's worth taking a moment to consider other payment options. For example, some providers may offer payment plans where funds are remitted to their organization directly, and may not even charge you interest for this courtesy.
There are also specialized medical loans, like Parasail's ProPatient payment plan, that may be able to help you pay your bill over time without accruing interest, so long as your doctor or hospital agree to participate.
Medical credit cards targeted specifically at those facing hefty health care expenses are also gaining popularity, but it's important to fully understand their risks before you end up facing costly penalties.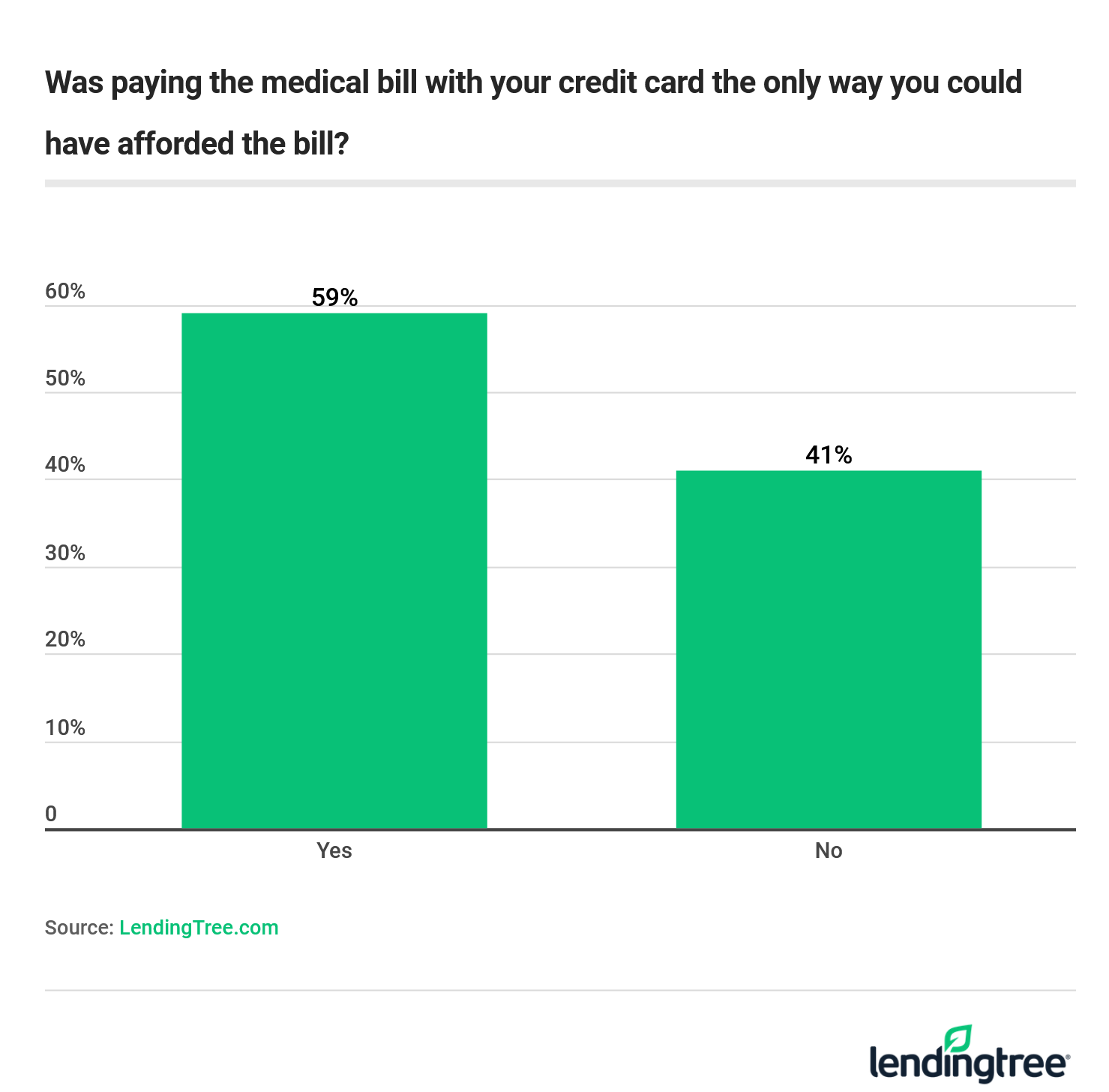 Should you pay a medical bill with a medical credit card?
Nearly 20% of surveyed cardholders said they had a medical credit card — and given how frequently these cards offer deferred interest or low promotional APRs, they're an understandably attractive option.
But if you find yourself at the end of that interest-free or low-interest period without having paid off your balance in full, you may find yourself facing an unpleasant surprise.
In many cases, there's a clause tucked away in the fine print stating you'll be charged the full amount of interest you would have been accruing from the original date of purchase. And given that one of the best-known medical credit card products, CareCredit® credit card, carries an APR of 29.99% for new accounts, the interest alone could lead to a case of sticker shock that may land you right back in the hospital.
So is it ever a good idea to pay a medical bill with a credit card? What if you're using your card to earn valuable cashback or travel rewards — as were approximately 60% of survey respondents?
That might be a viable tactic, but only if you're sure you can pay off your card in full by the end of the month. Otherwise, the interest you'll accrue will easily eclipse the value of whatever rewards you may have earned. So if you aren't able to afford the bill in the short term, it's worth looking into alternative options.
How to avoid taking on high-interest medical debt
So how can you avoid taking on high-interest medical debt in the first place, or work to get yourself out of the high-interest medical debt you've already incurred?
For medical expenses you may face in the future:
Talk to and negotiate with your providers. Even if they don't advertise an interest-free payment plan, one may be available, and the money you could save makes it well worth opening a dialogue.
Consider a medical loan or unsecured personal loan instead of relying on credit. Depending on your creditworthiness and the credit card in question, a loan may carry a lower interest rate and help you save money over time.
If you do pay with credit — particularly a medical credit card — be absolutely certain you understand the terms of the agreement and make a sustained effort to pay on time so you won't end up with a sky-high interest bill after the deferral period is up. Not all credit cards are created equally for emergency expenses, so try to take the time to shop around if you can.
For medical expenses you've already paid for with a credit card:
It might sound counterintuitive, but you may be able to save money on interest by opening another credit card and initiating a 0% balance transfer deal. This tactic will buy you more time to pay down the existing balance without accruing any more compound interest.
You might also consider paying off your medically related credit card debt with a personal loan, which, again, may carry a lower interest rate.
It's also worth contacting your card issuer and asking for a lower APR. One LendingTree study found that approximately 80% of cardholders who did so were successful, though only one in five actually asked. All it takes is a phone call — and even the most frustrating phone tree in the world is worth going through if it saves you hundreds or thousands of dollars.
In any scenario, prioritizing debt repayment may mean adjusting your budget and funneling extra cash toward the project of paying off your medical bills.
That said, exercise caution: If you spend every penny paying off your credit cards at the expense of keeping anything in savings, warns Schulz, you may end up turning to plastic the next time you face an emergency, landing you right back where you started.
Bottom line
While the findings of this survey are grim, all hope is not lost for those facing expensive medical care. Balance transfers, personal loans and negotiation may all be valid options in the fight to lower the long-term cost of medical bills.
That said, medical debt is a serious issue in America, where more is spent on health care than in any other developed country. Although approximately 90% of Americans are insured today, there is still clearly a demand for a more affordable way to pay our medical expenses.
Methodology
LendingTree commissioned Qualtrics to conduct an online survey of 764 credit cardholders, with the sample base proportioned to represent the general population. The survey was conducted Oct. 1-3, 2019.