How Does LendingTree Get Paid?
LendingTree is compensated by companies on this site and this compensation may impact how and where offers appear on this site (such as the order). LendingTree does not include all lenders, savings products, or loan options available in the marketplace.
Nearly 2 in 5 College Students with a Credit Card Have Made a Late Payment
Published on: May 28th, 2019
Why use LendingTree?
We are committed to providing accurate content that helps you make informed money decisions. The content on this page has not been reviewed, approved or otherwise endorsed by any credit card issuer. We do maintain partnerships with some issuers, and our site may be compensated through those partnerships. Read our .
More than 70% of college students in the U.S. have a credit card today – and nearly two out of every five of those students have been late with a payment in the past, according to a new survey from LendingTree.com.
We asked more than 1,000 American college students about their views and behaviors related to credit cards and found that credit cards are still common on campus 10 years after the Credit CARD Act of 2009 restricted banks' abilities to hawk their products on college grounds. We also found that many cardholding college students are struggling to pay their bills in full each month, to pay on time and even to make their own choices as to which card is the best fit for them.
Key findings:
Nearly 4 in 10 college students with a credit card (37%) have made a late payment
71% of college students have a credit card – 39% have one card, and 32% have more than one.
62% of college students with credit cards don't pay their bill in full each month, and 52% have worried about their ability to make a payment.
Students say the most important aspects of a credit card are getting their best interest rate possible (29%) and keeping fees low (24%).
Cashback rewards are the most popular type of credit cards for college students, with 64% citing it as their rewards type on their primary card. For 22% of those surveyed, it's to get points or miles. Just 14% have a card without rewards.
Nearly 2 in 5 college students from high income families with cards said their Mom or Dad was the primary decision maker when the student picked out their most recent credit card.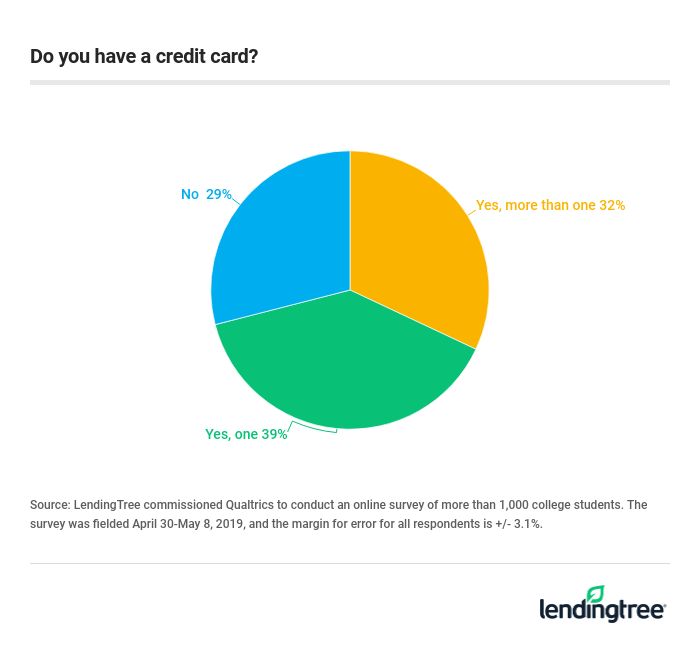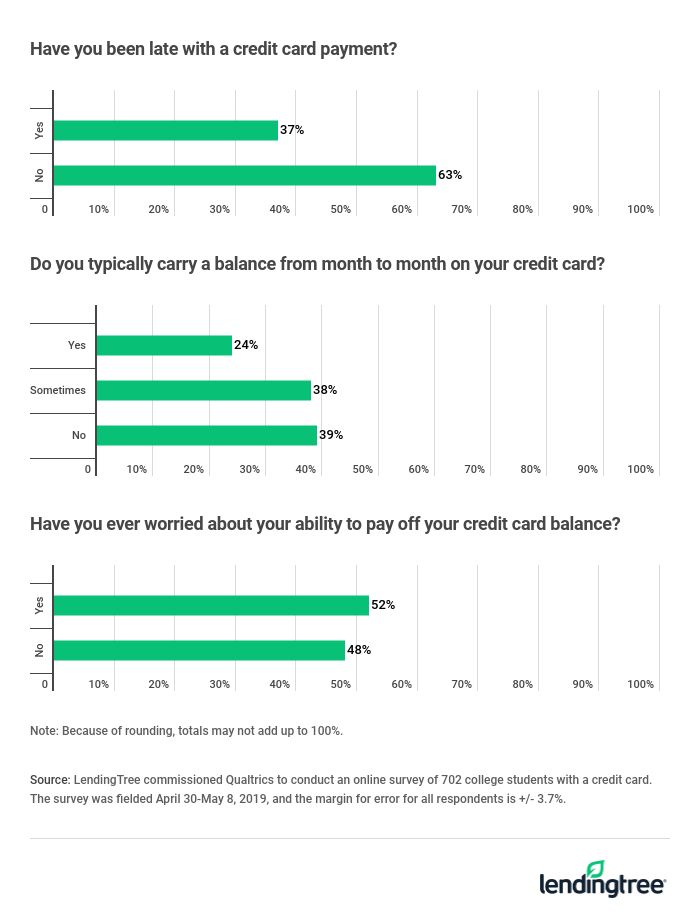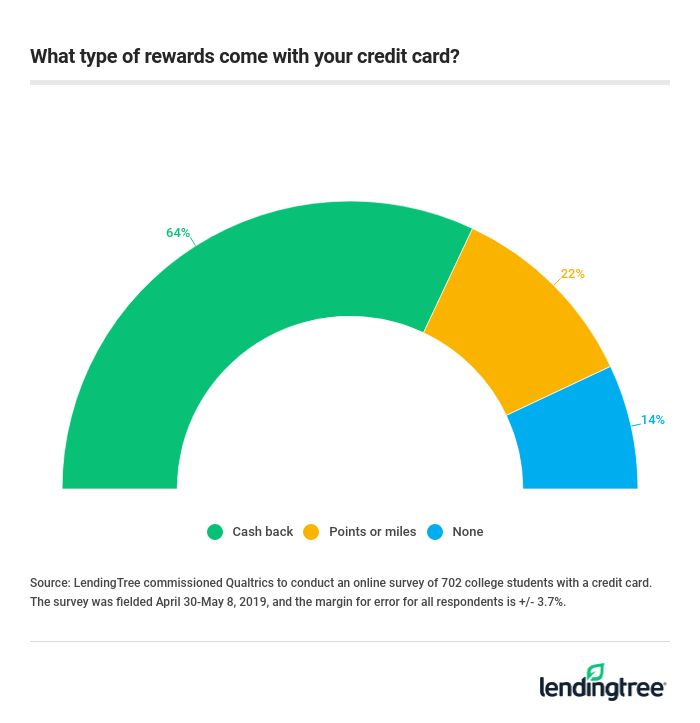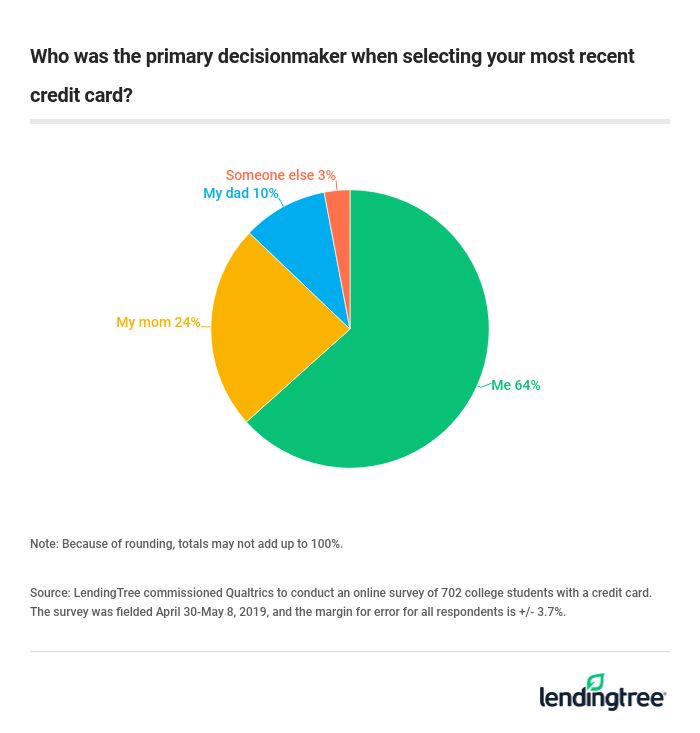 The bottom line: Students are struggling with credit card payments, but there are things can that be done to help.
As much as Americans romanticize the college experience, the truth is that it's often a very stressful time. Sure, there are parties and tailgating and opportunities to study abroad, but it's also typically someone's first time living on their own, managing their lifestyle without a parent's oversight, learning to budget, dealing with difficult roommates and more. Add in an ever-growing student loan bill, a mountain of papers and constant academic deadlines– mistakes are going to be made.
One of the best ways to solve college students' problem seems obvious: More income. Everything about college from tuition to room and board is absurdly expensive in 2019, and if you can bring in some more money – either from The Bank Of Mom And Dad or from a job that you work while you're in school – it can be a game-changer.
Of course, if raising more money was that easy, we'd all do it. The good news, however, is that there are other things you can do to help make sure you're as likely as possible to pay your credit card bills on time, and many of them will fit into most any budget.
Here are some suggestions:
Take advantage of technology: Technology can go a long way to making late payments a thing of the past. Set up autopay to pay at least the minimum payment each month on your credit card, and if you have enough money in your bank account, you should never have to worry about being late again. Ideally, you'd pay more than the minimum, but that's not always possible for college students. In addition to autopay, consider signing up for email or text alerts tied to your account. These can tell you when a payment is due, when you're nearing your credit limit or even when someone has used your account fraudulently.
Focus on keeping costs down rather than collecting rewards: Our survey showed that the student cardholders focused primarily on low interest rates and fees when searching for their most recent credit card, and that's how it should be. The last thing anyone with a credit card should do is overspend just to get rewards, no matter how lucrative those rewards might be. That's especially true for college students, since 61% of them don't pay their bill in full each month. Simply put, if you don't pay your balance each month, you shouldn't worry about credit card rewards. The math doesn't work in your favor. If you are going to seek out rewards, though, cashback rewards are a more sensible choice for students.
Think small to build your credit: Countless parents have told their kids to only use their credit cards in case of emergency, and that's often a sensible approach. However, when it comes to building your credit, that's not always the best advice. Small, strategic purchases can help you build credit without wrecking your budget. For example, consider putting a monthly subscription such as Netflix or Spotify on your card and then setting up autopay to pay the bill off in full each month. That way, you're building a spotless payment record that will help your credit blossom.
Try a secured card instead: Secured credit cards are a great option for students because the cards minimize risk. They come with small credit limits, so there's only so much damage the cardholder can do on a spending spree. Secured credit cards often easier to get than unsecured cards, so students can begin building credit on their own card in their own name. And Mom and Dad love them because they mean that parents don't have to risk having their own credit trashed if their kids act irresponsibly with the card. (That's a real possibility if Mom and Dad cosign for a card or make a child an authorized user on an account). A secured credit card is like any other credit card, with one exception: You must put a security deposit – often $200 to $250 – down to get one. Once you have the card, use it wisely – keeping balances low and paying bills on time every time – and you can build your credit. Then, in six months to a year, you can graduate to an unsecured card with better terms and rewards.
Take the time to learn more about money management: Nearly two-thirds of our survey respondents (63%) said their parents spoke with them frequently about money when they were growing up, and more than half of college students (59%) would give their credit card knowledge an A or B grade. However, we also found that over one-third of students with a card said their mom or dad picked it out for them. The fact remains that most Americans would be well-served to learn more about how best to manage their money. Read about how credit or interest works. Understand how make a budget and stick to it. This know-how can make a huge difference in how you view and handle money now and in the future.  
Methodology
LendingTree commissioned Qualtrics to conduct an online survey of more than 1,000 college students. The survey was fielded April 30-May 8, 2019, and the margin for error for all respondents is +/- 3.7%.